Grand Rapids loves a good music festival, and we host a diverse range of single-day and multi-day outdoor concert events from May through September. Gather your music-loving buddies, grab your sunscreen and get your tickets for a day or more of sun, fun and live music!
Local Spins Fest
May 20, 2023
The preeminent chronicler of the West Michigan music scene celebrates the start of the summer concert season with a day showcasing up-and-coming and veteran acts from around the region. Local Spins Fest takes place in downtown GR and lineup/ticket information is announced on the Local Spins website.
Festival of the Arts
June 2-4, 2023
Since 1970, this downtown GR street festival has made performances by local musicians part of its mission to engage the community with art of all kinds. View the 2023 entertainment lineup as soon as it's announced. Festival of the Arts is FREE to attend!
Rotary Rocks for ShelterBox
June 3, 2023
Launched in 2022 as a fundraiser to benefit the people of Ukraine, Rotary Rocks for ShelterBox is now an annual event sponsored by the Rotary Club of Rockford. West Michigan bands perform on the riverfront stage in Rockford's Garden Club Park, 20 minutes from downtown GR.
B93 Birthday Bash
June 17, 2023
Local radio station B-93.7 has been bringing the biggest names in country to town to celebrate its birthday since 1993, hosting such legends as Rascal Flatts, Blake Shelton and Florida Georgia Line over the years. This year, the B93 Birthday Bash welcomes Jon Pardi, Gabby Barrett, Michael Ray and Shane Profitt to LMCU Ballpark. Get tickets here.
West Michigan Bluegrass Camp & Jam
July 1-4, 2023
Lowell Fairgrounds is the site for this camping & concert event, which draws fans from across the Midwest and Canada to see top-shelf regional and national bluegrass acts. The Bluegrass Camp & Jam is just 20 minutes from downtown GR – so if camping's not for you, make a GR hotel your home base for the duration!
Upheaval Festival
July 14-15, 2023
"Welcome to the Uprising" is the invitation at this raucous rock festival held in downtown's Belknap Park. The Upheaval Festival has scheduled 20+ music acts for 2023, including Bring Me The Horizon, Lamb of God, Falling In Reverse and Halestorm. Get tickets here.
Shagbark Music & Arts Festival
August 3-5, 2023
Formerly known as the Cowpie Arts Festival, this long-running family-friendly event features regional and national acts from a variety of genres, plus an art gallery, puppet shows, fire dancers and more. The Shagbark Music & Arts Festival is held on its beautiful namesake farm, 20 minutes from downtown GR.
Walk The Beat Street Music Festival
August 13, 2023
Walk the Beat is annual celebration featuring 50 or so musical acts performing at 20+ different host sites. Stroll (or bike) Grand Haven's Beechtree Street to enjoy a wide variety of music and sign up for door prizes.
Breakaway Music Festival
August 18-19, 2023
Wiz Khalifa, Big Gigantic, Illenium, DJ Snake and The Chainsmokers are just a few of the performers who have appeared in years past at this Belknap Park event. The Breakaway Music Festival has called itself the "leading college-focused touring festival in the U.S." – but it's fun for all ages and customized for the GR market. View the 2023 lineup and get tickets here.
West Michigan Bluegrass FallFest Festival
September 15-16, 2023
Enjoy two days of concerts, camping and jamming at Lowell Fairgrounds 20 minutes from downtown GR. The Bluegrass FallFest includes workshops and activities in addition to great bluegrass acts.
Confluence Festival
September 22-23, 2023
This annual festival explores what's possible when art, music, science and technology converge, with a lineup of musicians that exemplify a theme like the "intermingling of musical genres" and the "blurred boundaries between national and local bands." The Confluence Festival is a FREE event held in downtown GR.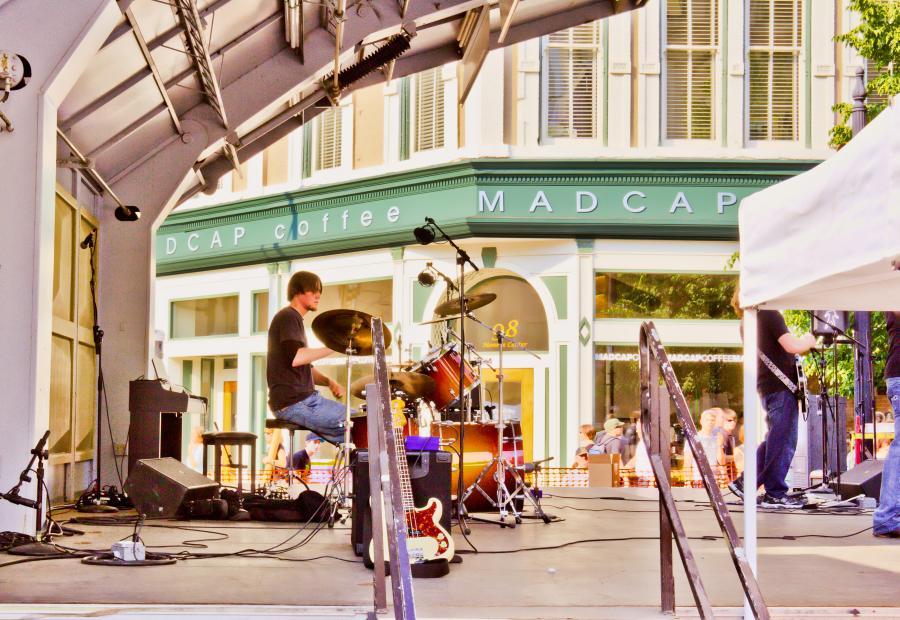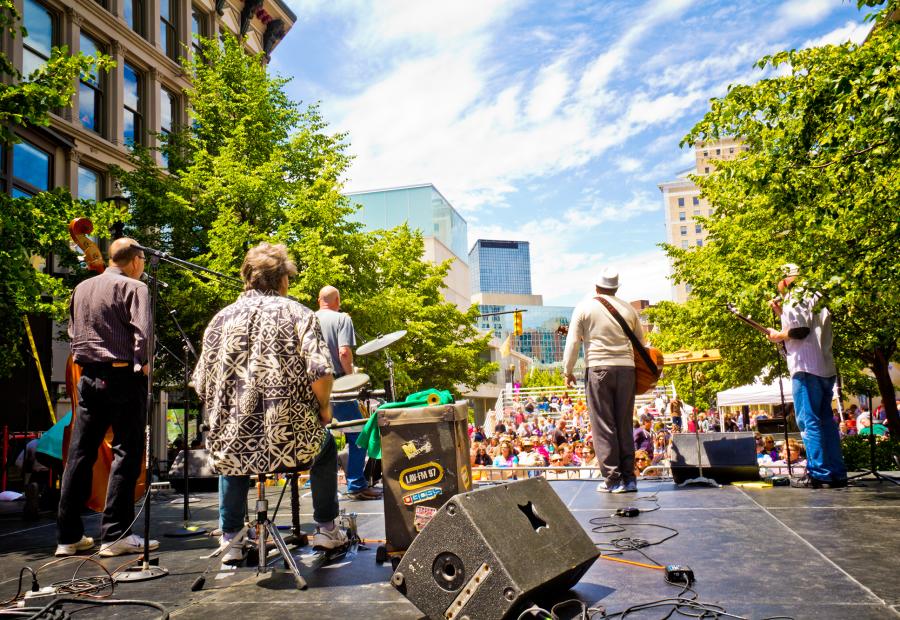 Music Festivals from Grand Rapids to the Lakeshore.
Photo by Use Information: Credit Experience Grand Rapids
Lakeshore Festivals
Grand Rapids makes the perfect home base for attending these festivals located 30-45 minutes from downtown. Book a GR hotel so you can enjoy big-city culture and dining during festival off-hours.
Buses by the Beach
May 26-29, 2023
Organized to raise funds for the Grand Rapids-based Phoenix Society of Burn Survivors, this Memorial Day weekend festival features live music from local and regional performers plus rustic camping in the woods and fun family activities. Buses by the Beach is held at Camp Blodgett in West Olive, 30 minutes from Grand Rapids. Get tickets here.
Burning Foot Beer Festival
August 26, 2023
A celebration of beer, beach, art and music, the Burning Foot Beer Festival is held along the spectacular Lake Michigan shoreline every year. Enjoy a stellar lineup of regional and national musicians, sample beer from dozens of Great Lakes breweries and even camp on the beach, if you're so inclined. (Just don't wear shoes.) Ticket information for 2023 will be announced here.
Michigan Irish Music Festival
September 14-17, 2023
Held every year in September, the Michigan Irish Music Festival features six stages of live music, hosting 20+ Irish and Irish-inspired performers, plus dance, food, culture and more. It takes place at Heritage Landing Park in Muskegon. Get tickets here.
Many of our Cultural Festivals & Celebrations also include concert elements, usually highlighting music from different heritages and regions of the world. Need to get your groove on right now or during your next trip to Grand Rapids? Check our Events Calendar for the date(s) you want and click "Music" under Categories.