Several bars and distilleries in Grand Rapids have elevated the standard gin and tonic (G&T) by using local or house-made spirits and adding a variety of botanicals and other spices to create a unique flavor profile. While some remain juniper-forward (very piney), others are crafted to be significantly more subtle, which means there are G&Ts around town to satisfy a variety of taste preferences.
Here are a few Grand Rapids establishments that have raised the bar on the G&T: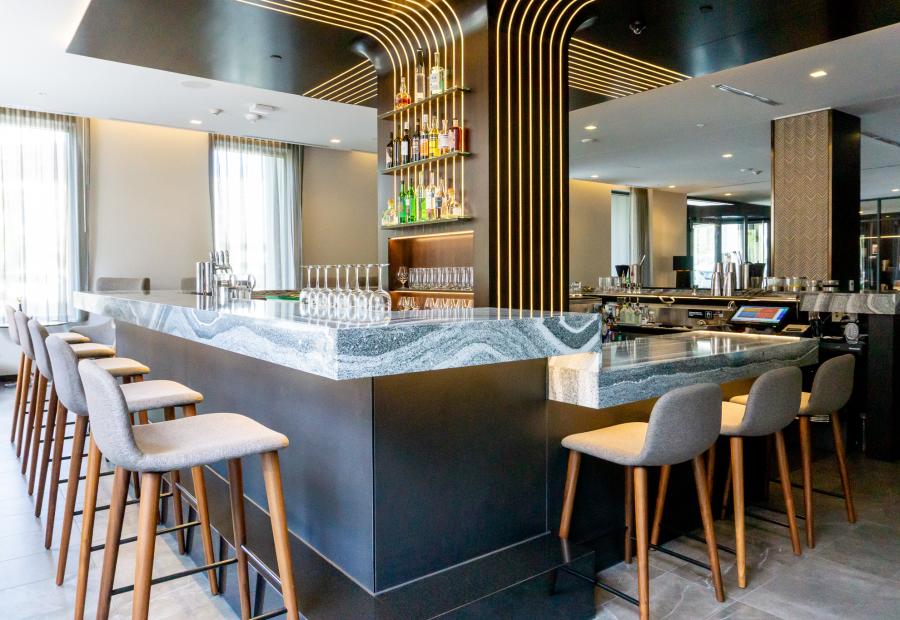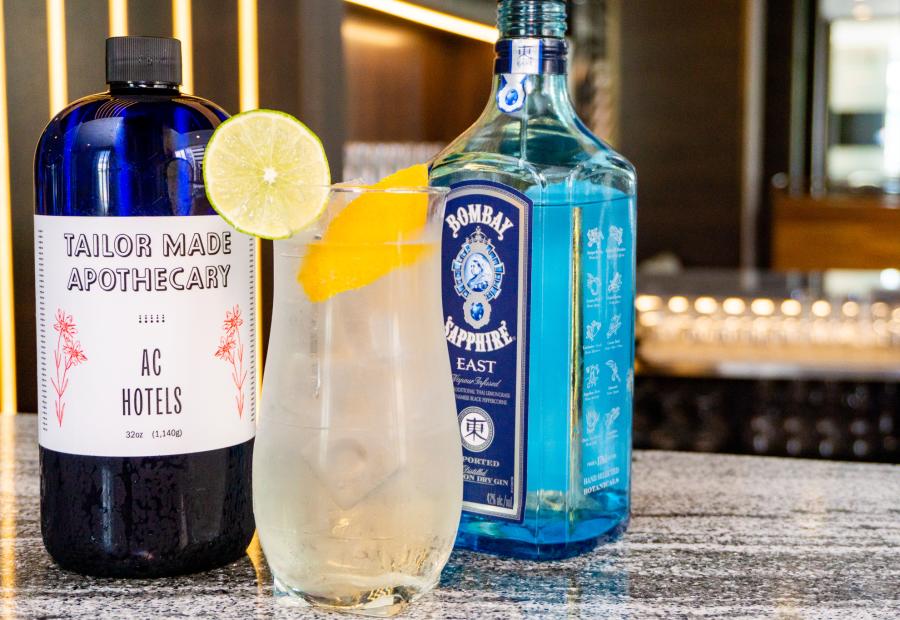 AC Hotel's ACGT features two elements unique to the hotel: the tonic mixer and the tulip-shaped glasses in which it's served.
Photo by Brian Craig for Experience Grand Rapids
AC Hotel Grand Rapids Downtown
The lounge at Grand Rapids' AC Hotel, a Marriott International brand, claims to be redefining the gin & tonic with its "ACGT," made with Bombay Sapphire East Gin. 
This gin brings a whole new flavor with its addition of two botanicals, Thai Lemongrass and Vietnamese Black Peppercorn. The Bombay Sapphire East sipped neat tastes like black pepper, the primary ingredient. But when added to a cocktail, the result is a striking balance between herbal and peppery flavors.
AC Hotel uses a small batch tonic that comes in syrup form and is made exclusively for the hotel. When paired with the Bombay Sapphire East, the gin and syrup combine to create a delicious, herbal, peppery and refreshing gin and tonic.
Instead of the highball glass traditionally used for G&Ts, AC Hotel serves the drink in a tulip-shaped glass, created exclusively for the AC Hotel by Nigel Barker, who is best known for being a judge and photographer on America's Next Top Model. The glass features three lines that correspond to the amounts of gin and tonic syrup, soda water, and ice, thus ensuring the perfect ratio every time.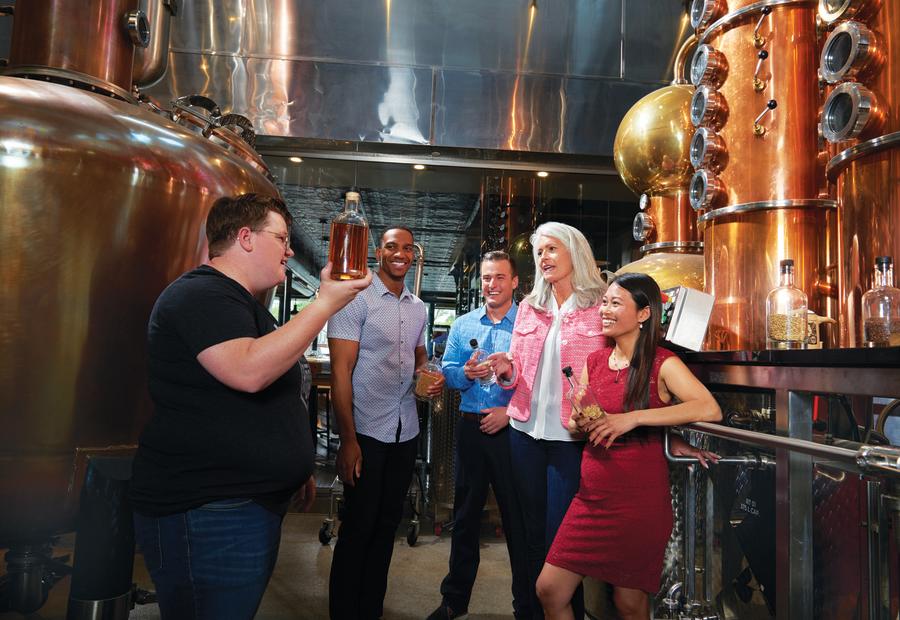 For Long Road, its motto, Take No Shortcuts, means focusing on both the ingredients and the craft of distilling.
Photo by Experience Grand Rapids
Long Road Distillers
At Long Road Distillers, all of the spirits and mixers are made in-house and from scratch. They also make a point to source ingredients from local farmers or purveyors whenever possible.
The Long Road G&T is made with the distiller's American Dry Gin, which is 90-proof in contrast to most gins, which are 80-proof. The gin recipe uses six botanicals: juniper, cardamom, coriander, grains of paradise, pink peppercorn (which is a little floral, a little sweet, and a little spicy), and fresh lemon peel.
One unique aspect of Long Road's gin is that it's not bitter, but exudes a more citrus-forward juniper flavor, with a nice balance of other botanicals. This drink tastes more like a sweet berry than a heavy pine or bitter flavor.
Long Road uses a house-made tonic and carbonates it in a keg with the gin, so the G&T is served on draft. Long Road offers a handful of other rotating cocktails on draft as well.
When you go, be sure to also sample Long Road's Michigin. Although it's not the gin featured in the G&T, it's the first gin made with 100 percent Michigan-sourced ingredients. Long Road employees make the trek to Beaver Island every September to harvest enough juniper berries for the next batch. They typically pick a couple hundred pounds, and depending on how much juniper they pick, that's how much Michigin they can produce for the year.
Not only is the state connection pretty cool, but in 2017, Michigin was named the Best Gin in the World at the "50 Best Competition" in New York City.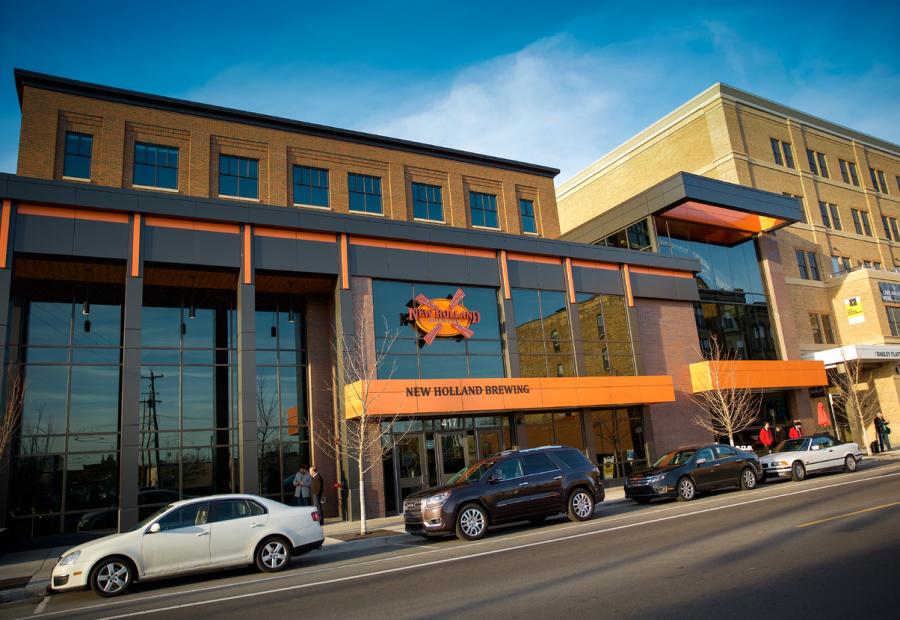 New Holland distills its own gin in its Grand Rapids location, the Knickerbocker.
Photo by EXGR
New Holland Spirits
New Holland Spirits' G&T features New Holland's traditional Knickerbocker Gin, which has a very citrus-forward flavor and is infused with more than a dozen herbs and spices.
To make the G&T, customers have their choice of several different tonics so that they can find the one they like the most. Though the staff admits that Fever Tree tonic has always been a favorite of theirs, any G&T made with Knickerbocker gin is well-balanced. 
New Holland Spirits makes three other Knickerbocker gin varieties, all of which can work well in a G&T. They're produced in New Holland's Grand Rapids distillery at the Knickerbocker and are available throughout the state of Michigan as well as at its three retail locations (Holland, Grand Rapids, and Saugatuck).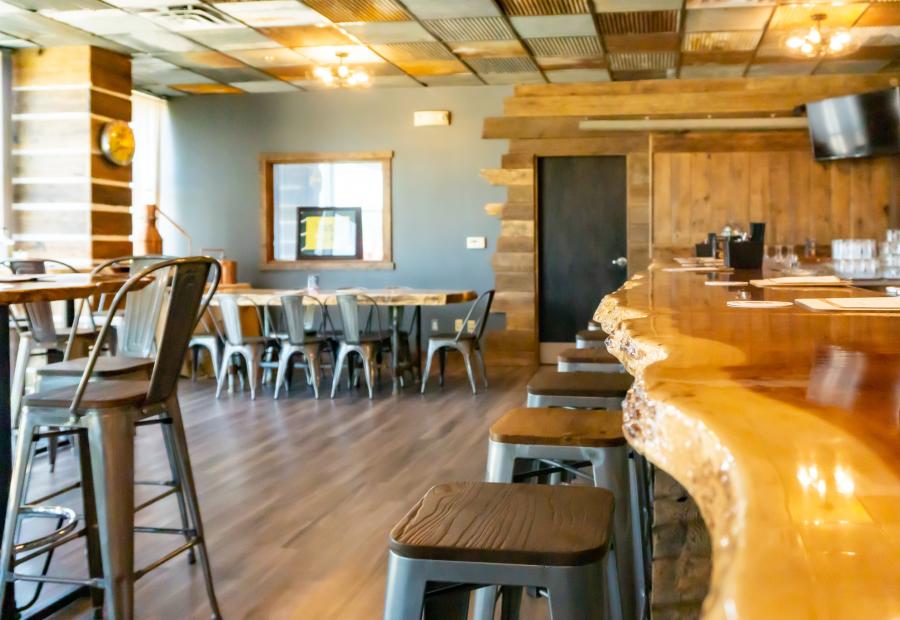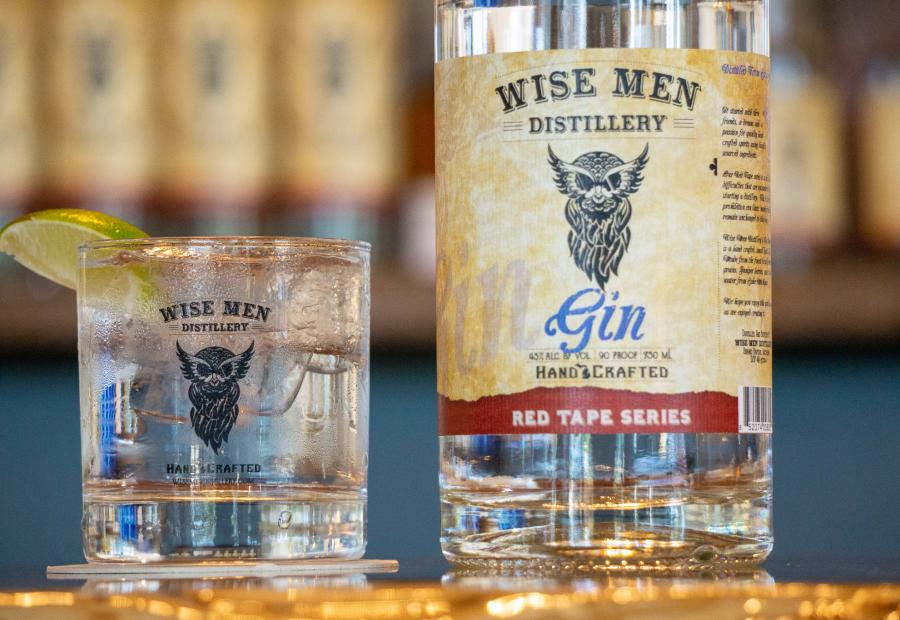 Wise Men Distillery hand-crafts its own spirits, and the gin is made in small, 10-gallon batches.
Photo by Brian Craig for Experience Grand Rapids
Wise Men Distillery
At Wise Men Distillery, quality over quantity is the mantra, and the care they put into making their spirits is obvious. They're committed to using local farmers, businesses, and suppliers, as well as Michigan-made products whenever possible.
This attentiveness to their products has paid off, as their hand-crafted gin has received awards and honorable mentions in multiple national competitions - and it's not hard to see why. Wise Men uses only the finest Eastern European juniper berries, combined with a craft-made tonic, the latter of which has the perfect amount of sweetness and bitterness.
The smells of juniper, citrus, and hints of floral scents are immediately noticeable in Wise Men's craft gin. The flavor is similar, with hints of juniper that are not overpowering or overly piney, followed by a sweet citrus finish and earthy undertones that slowly fade into one another and leave you wanting more.
Visit both their Downtown and Kentwood locations for an exceptional gin-drinking experience.
This article was originally written by Kirsetin Morello and has been updated by Experience Grand Rapids.