Michigan is one of America's top three apple-producing states – and Grand Rapids is one of the state's best apple-growing regions. Our apples are distributed far and wide, but some are kept right here to make one of our favorite fall drinks, cider.
Apple cider is a raw, unfiltered, unsweetened beverage made from the juice of pressed apples. It has a concentrated apple flavor, with a pronounced tanginess and sharp mouthfeel. One taste and you'll be hooked – and so will your kids!
Unlike hard cider – which Grand Rapids also produces plenty of – fall ciders contain no alcohol. Unlike apple juice, apple cider doesn't undergo a filtration process to remove pulp and sediment, and it contains no preservatives or sweeteners. Apple cider is perishable and must be kept refrigerated, though you can heat it up for a cozier option on a chilly day.
Grand Rapids cider mills use fresh-picked local apples – usually from their own farms – to create this lip-smacking libation, so apple harvest time (typically September through November) is peak cider season.
Here are some places to enjoy fresh cider this fall: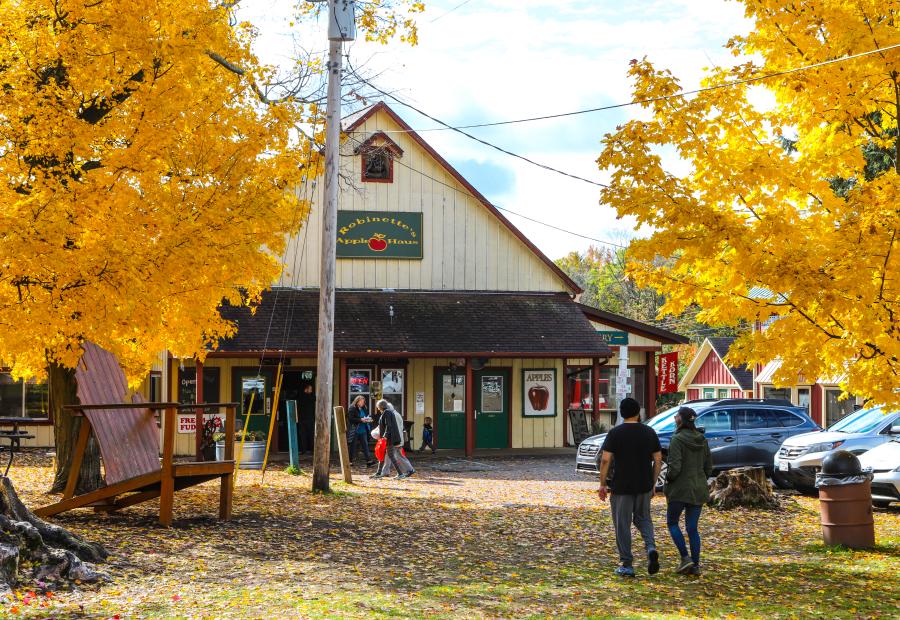 Robinette's cider, donuts and tasting room experience have become fall tradition in GR.
Photo by Experience Grand Rapids
Robinette's Apple Haus & Winery
3142 4 Mile Rd NE, Grand Rapids 49525
The cider mill at this family farm has been in operation since the early 1970s (about 60 years after the farm itself was established.) Robinette's Apple Haus & Winery grows more than 40 apple varieties and blends different combinations to press fresh cider starting the Tuesday after Labor Day through April or early May. The blend of apples changes as the season progresses to always achieve the perfect balance of sweet and tart.
Robinette's treats its cider with an ultraviolet light process to prevent any bacterial contamination, and never use any preservatives or additives – it's 100% pure apples. They also freeze several extra batches of cider every November to ensure a summer supply. You can stop in for a cup, quart or gallon any time of the year!
You can also stop in throughout the year for other Robinette's attractions – including a bakery, lunch counter, winery, gift store and trail through the orchard. Visit in fall for hayrides, a petting zoo and corn maze in addition to fresh-pressed cider (and fresh-baked donuts, which pair perfectly with cider).
The apple orchard at Robinette's spans more than 125 acres, but it's basically an urban farm – close to such other attractions as Celebration Village shopping, dining & entertainment (four minutes away) Frederik Meijer Gardens & Sculpture Park (five minutes) and downtown Grand Rapids.
Hill Bros. Orchards & Cider Mill
6159 Peach Ridge NW, Grand Rapids 49544
Family-owned and operated since 1843, Hill Bros. Orchards & Cider Mill is located atop the Fruit Ridge, a unique land feature named for its extensive agricultural activity, including apple farming.
Hill Bros. grows 15+ varieties of apples and uses them to press its cider, which has won a bushelful of state and national awards. The cider is treated with ultraviolet light and contains no preservatives.
Hills Bros. cider is available at their farm, by the gallon or half gallon, typically from mid-September through January.  They also offer frozen cider by the gallon throughout the year.
Hill Bros. is located about 15 minutes from downtown Grand Rapids, close to a dozen or so other farm markets on the Fruit Ridge as well as the country town of Sparta, which hosts an annual Apple Fest in September.
Klein Cider Mill and Market
2151 10 Mile Rd. NW, Sparta 49345
Another Fruit Ridge operation, Klein Cider Mill and Market also makes its cider from apples they grow themselves. They sell the cider – along with fresh apples, pumpkins and other produce – at their farm market, which was remodeled in 2022.
Available in half gallon, gallon and bulk quantities, Klein cider is made from different combinations of apples depending on what's just been picked, so the taste varies with each press. (But it's always delicious!) They press cider on site into the winter months and also offer a luscious pear & apple cider blend.
Klein Cider Mill is a past winner of the Michigan Apple Cider Contest, competing against other cider mills across Michigan in a blind taste test. It is located about 20 minutes from downtown Grand Rapids, within Sparta city limits.
Engelsma's Applebarn and Cider Mill
429 Covell Ave. NW, Grand Rapids 49504
Four generations of the Engelsma family have been farming in the Grand Rapids suburb of Walker since the 1920s. Engelsma's sells its cider in season – along with just-picked apples and other produce – in a small parking lot at 429 Covell Ave. NW, just one mile up the hill from John Ball Zoo (and about eight minutes from downtown GR).
Don't let the lack of an on-the-farm market dissuade you from trying Engelsma's cider – it's won first place in the annual Michigan Cider Contest seven times as of 2022, more than any other cider mill in the state.
You can also find it for sale at other farm markets and retail stores.
Grandview Orchard
1118 Riley St., Hudsonville 49426
This family orchard about 20 minutes from downtown Grand Rapids grows and sells all their apples on site. Well, not quite all their apples – Grandview reserves some of the crop to press their own cider in small batches that are usually available beginning around the third week of September. There's nothing in it but the homegrown goodness of pressed apples, and it sells as fast as they can make it.
Fresh-made donuts are also hot sellers – you'll get them up at the "Apple Lady" trailer in front of the barn market – and you can also pick up a take-and-bake apple pie. The market is stocked with all sorts of apple varieties picked from the rows of trees surrounding it, plus pumpkins, mums and other farm goods.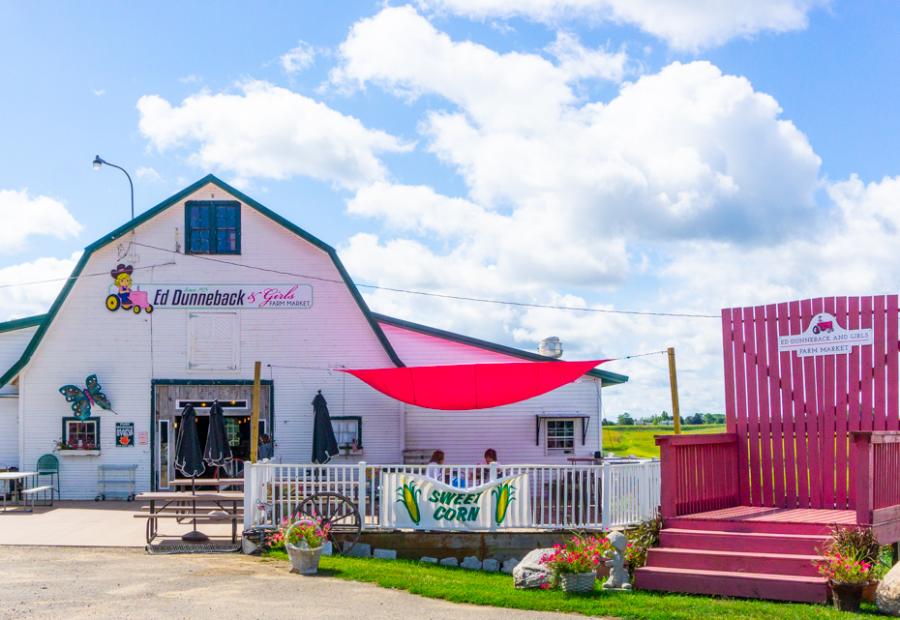 Like many cider producers in the Grand Rapids area, Ed Dunneback and Girls Farm is a family operation that spans generations.
Photo by Experience Grand rapids
Other Apple Cider Destinations
You'll also find fresh cider at many local farm markets, usually supplied by either Hill Bros. or Engelsma's – or both. Here are some of our favorites, listed in order of driving time from downtown Grand Rapids:
Wells Orchards, 8993 Kenowa Ave. SW, Grand Rapids 49534. Since 1919, this farm has grown a wide variety of produce, including apples, peaches, sweet cherries, blueberries, apricot, pears and assorted vegetables, all available in their farm market. They stock Engelsma's cider and a host of other farm goodies. About 15 minutes from downtown.
Ed Dunneback & Girls Fruit Farm, 3025 6 Mile Rd, Grand Rapids 49544. This Fruit Ridge farm offers cider and cider slushies in addition to donuts and a whole host of family-friendly activities. Plus they make their own hard cider, wine and beer. 17 minutes from downtown.
Steffens Orchards & Market, 4344 13 Mile Rd. NW, Sparta 49345.  This fall farm market on the Fruit Ridge offers cider, donuts, pies, jams, canned peaches and more. 24 minutes from downtown.
Schwallier's Country Basket, 1185 9 Mile Rd. NW, Sparta 49534. Family-owned farm market and apple orchard on the Fruit Ridge serves up cider and cider slushies made with their own apples (by Engelsma's), plus donuts, pies, homemade goods and family fun attractions. 22 minutes from downtown.
Fruit Ridge Hayrides, 11966 Fruit Ridge NW, Kent City 49330. Enjoy cider and fresh donuts, plus u-pick fruit, a farm market, giant corn maze and horse-drawn at this family favorite, open on fall weekends. 28 minutes from downtown.
Heidi's Farmstand and Bakery, 11999 Cascade Rd. SE, Lowell 49331. Step into this country store for cider, cider slushies, fresh baked goods, just-picked produce – and a giant fall corn maze out back. 29 minutes from downtown.
Red Barn Market, 3550 Alden Nash Ave. NE, Lowell 49331. Apple cider and sweet cider slushies are served at this year-round café and farm store, which also offers fresh produce, ice cream and a hard cider tasting room. 32 minutes from downtown.
Check with each farm before you visit to make sure they have cider in stock before you visit.