Quality ciders start with quality apples, and more than half of all Michigan apples are grown on the Fruit Ridge, a unique land feature 10 minutes north of downtown Grand Rapids. Michigan is one of America's top three apple states – and we have one of the world's best apple-growing regions right in our backyard.
Cider tends to be a special offering in the fall - so mark your calendars to visit these locations!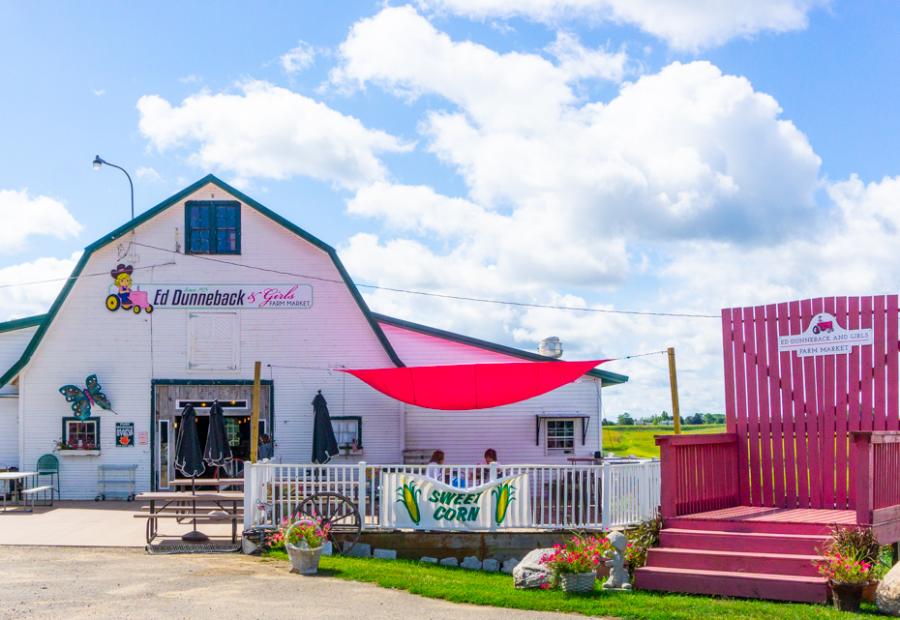 Like many cider producers in the Grand Rapids area, Ed Dunneback and Girls Farm is a family operation that spans generations.
Photo by Experience Grand rapids
Ed Dunneback & Girls Fruit Farm. Apple cider, apple cider donuts and apple cider slushies are just the tip of this century-old family farm's fall offerings. There's also a restaurant, market, playground, corn maze, assorted animals, and live music and special events every weekend. Did we mention they also make their own hard cider, beer, wine and seltzer? Come for the cider, stay for hours of seasonal fun.
Engelsma's Apple Barn and Cider Mill. Award-winning Engelsma's cider, made with fresh apples from the family fruit farm, is available at the Apple Barn (429 Covell Ave. NW) on Saturdays, and most days of the week at nearby Moelker Orchards and Wells Orchards, and at Schwallier's Country Basket in Sparta. Moelker, Wells and Schwallier's also offer an assortment of fresh-picked produce and fall activities in addition to cider. 
Hill Bros. Orchards & Cider Mill. Family-owned and operated since 1843, Hill has accumulated several bushels full of awards for its cider over the years. The cider is made on the farm from apples grown on the farm, and it is UV treated to preserve the fresh apple flavor that is often lost from heat pasteurization. Hill also sells more than 15 varieties of apples, which you can pick from large bins. 
Heidi's Farmstand & Bakery. If you like apple cider, you're going to love Heidi's apple cider slushies. Odds are, you'll also love the pumpkin donuts, pumpkin cream cheese muffins, apple and pumpkin pies, and all the other fresh-baked goodies Heidi's serves up daily. Fresh produce and a killer corn maze round out the offerings at family-favorite destination in Lowell.
Klein Cider Mill & Market. This family-owned farm in Sparta offers both fresh-pressed apple cider and a delectable pear-apple cider – buy them both by the gallon or half-gallon, or enjoy a hot cup of cider (with a donut) on weekends. The barn market is also stocked with apples, pie pumpkins, squash, mums and other goodies. Get ready for Halloween with a visit to the u-pick pumpkin patch.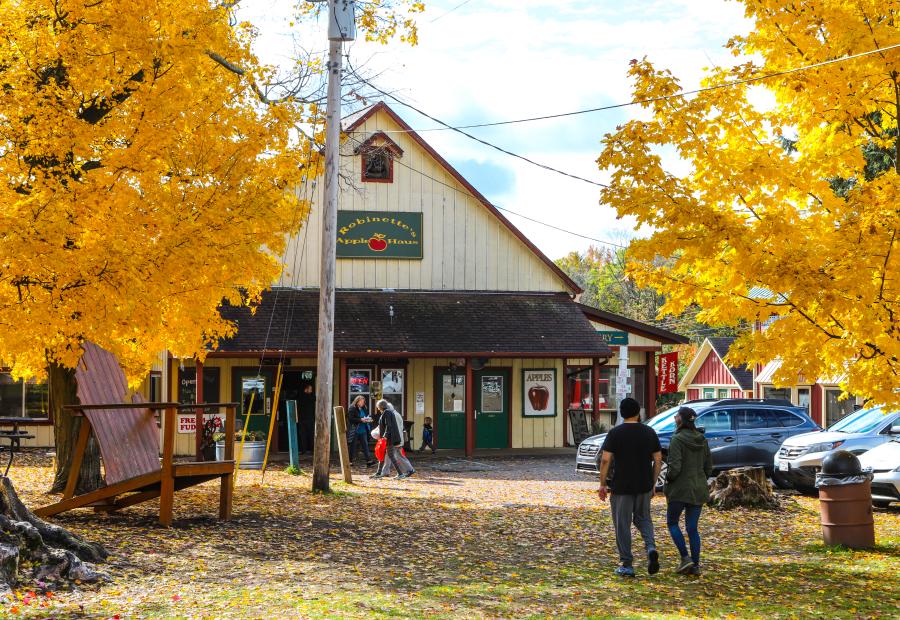 Robinette's cider, donuts and tasting room experience have become fall tradition in GR.
Photo by Experience Grand Rapids
Robinette's Apple Haus & Winery. The soft cider mill at this family farm has been in operation since the early 1970s (about 60 years after the farm itself was established.) The mill uses a blend of apples to create fresh cider starting the Tuesday after Labor Day through April or early May. Several batches are frozen to ensure a summer supply. The cider is 100% pure apple, with no preservatives or additives. Robinette's also offers a bakery, lunch counter, dining area, wine & hard cider tasting room, corn maze, hayrides, petting zoo and more.
Prefer your cider with a little kick? Check out these Grand Rapids-area crafters of hard cider.