What's better than enjoying an adult beverage with friends in Grand Rapids? Enjoying an adult beverage with friends while drinking in panoramic views of Grand Rapids!
Rooftop bars are all the rage in our Instagram age – who can resist sharing a photo of an artfully-crafted cocktail set against a city skyline? But these next-level destinations are also a great place to relax and unwind beneath a sunny (or starry) sky, up above the hustle and bustle of the streets.
Our list of rooftop bars includes a few that aren't technically atop a building – but all of them offer spectacular birds'-eye views to complement their top-flight beverages and bites. Check them out to take your date night or get-together to new heights … and be sure to tag your rooftop photos with #ExperienceGR to spread the wow!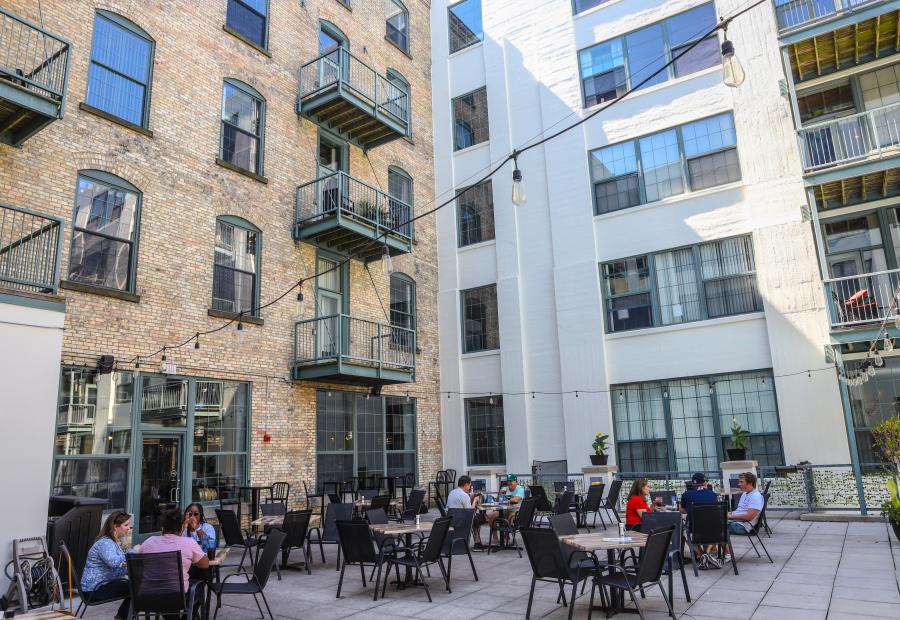 History mixes with a pleasant outdoor dining atmosphere at the Brickyard Tavern.
Photo by Experience Grand Rapids
Brickyard Tavern
The elevated outdoor patio at this popular Monroe North restaurant overlooks the courtyard pool and fountain at Boardwalk Condominiums, a residential community situated in what was once the world's largest furniture factory. It's not so much a view of the city as a glimpse of one of the city's most amazing (and award-winning) historic renovation projects. The Brickyard Tavern offers a full dining menu as well as craft beers, wine and cocktails.
Founders Brewing Co.
If you're a fan of world-class craft beer, you probably already know about Founders' famed outdoor beer garden. But did you know that Founders also offers a second-floor event space with even more expansive views of the city? The Centennial Room is equipped with two walls of windows and a two-sided patio. It can be rented for social and business events in 3-hour minimum blocks.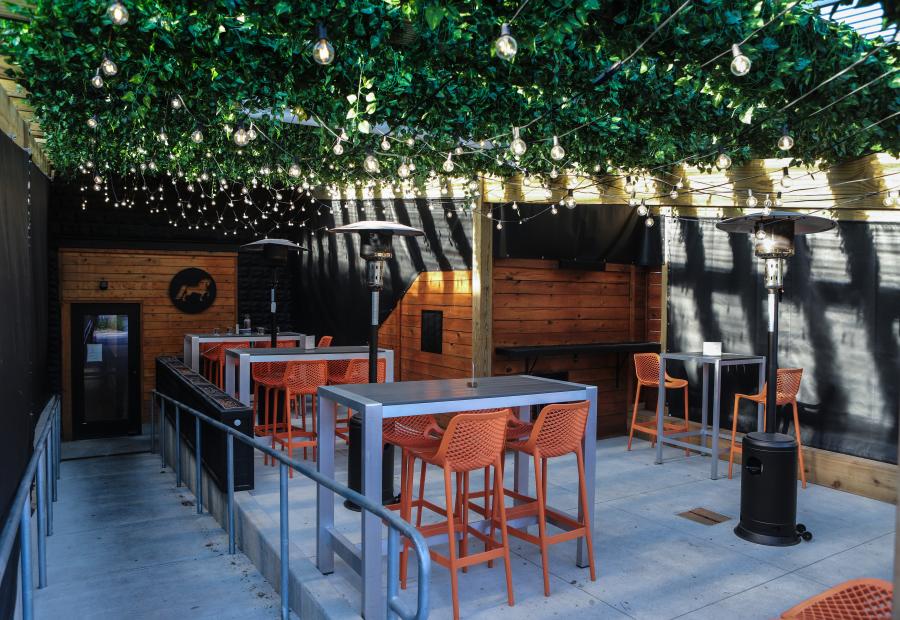 Head to the top of the Friesian to find its intimate rooftop deck.
Photo by Experience Grand Rapids
The Friesian Gastro Pub
The 50-person rooftop deck at this casual neighborhood pub, just down the hill from downtown's Medical Mile, offers views of busy Michigan Street and historic Heritage Hill homes while still managing to feel completely set apart from the city. Boasting "an eclectic twist on comfort food," The Friesian is a fun spot for dinner and weekend brunch accompanied by beer, wine and creative cocktails.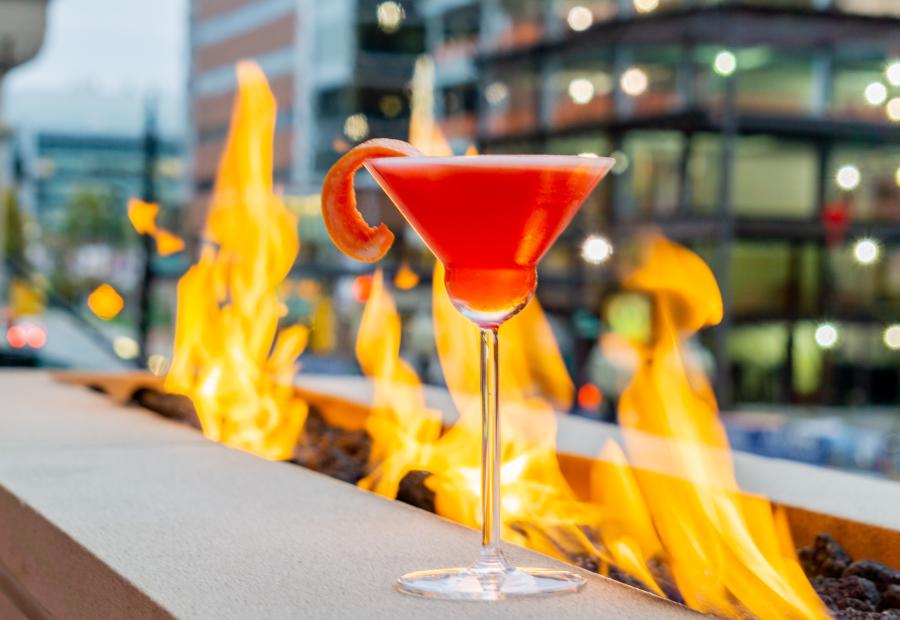 Panoramic views of downtown Grand Rapids and expertly-crafted beverages welcome you at IDC. No wonder locals want to keep it a secret!
Photo by Brian Craig for Experience Grand Rapids
IDC
A private, covered, year-round balcony bar with indoor and outdoor seating, IDC affords guests a panoramic view of the street below and the city above. Expect delectable cocktails and a finely curated selection of wine, beer, cider and seltzer. Located in the Amway Grand Plaza, Curio Collection by Hilton hotel, IDC is open to the public but requires a secret code to enter. (Sign up at the IDC website to get it – just don't tell anyone we told you.)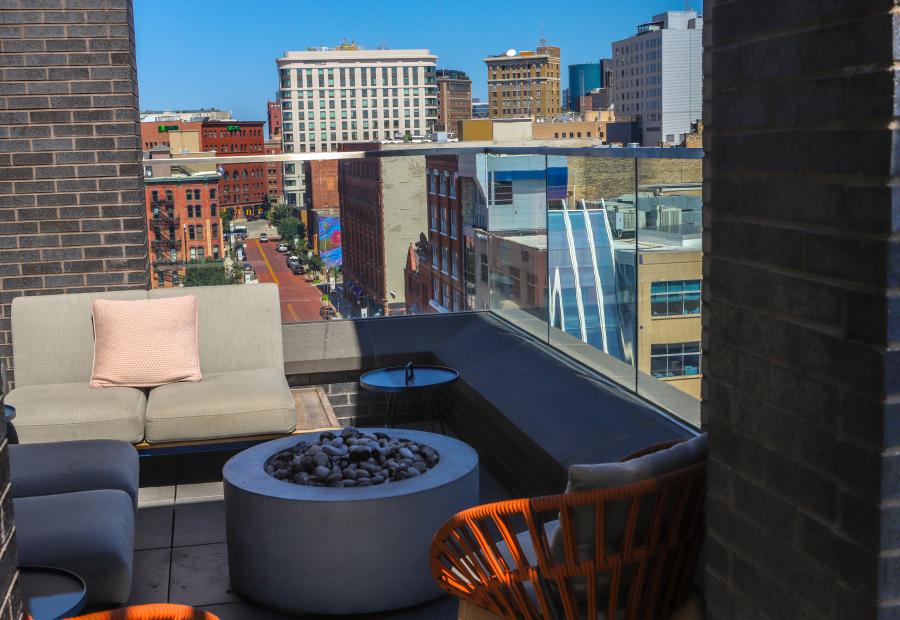 Knoop's modern design and Dutch and German-inspired cuisine is a nod to Grand Rapids' roots.
Photo by Experience Grand Rapids
Knoop Rooftop Beer Garden
Enjoy craft cocktails and small bites at this upscale destination inside (and outside) the Canopy by Hilton Grand Rapids Downtown hotel. Knoop offers an extensive variety of local craft beer, wine and specialty cocktails in addition to stunning views of downtown. The dinner menu offers a refined mix of Dutch and German-inspired cuisine with a modern touch.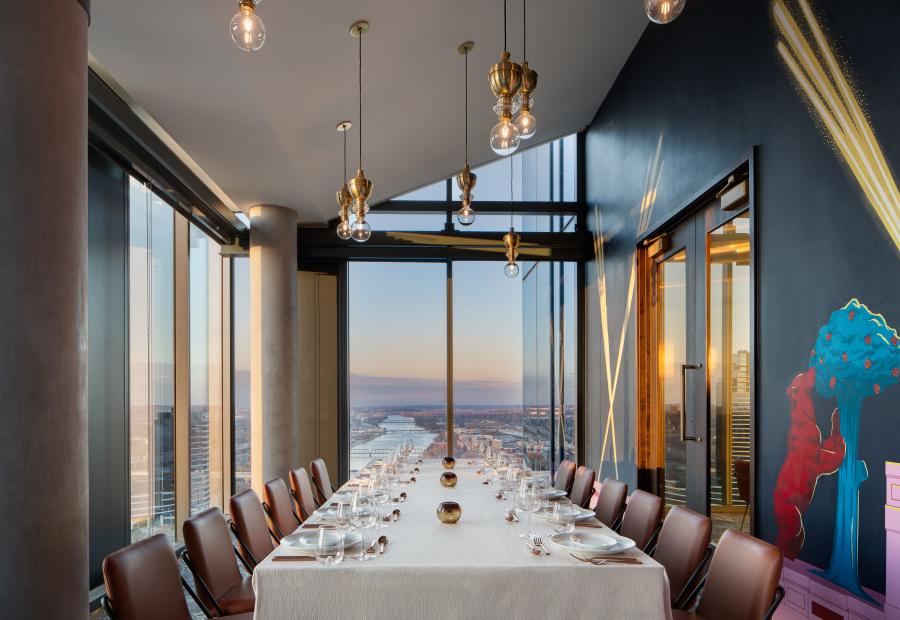 MDRD (pronounced "Madrid") has lavish Latin-influenced cocktails.
Photo by Credit: AHC Hospitality
MDRD
Okay, this one isn't on the roof, but it is on the top two floors of the 29-story Amway Grand Plaza, Curio Collection by Hilton hotel, one of the tallest buildings in Grand Rapids. The views from MDRD's floor-to-ceiling windows and private balcony are truly breathtaking – and the food and drink are just as magnificent. The restaurant's name is pronounced "Madrid" and it specializes in modern Spanish cuisine – including tapas, imported wine and beer, and lavish Latin-influenced cocktails.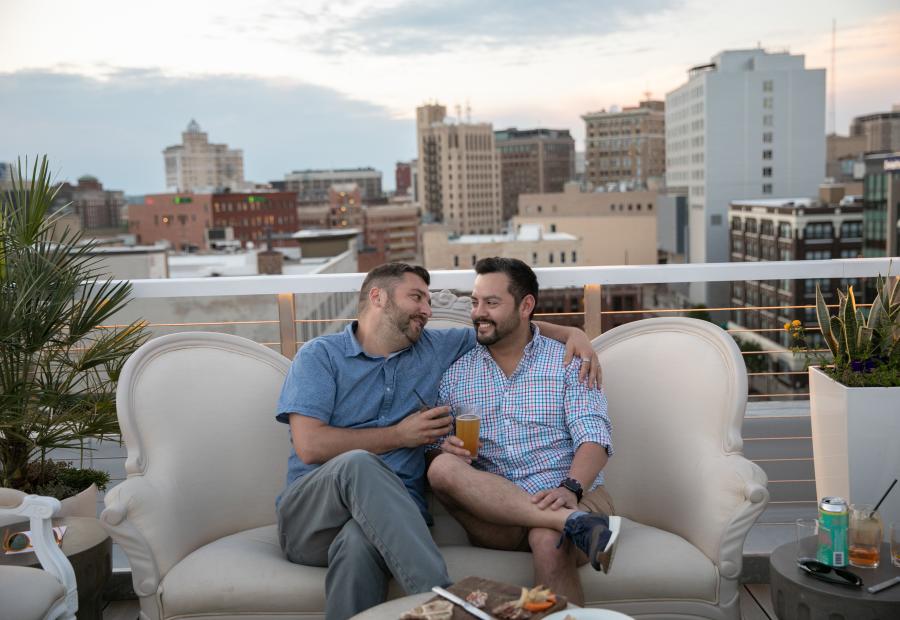 If you want to impress your guests with city views, Mertens Rooftop is a great place to do just that.
Photo by Experience Grand Rapids
Mertens Rooftop
Take a trip to the south of France in the heart of downtown Grand Rapids. Mertens Rooftop serves French-inspired bites and cocktails in the open air along with expansive views of the city. A variety of soft-seating arrangements imparts an elegant yet laid-back ambiance. Perfect for pre- or post-dinner drinks when visiting Mertens Prime steakhouse (also in the building) or for a memorable stand-alone experience.
Waters View Rooftop Bar
Nestled atop the Homewood Suites by Hilton Grand Rapids Downtown hotel, this bar provides incredible views of the city along with numerous vantage points for drinking it all in – settle in to a comfy couch, grab a table or take a seat at the bar. Access to the Waters View is a special amenity reserved for guests of the hotel. (It's worth the check-in.)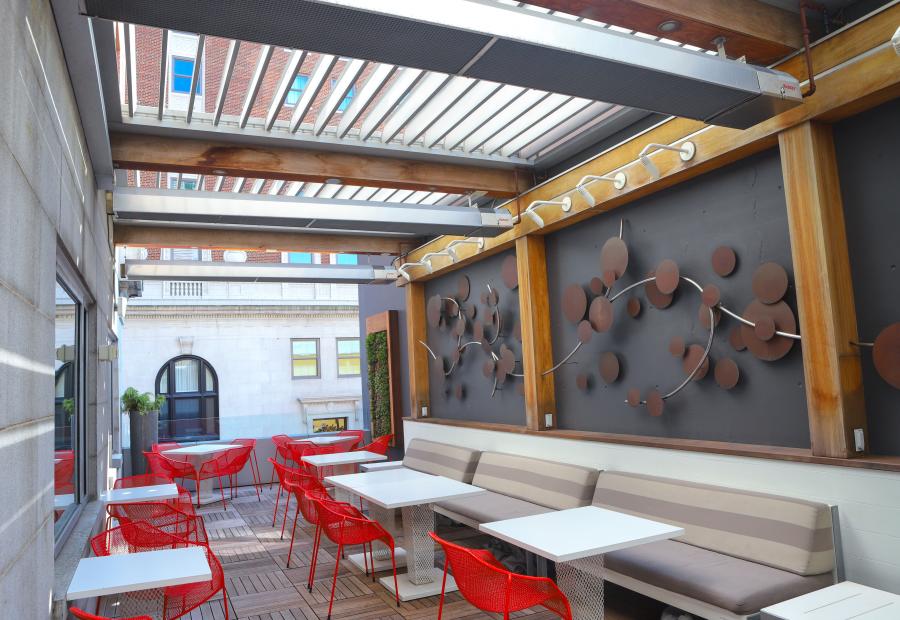 Tucked away on Reserve's second floor is their rooftop terrace.
Photo by Experience Grand Rapids
Reserve Wine & Food
The second-floor outdoor terrace at downtown's go-to wine, cheese and charcuterie destination feels both secluded and part of the big-city vibe. Reserve has more than 100 wines available by the glass, an extensive bottle collection and a sensational lineup of seasonal crafted cocktails, so you're sure to find something to please your palate. If you're feeling hungry, know that Reserve emphasizes modern-day classics built around locally sourced ingredients.
Rockwell Republic
This cocktail bar and gastro pub in downtown's Heartside neighborhood has won numerous crowd-sourced awards for its elevated outdoor deck, which feels like a roof without actually being one. Known for its delectable craft cocktails and happy-hour specials, Rockwell Republic also offers a variety of made-from-scratch seasonal cuisine.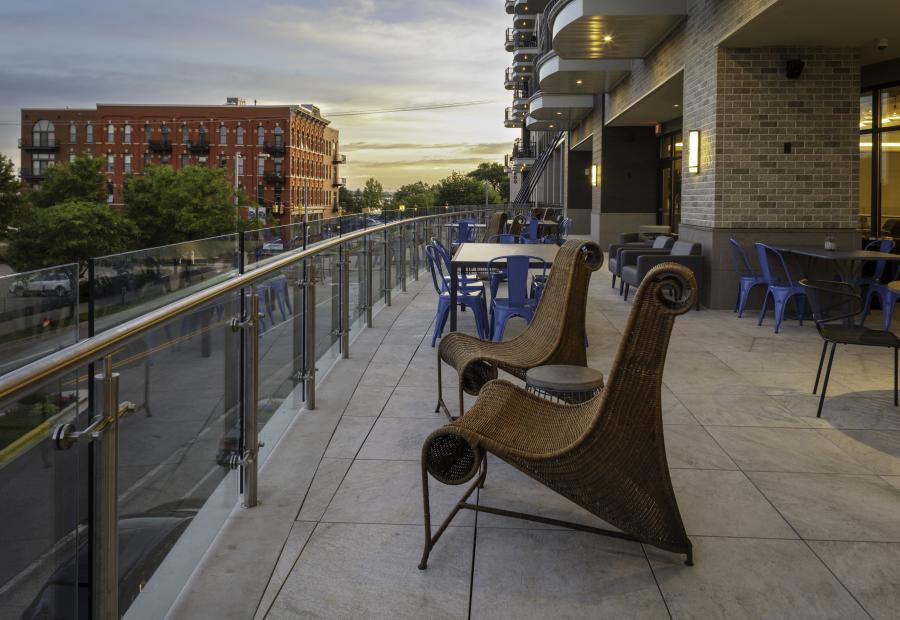 Whitewater has a great balcony view overlooking the Grand River.
Photo by Credit: Whitewater Café and Lounge
Whitewater Café and Lounge
It's back to the Monroe North neighborhood for a tranquil view of nature in the city. The Whitewater Lounge is located on the second floor of the Embassy Suites Grand Rapids hotel, and a balcony off the restaurant overlooks the Grand River and Sixth Street Park. It's a relaxing spot to knock back a cocktail after a busy day in the city (or before a lively night on the town). An event space higher up in the hotel offers an even more elevated perspective – ideal for social and business gatherings. The Whitewater Café is a coffee shop located on the first floor of the hotel.
Founders Rooftop at LMCU Ballpark
At a price tag of $3,000 (plus meal plan purchase), this is definitely a group experience – ideal for unforgettable business events, reunions, anniversaries and more. Up to 200 people can enjoy a spectacular view of the West Michigan Whitecaps – our Detroit Tigers affiliate – and the Grand River that flows alongside the stadium. The Rooftop offers partially covered seating, private restrooms and your own exclusive bar.