With dozens of themed nights, special giveaways, new food/drink choices and a variety of entertainment options, families who attend a West Michigan Whitecaps game get so much more than a baseball game.
The Whitecaps have been a West Michigan summer tradition since 1994, when they first took up residence in what was then known as Old Kent Park in Comstock Park. (It's now branded LMCU Ballpark.) Over the years, the 'Caps have switched their major league affiliation from the Oakland Athletics to the Detroit Tigers, won six championship titles and even garnered national attention for their food menu.
The 'Caps are looking forward to an exciting 2023 season, the 30th year the team has been part of the West Michigan community. The regular season opens April 6 with a home game against the Fort Wayne TinCaps and ends with a home game against the Great Lakes Loons on September 10. In between, there are 130 games, 64 of them at home – giving you plenty of opportunity to come out for an afternoon or evening of good, old-fashioned fun.
We're welcoming back a new season of baseball by taking a look at what's new for 2023 – with a nod to some of the most popular features of the past.
Family members of all ages are sure to be entertained at a West Michigan Whitecaps game no matter how close, or how far, your seats may be.
Photo by Experience Grand Rapids
New Promotions
The Whitecaps strive to provide fun fan experiences as well as great baseball games. This year's schedule includes 30+ theme nights and a full slate of promotions, including:
Flashback Frydays, with flashback pricing ($12.50 for a reserved seat), a flashback food item and specialty jerseys on the field every Friday home game.
Three 30th Anniversary Nights – June 9, June 30 and August 4 – featuring special celebratory goodies.
Theme events including Star Wars Night (June 24), Marvel Super Hero Days (July 14-15), Nickelodeon PAW Patrol Night (July 28) and Nickelodeon Rugrats Night (August 17).
Super Splash Day on July 26, when LMCU Ballpark transforms into a waterpark with sprinklers, a dunk tank, water balloons and more.
A free bobblehead of a former 'Caps player to the first 1,000 fans through the gate on May 13 (Matt Manning), May 27 (Park Meadows) and September 9 (Gregory Soto).
There's much, much more in store for fans this year – check the promotions schedule for full details.
New Food
The Firecracker Dog – a grilled hot dog topped with cream cheese, grilled onions, peppers and crispy jalapeno chips – won the Whitecaps' 2023 Fan Food Vote and will be served in the ballpark this season. Also new: build-your-own bowls, crispy battered corn on the cob, four specialty sundaes and the Queso Castle, offering a variety of cheesy delights.
New Ballpark Improvements
The Whitecaps are embarking on a multi-year project to modernize LMCU Ballpark into a state-of-the-art facility that will serve West Michigan for generations to come. Phase 1 of the project begins Spring 2023 and focuses on player amenities (including a rebuilt clubhouse, new playing surfaces and better field lighting) plus group hospitality enhancements, such as a new suite-level club space and new tiers of seating and gathering areas to replace the current hospitality spaces on both the first and third base sides. The concourse third-base barbeque area will be fenced off and closed during the 2023 season to accommodate construction.
You can learn more about Phase 1 and Phase 2 plans here.
New Coaching Staff
Former Detroit Tigers catcher Brayan Peña returns for his third season as Whitecaps manager supported by an all-new coaching staff selected in conjunction with Tigers brass.
Same Affordable Family Fun
At $10 per person for lawn seating, it's hard to find more bang for your buck in terms of family fun. If you prefer traditional seating, you can spring for reserved seats ($15.00 each), box seats ($17) or premium box seats ($19). View the seating chart here.
Watch in Luxury
Hate standing in line? You can purchase Safeco 4Topps premium seating for games, which reserves a table for four and includes wait service, so you don't have to join the queue for food and drinks. The tables run for $150 and sell out quickly, so grab one ASAP if you're interested.
Weekly Promotions
These longstanding promotions are enduringly popular, so the 'Caps are bringing them back for 2023 home games:
Tuesday Bulletin Nights: get half off all bowl seats, including premium seats, when you show a worship or community bulletin.
Silver Slugger Wednesdays: half off bowl seats, including premium seats, for fans age 50 or over with ID.
Thrifty Thursdays: $3.00 20 oz. domestic beers, $3.00 hot dogs and $3.00 Pepsi products, plus half off reserved seats for lawn tickets when you show your active college or military ID at the box office.
Saturday Fireworks: Stick around for a spectacular fireworks show after Saturday games.
Corewell Health Family Sundays: The first 1,000 kids 12 and under eat FREE!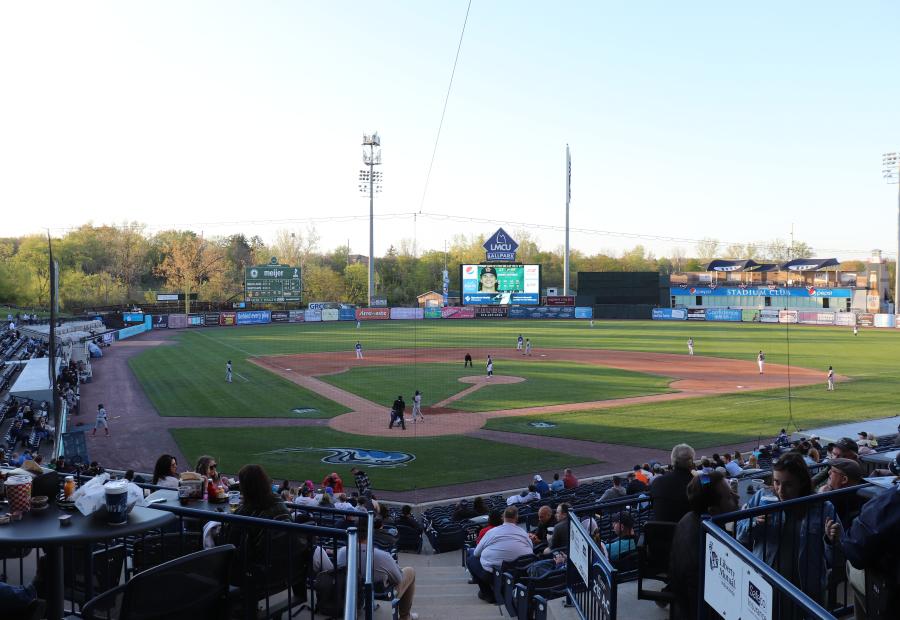 Game On! Reserved seats available for $15 each at LMCU Ballpark.
Photo by West Michigan Whitecaps.
Las Calaveras de West Michigan
The Whitecaps are transforming into Las Calaveras de West Michigan on three dates – June 10, July 30 and September 8 – to celebrate Hispanic/Latino culture and the influence it's had on America's pastime. There will be fun giveaways, food, special team uniforms and more.
Beer City Bung Hammers
The 'Caps are changing their name to the Beer City Bung Hammers for one night only – August 18 – in honor of Grand Rapids (a.k.a. Beer City USA). There will be beer, bungs and bung hammer-themed games all night long.
Grand Rapids Dam Breakers
To help raise awareness of the project to restore whitewater rapids to the Grand River, the 'Caps will take the field as the Grand Rapids Dam Breakers on July 29. A portion of all sales will benefit the Grand Rapids Whitewater Project.
Community Engagement
The Whitecaps are proud to help raise awareness and support great causes in the local community. Highlights include:
Pride Night (June 8), offering a special Pride Night ticket package that includes a Whitecaps Pride hat; a portion of the proceeds will go directly to the Grand Rapids Pride Center.
Negro League Appreciation Night (June 29), supporting the Urban League of West Michigan.
Rivalry Night (August 3), benefitting the Michael Sadler Foundation, which recognizes scholar athletes, and ChadTough, which works to defeat difficult-to-treat brain tumors typically found in children.
Paint the Park Pink Night (August 6), which aim to help raise awareness for the fight against breast cancer.
Visit the West Michigan Whitecaps' website to purchase tickets and stay abreast of new developments – including a bunch of $1 game promotions in April.
Reserve your tickets now and get in the swing of this fantastic summer tradition!
December 9, 2023 - December 31, 2023
December 9, 2023 - December 31, 2023