With dozens of themed nights, special giveaways, new food/drink choices and a variety of entertainment options, families who attend a West Michigan Whitecaps game get so much more than a baseball game.
The Whitecaps have been a West Michigan summer tradition since 1994, when they first took up residence in what was then known as Old Kent Park in Comstock Park. (It's now branded LMCU Ballpark.) Over the years, the 'Caps have switched their major league affiliation from the Oakland Athletics to the Detroit Tigers , won six championship titles and even garnered national attention for their food menu.
The 'Caps are looking forward to an exciting 2022 season, which begins April 8 with a game against the Great Lake Loons in Midland. The home opener is April 12 against perennial rival the Lansing Lugnuts. Just one more win will give the franchise its 2,000th victory, which will set a great tone for the year. The team will also welcome its 11-millionth fan within the first couple of months.
We're welcoming back a new season of baseball by taking a look at what's new for 2022 – with a nod to some of the most popular features of the past.
Family members of all ages are sure to be entertained at a West Michigan Whitecaps game no matter how close, or how far, your seats may be.
Photo by Experience Grand Rapids
New Promotions
The Whitecaps strive to provide fun fan experiences as well as great baseball games. This year's promotional highlights include:
Made in Michigan Wednesdays welcome a cavalcade of athletes who played for a Michigan team, including former Red Wing Darren McCarty (June 8), former Tiger Joel Zumaya (June 29), former Red Wing Chris Chelios (July 27), former Lion Jason Hanson (Aug. 17) and former Tiger Cecil Fielder (Aug. 24).
The Whitecaps Prospect Series gives a free bobblehead of a 'Cap/Tiger superstar in the making to the first 1,000 fans through the gate on May 14 (Riley Greene), May 28 (Dillon Dingler) and Sep. 10 (Spencer Torkleson).
Super Splash Day adds lots of water (including a drunk tank) to the ballparks for kids and adults to cool off in (July 13).
Stars Wars Night sees players dressed in special Star Wars jerseys that will be auctioned off during the game (July 16).
Marvel's Defenders of the Diamond features appearances by Spider-Man and Captain America, and players sporting super-hero jerseys (Aug. 26).
There's much, much more in store for fans this year – check the promotions schedule for full details.
New Start Times
Night games will start at 6:35 pm this season – 30 minutes earlier than in recent seasons.
New Coaching Staff
Former Detroit Tigers catcher Brayan Peña returns for his second season as Whitecaps manager supported by an all-new coaching staff selected in conjunction with Tigers brass.
New Payment System
LMCU Ballpark is going cashless in 2022 to reduce the time fans spend in line and at the register. All areas of the ballpark will be using credit cards, debit cards and contactless payments only.
Same Affordable Family Fun
At $10 per person for lawn seating, it's hard to find more bang for your buck in terms of family fun. If you prefer traditional seating, you can spring for reserved seats ($14.50 each).
The Food
After its gut-busting Fifth Third Burger was featured on ESPN's "SportsCenter," NBC's "Today Show" and many other media outlets in 2009, the Whitecaps have continued to raise the bar on creative, outrageous and delicious menu items – many of them selected by fan vote. This year's Fan Food Vote winner is Greek Gyro Nachos, which joins the menu along with a Beer City Steak Sandwich, Firecracker Popcorn, Nashville Hot Chicken Sandwich, Beef Fajita Tacos and Whitecaps Wave.
Of course, an extensive selection of more traditional ballpark foods is also available, as is an impressive menu of local and national beers and other alcoholic beverages.
Weekly Promotions
There's a special promotion every Tuesday-Sunday the Whitecaps are at home:
Joy99 Bulletin Tuesdays: half-off box or reserved seats when you present a worship or community bulletin at the box office.
AARP Silver Slugger Wednesdays: half-off box or reserved seats for fans age 50 or over with ID.
Thrifty Thursdays: $3.00 20 oz. domestic beers, $3.00 hot dogs and $3.00 Pepsi products, plus $5 reserved seats with active college or military IDs.
FAN-omenal Fridays: Kid's activities, mascot autograph sessions, them nights and more.
Saturday Fireworks: A post-game Family Fare Fireworks show after every Saturday home game.
Family Sundays: The first 1,000 kids 12 and under eat FREE!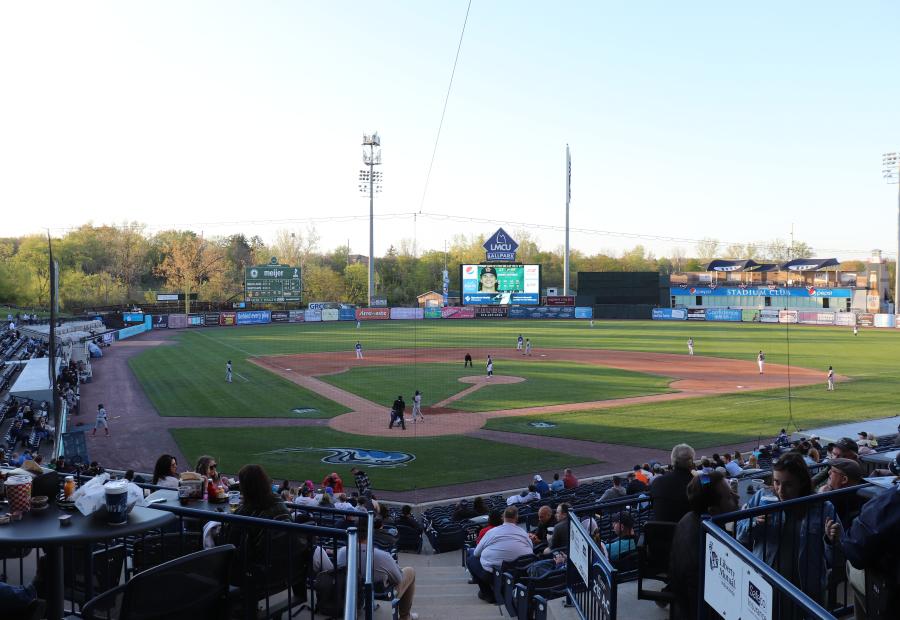 Game On! Reserved seats available for $14.50 each at LMCU Ballpark.
Photo by West Michigan Whitecaps.
Beer City Bung Hammers
The Whitecaps are changing their name to the Beer City Bung Hammers for one night only – August 20 – in honor of Grand Rapids (a.k.a. Beer City USA). They're teaming with Founders Brewing Company to offer beer, bungs and bung hammer-themed games all night long.
Las Calaveras de West Michigan
The Whitecaps are transforming into Las Calaveras de West Michigan on three dates – June 11, July 15 and August 21 – to celebrate Hispanic/Latino culture and the influence it's had on America's pastime. There will be fun giveaways, food, uniforms and more.
Grand Rapids Dam Breakers
To help raise awareness of the project to restore whitewater rapids to the Grand River, the 'Caps will take the field as the Grand Rapids Dam Breakers on July 30. The first 1,000 fans through the gate get a free Dam Breakers Bucket Hat.
Watching in Luxury
Hate long lines? In addition to box seats, premium box seats, and lawn and reserved seating, fans can purchase Safeco 4Topps premium seating for games, which reserves a table for four and includes wait service, so you don't have to join the queue for food and drinks. The tables run for $140 and sell out quickly, so grab one ASAP if you're interested.
Visit the West Michigan Whitecaps' website to purchase tickets and stay abreast of new developments– including a bunch of $1 game promotions in April.
Reserve your tickets now and get in the swing of this fantastic summer tradition!
November 26, 2022 - December 31, 2022
November 26, 2022 - December 31, 2022