Now that we have your attention – let's "taco bout" tacos!
We asked our social media followers to share their favorite local taco joints with us – and these are the 12 that got the most mentions (listed in no particular order). When you get a craving for a mouthwatering burst of handheld goodness, head to any or all of them for sweet relief.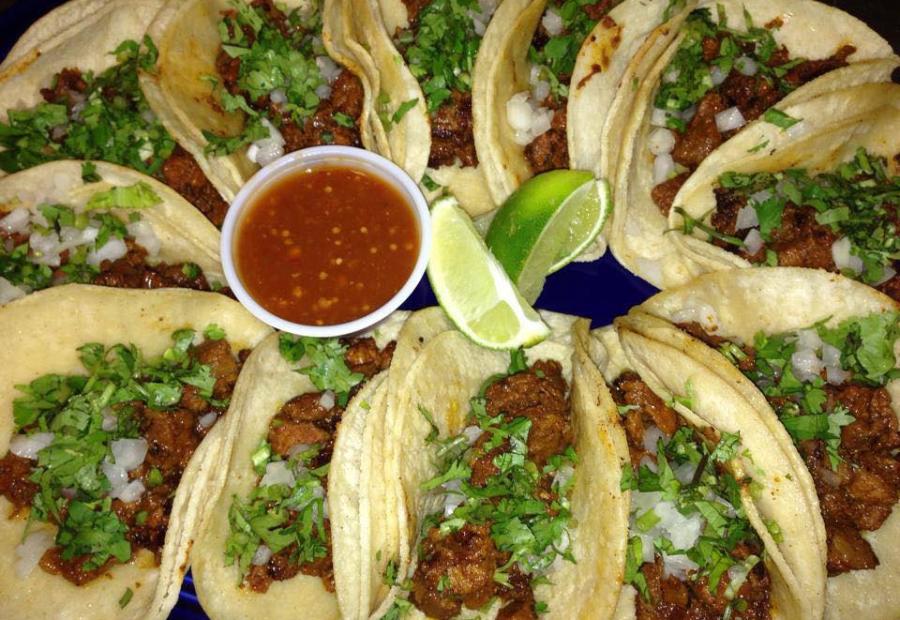 We heard a lot from locals about Taco el Cuñado's Bridge Street and Jenison locations.
Photo by Tacos El Cunado Bridge Street
Tacos el Cuñado 
1024 Bridge St NW, Grand Rapids 49504
7589 Cottonwood Dr, Jenison 49428
There are several Tacos el Cuñado locations around the city, but the Bridge St. and Jenison restaurants got the most thumbs-up from our followers. Maria de la luz Martinez and her husband Humberto Alvarez run the Bridge St. operation as a family business that prides itself on authentic Mexican food with a friendly staff and fast service. You'll also see Tacos el Cuñado at many community events and fundraisers, as Maria and Humberto are strong believers in giving back to the community. 
Tacos here are available with your choice of 8-10 different meats and served either Mexican- or American-style. You'll also find tortas, quesadillas, tostados and other south-of-the-border favorites.
El Granjero Mexican Grill
950 Bridge St NW, Grand Rapids 49504
Just a block away from Tacos el Cuñado, El Granjero serves delicious, authentic Mexican dishes under the watchful eye of owner/chef Mercedes Lopez and daughter/business partner Paola Mendivil. Celebrating its 15-year anniversary in 2022, this casual, comfortable dining spot has earned a passionate following for its delicious recipes, many of which hail from Mexico City, where Lopez and her family resided before coming to Grand Rapids.
Tacos – part of the Antojitos ("little cravings") menu – are available with eight different meats, in corn or flour tortillas, or in a crunchy taco shell. The menu goes way beyond tacos, too, if you want to taste different aspects of Mexican cuisine. Many of the selections feature cactus, a main ingredient of many Mexico City dishes.
Adobé In & Out
617 Fulton St W, Grand Rapids 49504
4410 Chicago Dr SW, Grandville 49418
Adobé has been serving up delicious Mexican food here since 1969, earning generations of loyal customers. Offering both dine-in and drive-thru service, both the Grand Rapids and Grandville locations deliver an assortment of "fresh food fast" – including simple but delectable beef and chicken tacos. A taco dinner comes with three tacos and a side of rice & beans. Adobé also offers meal combos, dinner plates and different a la carte options.
These are crunchy, not soft, tacos – fitting, since Adobé is also well-loved for its homemade chips, which taste great dipped in salsa or smothered with cheese and other ingredients.
Taco Boy
3475 Plainfield Ave NE, Grand Rapids 49525
Serving Grand Rapids at this location since 1967, Taco Boy may be best known for its burritos – its sign out front is emblazoned with the slogan "Home of the Super Burrito" – but its no-nonsense tacos are also an enduring draw. Beef tacos are available hard or soft, with or without tomatoes. For a real deal, take advantage of Taco Tuesday, when regular prices are slashed. Taco dinner combos, taco salad and a taco burger are also available.
Condado Tacos
449 Bridge Street, Grand Rapids 49504
A relative newcomer to the GR taco scene, Condado Tacos is a Midwestern chain operation that opened their Bridge Street location in 2021. Its "build-your-own taco" menu offers a choice of 11 bases – from hard corn shells to an assortment of bowls – plus 11 proteins, 12 toppings, four salsas and seven sauces. Can't decide? Condado provides a list of "suggested tacos" sure to please any palate. Chips & dips and a variety of sides round out the menu. Condado also serves liquor, including many tequila and margarita concoctions. Be sure to also check out their Mini Marg Flight as part of the ongoing Flights of Flavor promotion!
Lindo Mexico Restaurante Mexicano
1742 28th St SW, Wyoming 49519
Local, woman-owned Lindo Mexico is a comfortable, colorful place to enjoy a fresh-made Mexican meal. A la carte tacos are available with a choice of four fillings, and either soft or crispy shells. Taco dinner and lunch combinations are also available. The rest of the menu is quite extensive and includes many vegetarian selections as well as vast array of drinks, from margaritas, coladas and cervezas to Mexican bottled drinks and virgin bar drinks. The walls are festooned with art from local artists and the restaurant often hosts live music acts.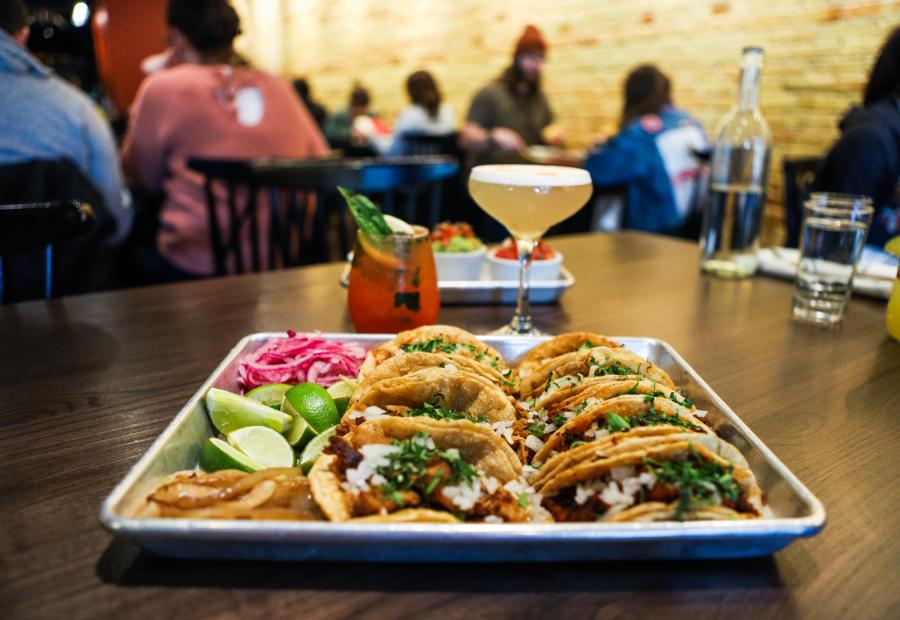 Luna GR offers six different types of filling choices for their tacos, including vegetarian-friendly sweet potato and black beans.
Photo by Experience Grand Rapids
Luna GR
64 Ionia Ave SW #100, Grand Rapids  49503
Offering a hip, modern approach to Mexican cuisine, Luna GR offers a choice of eight taco proteins, including braised chicken, steak, braised pork, shrimp, fish, chorizo and a sweet potato & black bean selection. A Family-Style Tacos option features nine mix-and-match tacos served on a platter to pass and share amongst your group. Tacos Al Pastor, popular in the Puebla region of Mexico, are made with pineapple-marinated pork and pineapple salsa. Luna also offers quesadillas, tortas, margaritas, cervezas and other Mexican favorites.
Beltline Bar
16 28th St SE, Grand Rapids, MI 49548
Founded in 1953, the Beltline Bar is most famous for creating the wet burrito – named one of America's best burritos by Food & Wine Magazine in 2018 – but many locals go straight to the taco menu when stopping by for lunch, dinner or a late-night snack. Choose from five a la carte tacos offering different combinations of protein and fillings, available in hard, soft or fried Mexican-style shells. Or order up a combo dinner pairing a taco with a mini burrito, enchilada and/or chimichanga, plus rice & beans. You can wash down your tacos with a wide assortment of cocktails and beers. 
Mega Tacos
3585 Clyde Park Ave SW, Wyoming 49509
"Authentic Mexican food at a very affordable price" is the promise at Mega Tacos, which offers a choice of nine taco fillings and either corn or flour tortillas. Also on the menu: tortas, burritos, tostados, quesadillas, mariscos, antojitos, platillos and Mexican soft drinks. There's also an assortment of freshly made Mexican desserts to choose from.
F'n K Tacos 
110 Courtland St, Rockford 49341
Born in East LA and now in Rockford, F'n K Tacos is a fast-casual restaurant serving up street-style tacos on fresh corn tortillas. The taco menu includes carne asada, machaca beef and chicken, pork barbacoa and meatless selections as well as a quesa taco upgrade option that starts with a heaping mound of Monterey cheese on a tortilla, grilled cheese side down until it's crisp on the outside and gooey on the inside. There are also rotating specials and a few non-taco (but equally delicious) selections, plus Mexican coke and soft drinks.
Maggie's Kitchen
636 Bridge St NW, Grand Rapids, MI 49504
Opened on Cinco de Mayo day in 1982, Maggie's Kitchen features many authentic Michoacán Recipes from owner Luis Ramirez' mother, Maggie. The restaurant is renowned for its barbacoa tacos (made with slow-cooked beef, cheese, onion, cilantro and a soft corn tortilla), and its other taco offerings – including two spicy pork selections and a vegetarian version – have built their own devoted fanbases. Lunch taco platters pair a range of proteins with beans, rice, salad and tortillas for a filling mid-day meal, and all tacos come with either a mild salsa or spicy salsa verde, both made fresh daily. There are many non-taco menu items available, as well, including breakfast!
Poncho's Tacos
1874 28th St SW, Wyoming 49519
Inspired by the "fusion of juicy and flavorful meats of eastern Mexico in the state of Veracruz, and 'la frontera' of north Mexico and Texas," the tacos at Poncho's are authentic and oh-so-tasty. Choose from 11 different proteins – including chicken, pork, chorizo, steak, tongue, tripe and fish –topped with onion and cilantro in a corn tortilla. You can also get a burrito, panchos, tortas, quesadillas and a variety of platters, plus soft drinks. Poncho's also operates a mobile food truck and a second brick-and-mortar location near Byron Center.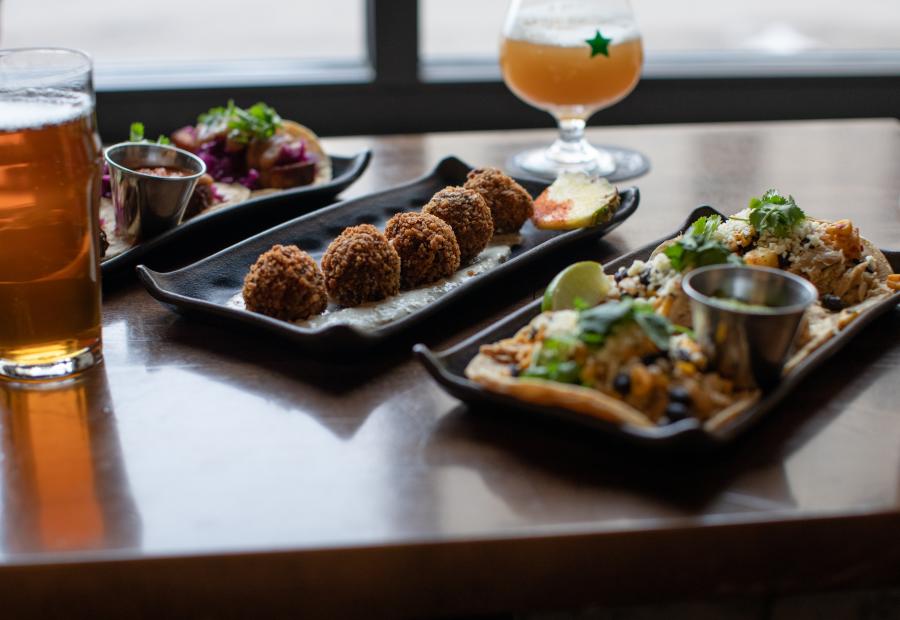 City Built Brewing Company is known for their tasty tacos, paired with one of their craft brews.
Photo by Experience Grand Rapids