There's no denying Grand Rapids' brunch scene is growing, and with it, there are more options than ever to find the perfect Bloody Mary.
Of course, "perfect" is in the taste buds of the drinker – so we asked our social media followers to share their go-to destinations for a Bloody Mary fix in Grand Rapids. Some are build-your-own cocktail bars, some are available beyond brunch hours and all are delicious. Be sure to include these stops on your search for a personal favorite Bloody Mary.
Rockwell Republic
Rockwell Republic  offers a build-your-own Bloody Mary bar on weekends that locals love. The downtown gastropub offers a bevy of house-infused vodka flavors – cucumber, jalapeno, garlic, habanero and more – as a base, and offers a spicy house mix or a mild mix for seasoning. You can add bacon to the drink and/or a beer sidecar to the order for a slight upcharge.
Birch Lodge
"Church @ the Birch" is a Sunday tradition at Birch Lodge , which is located just down the Michigan Street hill east of the Medical Mile. Service runs from 11am-3pm and features a scrumptious Bloody Mary Bar with an assortment of mixes and tons of garnishes – such as horseradish, jalapeños, olives, and bacon – and it's accompanied by a FREE taco bar.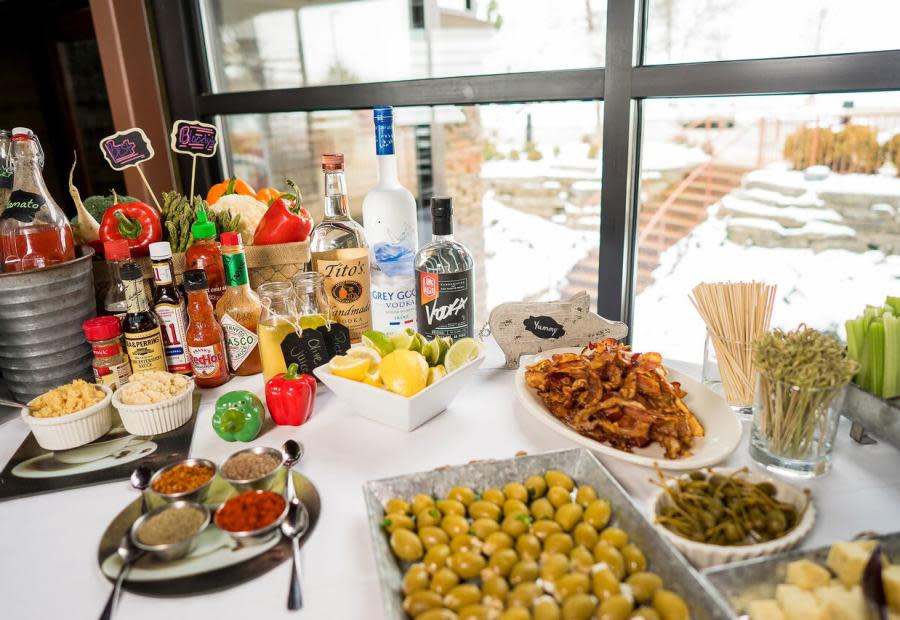 Enjoy a stellar brunch spread with your Bloody Mary at Blue Water Grill.
Photo by Photo by Fox Blot Labs
Blue Water Grill
Sunday is Brunch day at Blue Water Grill  on the northeast side of Grand Rapids. The 11am-3pm build-your-own Bloody Mary bar offers a well-appointed selection of vodkas, mixes, garnishes, herbs and spices – including handmade pickled veggies – with drinks beginning at $5.
Steel Cat Bar
This cozy neighborhood bar in the Bridge Street entertainment district is home to the city's only frost rail bar, which keeps beer and cocktails at the optimum temperature. But it's the self-serve Bloody Mary bar that packs the Steel Cat Bar on weekends from 9am-2pm. Choose either vodka or tequila as a base, add your choice of mix and seasonings, and garnish with an extensive selection of fresh vegetables, herbs and spices, shrimp, oysters, sardines, meats and pastries.
The Holiday Bar
Sunday Funday at this friendly neighborhood gastropub on the city's west side includes a $5 Bloody Mary Bar stocked with Absolut vodka flavors and assorted mixes and garnishes. The Holiday Bar also offers $5 mimosas on Sundays, along with a full food menu.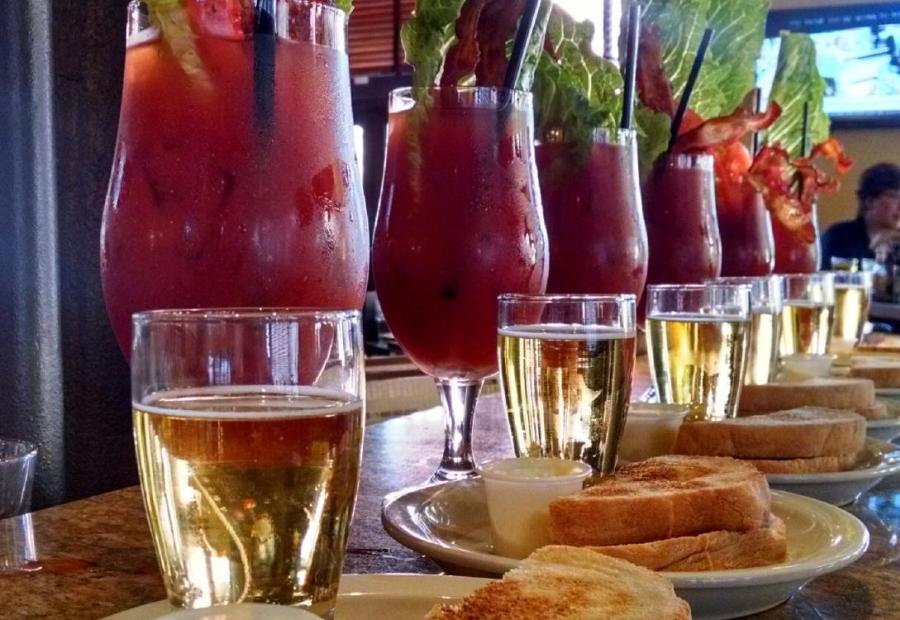 That bacon, lettuce and tomato are just begging to be turned into a BLT at Sundance Grill.
Photo by Sundance Grill and Bar
Sundance Grill and Bar
Downtown GR's Sundance Grill and Bar  blends its own Bloody Mary mix using a secret recipe that sets it apart from the ordinary. If you upgrade to the BLT version, the drink comes with a bacon, lettuce and tomato garnish, which you can combine with the included English muffin toast and mayo to create a delectable sandwich. You also get a 5-oz. beer shorty with your order.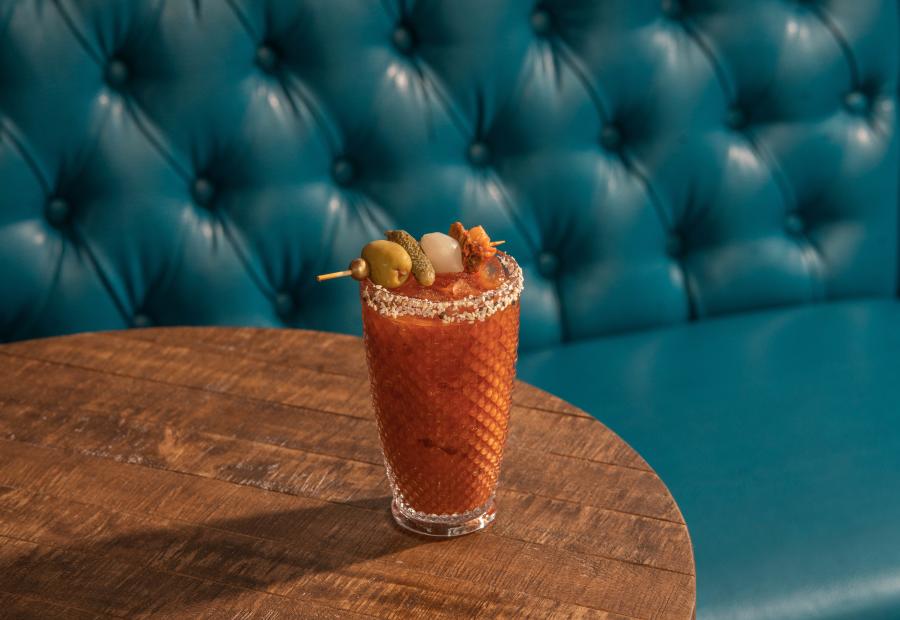 Enjoy a Bloody Mary that tastes as good as it looks at Social Misfits
Photo by Social Misfits
Social Misfits
The newest destination on this list of favorites, Social Misfits invites patrons to "get weird" with an inventive menu of waffles, cocktails and coffee in the heart of downtown GR. Its Bloody Mary is as adventurous as the rest of its offerings, blending vodka and tomato juice with chili, lemongrass, lime, ponzu, sriracha, wasabi, onion and cornichon, and garnishing the rim with Furikake salt. It's available seven days a week.
Other popular vote-getters include:
• Bobcat Bonnie's, a southeast GR restaurant offering a weekend Bloody Mary Bar (10am-3:30pm)
• The Winchester, an Uptown restaurant with an 11am-3pm Bloody Mary (and Mimosa) Bar on weekends
• The Score, a rollicking restaurant and sports bar featuring a Bloody Mary Bar from 11am-4pm on Sundays
• San Chez Bistro  , a downtown GR tapas restaurant serving classic and infused Bloody Marys Tuesday-Sunday from 9am-2pm
• Paddock Place, inside a renovated historic mansion, which sets up a Bloody Mary Bar at Sunday brunch (11am-3pm)
• Matchbox Diner & Drinks , an Uptown eatery that offers four different Bloody Mary creations seven days a week
Nineteen other bars and restaurants got votes in our social media survey, proving that a) the "best" Bloody Mary is a highly subjective choice, and b) Grand Rapids is packed with destinations that do Bloody Marys exceedingly well. Have fun finding your personal best!
photo by Addison Causley for Experience Grand Rapids

12 min
Widely recognized for both its exceptional food and easy sociability, Grand Rapids is a great place for brunch – which is, after all, a social event as much as a meal. Restaurants across the city…