Anglers of all experience levels can find a great amount of fish in and around the Grand Rapids area no matter what season it is.
Kent County has an abundance of flowing rivers, lakes, and ponds in scenic natural settings, and our waterways are home to dozens of species of fish, some of which are fishable throughout the year.
Whether you head out in your own boat, hire a guide, or cast your line from shore, don't wait to get in on the Grand Rapids' area fishing action.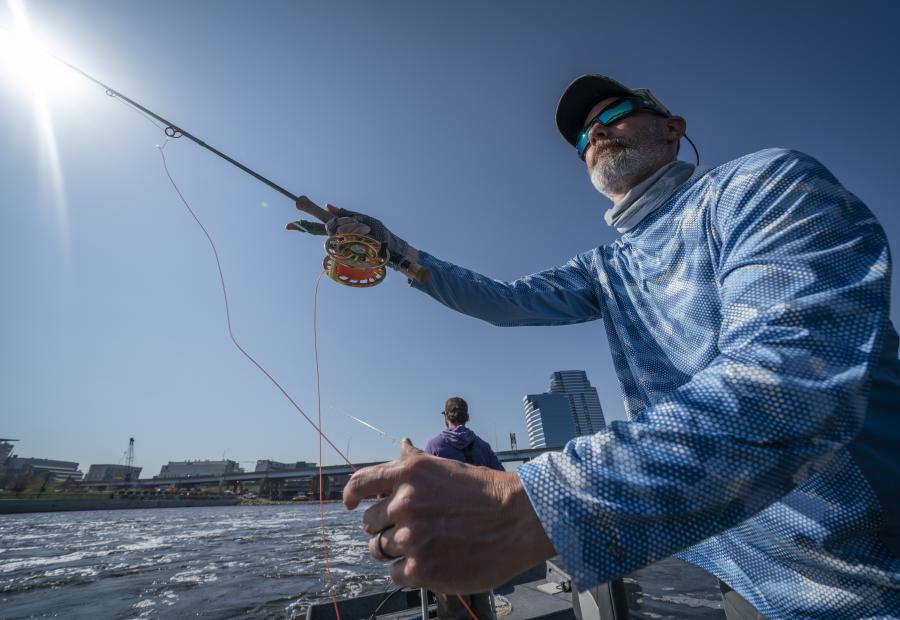 The Grand River is one of several great places to fish in Kent County.
Photo by Experience Grand Rapids
The Necessities:
Local bodies of water & catch
A great place to start is the Grand River, which runs right through downtown Grand Rapids. You'll find steelhead, salmon, smallmouth bass, lake trout, catfish, bass and walleye in the Grand River, and it also offers the largest annual migration of steelhead in the Great Lakes region.
You'll also find the big guys—salmon and steelhead—as well as many other species, in the Rogue River, located in nearby Rockford, and the Flat River, located in nearby Lowell. The Rogue River is also a popular waterway for fishing brown trout and rainbow trout, both of which the river is stocked with annually. The Flat River is great for catching smallmouth bass, as is the Thornapple River.
Area anglers can also catch largemouth bass, bluegill, crappie, northern pike, channel catfish, flathead catfish, brook trout, perch, walleye, and the aggressive muskellunge in nearby rivers and lakes.
Popular local lakes include: Murray, Myers, Reeds, Big Pine Island, Wabasis, Campau, Lime, and Lincoln.
Fishing on the "Big Lake," or Lake Michigan
If you want to fish the big lake, or Lake Michigan, take a quick trip to nearby Holland, Grand Haven or Muskegon where you can stand on the scenic piers and reel in your catch. If you're up for adventure and want to head out farther on the big lake, there are plenty of charter boats for hire.
Where can I find the biggest catch?
Anglers chasing the biggest fish can check Michigan's Master Angler Report to find out when and where they've previously been caught. It details state fishing records and the biggest catches, by year, in two categories:
Catch and Keep

Catch and Release
Kent County waters are on the list every year including, in 2022, a 49-inch muskellunge in Murray Lake; a 42-inch flathead catfish, 39.12-inch chinook salmon and 32.75-inch rainbow trout in the Grand River; a 21-inch smallmouth bass in the Thornapple River; and a 15-inch crappie in Myers Lake.
Get your fishing license and get ready: no matter what time of year it's fishing season in Grand Rapids. Wherever you are in West Michigan, there's no shortage of possibilities for the ambitious angler!
Each season requires its own special kind of gear. In the summer, a boat is helpful for accessing deeper waters, increasing your chances of a catch.
Photo by Experience Grand Rapids
Fishing by the Season:
Summer
Thanks to Michigan's gorgeous summers, spending time on the water is time well spent.
"Fishing becomes a little tougher in the hotter weather because the bass tend to go deeper, so it's easier to find them if you have a boat," explains Tom Werkman, owner guide with Werkman Outfitters, which provides specialized guide service on the Grand River and, farther north on the White River and Muskegon River.  "On the Grand River in the summer, you'll primarily find walleye, smallmouth bass and northern pike."
If you're fishing the inland lakes, Werkman says they might reward you with bass and possibly northern pike, as well as bluegill and perch. If you're after bluegill in shallow water, Werkman suggests using a hook, line, and sinker with a bobber.
The Flat River in Lowell also has good public access and you can catch smallmouth bass and northern pike there during the summer months. "It's easy to wade into it in the summer but be sure to put water shoes on. It's pretty rocky!" warns Werkman. When you're done, head to quaint downtown Lowell to enjoy a beer or burger.
Fall
When the air is crisp and the leaves are colorful, the migratory salmon and steelhead are plentiful in the Grand River. "We target those species of fish during the fall," says Werkman. They'll put up a big fight and make you work hard. "Your drag can scream and it's not uncommon to fight a steelhead in the river for five minutes," he says. "People come from all over the states to fish our steelhead. You could also pick up a northern pike, smallmouth bass and the occasional walleye in the fall."
Another great option is to join the other anglers at Fish Ladder Park, where you can fish the Grand River from shore. If the river isn't flowing too fast, some ambitious anglers wade out to cast their lines for these aggressive beauties. Just be cautious if you brave the waters–there are plenty of holes and unknown obstacles under the surface.
When you're fishing the inland lakes in the fall, you're also likely to find some catfish. If you have a boat, Werkman suggests trying Murray Lake. "If you know what you're doing, you can target musky there," he says.
Winter
Wintertime excitement is seeing a flash of chrome in the cold, dark river! During the colder months, steelhead is your primary target in the Grand River, which you can fish as long as there's open water.
When temperatures have dropped, you're most likely to have success if you have a boat and can go a little farther down the Grand River. However, you can still cast a line from shore at Fish Ladder Park.
Another good river to fish for steelhead during the winter is the Rogue River, again, as long as you have open water. You'll also find brown trout still lurking there.
If you're into ice fishing on the inland lakes, Werkman says that once you get good, solid ice, you can fish on pretty much any of them. "I typically just go near the other ice shanties," he laughs.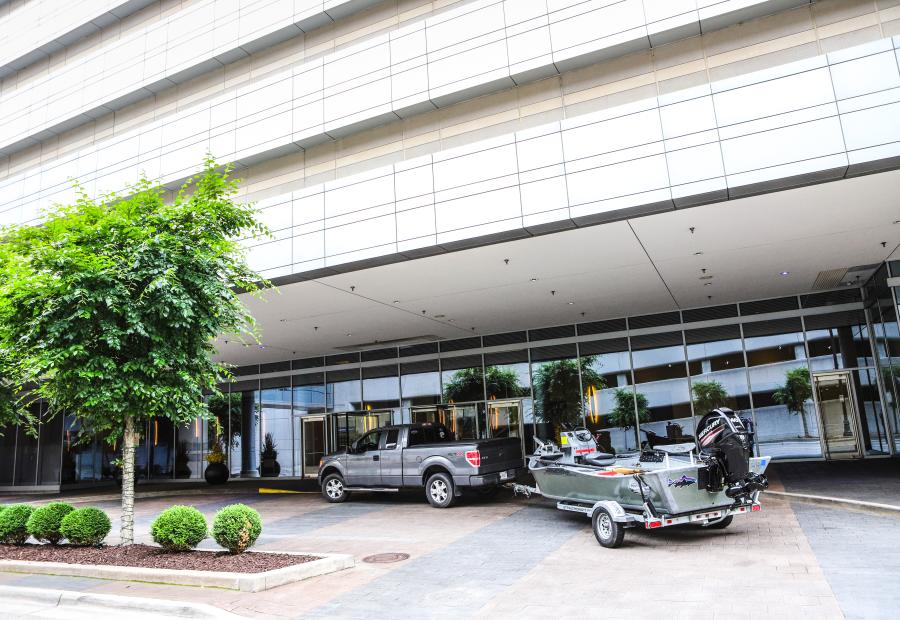 Have a whole experience with Werkman Outfitters who will pick you up from a downtown hotel.
Photo by Experience Grand Rapids
Family Fishing Fun
You don't have to leave the kids at home during a day of fishing! The Grand Rapids area boasts plenty of fun, family-friendly places to fish. Bass Lake, Bear Creek, Lincoln Lake, Pickerel Lake, and Reeds Lake all offer easy public access and are great for families. Keep in mind, children under the age of 17 can fish without a fishing license, but they must follow all regulations.
Millennium Park is another fantastic place to fish with young kids. "You can catch bluegills and bass there," says Werkman, who suggests using a bobber with a worm to get your kids started. Fish Ladder Park is another good option for families with beginning anglers
Hiring a Guide
Whether you're new to fishing or experienced, going out with a guide is a sure-fire way to maximize your time on the water. Guides fish these waters day in and day out and have an incredible knowledge base. They can help serious anglers seek their trophy and teach people new to fishing about technique, equipment, and more.
"The guides are going to know where the fish are and what [equipment] to use," Werkman says. In addition to Werkman Outfitters, the fishing page lists several guides to choose from, including Betts Guide Service.  
"Fishing in Grand Rapids is a unique experience because you've got a phenomenal fishery running right through the heart of a major city," Werkman explains. You can come for business, go steelhead fishing, and tour our breweries all in one trip. It's a great way to experience Grand Rapids!
For more information on making the most of your experience, be sure to visit the fishing page.
Lear more about the types of fish and fishing experiences in the Grand Rapids area in the Gifts of the Grand video, which is part of the Grand Outdoors series.