In 2021, Grand Rapids earned a hefty position as 13th in the United States for disc golf cities. Multiple touring professionals call Grand Rapids home, including Kyle Klein who was one of the quickest players to win $100k career tournament earnings. Michigan is brimming with fantastic courses, and over a dozen lie within twenty minutes of the Grand Rapids area. These courses are suited to players of all ages and skill levels, so while you're visiting the city, be sure to check out some of these great outdoor attractions. 
The sport's origins can be traced back the 80s, and there is evidence of that era scattered throughout courses in Grand Rapids. Many of these were started as "object courses" where players would throw their frisbees to wooden 4x4's dug into the ground. These little pieces of history can be seen at Garfield, Riverside, and Brewer Park—three of the oldest courses in Grand Rapids.  
Nowadays, sufficient park funding and generous community volunteering through the Grand Rapids Disc Golfers United League have given these courses premium baskets and concrete tee pads. So, with a map and some discs, you'll be able to fill your weekend with fun for the whole family. And the best part about it? Courses are free to play. Not only that, but a little "secret" amongst Grand Rapids disc golfers is the used section at Great Lakes Disc. Many of these courses bring you right by their shop on the corner of Kalamazoo and 44th street, so if you want to buy some used discs at a big discount, they have hundreds.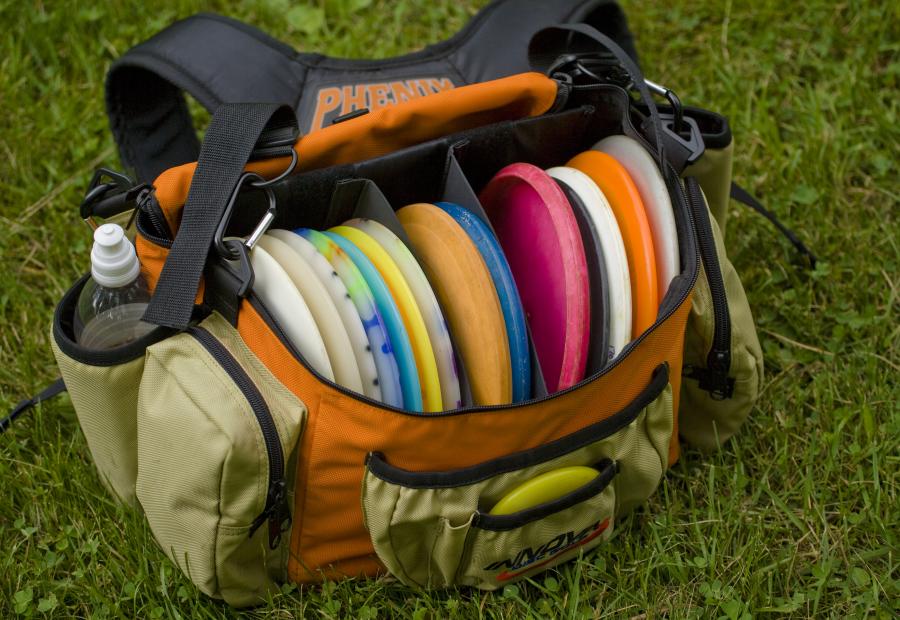 Ready, set, go!
Photo by Experience Grand Rapids
Garfield Park
Total course distance: 4,709 ft
If you've only got a couple hours to play and are looking for a casual round, Garfield Park is your best bet. The signage is very easy to follow and the course is well maintained. It is also open, flat and stroller friendly, and not too challenging. This is a great place to introduce beginners and children to the sport. There are seasonal bathrooms, and even if you find yourself itching to play in the winter, the community usually stays on top of shoveling tee pads. 
Jaycee Park
Total course distance: 4,558 ft
Slightly more challenging but still easy to follow and play with family, Jaycee Park is a great introduction to wooded courses. Most of the holes fall under the 300 ft range, and the tee pad and basket layout is intuitive. This course is also quite flat, but some of the fairways are close to other baskets, so keep an eye out for stray drives. Etiquette is to yell "four" if you see your throw heading towards somebody.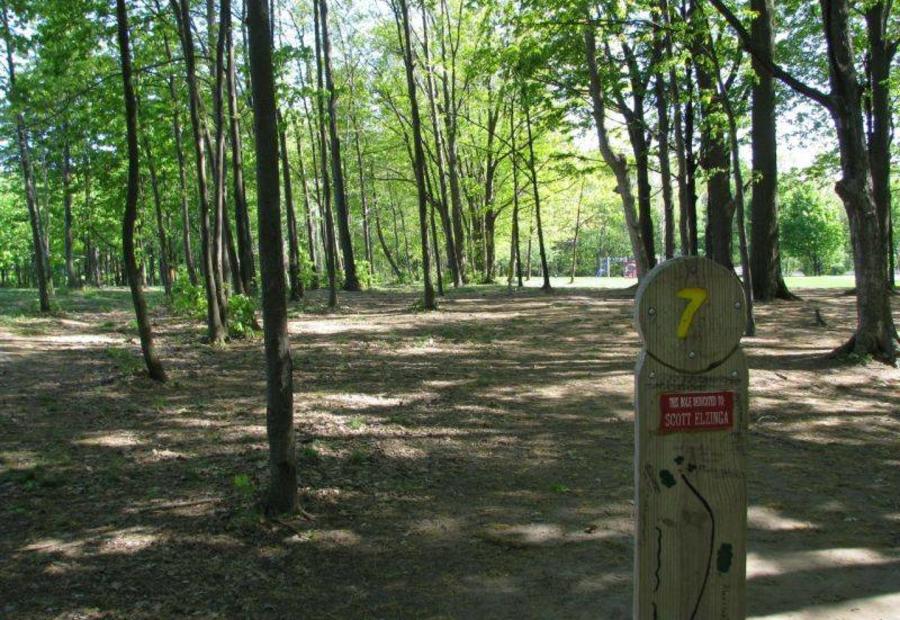 Old Farm Park is a great course for beginners and is accessible to families.
Photo by Disc Golf Scene
Old Farm Park
Total course distance: 4,008 ft
This course is a great one to pair with Jaycee for a day of disc golf due to the short distance between the two parks. Disc golfers a nice mix of tight wooded shots, open fields for maximum distance shots, and control play. Old Farm Park is the home of the annual Fall Farm Fling food drive event, and like the prior two courses, is very accessible to families and beginners because of its length and light difficulty. Map apps can get a little confused directing here, so either use UDisc, or take Embro Dr SE to the end. 
Johnson Park
Total course distance: 4,640 ft
Johnson Park originally started an object style course back in 1996. The course got a big renovation in 2017, which included installing concrete tee pads and premium baskets. The course overhaul is a spectacular combination of field, forest, and challenging elevation. Although Johnson's distance is similar to the others at 4000 ft, the incline makes the course play much harder. Most holes will have you climbing up and down hills, so bring some water and be ready for some cardio! 
Earl Brewer Park
Total course distance: Red Tees 5,055 ft / Gold Tees 8,281 ft
Brewer was established way back in 1981 and used to be two separate courses of 36 holes. In 2017, the course underwent a huge redesign and is now the site of the annual River City Open. At over 8000 ft, the gold layout was long enough to be a pro-tier course, and with how well maintained it is, Earl Brewer Park absolutely earns a spot as one of the best open courses in West Michigan. Not only is it cart friendly, but the shorter red tees layout is great for beginners and families looking to have an exciting round. However, the parking lot by hole 1 is closed seasonally, so if you want to play this course during the colder months, you'll have to park in the southern lot and start on hole 8. 
Grand Rapids Rotary North
Total course distance: 6,136 ft
Commonly referred to as "Grand Isle" this course at Grand Rapids Rotary North is built on an old golf course that runs along the Grand River. Similar to Riverside Park, this course has rubber tee pads and is mostly open field shots. There is some signage, but you'll still want to familiarize yourself with a map before playing a full 18. It also gets pretty muddy in the spring and early summer, making some parts of the course inaccessible. Aim to play this one in the dry season. Driving to the course may feel a little strange, as the map will take you down a dirt road past a large housing complex, but just follow it to the end and you'll see some baskets.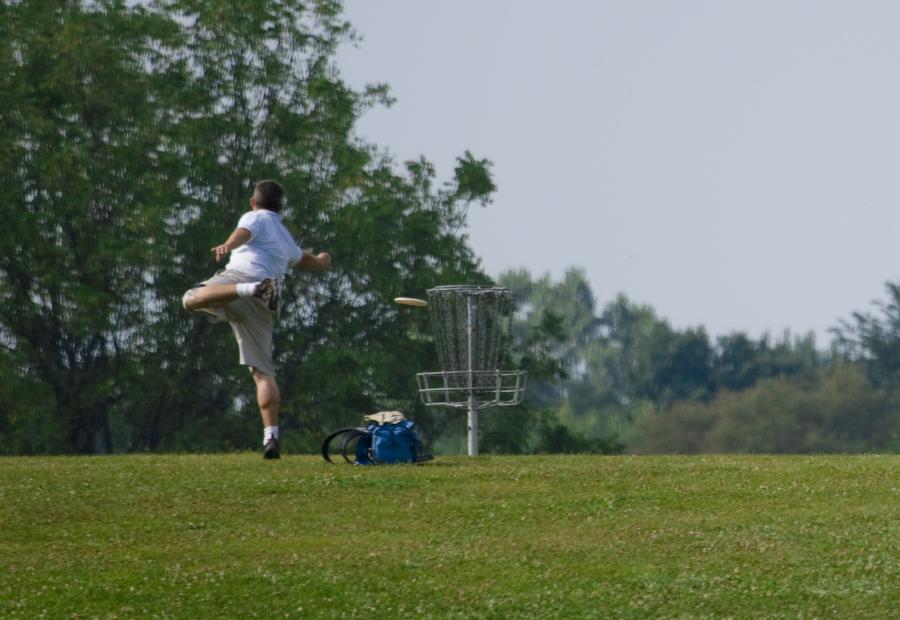 Long summer days and dozens of nearby courses make Grand Rapids a disc golfer's paradise.
Photo by Experience Grand Rapids
Far Hill Disc Golf Course
Total course distance: 5,317 ft
A bit further of a drive but still only 20 minutes from downtown, Far Hill is the newest course on our list. Established in 2020, this Sparta course has two rotating layouts of varied difficulty. The maintenance and care for this course has been done almost exclusively through community volunteers, and it is situated on a beautiful plot of wooded land. Most of the course is flat, but if you find yourself off the fairway, getting your disc can be a real challenge. The fairways are very tight and call for dialed in shots, so if you're looking for a novice round, head elsewhere. The course is located at the back of the Sparta Sports Park, and players are encouraged to park in the paved lot and make the walk down the dirt road to hole 1. 
Courtland Township Disc Golf Course
Total course distance: 3,364 ft to 5,541 ft
Rockford is a quaint town less than 20 minutes north of Grand Rapids, and if your trip brings you that direction, consider stopping by Courtland Township's disc golf course. Whether you are interested in a family friendly round or a challenging day, this course has what you need. Despite having only 18 holes, Courtland has two tee pads and two baskets for every hole. This course has great signage, manicured fairways and flat land, checking this one out is a must. Young pine trees and birch groves make the experience rather enchanting, and earn this course a solid position on the list.  
Fallasburg Park
Total course distance: 3,848 ft to 8,309 ft
Fallasburg is close to Lowell, and it is well worth a day trip for the whole family. Fallasburg Park offers 250 acres of scenic trails, as well as a diverse 24 hole disc golf course. You can expect everything from tight woods golf to big open field shots. It is very well marked and hosts a winter league that runs every Sunday morning with turnouts of over 100 people. There are both short and long tee pads, as well as bonus holes, so whether you're looking to play all day, or just a casual round with family, Fallsburg has it. Consider checking out the surrounding park during your visit and have a picnic by the covered bridge.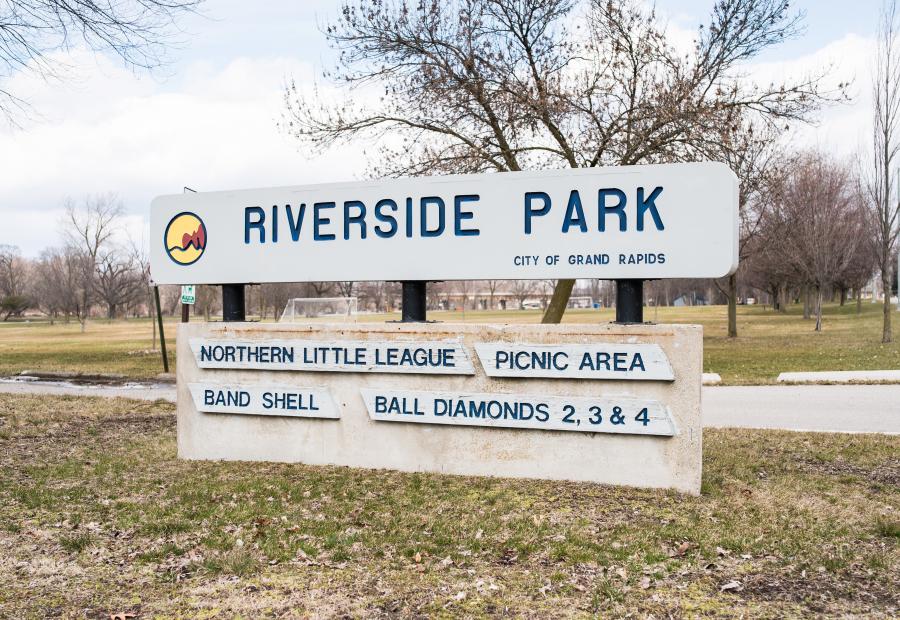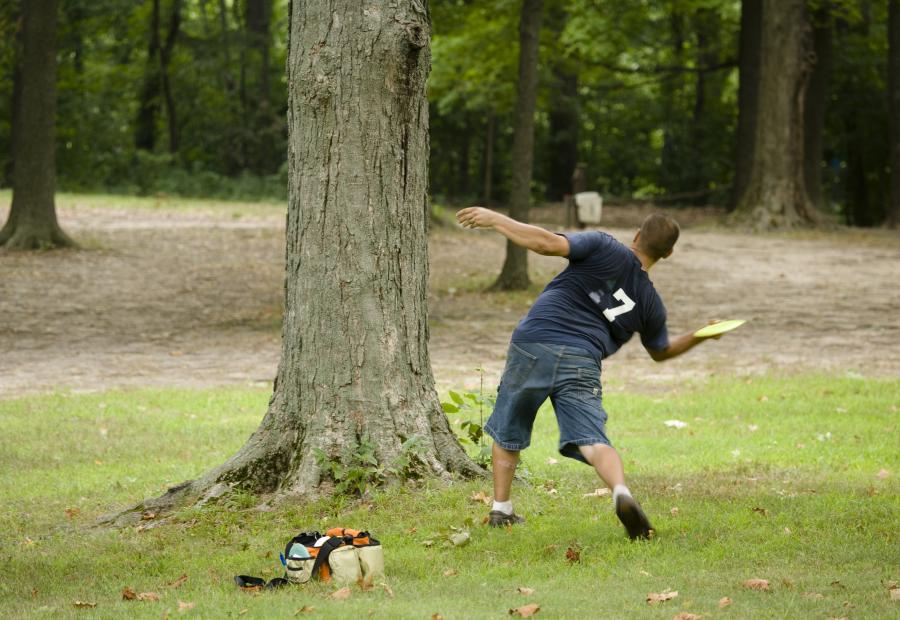 Riverside Park is one of Grand Rapids' largest parks.
Photo by Experience Grand Rapids
Honorable Mentions
Some courses failed to make the list because of poor signage, lack of tee pads, neglected maintenance, or play volatility. Nevertheless, here are some ones to check out in case you've managed to play everything else!
Grand Rapids offers disc golfers plenty of diverse courses close to the city limits and consequently enjoys a lively tournament and league scene. Whether you are interested in playing a casually, or want to test your skills against the best, the city has disc golf events nearly every weekend between the months of May and September. Casual leagues run every night in the summer through Grand Rapids Disc Golfers United, and getting involved is as easy as showing up. Solo players and newbies are always welcome, making these events a great way to meet new people and enjoy the great outdoors.