Say goodbye to early tee times, cart rentals, and losing golf balls. Disc golf is a once-niche sport gaining steam across the country. It's estimated that today there are more than 500,000 players and more than 9,000 courses across the country. And in Grand Rapids, it's a budding sport that's becoming more popular.
Grab your favorite flying disc and head to one of these spots to brush up on your putts and drives. These parks are open but some park amenities such as restrooms and drinking fountains may be closed. We ask all disc golfers to adhere to social distancing guidelines, as well as to not congregate with individuals outside of their household.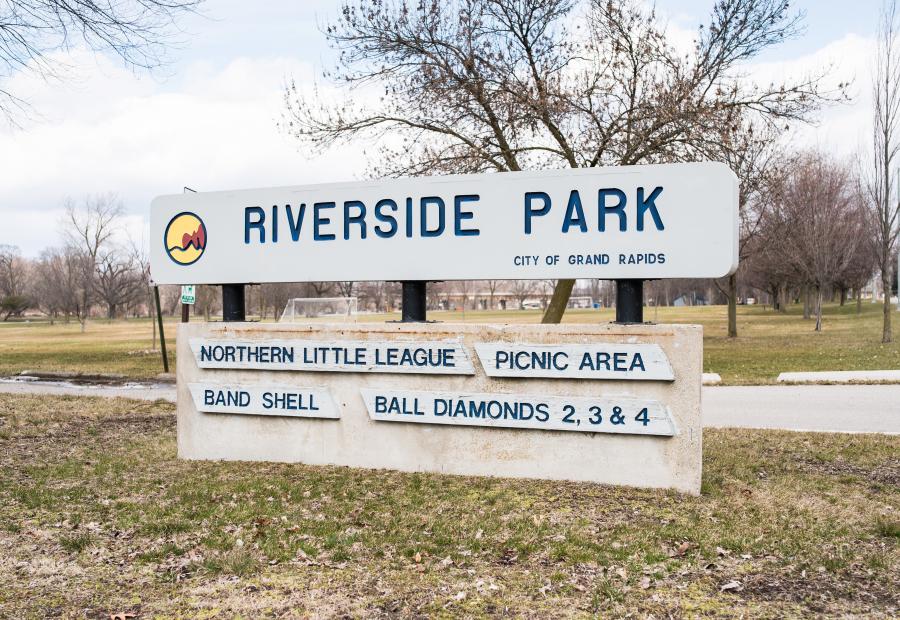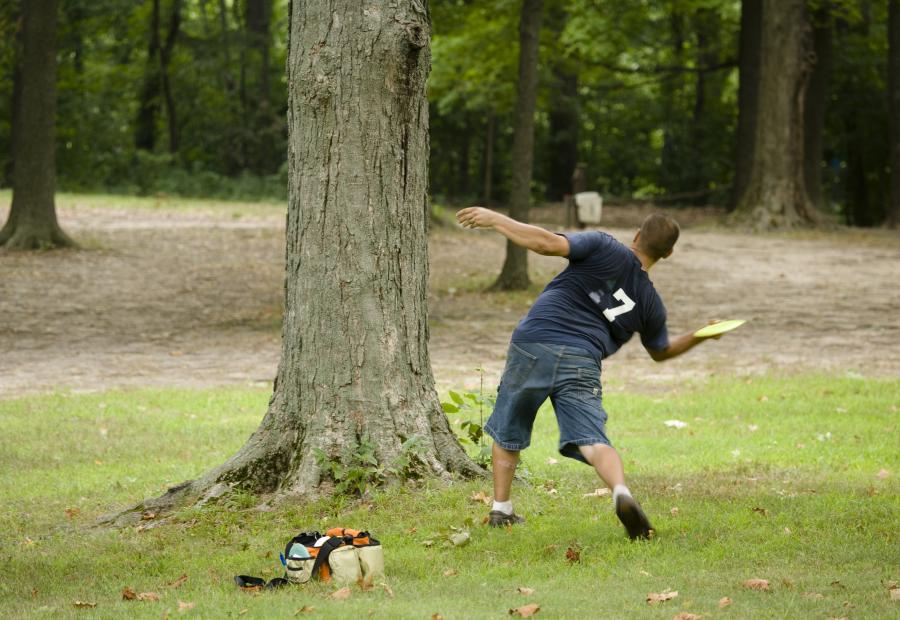 Riverside Park is one of Grand Rapids' largest parks.
Photo by Experience Grand Rapids
Riverside Park 
Grand Rapids' largest park clocks in at 180 acres and boasts one of the city's most popular disc golf courses. Established in 1995, this 1.2 mile, 18-hole course is speckled with towering trees and wraps around the park's lagoon. There's no map, so finding the first tee can be challenging (hint: the first tee is near Monroe Avenue, north of the Guild Street traffic circle). Due to its swampy landscape, flooding is common, so plan to play on this course in the sunshine.
Grand Rapids Rotary North
Completed in 2015, Grand Rapids Rotary North's 18-hole disc golf course is inside Grand Isle Park in Belmont. It was built on a former golf course and you'll see shadows of its former life in the greens and fairways. The course boasts new, well-marked signs and chain baskets.
Old Farm Park
Old Farm Park features diverse terrain, wooded areas, and water. This 18-hole course has some lowland areas, so it's best to go when it's not raining as it's prone to floods. Players have said it's a short course, making it great for practicing your putting or for beginners.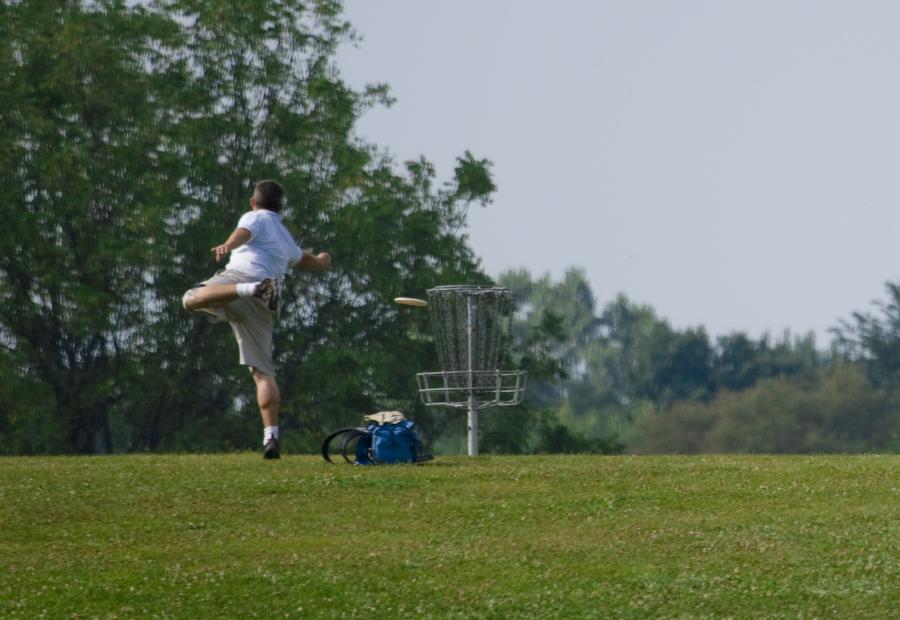 Long summer days and dozens of nearby courses make Grand Rapids a disc golfer's paradise.
Photo by Experience Grand Rapids
Earl W. Brewer Park
Two for one! The newly-redesigned Earl W. Brewer Park has two courses for a total of 36 holes. The south course boasts a championship course for the more advanced player. Expect rolling hills and some wooded areas. It has well-kept concrete tees and because it's so new, it also is one of the most popular courses in town.
Johnson Park
Established in 1993, Johnson Park's course used to be one of the more challenging courses. It recently underwent a renovation last year, featuring new cement tees and baskets. They made a few changes to the course, but it still has some of the tightest lanes in town. It'll take good control and an eagle eye to par this course.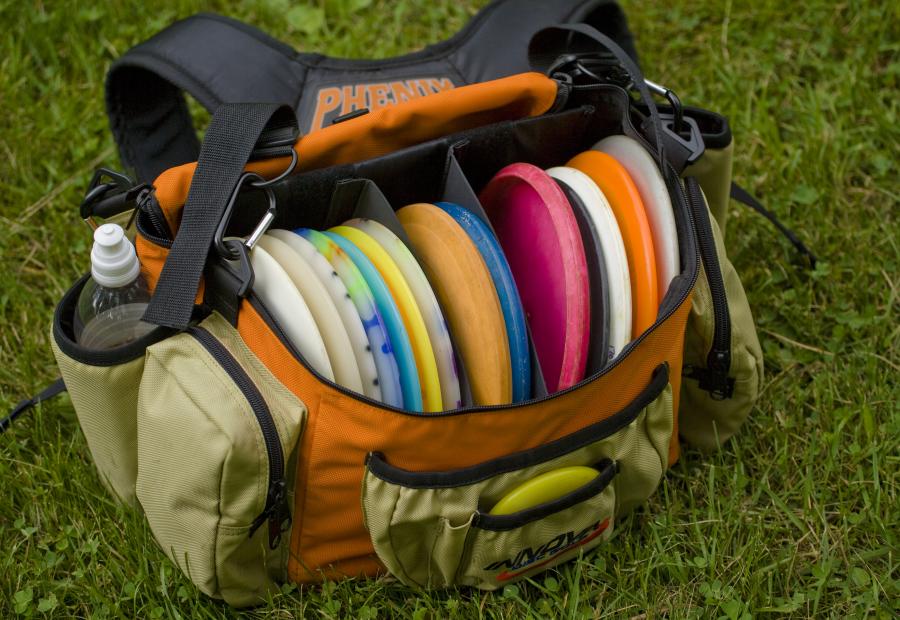 Ready, set, go!
Photo by Experience Grand Rapids
Fallasburg Park
North of Lowell, Fallasburg Park's course is a tournament favorite. Located in Lowell, players can find the course on the east side of the park. It consists of densely wooded fairways and skews more for the advanced player. The course features some of the longest holes in town with a variety of elevation changes to challenge even the most seasoned players. Highly popular among disc golfers, Fallasburg Park should definitely be on your list.
These are just a few of our favorite disc golf courses to try out in Grand Rapids, so be sure to grab a disc and find a new favorite course!
This was originally written by Austin Langlois and had been updated by Experience Grand Rapids.