Frederik Meijer Gardens & Sculpture Park is an iconic tourist destination in Grand Rapids.
When springtime hits, people flutter to Meijer Gardens to see the largest temporary butterfly exhibit in the nation, Butterflies are Blooming, which features over 7,000 butterflies from around the world. 
In summer and early fall,  West Michiganders and visitors alike head to Meijer Gardens' amphitheater to see local, national, and international musicians take the stage during the summer concert series. 
But what about winter? You definitely don't want to overlook this season as a time to see a different, but equally beautiful, side of Frederik Meijer Gardens & Sculpture Park. 
Whether you want to spend your time indoors or out, winter offers a variety of ways to make your visit memorable at this award-winning attraction.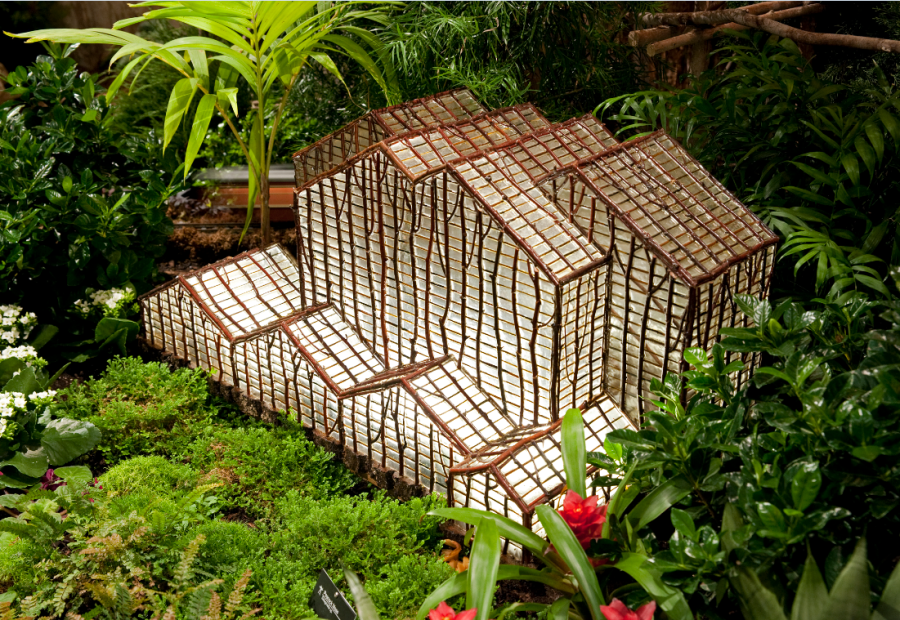 Even if it's below freezing outside, visit the tropics at Meijer Gardens' Tropical Conservatory.
Photo by William J. Herbert
Lena Meijer Tropical Conservatory
The Lena Meijer Tropical Conservatory is a permanent indoor exhibit and an absolute delight to visit during winter time. If winter has you missing the feeling of a warm, humid climate, make sure to stop in the conservatory to warm up your cold winter bones.
This five-story conservatory is the largest of its kind in Michigan. It features more than 500 plant species from five different continents.
The glassed-in environment gives the impression of being outside, but the warmth and soothing water features will tell you otherwise. While wandering the stone path, be on the lookout for tropical birds, the orchid wall, cacao trees, and even something called a Breadfruit tree. 
While visiting the tropical conservatory, be sure to stop in the desert. Less humid than the main conservatory, but still warm and cozy,  the desert is a great place to wander around and look at a variety of plants and the ways they've adapted to survive the blistering temps, such as leaves that reflect sunlight with waxy coatings that act like a sunscreen for the plant.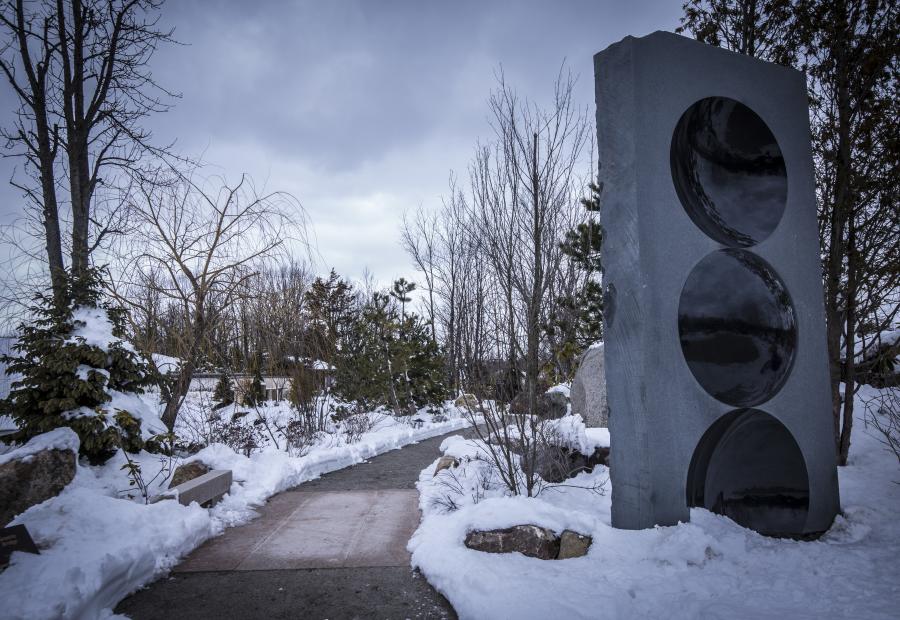 Walking the gardens and seeing a variety of sculptures is a great way to enjoy educational family fun.
Photo by Terzes Photography, Courtesy of Frederik Meijer Gardens & Sculpture Park
Sculpture Park and Japanese Garden 
Covering more than 30 acres, the Sculpture Park includes more than 200 masterworks by artists from the 1800s to present day. The Sculpture Park is one of the most comprehensive collections of outdoor sculptures in the world, and was deemed the Best Sculpture Park in the country by USA Today readers. 
Opened in 2015, The Richard & Helen DeVos Japanese Garden is an eight-and-a-half-acre masterpiece. The Garden was carefully planned to create a contemplative environment with the idea being that a person would walk through the main gates leaving all their cares behind. Placed among 4,000 boulders, follow the winding paths through the garden and search out a variety of plants native to both Japan and West Michigan. Four complementary waterfalls, a bonsai tree collection and an authentic Japanese teahouse also don the Garden. 
"Our Gardens and Sculpture Park are beautiful year-round, but they take on an especially unique character in the winter months," says John Vanderhaagen, Director of Communications at Frederik Meijer Gardens & Sculpture Park. "We take pride in maintaining clean and clear pathways and walkways after each snowfall in order to provide guests the opportunity to bundle up and experience the grounds on a more peaceful, serene walk. One of my favorite times to walk in the Richard and Helen DeVos Japanese Garden is right after a fresh layer of snow has fallen. It is such a different experience walking in winter months."
Insider Tips for Visiting the Japanese Garden:
In order to avoid distraction while in the garden, individual plants are not labeled. Grab a guidebook on your way outside to help identify more than 50 of the plants in the garden.
Be sure to take the walk up to the viewing hill (the highest point in the garden) for beautiful panoramic views.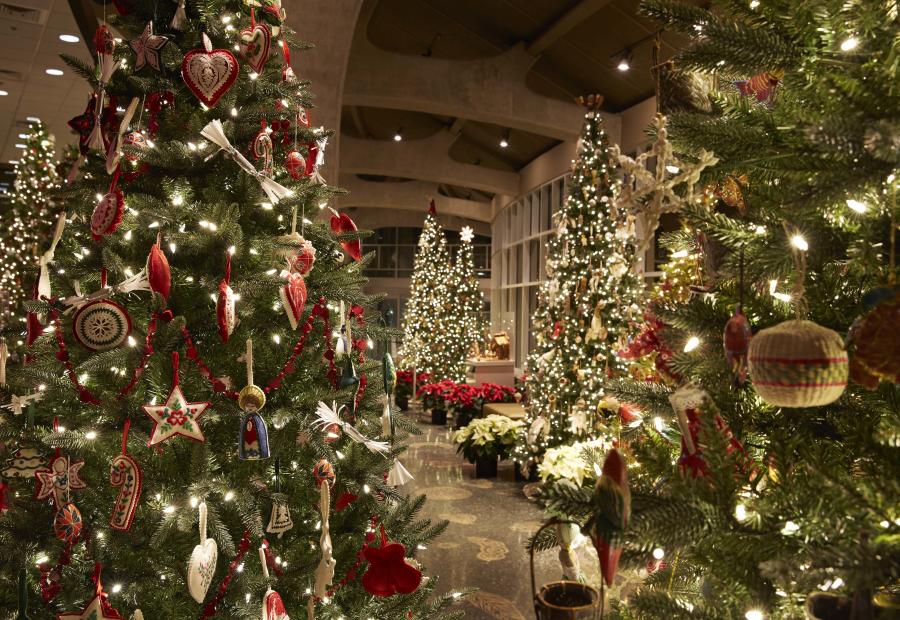 University of Michigan Health-West Christmas & Holiday Traditions at Frederik Meijer Gardens & Sculpture Park.
Photo by Dean VanDis
University of Michigan Health-West Christmas & Holiday Traditions
This annual event rings in the holiday season with the glow of more than 300,000 colorful lights, strolling carolers, visits from Santa, rooftop reindeer and dozens of international trees and displays.
This is a magical opportunity to explore holiday traditions around the world, through beautiful displays that authentically depict the ways different cultures celebrate and commemorate the winter holidays.
A companion Railway Garden features miniature trains weaving their way around holiday-themed horticulture and small-scale replicas of area landmarks – all made of natural materials.
Visitors can also venture outdoors and discover the beauty of gardens in winter. The DeVos Van Andel Piazza is the site of a multimedia seasonal light experience surrounding The American Horse on select December evenings.
University of Michigan Health-West Christmas & Holiday Traditions runs from late November through early January each year.
Fun for Kids
Wintertime Walks invite kids of all ages to join in on outdoor discovery tours highlighting the Christmas & Holiday Traditions exhibition and the unique beauty of the cold-weather season. Children's Garden Winter Adventure Walks during January through April are fun, activity-filled tours of the Lena Meijer Children's Garden. Dress appropriately for these outdoor walks, which are included with admission.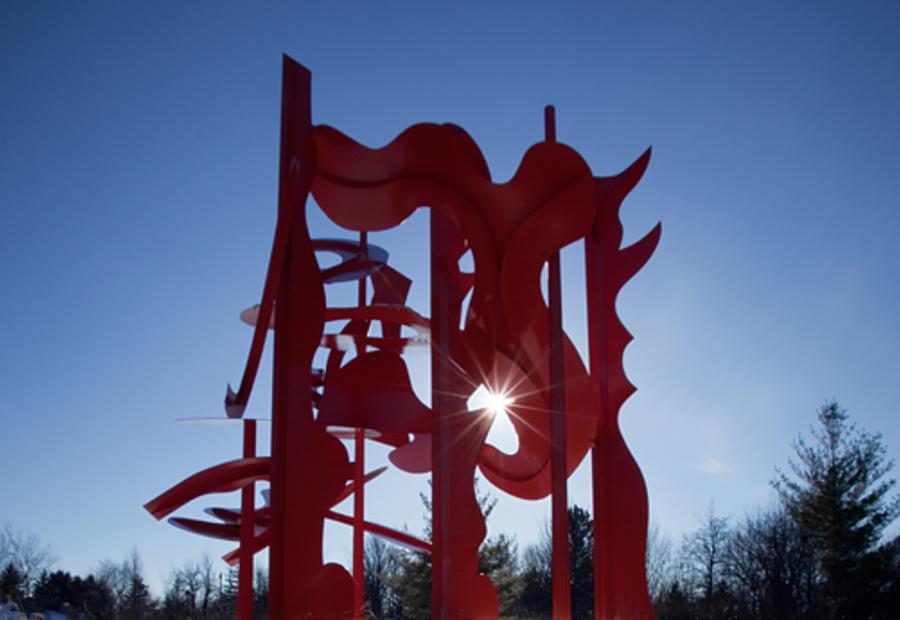 The art outside is only made more beautiful with the compliments of sun and snow.
Photo by William J. Hebert, Courtesy of Frederik Meijer Gardens & Sculpture Park
Classes and Tours
Self-guided and docent-led tours are available for groups of 10 or more. Indoor tours are available year-round. A narrated outdoor tram tour (for individuals or groups) runs seasonally, March through December, and lasts approximately 45 minutes. Group tours require a reservation, so be sure to contact the group tour office at (877)-975-3171 or grouptours@meijergardens.org.
Frederik Meijer Gardens & Sculpture Park offers a variety of classes for children and adults, members and non-members alike. Winter classes can range from mead-making and birdwatching to houseplant care and photography. A complete list of classes can be found on the Meijer Gardens' website.
Frederik Meijer Gardens & Sculpture Park is a special place that is truly enjoyable during the winter months. Whether you decide to visit indoors or outdoors, Meijer Gardens is a wonderful winter destination for you, your friends, and your family.