Sustainability in the event industry is more than a trend. It is becoming an industry standard.
In 2021, the global Event Industry Council released four Guiding Principles for Sustainable Events with the goal that more players in the event industry will work to preserve the natural environment; promote a healthy, inclusive society; and support a thriving economy.
Attendees have come to expect sustainable efforts too, especially millennials and generation Z. This all amounts to the fact that finding a city with legitimate green credibility is one of the top considerations when forming a list of potential meeting destinations.
Grand Rapids, MI, has earned a spot on that list. Sustainability is not only a priority for the city's venues and hotels — the main touchpoints for planners and their attendees — it is threaded through the city government, infrastructure, transportation system, cultural institutions, private businesses, and community initiatives.
"I think the green credibility of Grand Rapids is very impressive," says Bill Wood, executive director of the West Michigan Environmental Action Council. "We have created a culture of sustainability that is easy to take for granted."
City Leadership
One example is the Grand Rapids 2030 District, a collection of 70 different businesses, government entities, nonprofits, public utilities and other stakeholders committed to dramatically reducing the city's carbon footprint by 2030.
The City of Grand Rapids is a founding member of the Grand Rapids 2030 District and also is one of 12 U.S. cities aiming for a zero net carbon goal for all buildings by 2050 through the Zero Cities Project.
Here are some other examples of the sustainability mindset in Michigan's second largest city: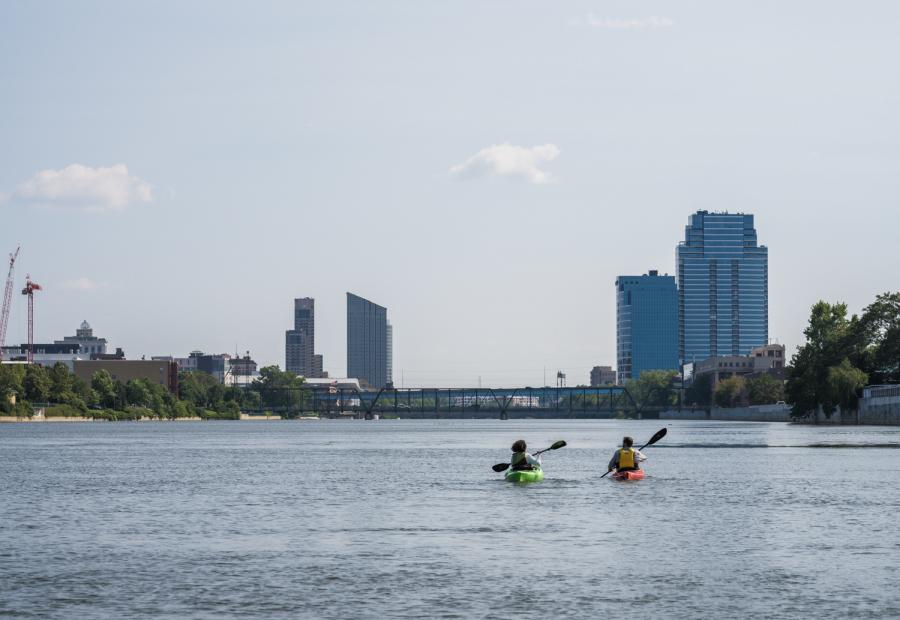 Located along the Grand River just north of downtown, Riverside Park offers a boat launch site, disc golf course, baseball fields, soccer fields, and outdoor shelter.
Photo by Brian Kelly Photography
City Infrastructure
While city leaders in Grand Rapids talk the talk, they also walk the walk in the form of major infrastructure investments dedicated to sustainability and environmental protection.
A shining example started in 1991 when it launched what would become a 23-year, $400 million overhaul of the city's wastewater collection system. The work prevented frequent overflows of harmful untreated sewage into the city's namesake Grand River, which empties into Lake Michigan.
Another major infrastructure investment is a $57 million bio-digester that turns bio-waste from Founders Brewing and other companies into renewable energy and fertilizer.
The city also has been investing in solar panels; adding rain gardens, porous pavement, and other measures to reduce storm water runoff; and has a goal of planting 75,000 trees to increase the city's tree canopy.
"Our culture around sustainability is fantastic," Grand Rapids Mayor Rosalynn Bliss said recently. "I do think it's something people are attracted to."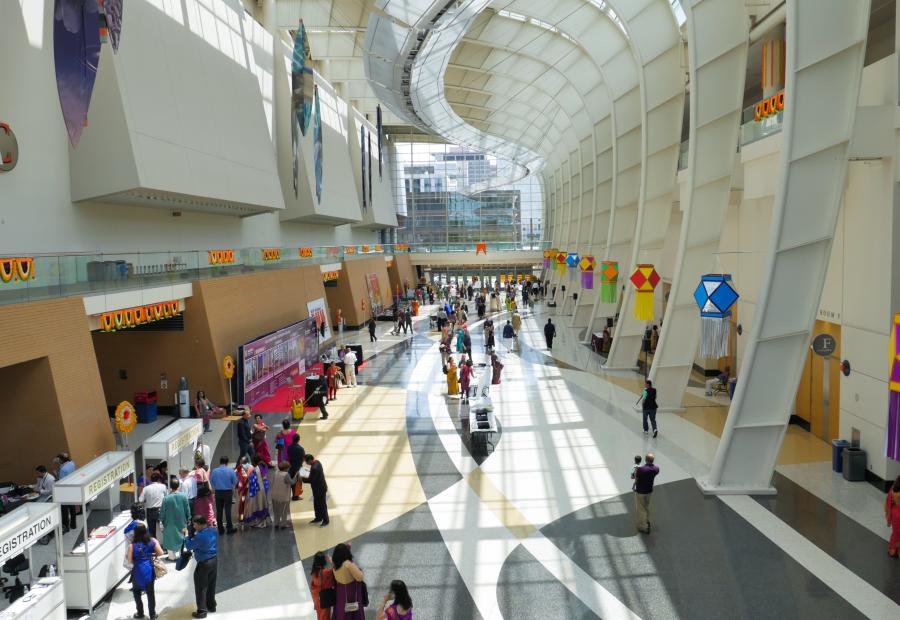 ASM Global, which manages the downtown convention campus, including DeVos Place Convention Center, spent more than six figures over the last decade on sustainability efforts.
Photo by Experience Grand Rapids
Convention Campus
Large events in the heart of Grand Rapids will undoubtedly find themselves on the downtown convention campus. ASM Global, which manages DeVos Place Convention Center, DeVos Performance Hall, and Van Andel Arena, has impressive sustainability goals.
Eddie Tadlock, assistant general manager of ASM's properties in Grand Rapids, said that the company spent more than six figures over the last decade on sustainability efforts, including a recycling system that diverts 35 percent of landfill waste from the three locations and a widespread switch to LED lighting that reduced utility bills by 40-60 percent.
"It's more than just doing it for the sake of doing it. You're saving money," he told the Grand Rapids Business Journal. "It's making the investment in your infrastructure to meet those goals."
The Amway Grand Plaza Hotel, which is connected to the convention center via skywalk, does its part for sustainability as the exclusive food and beverage supplier for the convention center.
It aims for locally sourced products and frequent vegetarian food offerings, which use less energy to produce. Leftover prepared food goes to the in-house staff cafeteria or local nonprofit soup kitchens, while food waste is turned into compost.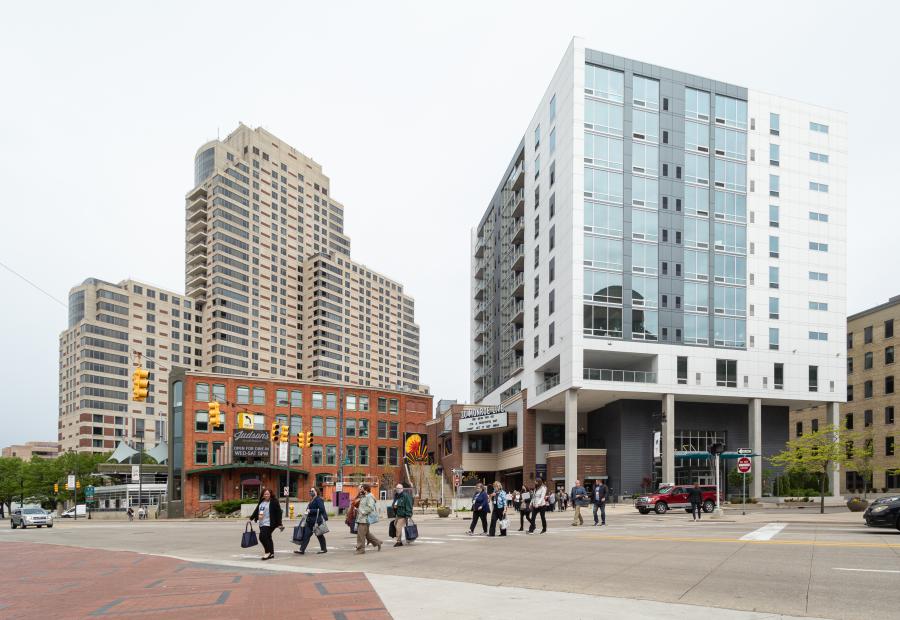 Grand Rapids offers plenty of hotels, restaurants, shops, and museums that are within walking distance of the convention campus.
Photo by Experience Grand Rapids
Walkability
The walkability of a city reduces the need to drive to and from various locations. Downtown Grand Rapids has a lot to offer those who just want to park once and visit more than one location, including several hotels, multiple museums, more than 100 shops and restaurants, a hopping nightlife, and live music venues.
If the weather isn't cooperating, the city features a climate controlled skywalk winding through downtown, as well as DASH — the free Downtown Area Shuttle system with a North route and a West route that can easily get you from point A to point B.
Bikeability
The city is also bike friendly, with more than 80 miles of bike lanes constructed since 2012. Grand Rapids was the first Michigan city to adopt a rule requiring five feet of clearance (rather than the typical three) between a passing vehicle and a cyclist.
There are bike rentals available throughout Grand Rapids, and the city recently completed the Bike and Scooter Share Pilot. The pilot ran from September 2020 through the end of 2021, featuring electric standing and seated scooters and e-bicycles, and covering a 12 mile area.
The city is currently reviewing all the feedback it received during the pilot to complete a full evaluation and determine the next steps for the program.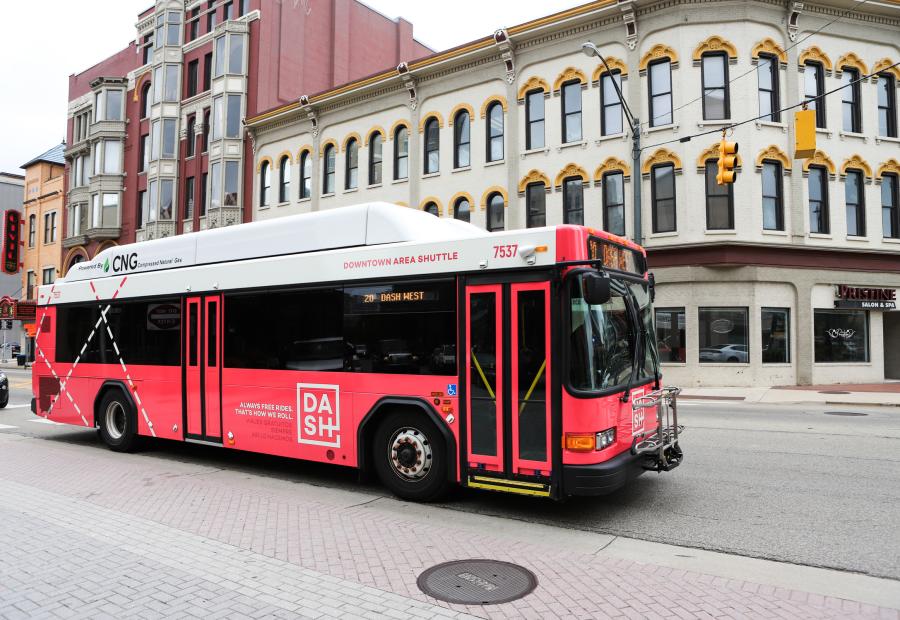 Ride the Grand Rapids' downtown area shuttle (DASH).
Photo by Experience Grand Rapids
Public Transportation
The Rapid, Grand Rapids' easy-to-use public transportation system, is also evidence of the city's commitment to sustainability.
All buses have bike racks to combine seamlessly with bike trips, and a portion of the fleet consists of hybrid buses.
The Rapid Central Station is also the first LEED-certified transit facility in the U.S. and the first to feature a "green roof" with plants growing on top to absorb rainwater.
And speaking of being LEED-certified, Grand Rapids at one point had the most LEED-certified buildings per capita in the United States.
The list is impressive and, in addition to the transit station, includes the Grand Rapids Art Museum, the Downtown Market, the city's Water and Environmental Building, as well as schools, churches, and businesses.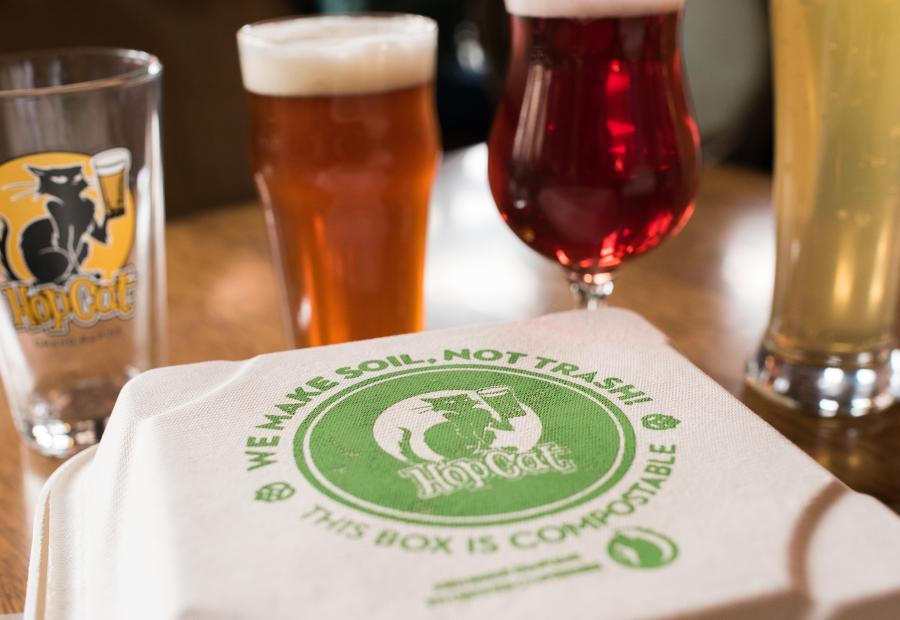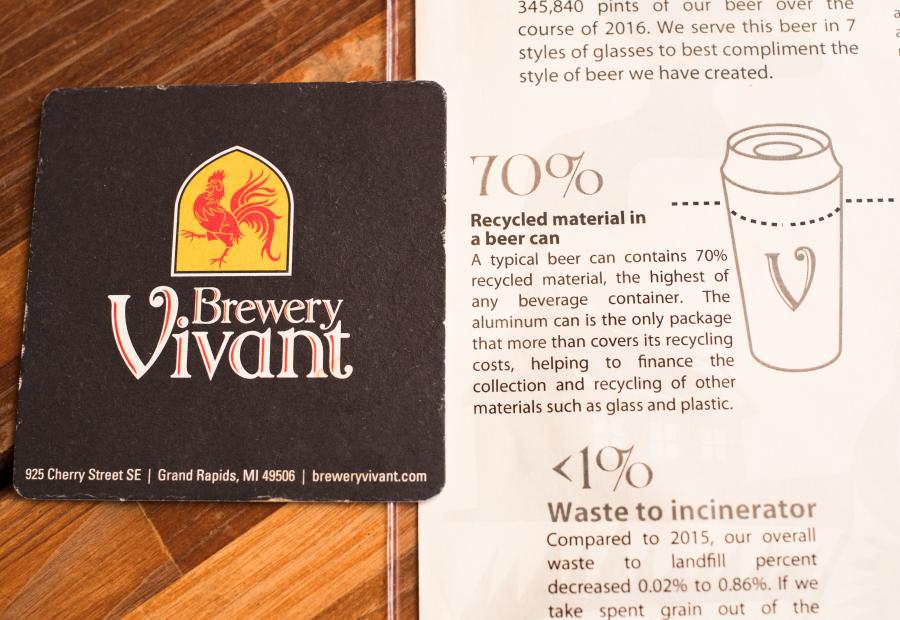 Many of the breweries and restaurants around Grand Rapids prioritize sustainability and reducing waste.
Photo by Experience Grand Rapids (taken by Bree Girard)
Restaurants and Breweries
Several locally-owned restaurants and breweries in Grand Rapids make sustainability a priority, either through food sourcing, recycling, composting, or other forms of waste reduction.
Brewery Vivant is a prime example with its LEED-certified building, its status as a B corporation, and its annual Beer the Change sustainability report.
Founders Brewing, which partnered with the city for a more sustainable solution for its bio-waste, sets annual sustainability goals for reducing water use, increasing energy efficiency, and reducing waste.
BarFly Ventures — owner of HopCat and Grand Rapids Brewing Co. — has a large focus on sustainability through recycling, clean water, reducing energy use, and composting.
BarFly is a founding member of multiple sustainable-focused organizations, including the U.S. Green Building Council's Grand Rapids 2030 District and the Great Lakes Business Network.
Community Service Projects
These examples of why Grand Rapids has earned its status as a city focused on sustainability have only scratched the surface.
Members of the community also get involved in environmentally-friendly activities and volunteer efforts. Whether it's supporting parks, the Grand River, nature centers, water quality, or tree planting, it isn't hard to find an organization to work with.
Do you have more questions? The Convention Services Team can work with you to help find several ways to make your meeting more sustainable.