There are many different "scenes" in Grand Rapids — performing arts, craft beer, food, history, and even comic books.
Given the steadfast popularity of blockbuster superhero films and TV shows, I'd say we're experiencing a key moment in comic book culture. The Grand Rapids area is filled with comic book stores that want to help you dig into the comic book scene. But local comic shops throughout Kent County represent more than just selling comics and pop culture products. 
They advocate for the medium and local authors, artists, and publishers. They engage with the local community that keeps their doors open through charitable donations and hosting comic-centric community events, like Free Comic Book Day and Batman Day. And they commit to showcasing a broad and diverse array of comics and books to help increase accessibility for all ages. Holy variety, Batman!
As an avowed comic book "geek" myself, I pulled together this comprehensive list (in no particular order) of Kent County comic shops with details on what each has to offer, their unique qualities, and how they strive to make all levels of comic book readers feel welcome.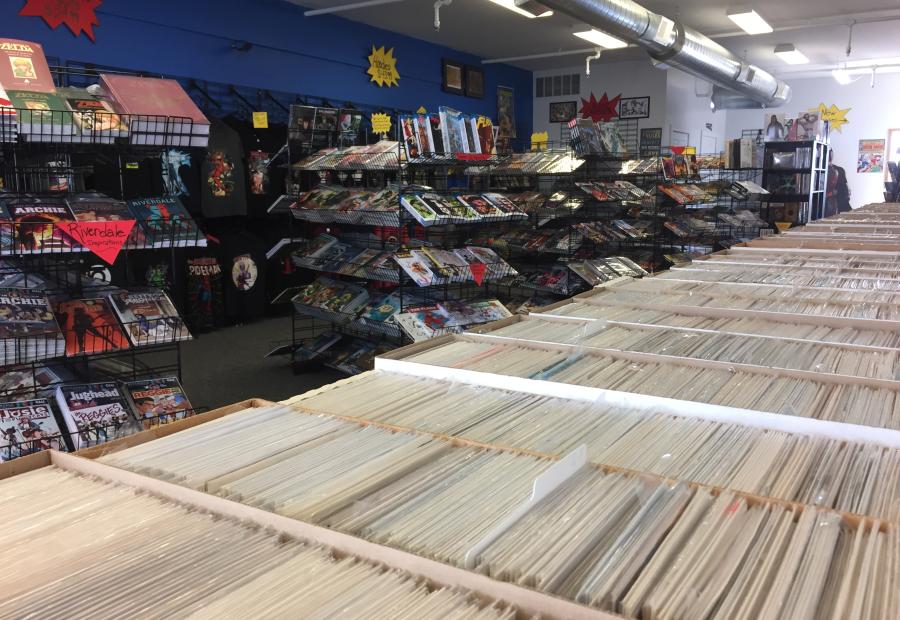 The Comic Signal is home to over 40,000 single-issue comics, plus an extensive Kids Corner.
Photo by Experience Grand Rapids
The Comic Signal (Grand Rapids)
Don Myers hasn't stopped reading comic books since he first flipped through the pages of Batman #254 in 1974. He fulfilled his lifelong dream of opening a comic book store when The Comic Signal started shining brightly over Grand Rapids in 2016. Don's love of comic books provides a rich, personable, and enjoyable experience for those who visit The Comic Signal, which has been voted in the top three best comic book shops in Revue Magazine's annual Best of the West Readers Poll multiple times. 
The Comic Signal offers 30,000+ single-issue comics and 4,000+ trade paperback and hardcover publications — from new releases to classics dating back to the 1940s. The Comic Signal provides increased accessibility to the world of comics with a very large selection of comic books priced from $0.50-$3, as well as a sizable Kids Corner with comics, graphic novels, Little Golden Books, and more for younger readers. The store also carries toys, collectibles, apparel, a variety of tabletop and card games, and trading cards. It's also a priority for Don to support Michigan-based creators, so he stocks products created by local writers, artists, and publishers, like Source Point Press. 
The Comic Signal offers a convenient and free Pull List service as well. You simply sign up for comics you want to read, and Don sets aside new issues for you when they are released. As a perk, Pull List subscribers automatically receive a 10% discount on all new comics and graphic novels. The Myers family strives to support the West Michigan community that has supported Don's dream by donating comic books and other products to local organizations like Helen DeVos Children's Hospital, D.A. Blodgett St. John's Home, Mary Free Bed Rehabilitation Hospital, The League of Enchantment, BISSELL Pet Foundation, and the Northview Education Foundation. 
Rookies Sportscards Plus (Lowell)
Rookies Sportscards Plus has been a fixture in the heart of downtown Lowell for three decades, epitomizing the small town comic shop. The pillars of Rookies' steadfast business include three main product lines: comics, games, and sport cards (the product that launched the business in 1992).
Co-owner Jack Reedy and his staff are big fans of comics, sports, and games, so it's easy to get lost in a fun conversation about any fandom or discover the perfect comic book based on your interests. In terms of comics, Rookies sells the latest titles from big name publishers like Marvel, DC Comics, and Imagine Comics as well as back issues, graphic novels, and collecting/gaming supplies. Rookies is also home to a large wall of board games, plus a variety of card games like Pokemon (located in the store's All Ages section) and Magic the Gathering, and miniatures for Dungeons & Dragons and HeroClix. For the sports card collectors, you can find new packs and boxes plus singles. 
Located on the bridge over the Flat River, Rookies is widely known for its Wooden Nickels — an "earn your own reward" program that awards you one Wooden Nickel for every $10 spent, which you can then redeem for store credit. For example, 10 nickels equals $5 store credit. A part of the store's continuous success has been how easy the owners make it to support Rookies no matter where you live. Rookies offers a shipping service that sends comics anywhere in the world, including to customers serving in the military. Since it takes a village to keep a small business operating successfully for so many years, Rookies gives back to its community by donating to various local charities and schools, and even running popular board game nights at Big Boiler Brewing and a couple of area churches. 
An aisle of shelves displaying graphic novels
Photo by Vault of Midnight
Vault of Midnight (Grand Rapids)
The good folks at Vault of Midnight have one goal: get everybody to read a comic book. They accomplish that by acting as ambassadors for all things geeky and providing customers a memorable shopping experience that transcends your regular comic shop. Everyone on the store's staff loves comics and games, and their enjoyment around helping people find their next piece of reading material creates a welcoming and friendly atmosphere. If you're new to comics, Vault's staff helps you translate your tastes and interests into solid reading recommendations. 
Also voted in the top three comic book shops in Revue Magazine's Best of the West Readers Poll multiple times, Vault of Midnight's trademark blue storefront in downtown Grand Rapids near Rosa Parks Circle is one of three stores under the Vault footprint across Michigan. Throughout the brightly orange-lined interior of Vault of Midnight GR, you'll find new, vintage, and small press comic books and graphic novels suitable for all ages, collecting and gaming supplies, board and role playing games, toys, statues, apparel, manga, and you might even find a dog or two since all Vault of Midnight stores are dog-friendly (#DogsofMidnight). The store carries locally created comics and art, and well-known creators are even commonly invited  for signing events. Other events regularly hosted at the store include Free RPG Day, board game events, a Book of the Month Club, and more. 
To make your comic reading experience more convenient, Vault of Midnight offers a free subscription service so you never miss an issue of your favorite comic book or manga series volume. And if you're unable to visit in-person, check out Vault of Midnight's online store or take advantage of mail ordering services. To help support its community, Vault of Midnight works with local schools, libraries, and community organizations to offer discounts on books and prize donations.
Alter Ego Comics & Books (Comstock Park)
Toby Shaver grew up infatuated with embracing his imagination, escaping the norm, and finding epic adventures. Most of those he accomplished by simply reading comic books. Now, he wants the local community to join him in his greatest adventure yet — owning and operating Alter Ego Comics & Books.
Toby walked into his first comic book store when he was 12 years old and immediately fell in love. More than three decades later, he aims to create the same kind of comic shop atmosphere that he grew up with, one in which the owners had a great time talking about what they loved and helped customers jump into the medium. 
Alter Ego carries new and vintage comics and graphic novels for all ages, collectible toys, trading cards, and games. For those sitting on comic collections that are looking to unload some books, Toby can help you enlarge your wallet. Just bring your comics into Alter Ego and Toby can value your titles, help you sell them, or even buy directly from you. He also assists with some restoration work to mend the wears and tears of years of reading those old comics. 
Tardy's Collector's Corner (Grand Rapids)
Tardy's Collector's Corner has a vintage, "where everyone knows your name" vibe straight out of the 70s, which owners Gavin and Deanna Willard claim is the kind of environment that has kept customers coming back since the store first opened in Grand Rapids in 1979.
Tardy's is a one-stop-shop for collectors. In addition to weekly new comics paired with a free Pull List service, the store keeps roughly 21,000 comics in stock at all times. Tardy's also sells classic and rare comics, key issues, graphic novels, magazines covering fantasy, sci-fi, and monsters, and plenty of options for younger readers. In fact, the first display you see when you walk through the door features a variety of books for young readers. Uniquely, Tardy's is known for its new, rare, and vintage toys, collectibles, and pop culture memorabilia, including action figures, posters, pins, patches, and original artwork. They also occasionally invite pop culture celebrities to the store for meet and greets, like classic Power Rangers cast members. 
Team Tardy's dedication to honoring the classics while embracing the modern mixed with phenomenal customer service has landed the store in the top three comic book shops in Revue Magazine's Best of the West Readers Poll multiple times in recent years. You can also find the Tardy's team at the store's Allegan-based sister store, Tardy's Underground, or at local toy shows and comic book conventions, like Grand Rapids Comic-Con, across West Michigan.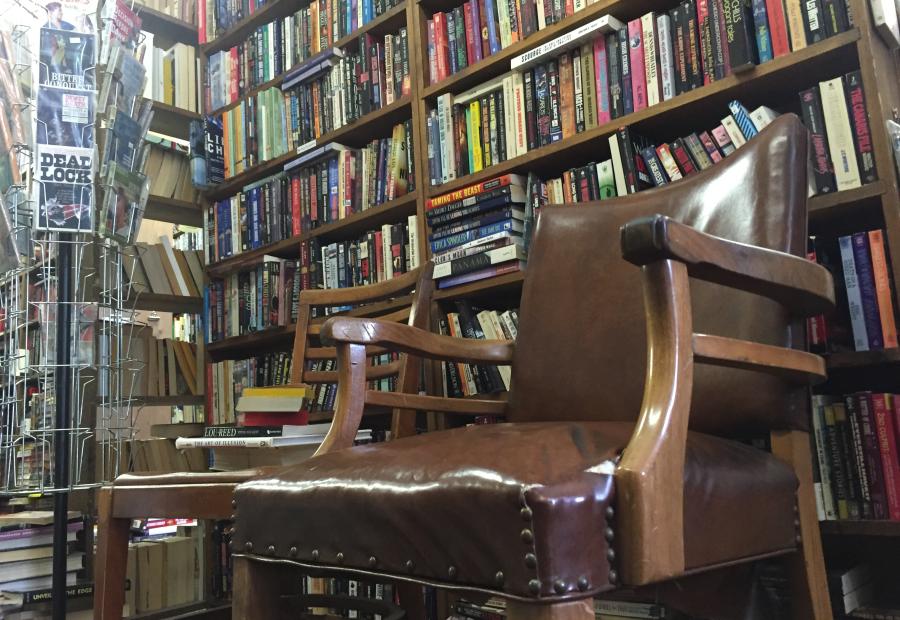 Argos Books has something for every book and comic lover.
Photo by Experience Grand Rapids
Argos Book Shop (Grand Rapids)
Argos Book Shop is a literary paradise that every bookworm needs to visit, not just comic book readers. The shop's distinctiveness is the result of not only selling new and vintage comic books, graphic novels, manga, Pokemon cards, used Dungeons & Dragons sets, and collector supplies, but also hundreds of used books. In fact, Argos has been selling antiquarian, vintage, and gently used books as the premiere used book shop in Grand Rapids since 1975. 
Honoring the rich history, nostalgic clientele, and creaky old floors of Argos Book Shop is a family affair for Roger and Crystal, the husband and wife duo who took over ownership of Argos in 2022. When you walk into the store, you're able to speak directly with Roger, Crystal, or one of their kids, all of whom possess plenty of knowledge about the world of comics and aim to form lasting friendships with their customers. When it comes to helping new comic readers get started, Roger and Crystal point customers to the classic eras (Copper Age, Bronze Age, etc.), which they find to be both accessible and often all-ages appropriate. Roger and Crystal also regularly support local charities through donations, the reading programs of local public schools, and local creators by hosting meet-and-greets, signing events, and selling their work. 
The Outer Limits (Wyoming)
The Outer Limits is an old-fashioned brick-and-mortar comic book shop in Wyoming with roots dating back 30 years and a style that reflects the comic book store portrayed on The Big Bang Theory. The owners and staff of The Outer Limits have a shared mission of giving comic readers and game players a place where they can feel a sense of community. 
The shop carries a diverse mix of new comics, back issues, trade paperbacks, action figures, collectible card games, board games, dice, and supplies. To encourage young readers to dive in, The Outer Limits stocks a variety of comics for children, from Sonic the Hedgehog to different Disney titles. The Outer Limits offers a frequent buyer program, which is free when purchasing comics, that gets you $15 in store credit if you spend $100 within a six month time period. The Pull List service at The Outer Limits is also free to enroll in and when needed, delivery and shipping options are available for customers. Over the years, the owners of The Outer Limits have supported the local community by donating tens of thousands of free comics, some even in different languages, to local schools, community outreaches, and homeless shelters.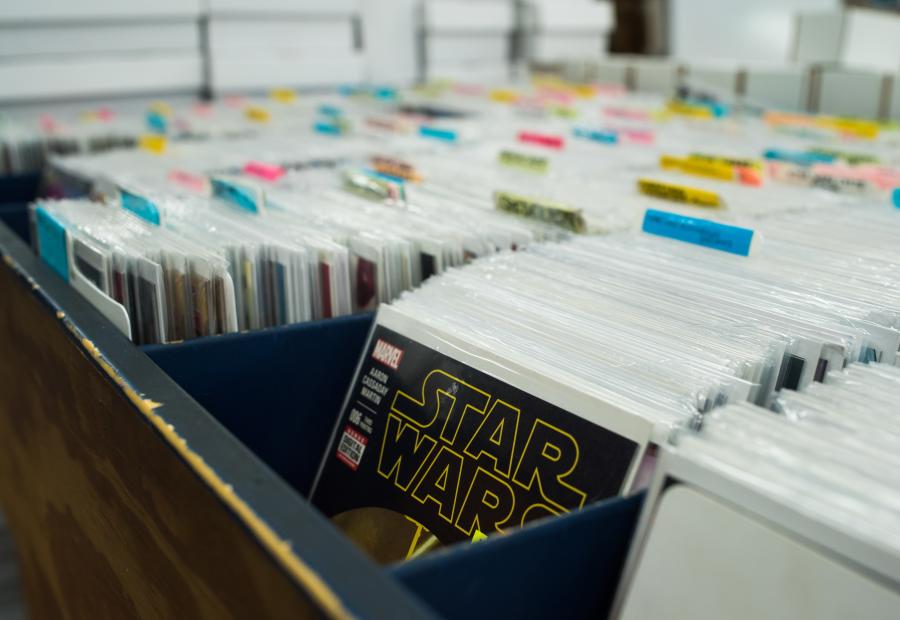 Assorted comic books at Goldmine Comics and Cards
Photo by Experience Grand Rapids
Goldmine Comics and Cards
Owning comic book stores has been a family affair for John Kula, owner of Goldmine Comics and Cards. John's father owned a comic book store in North Dakota for nearly 30 years and after moving to Grand Rapids, he decided to follow in his father's footsteps by opening Goldmine Comics and Cards in 1993.
Goldmine Comics and Cards primarily sells new comic books, trade paperbacks, action figures, collectibles, card games like Pokemon and Magic the Gathering, posters, archival supplies, science fiction toys, kids comics, and comics created by local authors and artists.
Some unique sights you'll see in Goldmine include pinball machines and many science fiction toys and models that no other local store carries. You also don't have to travel to a galaxy far, far away to get your Star Wars fix. Be sure to spend some time marveling at Goldmine's large Star Wars replicas that include a Return of the Jedi Anakin Skywalker/Darth Vader bust from 1995 and a Millennium Falcon replica that hovers overhead
Which comic book stores do you enjoy visiting in the Grand Rapids area? Share your favorites in the comment section below!
The list is long, so we narrowed it down a bit.
photo by Experience Grand Rapids