As the hot humid air gives way to crisp cool mornings, Grand Rapids is ready for its glorious transition to all things fall… and so am I. Not only do the colors of the trees change, but so do the types of events and activities the Grand Rapids area has to offer. If you've been wondering what there is to do with kids this autumn season, look no further than this fall family-friendly itinerary, courtesy of yours truly.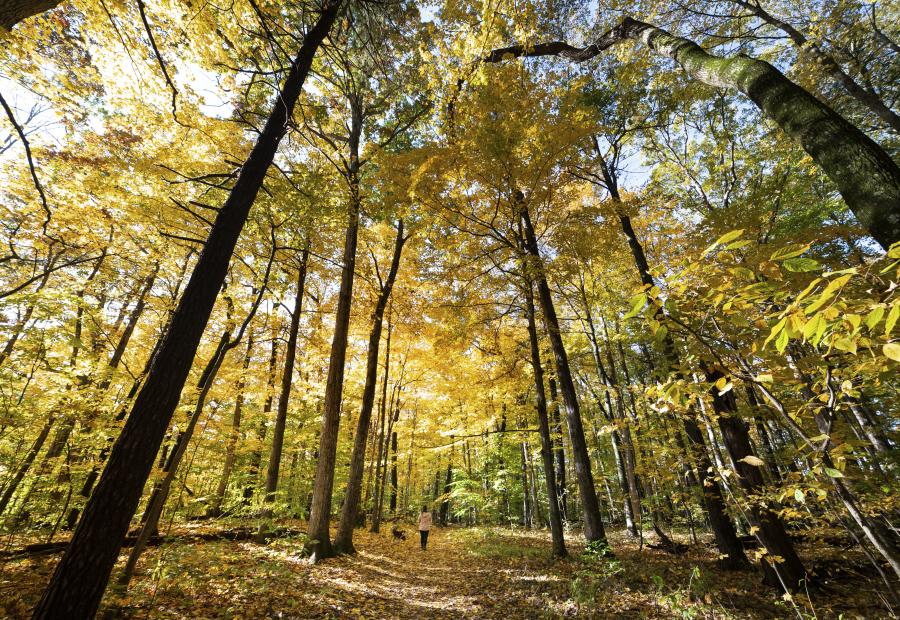 Fall's rich color makes for a great family photo or selfie.
Photo by Experience Grand Rapids
Thursday
Fall Color Tour
Time: Early Evening
Available: Fall Season
Fall time in West Michigan is something magical with the colors of the trees turning from green, to yellow to orange. One of my favorite things to do during this season is to take my family on a personal fall color tour by car or by foot. Some favorite spots include:
To get the full experience, I recommend you go during what's called the golden hour, the hour before sunset when the color of the sky is rich and golden. Don't forget to take your camera along for some informal family photos, or that perfect social media-worthy selfie.
Hike with the Herd
Time: Evening
Available: Every Thursday through November
Another great way to explore the outdoor beauty of fall is with a goat hike! This unique opportunity is available through Dreamgoats, a farm in Ada. For $10 a person, you can enjoy an hour-long trek with a happy herd of goats through rustic, unpaved trails on the farm. Hikes are limited to 15 people to allow for ample space between groups.
Children are welcome, but they must stay next to their adult at all times. I also recommended you wear pants and closed-toed shoes to protect yourself from thorns, ticks, mudd, burrs, and poison ivy.
The goat hikes take place Thursday evenings at 5:30 pm. Hikes are also available on Monday, Wednesday, Saturday, and Sunday.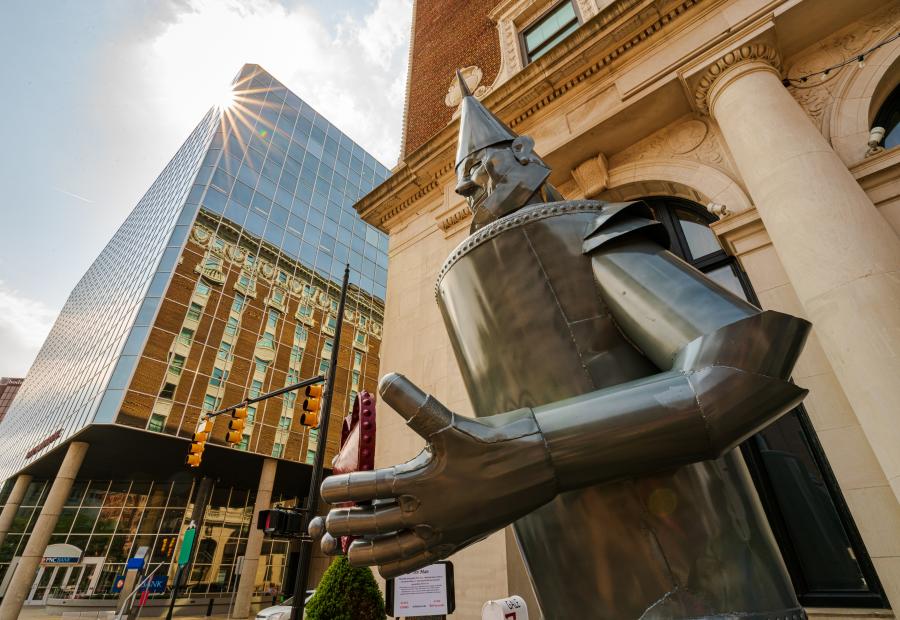 ArtPrize 2021 has things up to offer more ways to support artists. Vote for your faves now through October 3.
Photo by "Tin man" by Bill Secunda, ArtPrize 2021
Friday
ArtPrize® 2021
Time: Morning
Available: September 16 - October 3
ArtPrize is back! The international art competition features 18 days of art exhibited throughout downtown Grands Rapids in parks, museums, galleries, storefronts, bars, bridges, and more. This year there are over 800 entries to view and vote upon.
Typically, most of the art venues are within a 3-mile radius of downtown, but this year, ArtPrize is extending beyond that. New locations include Campau Park, Creston Neighborhood, and the Garfield Park Area, including the Grand Rapids Center for Community Transformation. As someone who's gone to ArtPrize numerous years, my favorite part about the event is discovering new areas of Grand Rapids I haven't seen. It's also a wonderful way to get in your steps on a beautiful fall day with your family while looking at mesmerizing art.
ArtPrize is free and open to the public from September 16 to October 3, 2021.
Pick a Pumpkin
Time: Early Afternoon
Available: Fall season
In West Michigan there is no shortage of pumpkin patches with literally dozens of area farms right outside of Grand Rapids. Many of the farms have been in existence for decades and offer more than just opportunities to pick the perfect pumpkin. Post Family Farm in Hudsonville, for example, offers hayrides, a petting zoo, and a pumpkin train ride. Schwallier's Country Basket in Sparta has a cow train, an activity area for kids, and a challenging corn maze to tackle.
One of my personal favorite places to pick up a pumpkin and enjoy other fall activities is Fruit Ridge Hayrides. The 130-year-old farm has horse drawn hayrides, a 10-acre corn maze, pony rides, farm art, a campfire and picnic area, and more. With so many activities available it's a wonderful way to spend your afternoon.
IllumiZoo Wild Hues at John Ball Park
Time: Evening
Available: Wednesday - Sunday Evenings
To cap off your Friday evening, head on over to John Ball Zoo for their new interactive nighttime event. IllumiZoo Wild Hues transforms the entire zoo into a magical landscape that's filled with rich, colorful lighting and sounds. As you walk through the zoo, you'll be immersed in a magical story that's told through synchronized lights and music as you move along the one-mile path. Since the path is paved, it is stroller and wheelchair friendly.
IllumiZoo Wild Hues starts at 8:30 pm and begins again every half hour through 10:00 pm. You're encouraged to purchase your tickets ahead of time online in order to guarantee your preferred date and time. General admission is $20 for adults, $13 for children 3-12 and seniors. Member's admission is $16 for adults, $10.40 for ages 3-12. Children two and under are free.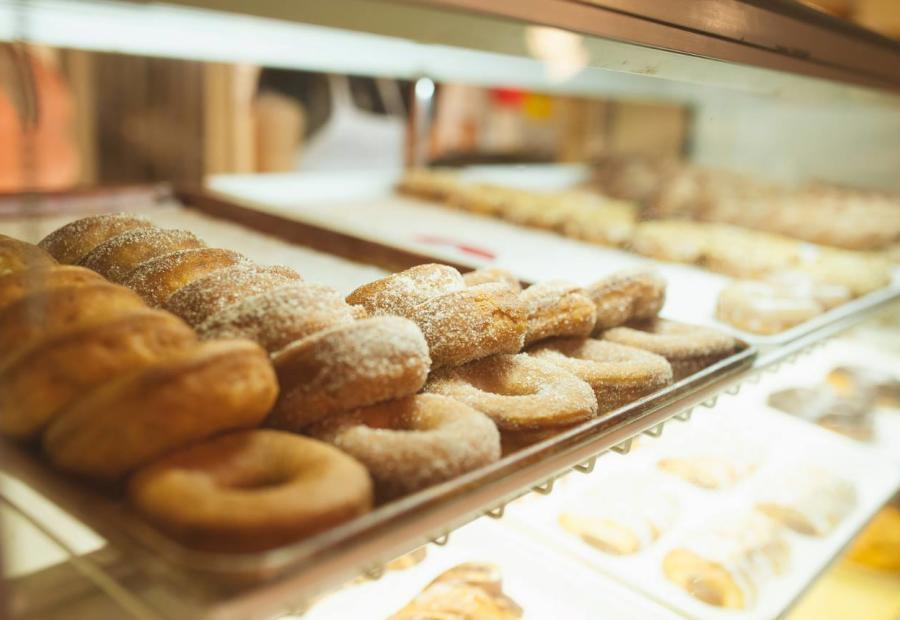 Enjoying freshly-made donuts at Robinette's Apple Haus & Winery are a West Michigan tradition.
Photo by Robinette's Apple Haus & Winery
Saturday
Apple Picking at Robinette's Apple Haus and Winery
Time: Morning
Available: Fall season
Robinette's Apple Haus and Winery is a fun stop for fall Saturday mornings. The orchard, established in 1911, is located on the Northern end of town, right off the East Beltline in Grand Rapids. This kid-friendly destination features scenic trails to walk, hayrides to enjoy, and a corn maze to navigate.
During the fall you can also pick your own apples. Robinette's grows over 35 varieties of apples that ripen at different times during the season. To know what apples are in season and when, check out the Estimated Apple Harvest Guide. You can also check Robinette's Facebook page or give them a call to see what variety is available and how many are left.
One of my favorite things to do at Robinette's is checking out the bakery. There you can find apple bread and a variety of delicious, fall-inspired donuts. I highly recommend sitting down in their dining room with a maple bacon donut and a glass of homemade apple cider. If you don't have time for that, you can always get your donuts and cider to go.
Field of Dreams Corn Maze at Deep Roots Produce Farm
Time: Morning
Available: Fall Season
If you're a fan of corn mazes and baseball, you'll want to head to Deep Roots Produce Farm in Caledonia. Inspired by the film, Field of Dreams, the corn maze at Deep Roots features a design of five baseball players walking through a cornfield along with the famous movie line "If you build it, they will come". The maze is cut through 11 acres of corn and has three different trails: an easy trail for kids, an intermediate trail, and an advanced trail which is 3.6 miles long! To add to the ambiance, there's also a full-size baseball field with a corn outfield.
On Saturday, the maze is open from 9:00 am to 5:00 pm. Monday through Friday it's open from 10:00 am to 6:30 pm and on Sunday it's open from 11:00 am to 5:00 pm. Tickets are $10 for 10 and older, $7 for children 4 - 9, and free for those three and under.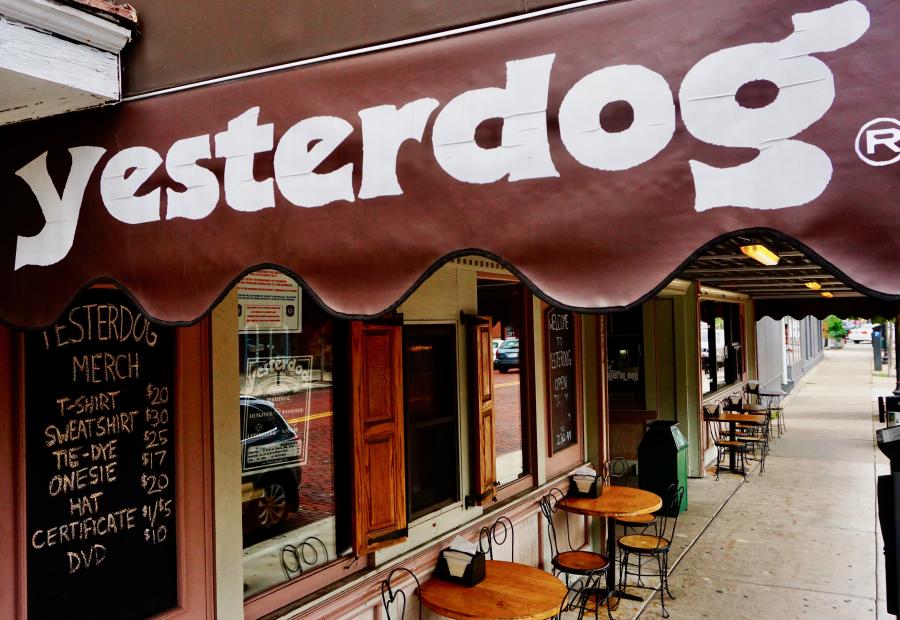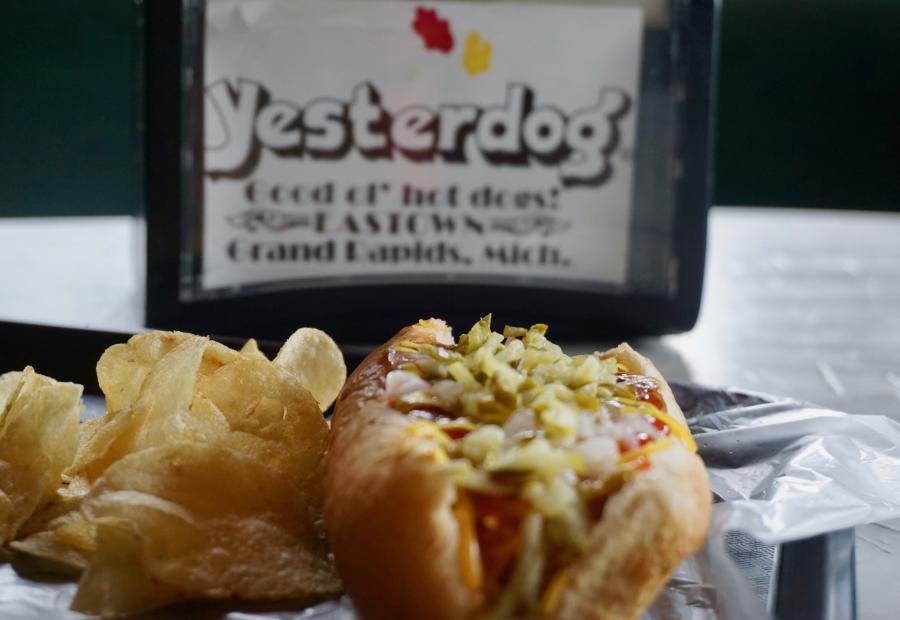 Visit Yesterdog before the weekend ends for unique hot dogs piled with delicious toppings - just be sure to bring cash.
Photo by Brian Craig for Experience Grand Rapids
Eastown Howl-Oween Pawty
Time: Noon to 5 pm
Available: October 16
Dog owners and lovers alike will enjoy spending the afternoon at the Howl-Oween Pawty, hosted by the Eastown Community Association. The event is at Wilcox Park in Grand Rapids and celebrates all things pup related! In addition to a beer tent for adults, there's a dog photo booth, pet vendors, games, and food. All dogs and their humans are invited to dress up and enter the pet costume contest. There will be prizes for funniest, scariest, most creative, and best group entries! The event is free and goes from noon until 5 pm.
Once you're done at the pawty, why not take a walk through Eastown. The community is 70 square blocks and home to several, locally owned shops and restaurants. There's everything from a quaint bookstore (Redux Books), to a cosmetic shop (Lorde), to a specialty hot dog eatery (Yesterdog).
Downtown Market
Time: Evening
Available: Year-round
A perfect way to end your evening is by heading over to the Downtown Market for a few different dinner and dessert choices. If you fancy a restaurant style, sit down meal, there's Slows Bar B-Q or Tacos El Cuñado. For something more casual, you can always pick up a meal at Pho 616 or Juju Bird and then head over to the indoor or outdoor public dining space.
Don't forget to save room for dessert; a sweet treat can be found at Love's Ice Cream & Chocolate, Dorothy and Tony's Gourmet Kettle Corn, or Field and Fire Bakery.
Once you're done dining, don't forget to check out the rest of the Downtown Market which includes Alt City Beverage Company which features a creative menu of delicious smoothies, espressos, teas, and soda pop (and for even more soda pop options, High Tide Soda is for you). There's also Old World Olive Press, a specialty balsamic and vinegar shop, and Fish Lads, a full service retail fish market with some of the best fresh fish in the area.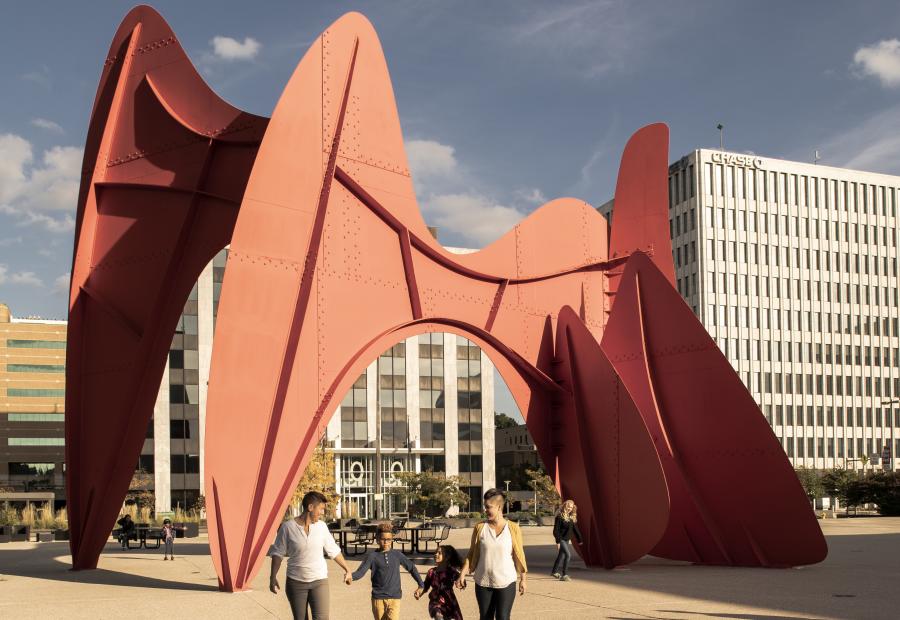 Explore Grand Rapids' landmarks using the Let's Roam scavenger hunt app.
Photo by Experience Grand Rapids
Sunday
Grand Rapids Scavenger Hunt
Time: Morning
Available: Year-round
Start your morning off by exploring Grand Rapids in a brand new way with a scavenger hunt! Using the Let's Roam smartphone app, you'll solve riddles that take you from landmark to landmark to discover art, culture, and history. Some of the stops in the scavenger hunt include the Grand Rapids Public Museum, City Hall, and Alexander Calder's sculpture La Grande Vitesse.
This is a wonderful, family-friendly activity that takes an hour and a half to two hours to complete. You'll cover close to two miles as you solve the scavenger hunt, so you might want to bring a stroller for the younger members of your family. Tickets are $14.99 for players five and older. You can also buy a group pass (4 players) for $59.96.
Chrysanthemums & More at Frederik Meijer Gardens and Sculpture Park
Time: Early Afternoon
Available: Now through October 31
Chrysanthemums, or "mums" for short, are an iconic fall flower and they're now in full bloom at Frederik Meijer Gardens and Sculpture Park. The Chrysanthemums & More! exhibit is the largest of its kind in Michigan, with thousands of the flowers showing off their colors across 158 acres. In addition to being planted among the many outdoor exhibits at Meijer Gardens, local designers and the gardens' own horticulturists have artfully created floral arrangements with mums as their primary element.
While you're there, be sure to stop by the Richard and Helen DeVos Japanese Garden for some tranquil views, and the Lena Meijer Children's Garden. There's also the Michigan Farm Garden, where you can find heirloom vegetables, gourds, and larger than life pumpkins.
Chrysanthemums & More! is included in the price of admission.
TreeRunner Adventure Park
Time: Later afternoon
Available: Times vary so check the website
If you truly want to experience the colors of fall, you can do that by being among the trees at the TreeRunner Adventure Park in Grand Rapids. The aerial adventure park has more than 60 obstacles and zip lines. There are seven courses total, each with varying levels of difficulty. Regardless of your experience, there's a course for you. And, so that everyone can join in the fun, there is a Junior Park for young climbers ages four to seven. The two courses in the Junior Park are only two to three feet off the ground.
Tickets to the Aerial Park cost $45 for adults and kids over 14 years old. Kids 13 and under are $38. Junior Park tickets for kids four to seven are $20. Adults that are supervising are free.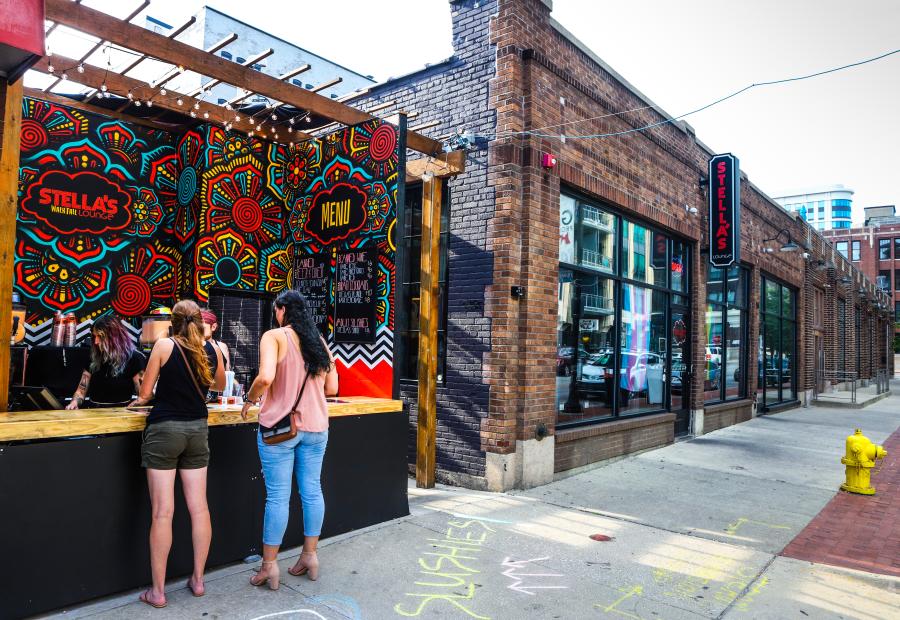 Stop by Stella's for their nationally-recognized burgers.
Photo by Experience Grand Rapids
Stella's Lounge
Time: Evening
Available: Year-round
To close out your perfect weekend, head on over to Stella's Lounge. Located right in the heart of downtown Grand Rapids, Stella's is home to Stella Blue Burger, which earned them the title of "Best Burger in America" by GQ Magazine in 2012. The burger is stuffed with bacon and blue cheese and is topped by a blue cheese sauce.
Stella's menu also features sandwiches, tacos, wraps, and delicious appetizers like beer battered avocado nuggets. If you're in the mood for a drink along with your meal, there's beer, cocktails, and over 250 whiskeys to choose from. While you're waiting for your dinner, don't forget to check out the retro arcade, featuring classics like Donkey Kong, Mortal Kombat, Tron, and more.