West Michiganders anticipate summer with joy for good reason: the weather is gorgeous, the sparkling lakeshore beckons, and every weekend holds the promise of something new and exciting to do around Grand Rapids.
Whether you live in West Michigan or are visiting, you can take advantage of the wonderful things Grand Rapids offers each summer.
Check out the weekend itinerary designed with kids in mind — it's filled with fun events for everyone: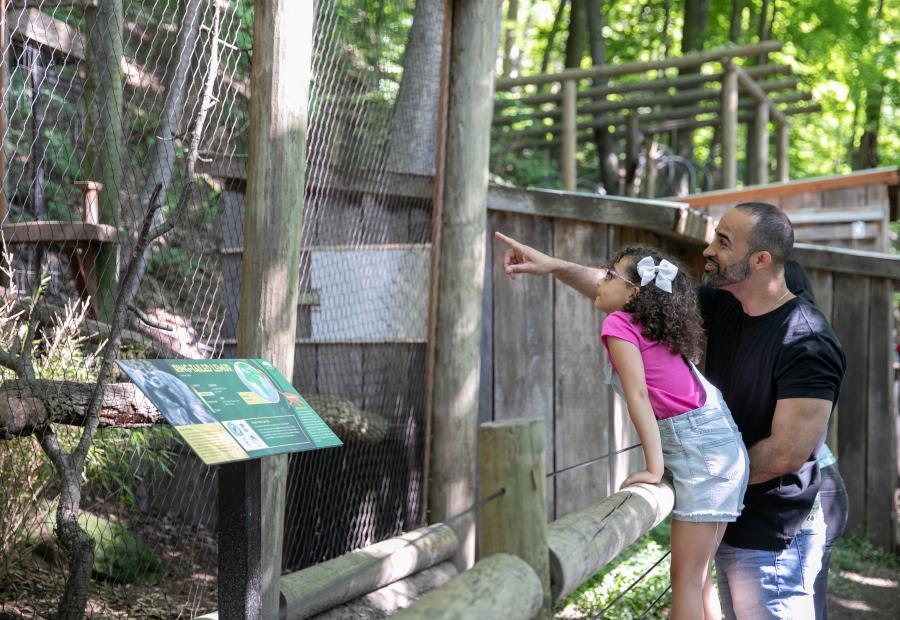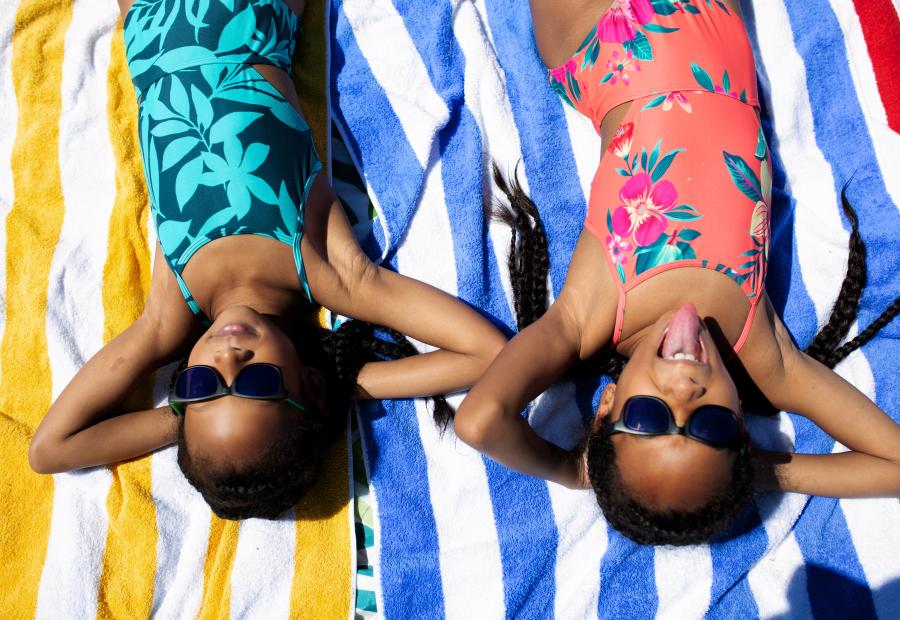 Friday is for visiting the zoo and then hitting the beach.
Photo by Experience Grand Rapids
John Ball Zoo
Time: Recommended Early Morning
When: March through November
Start the morning off hanging out with lions, tigers, and bears at the John Ball Zoo in Grand Rapids. And those are just a few of the animals you can get a glimpse of. The zoo, which is over 130 years old, has a number of different habitats to explore including red pandas, penguins, ring-tailed lemurs, and parrots. Be sure to stop in the Pygmy Hippo Pavilion to meet Jahari and Penelope, the zoo's newest additions. There's also a frog exhibit with more than 30 different frogs, a meerkat and porcupine habitat, and an aquarium. Did I mention penguins? You can spend time with them too!
Animals aren't the only thing the zoo has to offer. There's also a number of family-friendly experiences to check out including a zip line, sky trail ropes course and funicular rides. If heights aren't your thing, there are also camel rides, an interactive Budgie Aviary exhibit, a hobby farm where you can pet farm animals (like Pumpkin the mini Highland cow), face painting, and the opportunity to pan for your very own gems in the zoo's brand new sluice.
According to John Ball's website, the best time of day to arrive is early in the morning or right before close because that's when the animal occupants of the zoo are most active. Visitor attendance also tends to be the lowest during these times. Their summer hours are 9:00 am to 6:00 pm. Admission on Friday is $22.00 for adults (ages 13-61) and $17 for seniors (62+), youth (ages 3-12), college students and active and veteran military personnel and spouses (with valid ID). Children 2 and under are free.
Tunnel Park
Time: Mid afternoon
When: April 1 until the first snowfall
Just 35 miles west of Grand Rapids, is one of my favorite beaches to go to, Tunnel Park, in Holland. Tunnel Park is more than just a beach though. There's a number of amenities to enjoy. If you've got small kids, stop off at the playground first (or the sand volleyball courts for those of you with older kids). If you packed a picnic lunch, head to the picnic shelters to eat before going off to the beach part of the park. 
Now the interesting thing about Tunnel Park is that when you arrive, you don't see the beach right away because it's obscured by a large dune. To get to the beach you can either go through the tunnel that's cut through the dune, OR climb up the dune itself. Whether you go over or through, the beautiful view of Lake Michigan is enough to make you pause for a bit to take in the sites.
Tunnel Park is open to the public beginning in April and closes following the first snowfall of the year. There is a parking lot for Tunnel Park that's staffed Memorial Day weekend through Labor Day weekend. When it's staffed, the daily fee is $8 per vehicle. 
GR8 Food Truck Fridays
Time: 4:00 pm - 9:00pm
When: Fridays through September 1
Food Truck Fridays are back! The event, put on by GR8 Food Trucks, takes place at Riverside Park, just four miles north of Downtown Grand Rapids. Every Friday, through September 1, 15 to 20 trucks pull into Riverside Park, offering a variety of foods that range anywhere from pizza, to burritos, paella, hamburgers, BBQ, pretzels, ice cream, and yes, even crepes. With that many options available, you're sure to find something for even the pickiest eater in your crew. 
Food Truck Fridays have a festival kind of feel to them with everyone bringing blankets, chairs, and lawn games with them. It's a great opportunity to let your kids stretch their legs and play in the park while you sit back and relax under the shade of some trees. 
Alongside the August 25 Food Truck Friday, the City of Grand Rapids Parks and Recreation will offer free kayak rides in Riverside Park Lagoon. Kayaks are provided by the city and are available on a first-come, first-served basis, with no registration required. However, if you want to bring your own kayak or paddleboard, you're more than welcome to! Anyone that uses the kayaks provided must be over the age of 10 and anyone under the age of 16 must be accompanied by an adult. A lifeguard will be on site.
If you'd like to avoid parking, Food Truck Fridays is also running a promotion with Trail.Club: those that bike to the event are invited to stop by the GR8 Food Trucks Tent and pick a voucher with a dollar amount that is valid at any of the attending food trucks.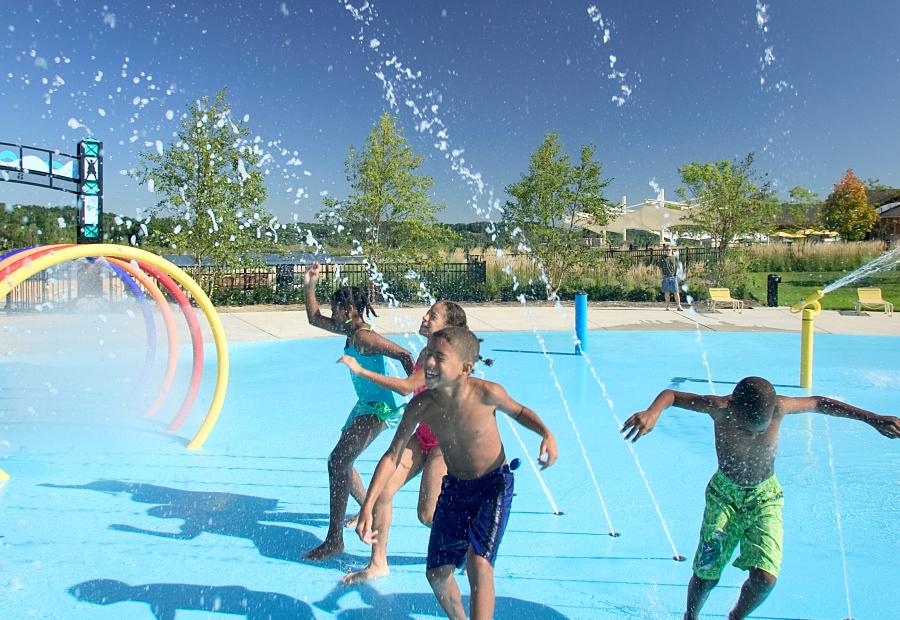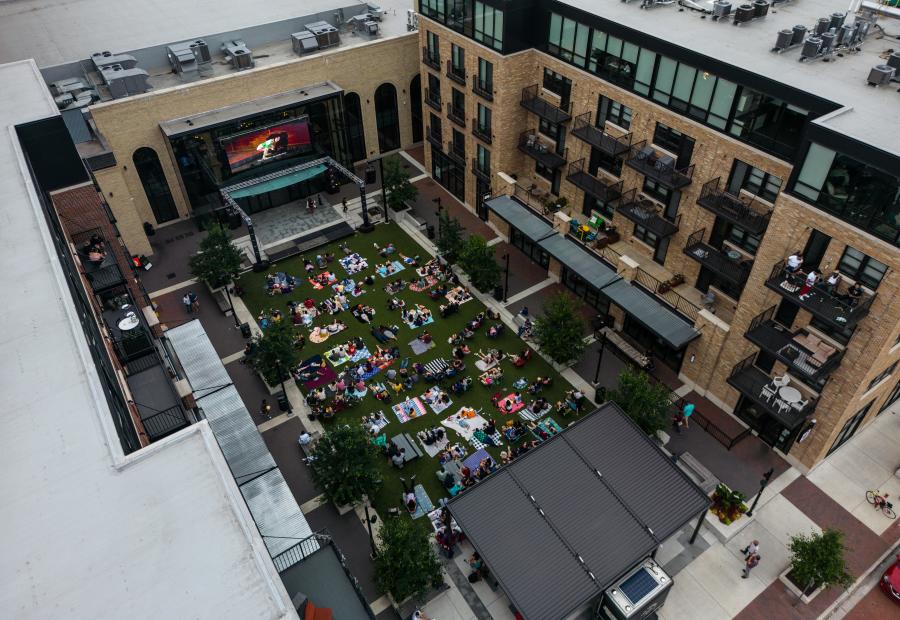 Local splashpads and Sunset Cinema bookend your day on Saturday.
Photo by Experience Grand Rapids
Coast Guard Festival
Time: Recommended Morning through Mid-Day
When: July 28 - August 6
A regular summer staple in West Michigan is the annual Grand Haven Coast Guard Festival, arguably the biggest event to hit the beach town. The festival unofficially got its start in 1924 as a picnic for those that worked at the coast guard station at Grand Haven. Since then, it's morphed into a week-long event celebrating the men and women of the United States Coast Guard.
While the festival runs July 28 through August 6, we'd like to call attention to the events being held on Saturday, July 29 since they're super family oriented. 
Starting right at 7:30 am is the Coast Guard City USA Run featuring a 5K, 10K, and 1 mile Family Fun Run/Walk (bring your stroller!). Registration is between $15 and $40. A little later on in the morning, at 10:30 am, you can venture into downtown Grand Haven to view the Kids Parade! I recommend getting to the route early to get the best seats. The longest sections of the parade run on Franklin Street and Washington Street. Then, around 1:30, there's the Cardboard Boat Race where teams design, build, and then race boats made completely of cardboard. The event is free to watch and free to enter. In fact, kids as young as 10 can try their hand at creating a boat and racing it! You'll just need to register beforehand and make sure to properly craft the boat based on the rules.
If you're unable to make it over to Grand Haven for the Coast Guard Festival on July 29, that's okay. The festival runs July 28 through August 6 and there's a ton of super family friendly activities scattered throughout, like a pancake breakfast, boat tours, carnival days, flea market, car show, cornhole tournament, and more. A complete list of events can be found on the Grand Haven Coast Guard Festival webpage.
Local Splash Pads
Time: Recommended Late Afternoon
When: Typically Memorial Day through Labor Day
What's some summer time fun without splashing around in a local splashpad? It's a great way to beat the heat, and kids of all ages can splash and play the day away there. West Michigan is home to an abundance of water-filled playgrounds, some of them with free admission, and others with small entrance fees, for example Millennium Park. As a mom of three little ones, and with gas prices sky high, here are some of my favorite free ones!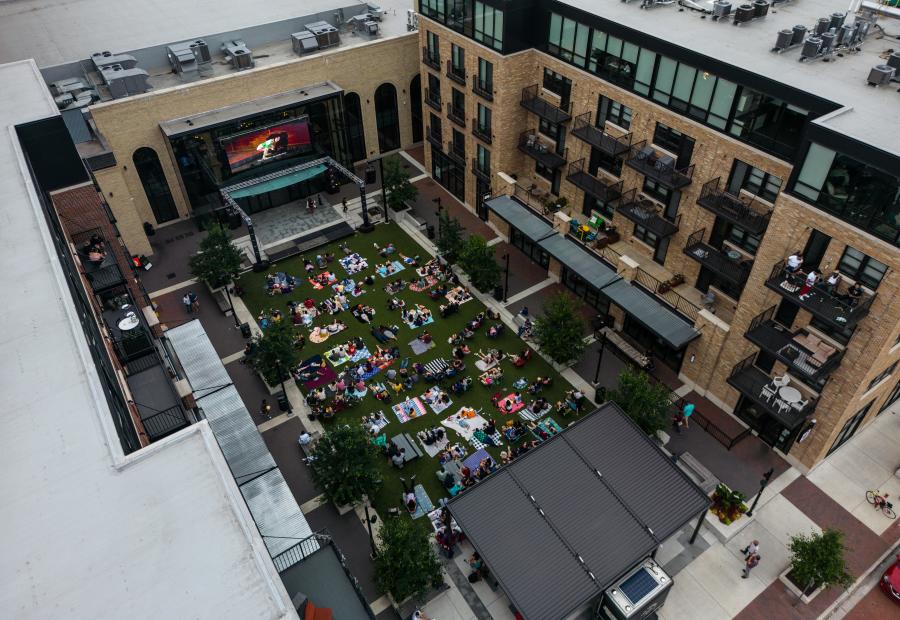 Higher Aerial of Studio Park Event, 2022
Photo by Experience Grand Rapids
Sunset Cinema
Time: 8 pm showtime
When: Select Saturdays through September
Celebration Cinema's Studio Park is once again hosting Sunset Cinema, an outdoor movie viewing experience that takes place in the facility's beautiful piazza. The event was conceived back in 2020 to offer a safe way to watch movies during the height of the pandemic, and it was such a popular idea that Studio Park continues to bring it back!
The outdoor piazza's lawn is turned into a seating area to watch movies projected on a giant screen on the side of the theater. Seating is first come, first serve, so arrive early and be sure to bring your own chair since there are no chairs provided. You're allowed to bring in your own food, but concessions inside the theater will be open too.
Tickets for Sunset Cinema are $5 per person. Remaining movies of the summer include Bottle Rocket, Mean Girls, and Ghostbusters (1984), on August 19, 26, and September 9, respectively. Not only is this a family friendly event, it's a budget friendly one too!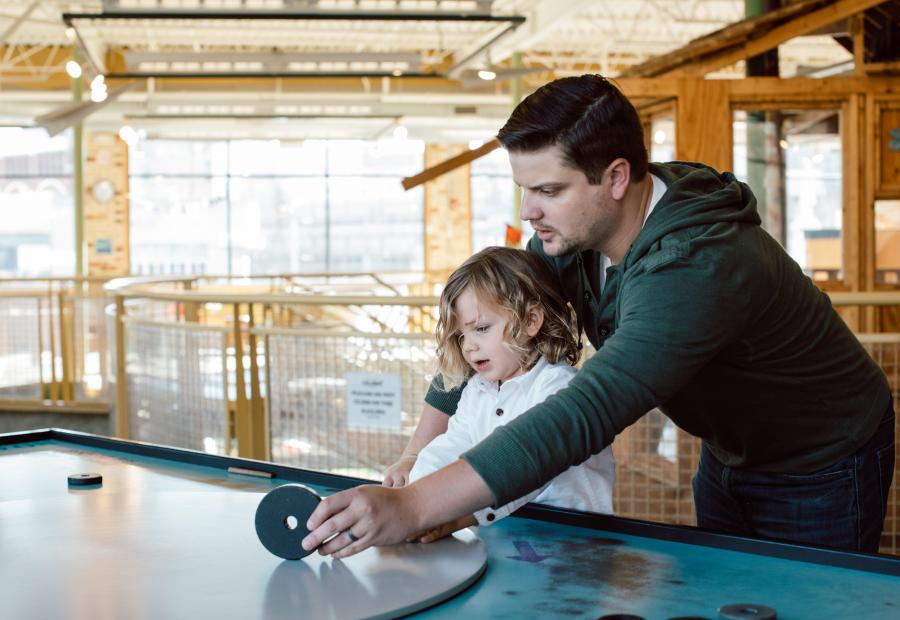 End your weekend with a visit to the Grand Rapids Children's Museum.
Photo by Experience Grand Rapids
Boulder Ridge Wild Animal Park
Time: Noon to 6 pm, last admission is at 5 pm
When: May through October
My children love animals so a stop at the Boulder Ridge Wild Animal Park in Alto is a must. The park is about 20 miles southeast of Downtown Grand Rapids, and it offers a slightly different variety of creatures than the John Ball Zoo which means you can check out even more species of animals. The Boulder Ridge Wild Animal Park also has a walkthrough safari, petting zoo, parakeet aviary, and reptile house.
On select days of the month, Boulder Ridge hosts special events included in the price of admission. For instance, on August 5 and 6 from 10 am to 6 pm, there's Reptile Days. If you've got a budding herpetologist in your family, or you just love scaly creatures, Reptile Days is filled with educational and hands-on fun with frogs, lizards, and snakes.
Boulder Ridge is open May through October, seven days a week, including all holidays during the season. Seniors 62 and over are $16 and 12 and over are $18. Kids ages three to 11 are $14, while kids two and under are free.
Festival Hispano
Time: Recommended Mid-Morning 
When: August 4-6
Festival Hispano, or the Hispanic Festival, is a wonderful opportunity to step into the rich culture of the local Latinx community. The event, which is put on by the Hispanic Center of West Michigan, is a three day long festival aimed at celebrating the community's heritage through authentic food, dance, and more. 
For those of you with young ones in your group, there's a children's area filled with arts and crafts. There's also the opportunity to watch the futsal tournament. Futsal is a football-based game played on a hard court and is a fun experience to take in with the family. And, young people in your group or not, there's always the beer tent to enjoy. Keep an eye out on the Festival's Facebook page for more updates on the schedule of events.
Festival Hispano takes place at Calder Plaza in the heart of Downtown Grand Rapids and is free to get in. The festival also features local food vendors artisans.
Day of Play Celebration for the Grand Rapids Children's Museum
Time: Noon - 4:00 pm
When: July 30
On July 30, the Grand Rapids Children's Museum is offering free admission for their 6th annual Day of Play Celebration! The Grand Rapids Children's Museum is a staple of the downtown community and has entertained thousands of children (and a generation or two!) since it first opened its doors in 1997. GRCM has two floors of hands-on interactive activities geared for children two to ten years old.
In addition to free admission to the museum, the day of play will also include special programs, live animals, yard games, crafts and bubbles! More information on the celebration can be found on its webpage. 
Need even more activity and event options? Be sure to check out the Events Page on Experience Grand Rapids' website. The latest and greatest things to do in Grand Rapids are always listed there.