West Michiganders anticipate summer with joy for good reason: the weather is gorgeous, the sparkling lakeshore beckons, and every weekend holds the promise of something new and exciting to do around Grand Rapids.
Whether you live in West Michigan or are visiting, you can take advantage of the wonderful things Grand Rapids offers each summer.
Check out the weekend itinerary designed with kids in mind — it's filled with fun events for everyone: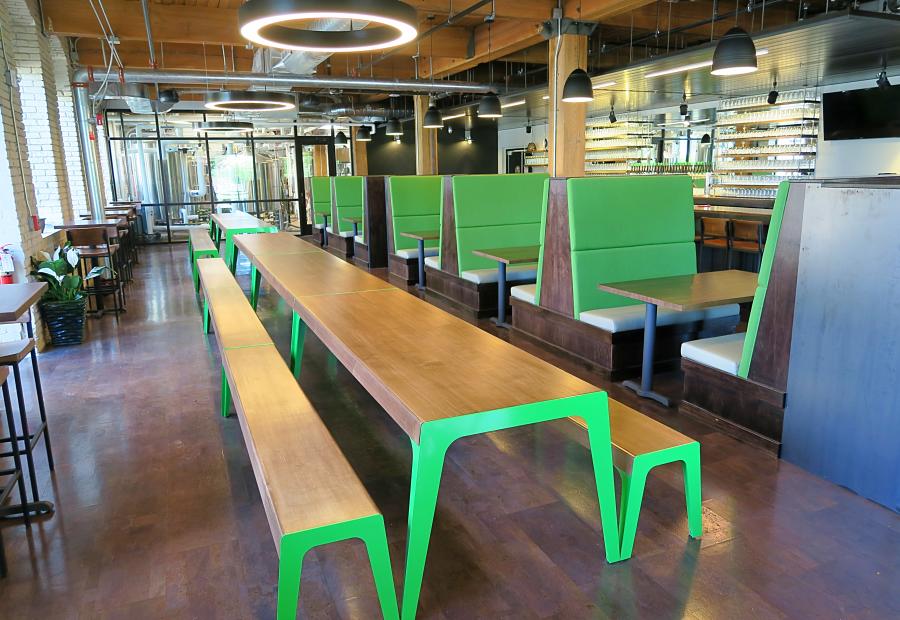 City Built Brewing has plenty of space for good beer, tasty food, and little ones to play.
Photo by Jason Ley
Thursday
Early dinner at City Built Brewing Co.
Time: 4 PM
Type: indoor, food, beer, family-friendly
Available year round
If you arrive in Beer City early enough to grab dinner, try the non-traditional brew house fare at City Built Brewing Co. The Puerto Rican-influenced menu pairs wonderfully with its beers.
Kids can dive into the quesadillas and tacos on the kids' menu or play in the brewery's kids corner, while the adults decide whether to try the scrumptious Coconut Thai Chicken or the Camarones Diablo (spicy shrimp).
If you think you'll be visiting other breweries during your stay, ask for a Beer City Brewsader® Passport or download the app on iTunes or Google Play. When you check in, you'll collect stamps towards winning the exclusive Brewsader T-shirt. Of course, only ages 21+ are eligible to participate in the Brewsader program.
For more brewery options, take a look at this previous blog about kid-friendly breweries in Grand Rapids.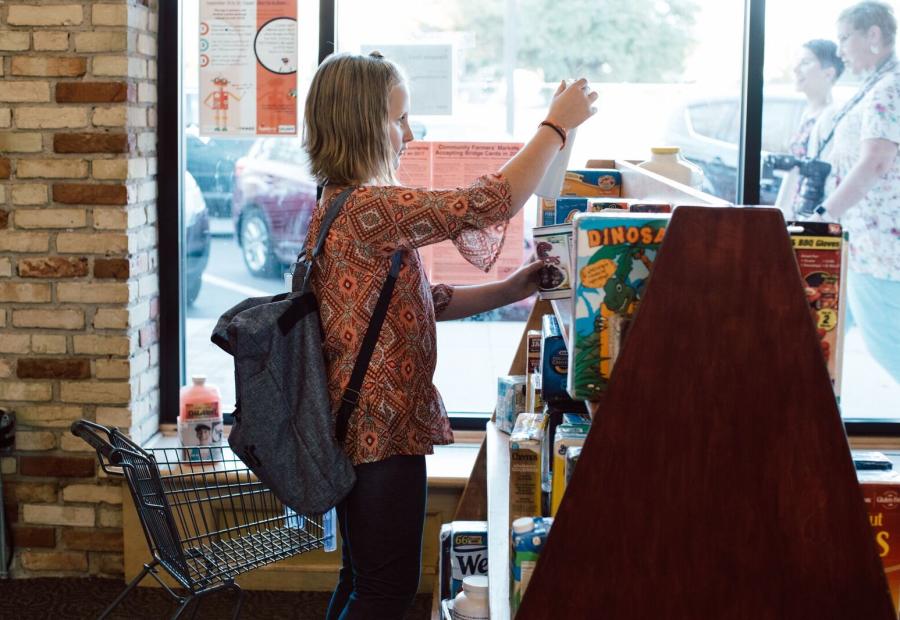 Visit the Grand Rapids Children's Museum to put your children's creativity and imagination to the test.
Photo by Experience Grand Rapids
Evening at Grand Rapids Children's Museum
Time: 5-8 PM
Type: indoor, family friendly
Available year round
Thursday evenings are a great time to unwind at the innovative Grand Rapids Children's Museum (GRCM) because they're open until 8 PM and admission is just $1.75 per person from 5–8 PM.
Whether they don a hard hat and tool belt in the Kidstruction Zone, climb inside a massive bubble at the bubble tower, or construct their very own rockets and castles in the Think Tank exhibit, kids will love exploring GRCM's ever-changing and rotating exhibits.
Many of the exhibits at the Grand Rapids Children's Museum also provide a sensory-friendly environment. If you have a child with sensory needs, look for the signage and be sure to check with the front desk for a sensory bag, which contains headphones, a card to help children identify emotions, and more.
Friday
Breakfast at Sundance Grill
Time: Morning
Type: food, family-friendly, indoor
Available year round
Make breakfast easy by dining at the popular downtown location, Sundance Grill. Their omelets and skillets always deliver, and if you're more in the mood for carbs, dive into the French Toast made with a cinnamon swirl brioche.
Kids go crazy for the oversized pancakes and the giant cinnamon roll. Seriously, it's giant – get one for the whole table.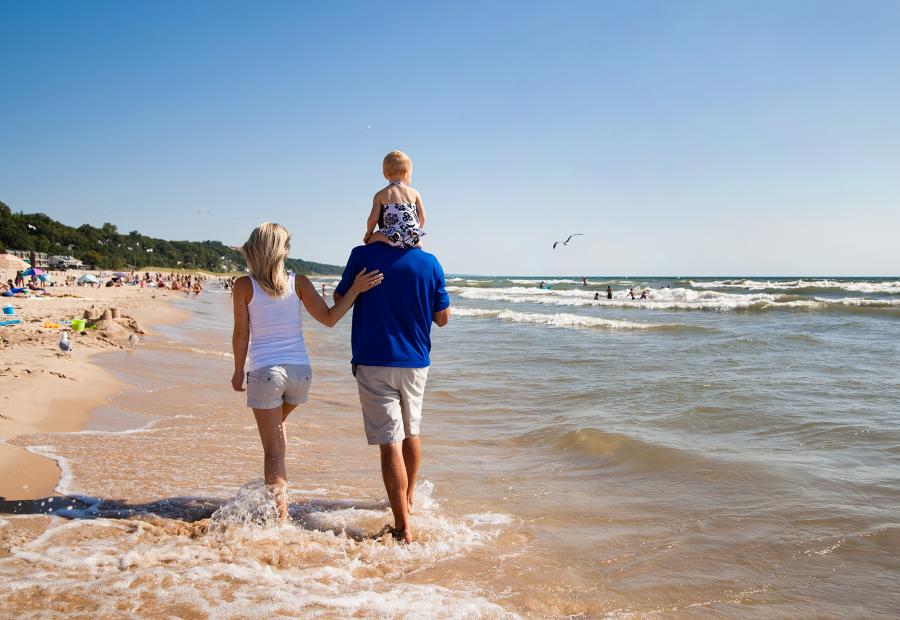 Family walking along the beach near Grand Rapids
Photo by Experience Grand Rapids
Day trip to the lakeshore
Time: Afternoon
Type: shopping, food, family-friendly, outdoor
Available all summer long
Head to the picturesque town of Grand Haven, just 35 miles from downtown Grand Rapids. The State Park has a beautiful sandy beach perfect for swimming, sunbathing, building sand castles, playing beach volleyball, and creating memories with your family.
When you're ready to stretch your legs, stroll along the 2.5-mile boardwalk. For a quick lunch or snack, head to Pronto Pup, which has been selling its tasty corn-dogs-on-a-stick since 1947. If your family prefers a sit-down meal, there are also lots of family-friendly, full-service restaurants along the waterfront and in town.
If you decide to try another beach, West Michigan has plenty! A few other lakeshore towns with state parks that are less than an hour drive from downtown Grand Rapids are Holland, South Haven, Saugatuck, and Muskegon.
Dinner at Elk Brewing - Comstock Park
Time: Evening
Type: food, beer, family-friendly
Available year-round
Another of Grand Rapids' breweries, Elk Brewing, has two locations. Its Comstock Park location, just north of downtown is close to Fifth Third Ballpark, home of the West Michigan Whitecaps Minor League Baseball team.
Elk Brewing has a great selection of burgers, sandwiches, and salads, as well as a children's menu. The french fries are great, and the Elk Burger is totally worth a try.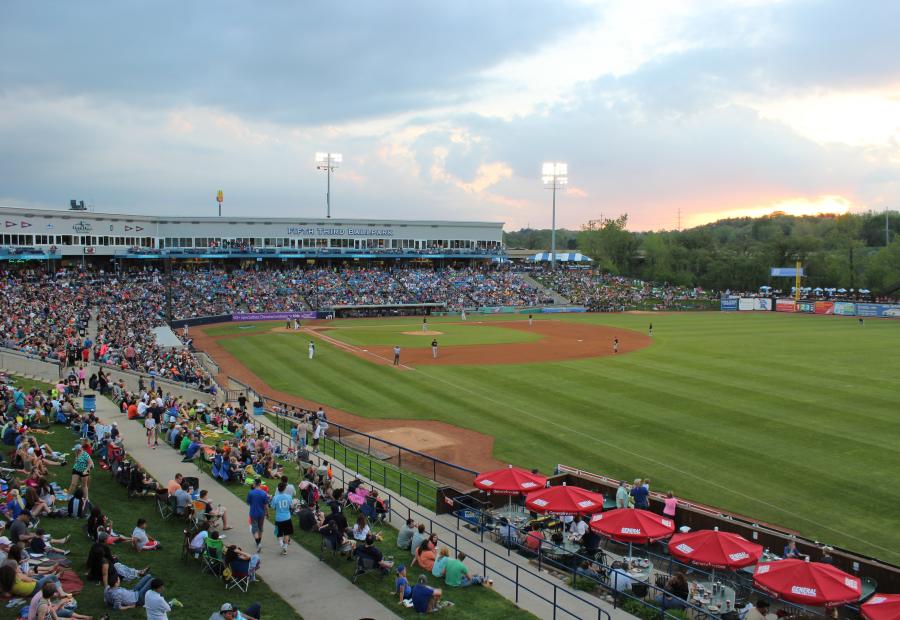 Whitecaps game at Fifth Third Ballpark
Photo by West Michigan Whitecaps
West Michigan Whitecaps Minor League Baseball game
Time: Games begin at 7:05 PM
Type: baseball, food, beer, family-friendly
Available many Fridays in June, July, and August (see website for specific dates)
At $8 per person for lawn seating or $12.50 for reserved seats, a night at the ballpark is an affordable, fun evening out that's perfect for couples, groups of friends, and families.
The West Michigan Whitecaps cater to their crowd by offering themed nights (like Superhero night and Harry Potter night), giveaways, entertainment, and lots of food and beverage choices, including plenty of Michigan craft beer.
On select Fridays, called FANomenal Fridays, the Whitecaps offer plenty for kids:
Participate in kid-themed giveaways

Participate in the pre-game kids' "happy hour" from 5:30 – 6:30 PM and receive playground and concession deals

Take a photo with players at the photo booth from 6:00 – 6:15 PM

Get the Mascot's autograph during the 7-9th innings
Saturday
Breakfast at Wolfgang's Restaurant
Time: Morning
Type: breakfast, indoor
Available year round
For over 40 years, Wolfgang's Restaurant (originally called "Just Breakfast") has been serving up delicious breakfast food to hungry patrons. Their variations on the traditional morning favorite, Eggs Benedict, are all worth a try.
The extensive menu includes lots of innovative fare as well as plenty of traditional offerings.
Catch a summer sunrise before breakfast if you're a morning bird; late morning breakfast is a good option too, just be ready to wait for a table since this is when Wolfgang's is busiest.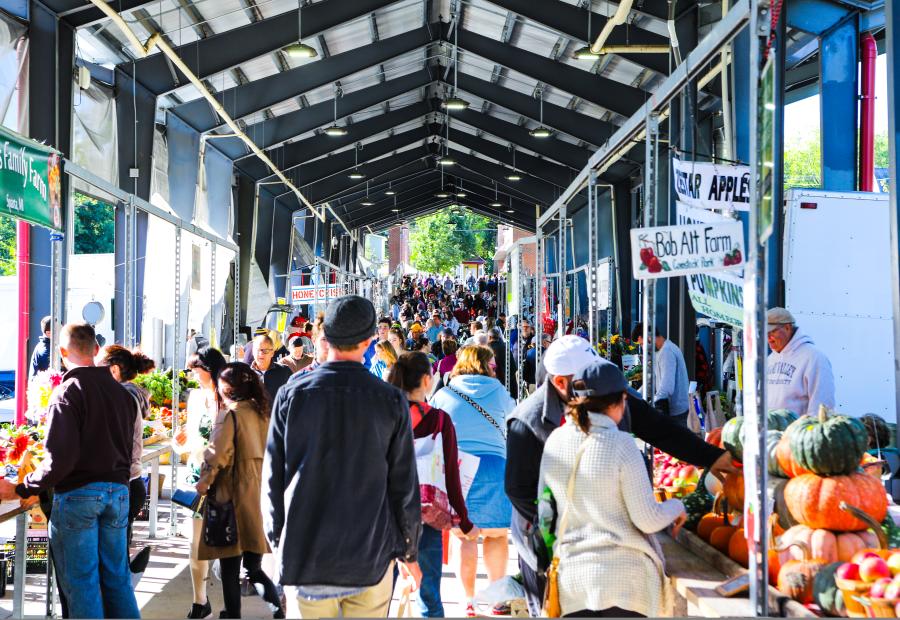 Crowd of People at Fulton Street Farmers Market
Photo by Paul Jendrasiak for Experience Grand Rapids
Fulton Street Farmers Market
Time: Late morning until 2 PM
Type: Strolling, shopping, outdoor
Available from May to October (check website for hours)
After you've had your fill from breakfast, take the family to the Fulton Street Farmers Market to peruse the fresh fruits and veggies, homemade bread, and their wonderful selection of artisan and body care products. It's just about a mile away from Wolfgang's Restaurant and is a pleasant walk, drive, or Uber ride!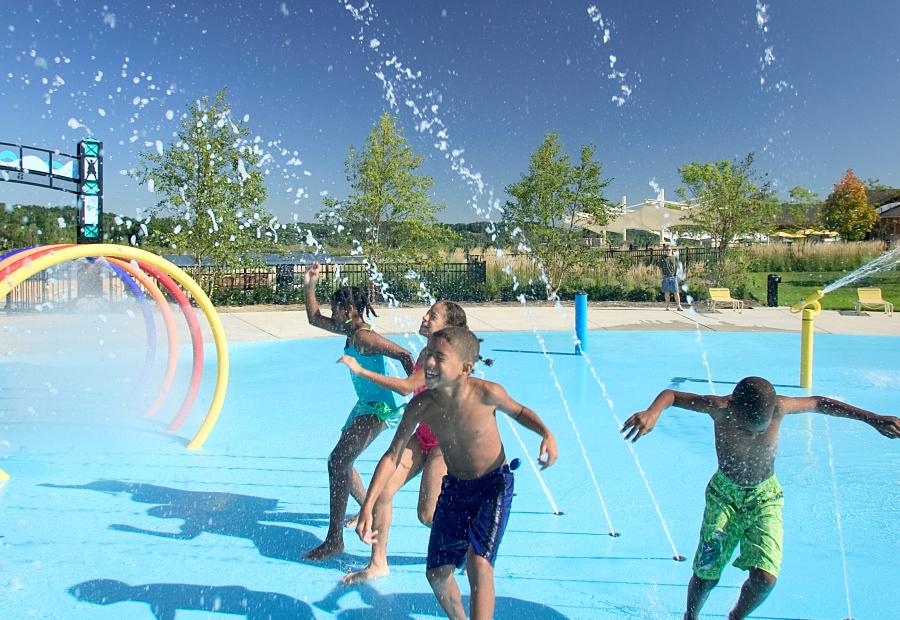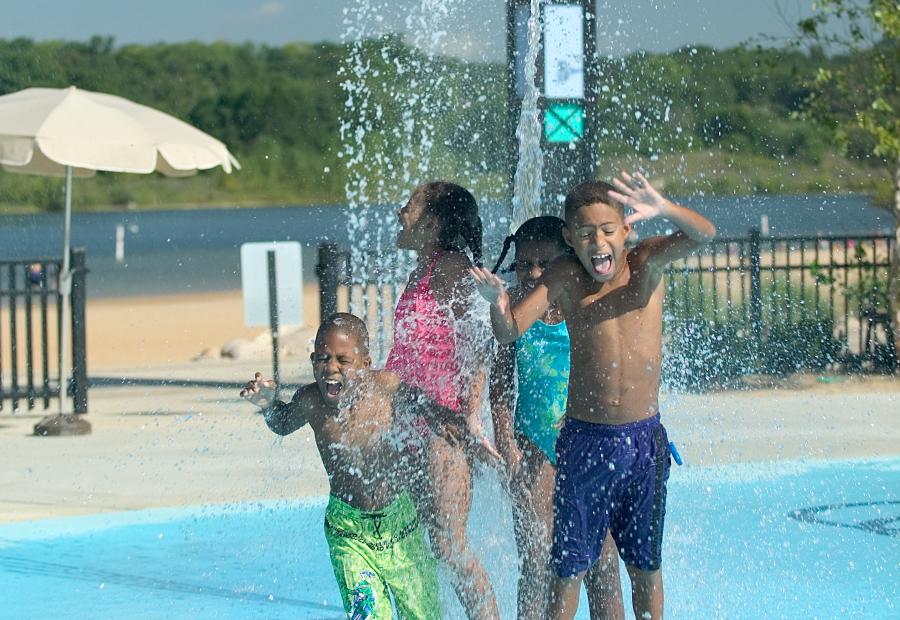 Millennium Park's splash pad is a great place to cool off while having fun.
Photo by Experience Grand Rapids
Millennium Park
Time: Late Afternoon
Type: outdoor, active, family-friendly, outdoor, water activities, paddling
Available May 1 – October 31
Visit the 1,400-acre Millennium Park for an active afternoon of fun. The park offers great picnic facilities and about 18 miles of beautiful paved trails for biking, walking, running, and rollerblading.
You can enjoy an afternoon on the water by renting kayaks, paddle boats, canoes, or rowboats from the park's DeVos Family Boathouse. To cool off in the water, families love the sandy swimming beach and splash pad, complete with sprayers, buckets, and splashers.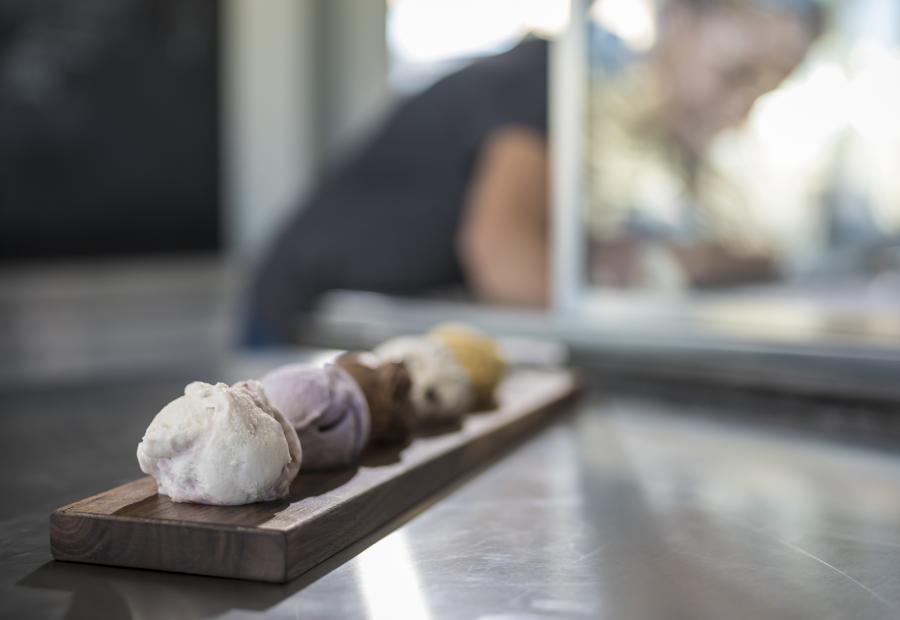 Love's Ice Cream makes a great summer treat during your Downtown Market visit.
Photo by Experience Grand Rapids
Dinner and Dessert at the Grand Rapids Downtown Market
Time: Saturday evening
Type: indoor and outdoor, family-friendly, food, beer, wine, cocktails
Available: outdoor markets during the summer; indoor markets year round
Shop from more than 20 indoor market vendors at Grand Rapids' Downtown Market, which also houses incredible local vendors, two full-service restaurants, a state-of-the-art incubator kitchen, and more. You'll find everything from amazing cheese and meats to taste-bud-tantalizing pies, wines, and ice cream.
Whether you're visiting or local, this is a wonderful place to find gifts for friends and family.
Before wrapping up your Saturday, make sure to grab dinner at Slow's Bar B Q, located right in the Downtown Market.
In 2015, Detroit-based Slow's Bar B Q opened its first West Michigan location, and BBQ lovers flocked downtown to get their favorite slow-cooked brisket, ribs, pulled pork, smoked turkey, jambalaya and more. The cornbread is a must-try as well. Pair your favorite BBQ meal with a craft beer from Slow's excellent tap list.
Afterwards, try an ice cream flight (or two!) from GR-based Love's Ice Cream & Chocolate. Founder Chris McKeller has been crafting ice cream and gelato at the market since 2013. The creamery uses as many Michigan-made ingredients as possible and also offers vegan flavors, like lavender blueberry (a local fave). If chocolate is more your thing, Love's has launched its own confectionery featuring delights like small-batch toffee and chocolate-covered bon bons. 
Sunday
Brunch at San Chez Bistro
Time: Morning
Type: indoor, family-friendly, food, sangria, cafe, beer, cocktails
Available year round
Head to San Chez Bistro for a menu filled with omelets, hashes, pastries, parfait, fresh fruit, sandwiches, and soups. The blend of authentic European, Mediterranean, and Latin-American cuisines, made with the finest local ingredients, is sure to provide all sorts of brunch deliciousness for you and your kids. Sip their gourmet fair trade coffee or whole leaf organic tea, or go big and try their make-your-own Bloody Mary bar.
If you're in the mood for something else, Grand Rapids has got you covered. There are so many restaurants serving a fantastic brunch that there's an entire page webpage dedicated to it.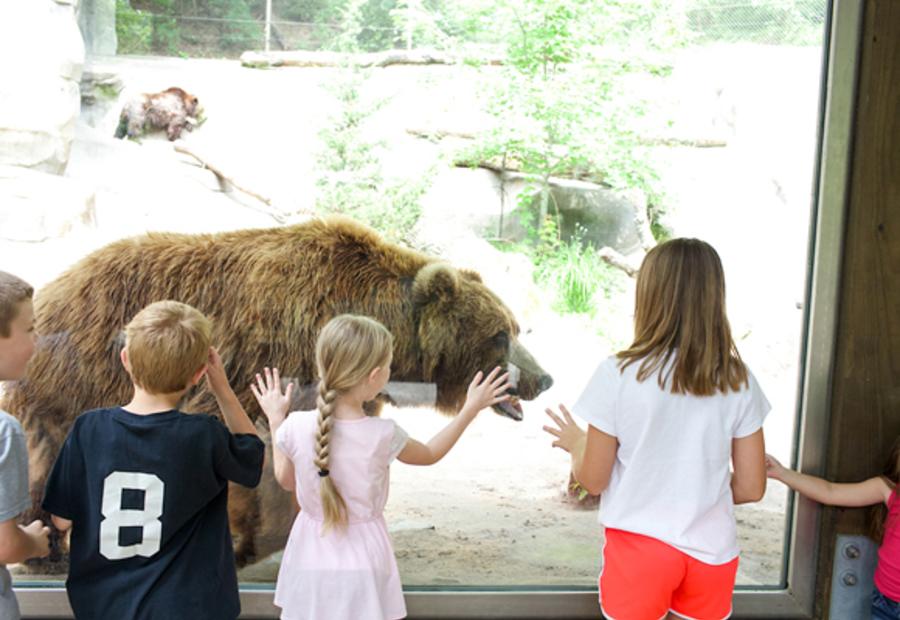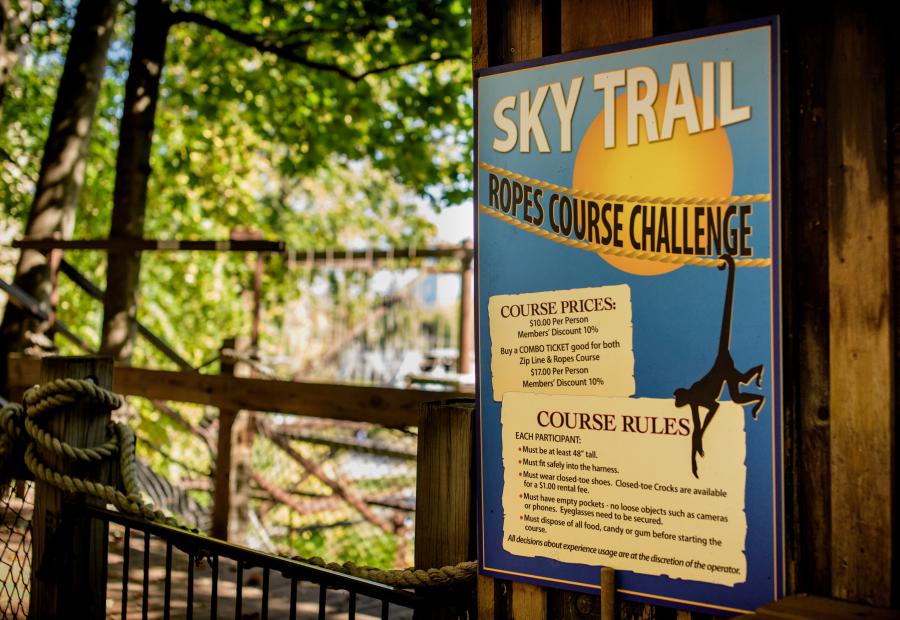 From animal exhibits to the Sky Trail Ropes Course, John Ball Zoo is enjoyable for kids and adults of all ages.
Photo by Experience Grand Rapids
Afternoon at John Ball Zoo
Time: Afternoon
Type: outdoor, walking, food, family-friendly
Available all summer long
Just two miles from downtown, John Ball Zoo is home to more than 1,800 animals and delivers tons of family fun.
Almost everyone loves watching the penguins dive in the Living Shores Aquarium & Penguinarium; the chimpanzees play in the Mokomboso Valley Chimpanzee Exhibit; and of course, visiting the lions, tigers, Grizzly bears, pumas, and bobcats.
For even more fun, the zoo offers camel rides, a zip line, a sky trail ropes course, and a petting corral. John Ball Zoo also offers kits for guests with sensory needs.
If you're planning to visit more than one participating attraction in Grand Rapids, consider purchasing a 3-day Culture Pass GR. The 72-hour pass includes admission into many of Grand Rapids arts and cultural attractions, including John Ball Zoo, the Grand Rapids Children's Museum, Grand Rapids Art Museum, Grand Rapids Public Museum, Gerald R. Ford Presidential Museum, and more.
In addition, Culture Pass GR grants access to exclusive discounts for other activities and local performances at venues like Broadway Grand Rapids, Grand Rapids Civic Theatre, Circle Theatre, and more.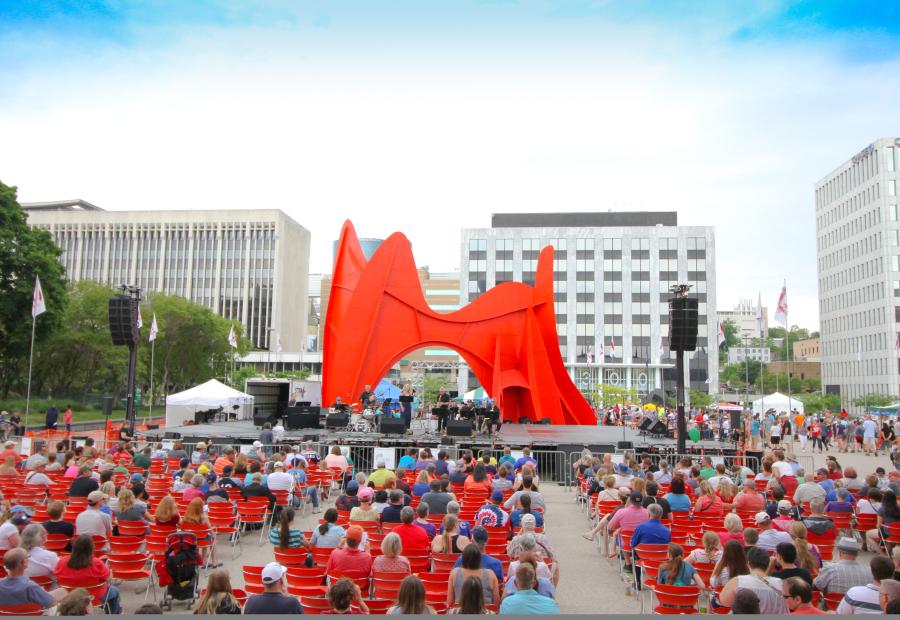 Calder Plaza is home to many festivals and community events throughout the year, including the African American Art & Musical Festival. Here the plaza is part of the Festival of the Arts.
Photo by Experience Grand Rapids
Consider a Festival
Another fabulous option for families traveling with kids is attending one of Grand Rapids summertime festivals.
Most feature live music, tasty food, and have cultural appeal, including Festival of the Arts, GRandJazzFest, several ethnic festivals, and lots more.
Be sure to see if there's a festival happening while you're in town, and read more details in the recent summer festivals blog.
Where to stay
There's no shortage of lodging choices in Grand Rapids. The area offers luxury hotels, budget motels, and everything in between. Lots of hotels have pools, which are always a bonus when traveling with kids.
Be sure to reference the hotels page and check out the hotel packages to create the perfect Grand Rapids experience for your family.
These are, of course, just a few suggestions about how to spend a long weekend in Grand Rapids with your kids. There are many more, including miles of great hiking/biking trails, wonderful performance venues, and museums.
Let us know your favorites in the comments below!