In Grand Rapids, there are plenty of parks, lakes, and trails to explore for all people - including those with disabilities, according to Elliot Keyes, a volunteer with Disability Advocates of Kent County. 
Keyes was born with sacral agenesis, a disorder similar to spina bifida, but he is nonetheless able to soak up the serene outdoors.  
In fact, you can find him on his black 1997 Trek Antelope—complete with Matrix CDX mountain bike tires—on the following outdoor hot spots around town. He looks for trails that are paved, are wide enough to accommodate turning around, and that have clear distance and route markers, as well as accessible parking.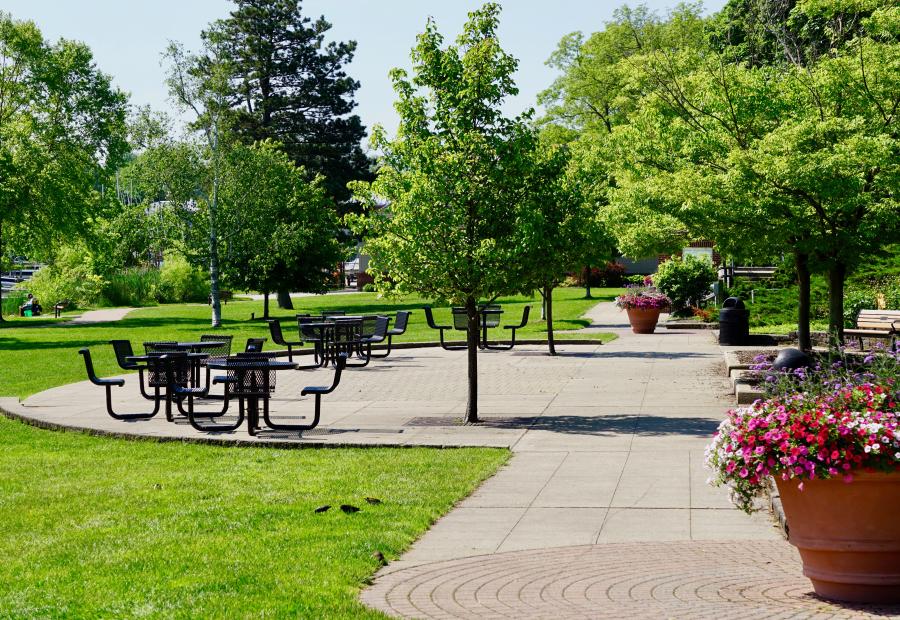 John Collins Park offers access to the paved Reeds Lake Trail.
Photo by Brian Craig for Experience Grand Rapids
Reeds Lake and John Collins Park
East Grand Rapids
Keyes bikes around Reeds Lake Trail and John Collins Park nearly every Saturday morning before he hits the Fulton Street Farmers Market.
Equipped with leg braces for support, he bikes two loops around Reeds Lake. "I love it. It's a peaceful activity and well-designed for all with wide paths and lots of room for folks with wheelchairs," he says.
Visitors can access the trail from John Collins Park, as well as a few other parks in East Grand Rapids. It's a little over four miles and is a combination of paved trails, boardwalks, and sidewalks. There are half-mile and mile markers along the route. 
John Collins Park is also accessible, and it has a wonderful view of Reeds Lake. Nestled in East Grand Rapids, it's equipped with accessible ramps and bathrooms. It has street parking and the lake's only public boat launch. Pets are also welcome but must be leashed. 
"It's a true step into nature and a great place to get exercise," said Keyes.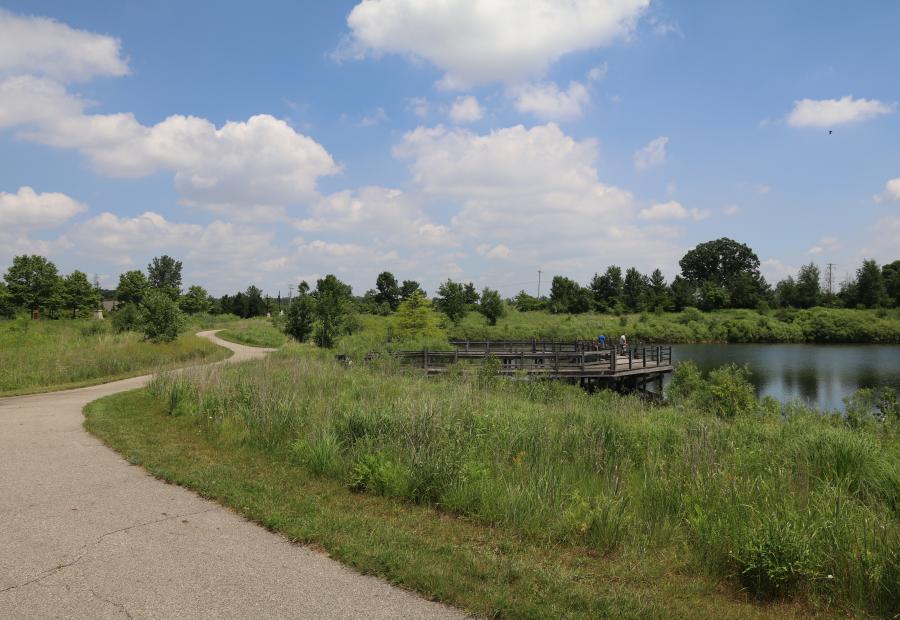 Choose from 25 miles of paved trails and other outdoor recreation at Millennium Park.
Photo by Experience Grand Rapids
Millennium Park
Southwest Neighborhood
Throughout its 1,500 acres, this large park offers more than 25 miles of paved hiking and biking trails that are accessible for people with disabilities. 
"I love going to Millennium Park because it's wide, well-lit, and the trails go on forever!" said Keyes. The park's large, year-round parking lot allows for plenty of accessible parking options right next to the sidewalk, which flows into the paved Fred Meijer Millennium Trail Network.
He recommends this spot for folks who are equipped to bike, walk, or wheelchair on the paved paths. 
"I like this trail in particular because there are several opportunities to turn around if you're using a hand-pedal bike. Plus there are half-mile markers so you can get a sense of how much you're riding," said Keyes. "This is a wonderful park that's not too wooded which means it's a nice place to get sunshine."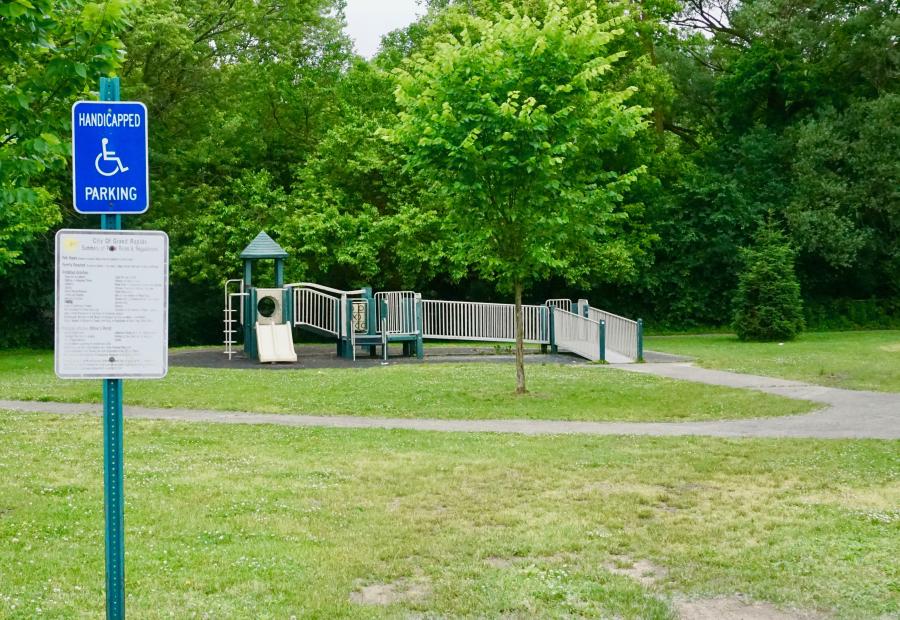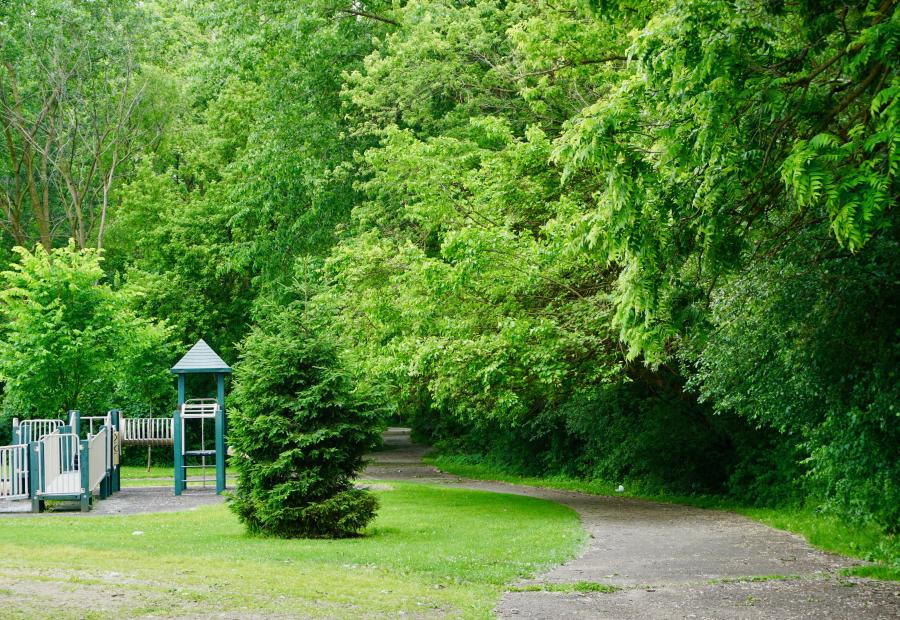 Plaster Creek Trail features nearly three miles of flat trails.
Photo by Brian Craig for Experience Grand Rapids
Plaster Creek Trail
Southeast Neighborhood
Another outdoor recreation area tucked away in the southwest corridor of Grand Rapids is Plaster Creek Trail. There are nearly three miles of a paved trail that follows the course of Plaster Creek along a series of paved paths, boardwalks, and bridges. 
This flat trail cuts through Ken-O-Sha Park, which is a great place to stop for a picnic or water break. This is a perfect trail for beginners. The terrain is easy to navigate and you can enjoy it without worrying about hills to climb. 
The open parking lot at the trailhead in Ken-O-Sha Park on the trail's eastern end is accessible; Keyes says there are three handicap parking spots, one with van accessibility.
"I enjoy this trail so much because it feels like you're in the middle of the woods but you're quite close to bustling 28th Street. The feeling of air on your face as you ride through lush, green woods with the smell of water from Plaster Creek… is an experience that I really cherish," said Keyes.
The trail can also be accessed through Plaster Creek Family Park, which also features accessible parking and paved trail.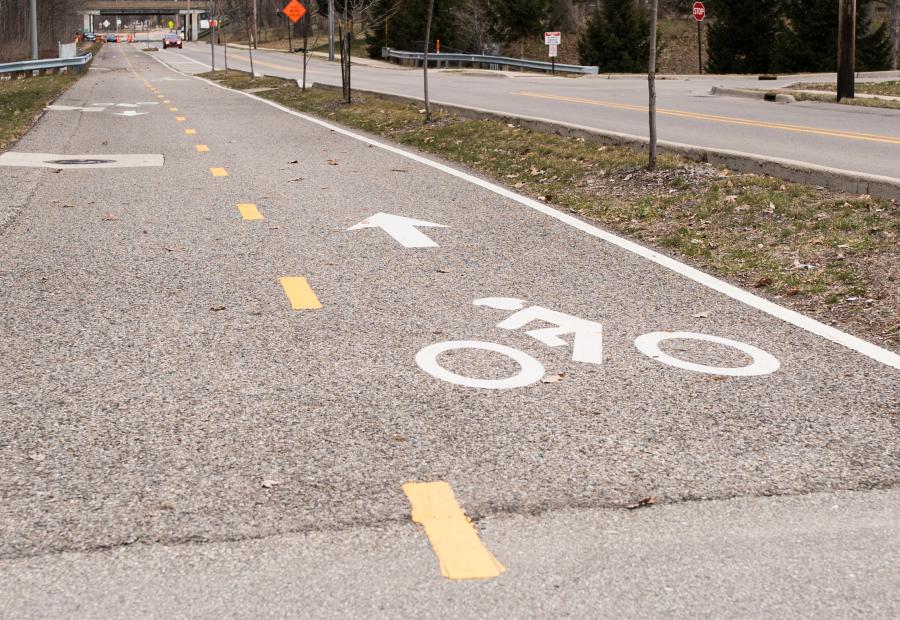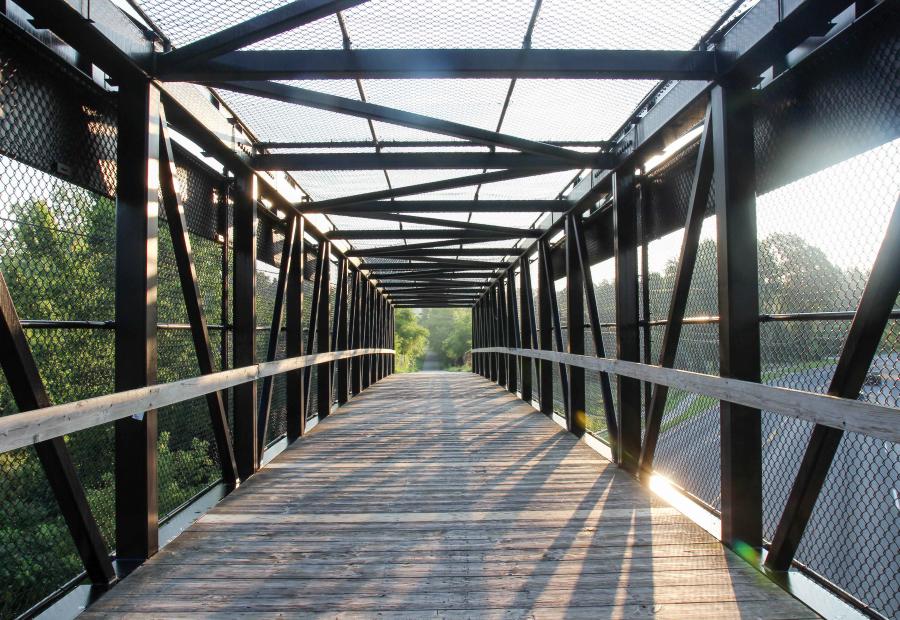 Riverside Park offers plenty of paved trails, including access to the 93-mile long White Pine Trail.
Photo by Experience Grand Rapids
Riverside Park
North Quarter Neighborhood
Riverside Park is a local gem that resides along the Grand River on Monroe Avenue NW. The tree-lined park gives visitors riverside views that are peaceful. Keyes recommends using its north parking lot as it has the most accessibility. 
"I love riding my bike along the paved trail. The smell of water while riding along, seeing the disc-golf course, hearing the baseball games being played and seeing the occasional Native American pow wow along the trail make it a truly fun one to ride," said Keyes. 
White Pine Trail runs through Riverside Park and is connected to two parking lots at the northern end of the park. The trail is flat throughout its 4.6-mile stretch, which is great for people with disabilities who are just getting used to exploring the outdoors with the support of braces or walkers. It's also wide enough for those who want to break in their hand-pedal bike.
If you're in need of a place to fuel up, Riverside Park is next to several local eateries that are accessible, like Frosty Boy, a local ice cream parlor where guests can simply order at the window. 
With warmer weather ahead, it's a great time to check out any one of these accessible outdoor recreation areas! Each site has trail maps and information centers to help you gauge how far you'd like to go. 
Whether you take to hand-pedaling, cruising on your wheelchair, or riding a bicycle, Elliot's recommendations are for all skill levels. However, since everyone's needs are different when it comes to accessibility, you can also plan a trip using the Experience Grand Rapids Accessibility Guide.
If you're still curious about other accessible spots in Grand Rapids, check out these blogs about accessible restaurants and attractions.