Several years ago, Experience Grand Rapids asked four local residents with disabilities to share their perspective on the accessibility of area restaurants, hotels, transportation options and trails. We recently asked them to revisit these articles and share any new insights and recommendations they may have. Here is Cameron Young's take on the local food and drink scene.
When you go out to your favorite local restaurant, are you aware of how high the tables are?
Before making dining reservations, do you consider whether the establishment has steps or a ramp?
If you're not disabled, you probably don't think about access to doorways, how complicated it could be to get into a restroom, or if the staff at a restaurant will be kind or accommodating to you. I certainly didn't think about mobility before my accident. I was in a diving accident in 2007 that severely injured my spinal cord, and I use a wheelchair to get around town.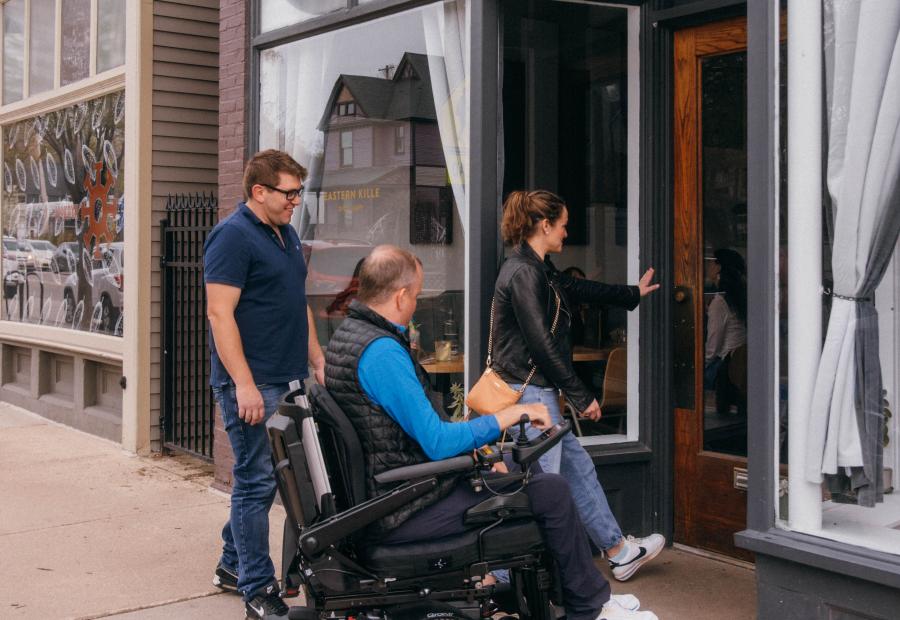 The app, Go MUVE allows community members to identify accessible-friendly restaurants, venues, and other facilities.
Photo by Leigh Ann Cobb for Experience GR
Making Kent County More Accessible 
Since my accident, I pay closer attention to small details like narrow hallways, accessible doors and bathroom access. I'm also involved with an organization that helps local businesses make their spaces more welcoming to all. Disability Advocates of Kent County (DAKC) works alongside people with disabilities to create equal access to home, community and employment. Its "Absolutely Accessible Kent" program helps organizations incorporate universal and inclusive design principles into their spaces. 
I served on the DAKC board for nine years, sharing insight with community leaders on how to make West Michigan more accessible to all, and advocating for public policy change. I also co-chaired a $2.5-million campaign to relocate DAKC's headquarters into what is now the world's largest Special Olympics facility: the Special Olympics of Michigan Unified Sports and Inclusion Center in Byron Center. The space opened in May 2022 and it serves as a model of universal design – and a great resource for businesses seeking to create a more welcoming environment.
It's not just the design of a space that makes for a welcoming restaurant environment, though, it's also the attitude of staff. When the staff is educated and aware of patrons with disabilities and are willing to help you, it can make all the difference. I suggest doing a Google search before visiting new restaurants to see if their locations are indeed accommodating for all guests.
There's a new app that might help, too. Go MUVE allows community members to identify accessible-friendly restaurants, buildings, parks, venues and other facilities. It's sort of a Yelp for accessibility. Local residents with mobility challenges can use the app to book transportation around town via Byron Center-based Ride Your Way. You can also book directly with Ride Your Way – I've used it to go to and from the airport.
My Favorite Accessible Restaurants
When Experience Grand Rapids asked me to share a list of accessibility-friendly restaurant recommendations back in 2018, I focused on downtown establishments. For this update, I'm going a little farther afield. More and more restaurants throughout the region are giving consideration to accessibility, but these are some of my current favorites, both for their inclusive environment and the food and drink experience.
Hancock
Address: 1157 Wealthy St. SE, Grand Rapids, MI 49506
Serving: American-style food & cocktails 
I love this Uptown eatery, especially in warmer weather, when the garage doors open to a spacious patio and well-spaced tables allow easy maneuverability indoors and out. There's a clear path to roomy, gender-neutral bathrooms.
Hancock is known for its fried chicken and other Southern-inspired dishes, which I heartily enjoy – but my number-one menu item is the John Daly Slushie, made with vodka, lemonade, iced tea and orange bitters. It's dangerous!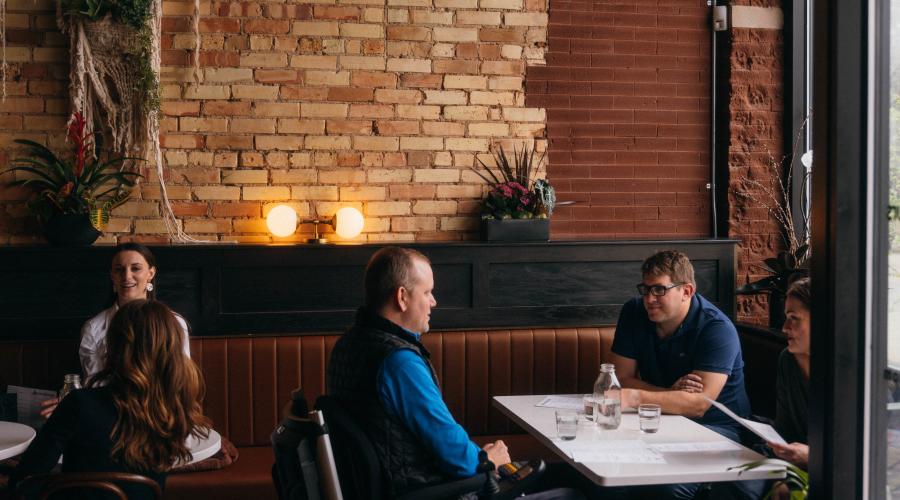 In addition to The Winchester's eclectic menu, it has accessible seating, parking, and bathrooms.
Photo by Leigh Ann Cobb for Experience GR
The Winchester 
Address: 648 Wealthy St. SE, Grand Rapids, MI 49503
Serving: American-style food & cocktails
Another Uptown eatery with another accessible outdoor patio, The Winchester also offers different height tables, allowing everyone to find a comfortable place to sit. Sometimes low tables are too short to get my wheelchair underneath them, but I can raise the chair up to a comfortable height under a taller table.
The staff here is very friendly, the restrooms are a decent size and there is parking available in their own lot, on the street and in a public parking lot around the corner. It's nice to have options for parking, especially in the winter, when snow can be a challenge for my wheelchair – the closer the better in that case.
The Winchester has a great vibe and there are TVs so you can watch sports. Try the Chicken Parm Sandwich, it's delicious.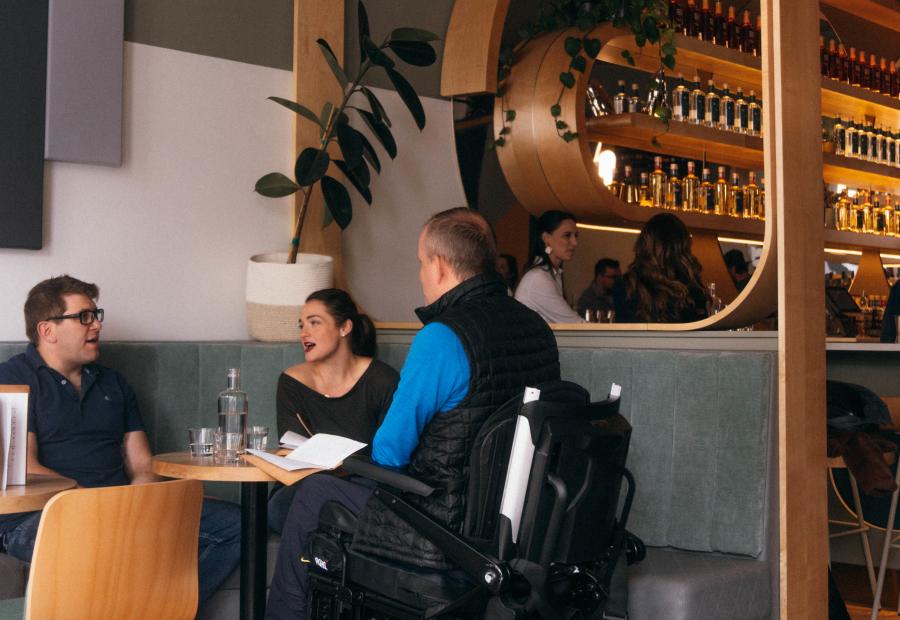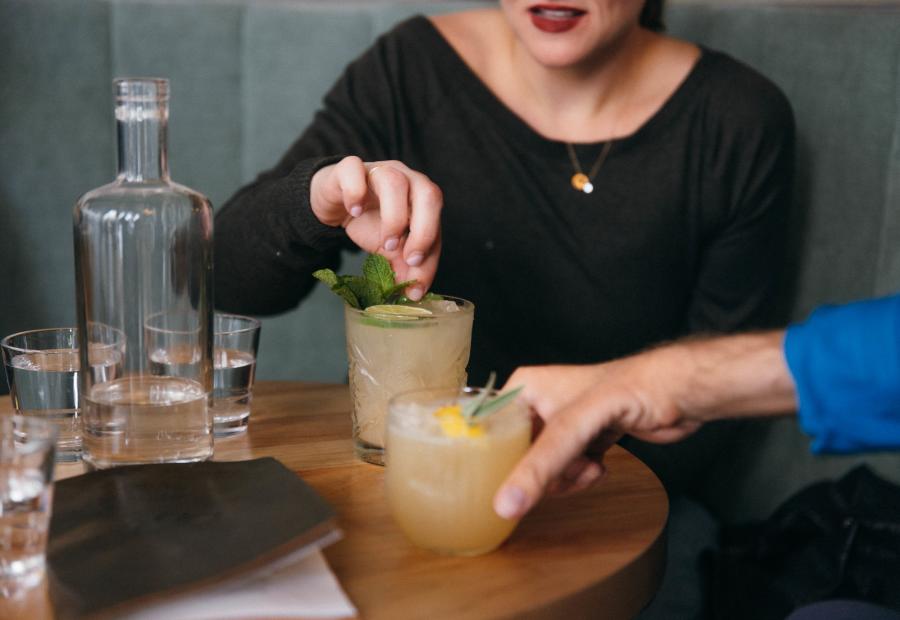 Eastern Kille Wealthy offers a variety of delicious cocktails and a wheelchair accessible floorplan.
Photo by Leigh Ann Cobb for Experience GR
Eastern Kille Distillery
Address: 700 Ottawa Ave. NW & 634 Wealthy St. SE, Grand Rapids, MI 49503
Serving: Cocktails
There's no food served at either the tasting room or cocktail bar of this local distillery, but both locations are great for meeting with friends for happy hour or grabbing a drink after dining at a nearby restaurant. The Wealthy Street bar is pretty easy to get to, and the open floor plan makes it easy to navigate. There's a good mix of low-top and high-top table options. The Ottawa Avenue site has the added advantage of a large outdoor seating space in warm weather.
The staff is super friendly and willing to accommodate special needs. They're also extremely knowledgeable about beverages. My favorite drinks here include the house-made gin & tonic, and the Doctor's Orders cocktail blending gin, honey sage syrup, ginger syrup, lemon and lapsang. (Don't ask me what lapsang is.)
New Holland Brewing - The Knickerbocker
Address: 417 Bridge St. NW, Grand Rapids, MI 49504
Serving: American-style food, beer & cocktails
Push-button doors make getting into The Knickerbocker easy – and once inside, you're presented with a variety of choices, including whether to head to the bar, the dining room or patio, to order house-crafted beer or spirits, and to indulge in appetizers or plunge right into an entrée. My go-to dish is their pizza, which is available in several different variations and can be made gluten free.
The entire facility is configured for maneuverability and there's also a second-floor meeting space that is accessible by elevator. I've attended several events here and they do a great job.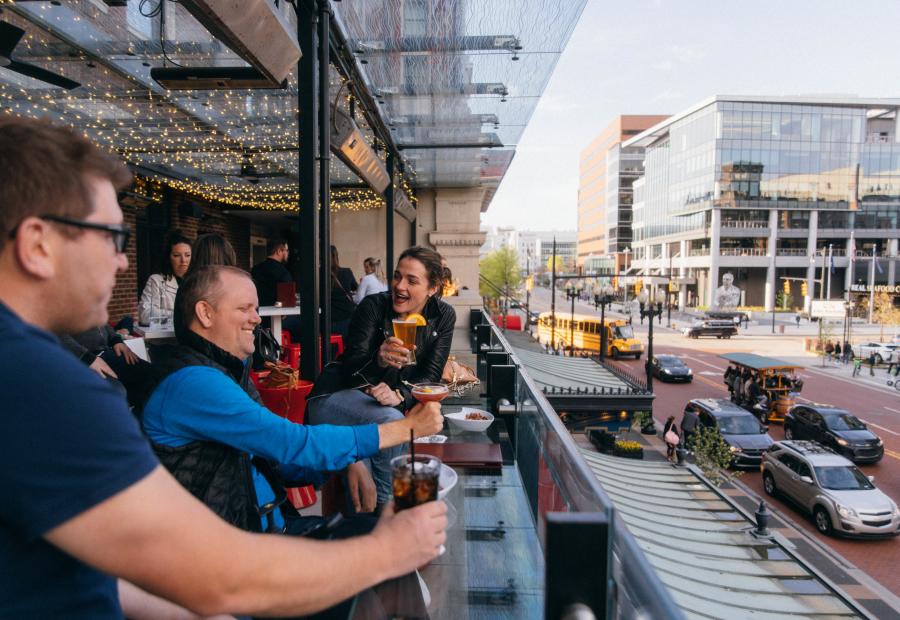 I Don't Care is a speakeasy-style cocktail bar that requires a "secret" code to enter.
Photo by Leigh Ann Cobb for Experience GR
IDC
Address: 187 Monroe Ave. NW, Grand Rapids, MI 49503
Serving: Cocktails
IDC stands for I Don't Care – but the proprietors clearly did care about creating an inclusive environment. Located in the Amway Grand Plaza Hotel, this speakeasy-style bar offers an elevator up to its second-floor space and an easily accessible keypad into which customers punch a "secret" code to gain entry. The roomy outdoor balcony is a great place to sit and observe the city, and it's equipped with heaters – appreciated because I tend to get cold quickly. The staff is friendly and their Old Fashioned cocktail is fantastic.
Founders Brewing Co.
Address: 235 Grandville Ave. SW, Grand Rapids, MI 49503
Serving: American-style food & handcrafted beer
Founders Brewing Co. is the lone holdover from my 2018 list. It continues to impress with its open-seating plan and wide, level layout. The outdoor patio and beer garden are accessible by ramp – as is the building entrance – and they really prioritize service. The staff is super chill and they're all eager to help, whether it's "their table" or not. I love their communal tables, they make it a really fun spot. I also love their Dirty Bastard beer!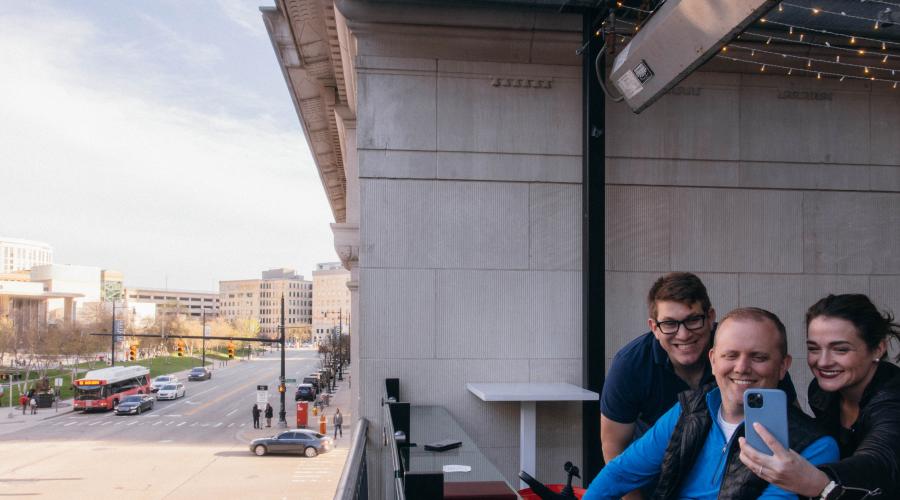 With an abundance of parking garages, Downtown GR makes parking convenient for wheelchair users.
Photo by Leigh Ann Cobb for Experience GR
Accommodating Parking Options
Parking is generally pretty easy outside the city center. But if you're in and around downtown, consider using one of the plentiful parking garages. They are pretty conveniently located around downtown and are easy to get in and out of.
Drivers with disabilities can obtain a free parking sticker through the Michigan Department Secretary of State. I feel like not many people know about it, but it's saved me a fortune.
The State of Accessibility
I was asked if I think accessibility at restaurants and bars has improved since I made my 2018 recommendations. I think so, and part of it is because of the pandemic. Foodservice businesses had to get creative to make it through – opening outdoor spaces, spreading tables out and bringing takeout orders out to your car, for example. Those are pretty favorable things for people with disabilities.
I think the pandemic experience also made business owners more aware and appreciative of different kinds of customers. I used to hear, "Disabled people don't eat here." Well, they don't because you make it difficult or impossible for them to do so.
When you make your space welcoming and inclusive for all people, you'll attract more customers. Not doing so is a missed opportunity.
Cameron Young's recommendations reflect just a few of the local restaurants that have incorporated accessible features. Visit our Restaurants page for a comprehensive list of local restaurants, searchable by accessible restrooms, accessible parking, wheelchair access and automatic doors. Check out the Accessibility in Grand Rapids page for more accessible establishments in Grand Rapids.