When you go out to your favorite local restaurant, are you aware of how high the tables are?
Before making dining reservations, do you consider whether the establishment has steps or a ramp?
These are just some of the questions that a person with a disability may consider before choosing a place to dine, visit, or travel.
Thankfully, Grand Rapids offers a variety of local eateries, breweries, attractions, and cultural experience that offer accessible amenities for all customers. In fact, Grand Rapids was ranked the #2 best city for people with disabilities in 2017.
This is the first installment of a series that will discuss establishments throughout Grand Rapids that are designed with accessibility in mind.
Disability Advocates of Kent County's "Absolutely Accessible Kent"
Disability Advocates of Kent County (DAKC) is working on a grassroots initiative, "Absolutely Accessible Kent," with a mission to make the county welcoming and accessible for all people with disabilities.
"If you're not disabled, you probably don't think about access to doorways, how complicated it could be to get into a restroom, or if the staff at a restaurant will be kind or accommodating to you," said Cam Young, board member of DAKC. "I certainly didn't think about mobility before my accident."
Young was in a diving accident in 2007 that severely injured his spinal cord. He uses a wheelchair to get around town.
Since his accident, he pays closer attention to small details like narrow hallways and curves. For the past eight years as a DAKC board member, he has shared his insight with community leaders on how to make West Michigan more accessible to all, including advocating for public policy change.
A big thing Young researches before going out to eat is whether the restaurant has accommodating staff. Young recommends doing a thorough Google search before visiting restaurants to see if their locations are indeed accommodating for all guests.
"When the staff is educated and aware of patrons with disabilities and are also willing to help you, it can make all the difference," said Young.
Here are a few of the establishments that Young recommends for guests interested in attending accessibility-friendly restaurants in Grand Rapids: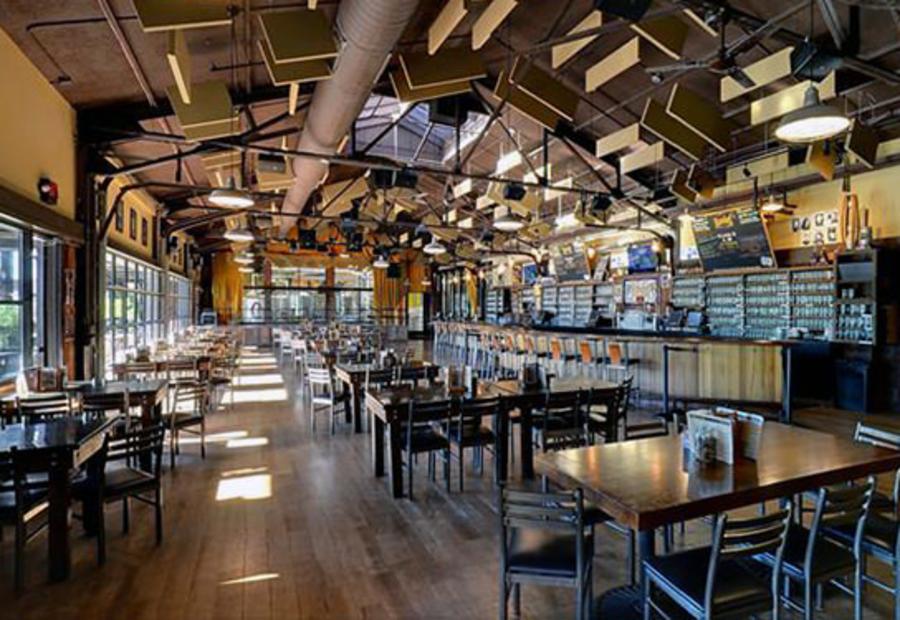 Founders Brewing Co. interior
Photo by Experience Grand Rapids
Just a few of the restaurants with accessibility in mind...
Founders Brewing Co.
Address: 235 Grandville Ave. SW, Grand Rapids, MI 49503
Food type: American
Founders Brewing Co. is a great spot for those in a wheelchair because its open-seating plan is accommodating for all guests. Plus, the restaurant's layout is wide and level, making it easy to get around. Keep in mind, Founder's acclaim means the brewery is a popular place to visit, which can be challenging to navigate during peak hours. Founders' main entrance on Grandville Avenue has a set of stairs and a ramp that's level with the sidewalk, both of which have handrails.
There's a reason why Founders is so popular. Since opening its doors 20+ years ago, the brewery has become highly regarded for its attention to craft beer. When you visit, consider trying their Breakfast Stout or their Porter, both of which won the silver medal at the 2018 Great American Beer Festival. These beers pair well the sandwiches and salads on the Founder's menu.
The Chop House
Address: 190 Monroe Ave NW, Grand Rapids, MI 49503
Food type: Fine Dining
Known for its splurge-worthy, extravagant cuisine, (like their USDA prime steaks that have been aged for 28-34 days) The Chop House offers accessible amenities such as large doorways, accommodating staff, and an elevator for easy access to all floors and restrooms.
Peppino's
Address: 130 Ionia Ave SW, Grand Rapids, MI 49503
Food type: Pizza & Italian
Peppino's Downtown & Byron Center locations offer an open layout and smooth flooring that's easily accessible for guests. The casual pizzeria and sports bar also has ramps for guests to easily get to inclined areas of the restaurants.
Grand Rapids Brewing Company
Address: 1 Ionia Ave. SW, Grand Rapids, MI 49503
Food type: American
Grand Rapids Brewing Company (GRBC) located in the heart of downtown Grand Rapids, features a variety of beer, spirits, and non-alcoholic beverages. The brewery also offers an extensive menu with a variety of entree types from soups and salads to sandwiches and entrees.
GRBC guests are encouraged to use the indoor ramp available to all guests, customers, and tenants of the Lofts of Grand Rapids-Ionia building. The ramp is easy to use for guests with wheelchairs, scooters, or crutches. The brewery and restaurant offer a variety of seating arrangements, such as high tops and regular table seating, to accommodate all guests.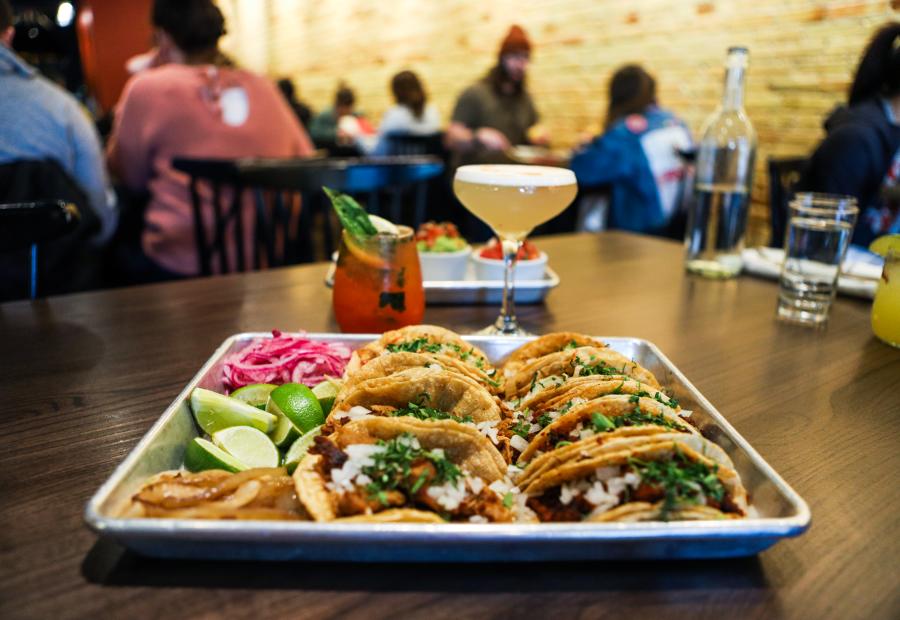 Tacos and margaritas at Luna restaurant
Photo by Experience Grand Rapids
Luna
Address: 64 Ionia Ave SW #100, Grand Rapids, MI 49503
Food type: Mexican
Known for its tacos, margaritas and farm-to-table fare Luna's back entrance on the alley off of Oakes Street, between Ionia and Commerce Avenue offers the most accessibility. The staff at Luna is also extremely accommodating for all parties, even if additional resources or arrangements are needed.
Maru Sushi
Address: 927 Cherry St SE, Grand Rapids, MI 49506
Food type: Japanese
Located in Grand Rapids' Uptown neighborhood, Maru Sushi has smooth walkways and ramps leading into the restaurant off of Cherry Street, and inside the restaurant, too.
This super-chic yet casual restaurant is well loved in the Grand Rapids area for its sushi and sashimi.  
Accommodating Parking Options
Young recommends taking advantage of Grand Rapids' plentiful parking structures when traveling with accessibility-in-mind.
"They are pretty conveniently located around downtown and are easy to get in and out of," said Young.
He also recommends that drivers with disabilities obtain a free parking sticker through the Michigan Department Secretary of State. An application process is needed to receive the sticker, but Young says, "I feel like not many people know about it, but it's saved me a fortune."
Keep in mind, these are just a few of the local restaurants that have given consideration to accessibility. Visit the Restaurants page for a comprehensive list of local restaurants, and check out the Accessibility in Grand Rapids page for more accessible establishments in Grand Rapids.
Let us know what other Grand Rapids restaurants focus on accessibility in the comments below!