The meetings industry in Grand Rapids is alive and thriving.
In 2022, more than 440,000 visitors came to the region for nearly 500 meetings and other group events, helping local hotels generate $249 million in revenue (a record amount) and adding millions more to the coffers of area restaurants, breweries, museums, music venues, grocery stores, specialty shops and other businesses.
That economic impact is one of many reasons area residents are eager to lend Experience Grand Rapids a hand in booking meetings, conventions, conferences, tradeshows and reunions. "Historically, about 70% of these events booked into Grand Rapids were the direct result of local leads," reports Mary Manier, EXGR's Vice President of Sales & Services. "Covid disrupted that a bit but it's still between 50% and 60%."
More than a decade ago, Manier helped craft a formal program for soliciting local leads: Bring It To GR asks Kent County residents who belong to a group or association that holds regional or national meetings to let us know about their affiliations.
Everyone belongs to something. Are you involved with a trade association or faith-based organization? Do you work in government? Are you a military veteran? Were you a member of a college fraternity or sorority? Do you participate in an organized hobby or sport?
Chances are good that the group you belong to regularly brings people from different cities and states together to share ideas, discoveries, products, memories and fellowship. If that's the case, we ask you to fill out a short form providing basic contact information.
We'll use that information to reach out to your group's organizers, prepare bids, make presentations and host a successful meeting. You can be as involved in the process as much or as little as you like.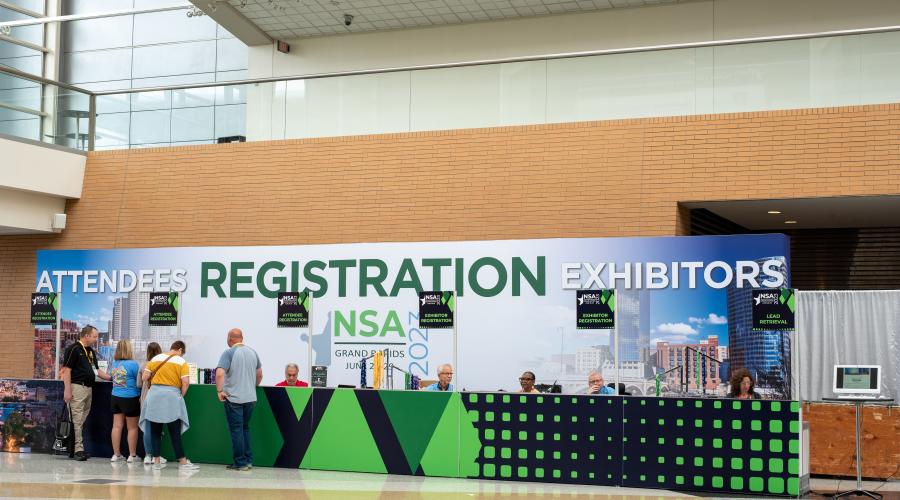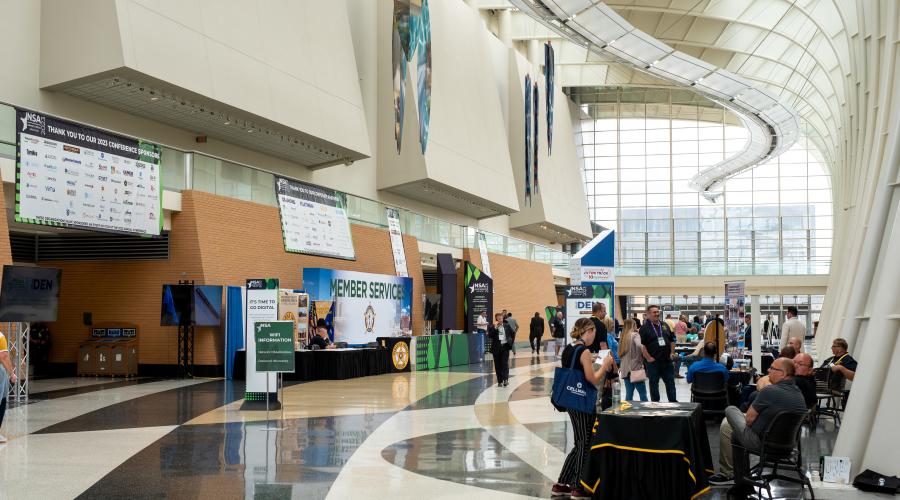 The National Sheriffs' Association (NSA) Annual Conference came to Grand Rapids in June 2023
Bringing Sheriffs to Grand Rapids
Kent County Sheriff Michelle LaJoye-Young and Undersheriff Chuck DeWitt chose the path of greater involvement when they helped EXGR bring the National Sheriffs' Association (NSA) Annual Conference to Grand Rapids in June 2023.
"The local sheriff's department was integral to our successful bid," says EXGR Director of Sales Kelsey Helstowski, EXGR Director of Sales. "They attend the event every year, so they gave us great insight into what other host cities had to offer. When we invited the NSA meeting planning team to visit Grand Rapids prior to site selection, department members joined them for lunch to highlight local police work and tout the appeal of the city. After we got the bid, Sheriff LaJoye-Young filmed a video encouraging NSA members to attend the Grand Rapids event."
Grand Rapids had also bid on the event for 2018, 2020 and 2022 before securing the 2023 conference. "It was one of the first major events we booked when I came on board in 2017," says Helstowski. "I met with then-Sheriff Larry Stelma early on and he was happy to write a recommendation letter for us, which got the ball rolling."
The NSA had actually met in Grand Rapids once before – in 1987. Manier says it was imperative that the EXGR sales team prove that "Grand Rapids was a different place back then. We have a much better 'product' today, with world-class food, craft beverages, art, music and more."
That's another reason local residents are glad to help EXGR book meetings – they want to show off the city they call home. "People are proud of what this community has become," says Manier. "They know that their fellow group members are going to have a great time here."
When in Doubt, Think "Bring It"
Not everybody knows that Grand Rapids is ready, willing and able to host events of all sizes, though. Helstowski says local connections played a role in bringing the Gideons International 2025 Convention to Grand Rapids – but in a rather roundabout way.
"I met with a Gideons planner who said they'd never thought of meeting in Grand Rapids, but they'd recently heard from two Michigan ministries who wondered why Gideons had never met in our state. That gave me the perfect platform for making a bid."
Kelsey and the EXGR team won the bid – but it may have been even easier (and happened sooner) if the lead had originated through Bring It To Grand Rapids.
Need more reasons to help us Bring It To Grand Rapids? It can add luster to your resumé, extend your contact network and boost your national profile. It can also get you officially recognized as a Grand Host – someone who has made a major contribution to the vitality and prosperity of Grand Rapids and Kent County.
Why not provide your group's contact information today? There's no obligation to do anything further, and the upside for you and Grand Rapids can be tremendous!