While we'll always be fans of the excellent craft brew options we have in Beer City, USA, wine lovers of Grand Rapids, rejoice. We also have plenty of shops, restaurants, and bars featuring regional, national, and international wines. 
Whether you're celebrating a special event, gathering with friends or family, or toasting a relaxing night in, there's no better indulgence than a nice bottle of wine. As the wine scene in the Mitten State has blossomed with plenty of vineyards and wineries, so has the number of places you can find that perfect bottle of wine in Grand Rapids. 
When you're looking for something unique, or would just like help finding the perfect wine for your occasion, here are some local shops whose knowledgeable, friendly staff will help you find just the right bottle for your table (in no particular order).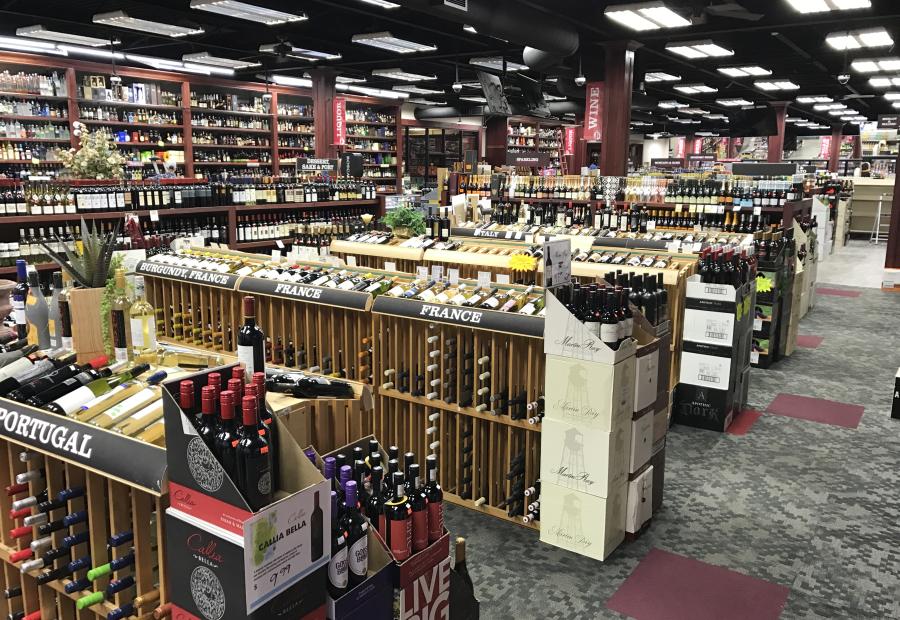 Rishi's goal is to offer fantastic wine recommendations in every price range -- and lots of great beer and spirit options, too.
Photo by Rishi's International Beverage
Rishi's International Beverage
If you've ever walked into a wine shop and felt embarrassed to ask for something in the $15 or lower price range, you weren't at Rishi's International Beverage. Manager Rishi Makkar and his staff excel at helping customers find good wines at reasonable prices. Of course, they carry expensive wines too, but Rishi contends that selling pricey bottles is easier than the inexpensive bottles. Because of the marketing behind big wineries, many customers have already heard of those brands, and if you're spending $50 or more on a bottle of wine, it's probably going to taste great.
"The talent comes in finding the good $10 - $20 dollar wines, those diamonds in the rough that compete with wines in the $30 - $50 range," explains Rishi. "We've found over the last couple of years that Spain has really come out with great wines for a great value. Anyone can find a good expensive red, but to find the overachievers that are undervalued is the fun part. It's largely why our clientele keeps growing."
Rishi and his staff research, taste a lot of wine, and have solid relationships with distributors in order to make sure they have plenty of delicious options to offer customers at all price points. There were four different bottles on the counter that they were sampling on the day we talked and that's not unusual. "The research and homework rests on us," Rishi says. "We sample wine every day."
 
Rishi's International Beverage also creates fantastic, custom gift baskets for any occasion—just ask at the counter. They generally require six to eight days' turnaround time. In addition to the 28th Street location, there is a second Rishi's International Beverage located at 6859 Cascade Road SE.
House of Wine
House of Wine offers more than 60 wines by the glass, including a healthy selection of Michigan wines. The co-owners, father and daughter team Jim and Emily Lynch, strive to create a fun, contemporary restaurant atmosphere where people can experience new wines without feeling intimidated. "Our wine is served casually, and we go out of our way to explain the different choices," says Jim.
"We have a lot of choices that are a good value," Jim explains. "You have a lot of choices under $10 a glass, and that's unique." House of Wines also carries higher-end wines, champagne, beer and cocktails. The restaurant features a popular build-your-own charcuterie board, as well as salads and paninis.
On Monday nights during the month of December, from 6 – 7:30, House of Wine encourages people to try something new during their free, interactive wine tastings. And Monday - Friday before 6 PM, guests receive 60 minutes of free parking at the Monroe Center Ramp. You can purchase bottles of the wine you like, as well as wine-related merchandise in its retail shop.
The House of Wine owners are also happy to have you come in, enjoy their space, and sip coffee. "You can bring your laptop and plug in, just like at a coffee shop," says Lynch. "You don't have to have wine."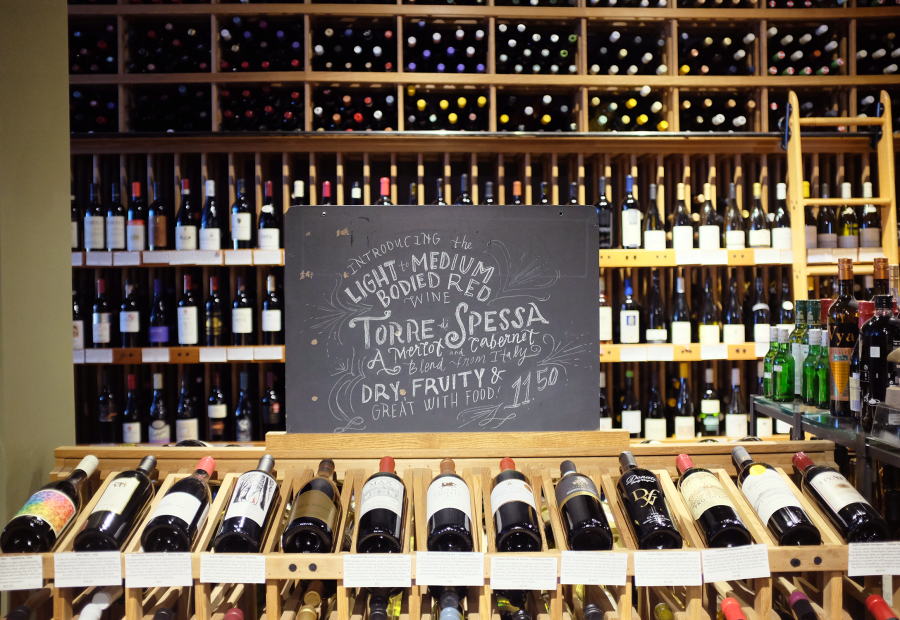 This Wealthy Street favorite delivers novel, small-batch wines.
Photo by Art of the Table
Art of the Table and Aperitivo
Art of the Table 
In 2003, Amy Ruis transformed a former party store with patches of dirt floor and no plumbing into the exquisite Art of the Table, which carries gourmet artisan products including wine, cheese, desserts, beer, table décor, and more. When you're looking for a unique wine that you won't find at your average grocery store, Art of the Table is your place.
"We taste each and every selection we bring in and decide whether it fits our desires for smaller batch, family-owned wineries wherever possible," Amy explains. Whether you're searching for something less expensive for a weeknight dinner or a high-end wine for a special occasion, Art of the Table can help. With over 300 wines, they have selections from $8 to over $100 a bottle and can offer guidance and suggestions if you're uncertain about what you want.
"Our shelves represent regions all over the world and have a lot of wines that are from grapes off the beaten track. Our staff is very knowledgeable so they're pretty good at suggesting wines that are similar to what you might normally drink," Amy says.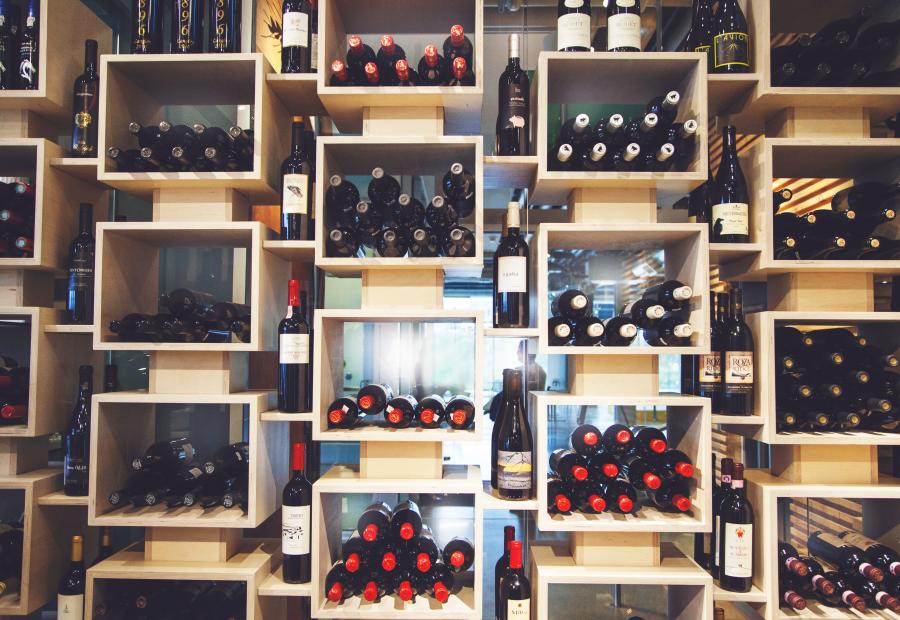 Aperitivo is a great place to complete your shopping at the Downtown Market.
Photo by Aperitivo
Aperitivo 
Ruis also owns Aperitivo, a wine and cheese tasting shop at the Downtown Market, which opened along with the market in September of 2013. "Aperitivo's selection is relatively small but well-curated to include a wide variety of wines that play well with foods, especially those that we focus on in the shop like cheese and charcuterie."
One fun aspect of shopping at Aperitivo is that you can often try before you buy. Many shelf selections are available at the bar either by the glass or half glass, so you can sip a new-to-you wine before you commit to purchasing an entire bottle.
Most wines at Aperitivo are in the $12 - $50 range. "Many of our customers pick up selections for dinners and parties, but many enjoy what they sip at the bar and want to take it home and enjoy it again," says Ruis.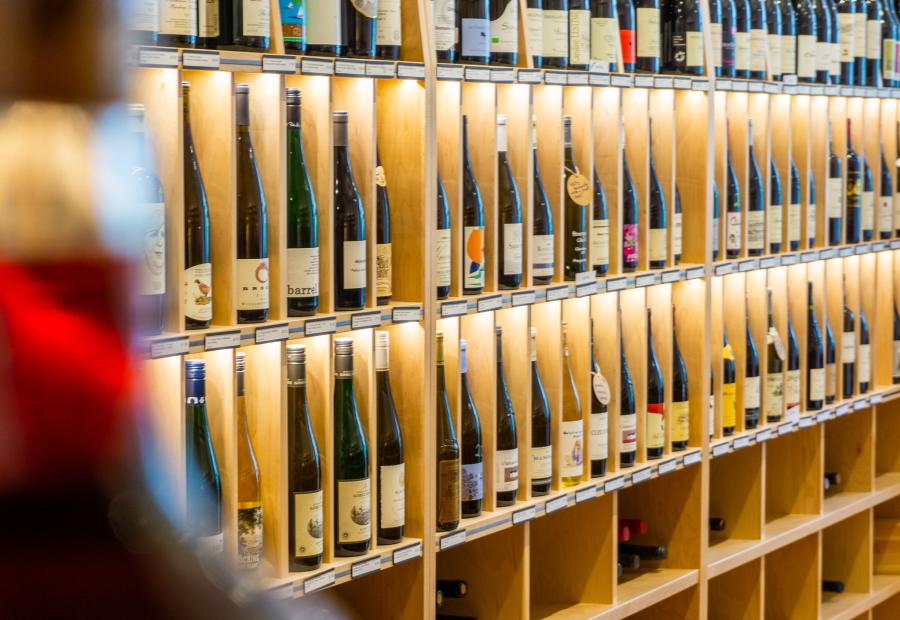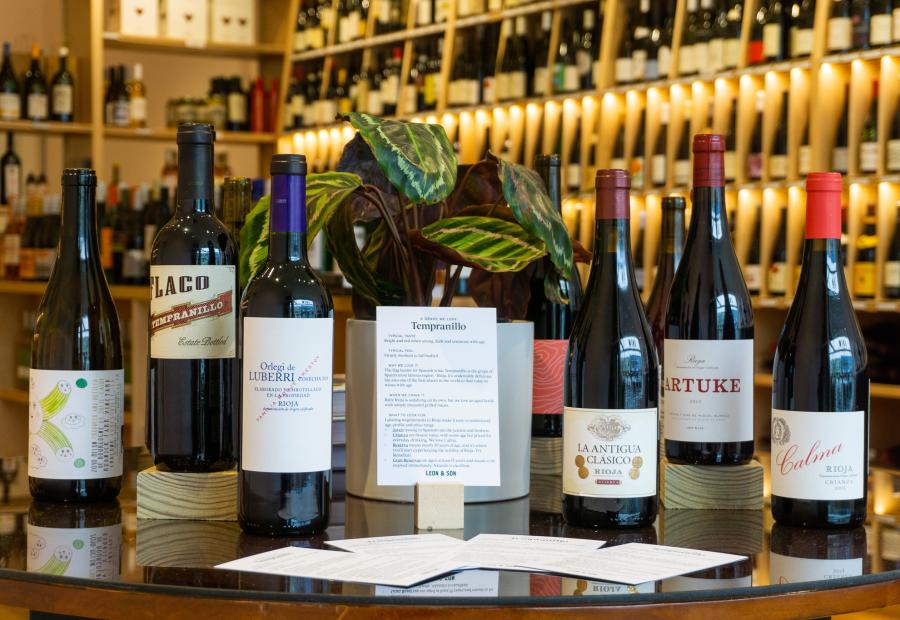 Leon and Son focuses on smaller producers with its thoughtfully curated selection of 500+ wines.
Photo by Brian Craig for Experience Grand Rapids
Leon and Son Grand Rapids
Owner of Leon and Son, Chris Leon, opened his first wine shop in Brooklyn, NY in 2015. It's been named one of the country's best wine stores by Wine & Spirits, New York, GQ and Brooklyn Magazines. Last September, Leon and his wife, who grew up in East Grand Rapids, opened a second store on Cherry Street in the Uptown neighborhood, where the focus is on great wine and warm hospitality. 
Leon and Son carries a highly curated selection of about 550 wines, focused on smaller producers. With a background in the hospitality industry, Leon feels strongly that wine should be accessible to anyone who's interested, and the knowledgeable staff goes out of their way to make customers feel comfortable.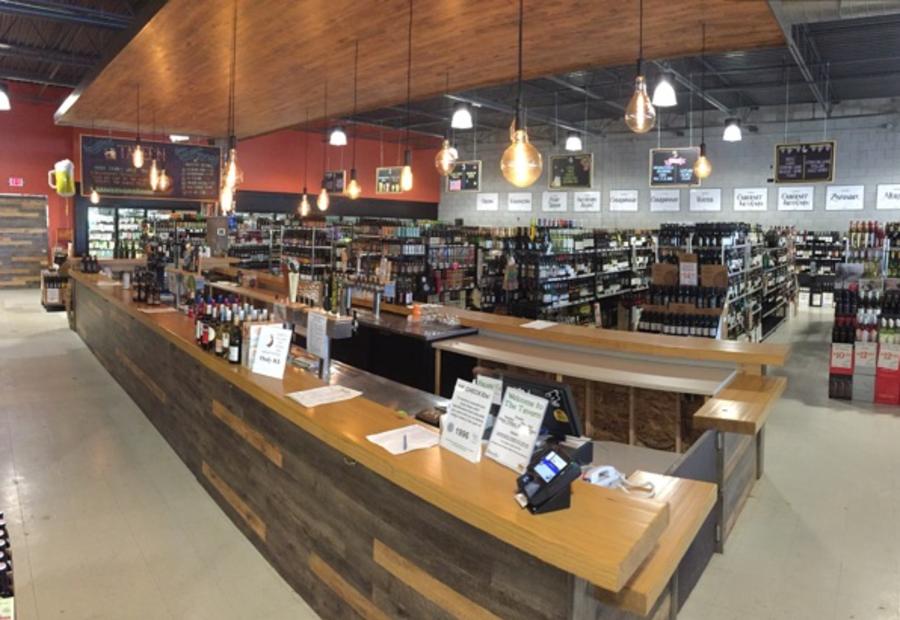 You can sip while you shop at Horrocks Market.
Photo by Horrocks Market
Horrocks Market
Horrocks Market in Kentwood is known for a lot of things: beautiful flowers, a grocery market with fresh produce, stylish home décor, and gifts. Did you know they also have a fantastic wine selection? 
Horrocks offers wines from around the world and has an entire aisle dedicated to Michigan wines. Talk to the staff at Horrocks and it's clear they pride themselves on being a local company that supports local. 
If you don't see a wine you're looking for, they'll be happy to order it for you. 
The in-store tavern serves wine, craft brews, and cider, all of which you can enjoy while you shop. You can stop by the tavern to check out the wine selection before you hit the other aisles or sit down afterward and enjoy a drink at the bar. 
The market also offers complimentary wine samples of its featured wines, as well as a number of wine events, including monthly wine specials, wine pairings, wine tastings, and more. Check the Horrocks website or Facebook page for details.
Grand Vin
"Real wine made by real people" is the guiding philosophy at Grand Vin, a downtown wine shop owned by married couple Tom and Kim Grimm. They specialize in offering wines made by smaller, family-owned producers that emphasize ethical and responsible farming practices.
"These are not wines you'll find in the grocery store," says Tom, a certified sommelier who personally curates the 500 or so unique varieties of wine available in the store. Because many selections may be unfamiliar, Tom is quick with helpful suggestions.
"A customer will say, 'I'd like something similar to a California Cabernet' and Tom knows just what to recommend," says Kim. "And he can tell you everything you might want to know about where and how the wine was produced, too."
Sharing knowledge is part of the Grimms' mission to make wine approachable rather than intimidating. That effort extends to hosting guided in-store wine tastings every Thursday and traveling to homes and offices for private wine tastings. The Grimms also spotlight new, seasonal and holiday-appropriate selections on their Instagram page.
Grand Vin carries everything from $12 bottles of wine that pair well with a Monday night pizza to treasured collectibles that retail for $400-$500 – many that you'll find nowhere else in West Michigan. Champagnes and sparkling wines are a particular strength, and the store is well stocked in two categories Tom identifies as up-and-coming trends: canned wines and Rieslings ("everything from lusciously sweet to bone dry).
There's also a monthly wine club that lets members choose from all reds, all whites or a combination of the two, at three different price points.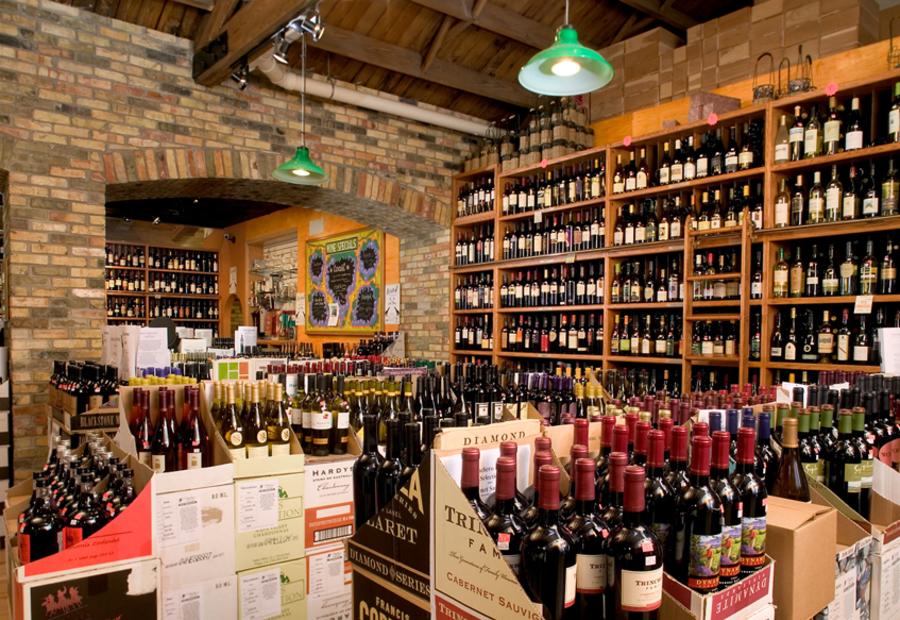 Since its opening in the 1980s, Martha's Vineyard's focus has evolved to include the curation and sale of wine.
Martha's Vineyard ​
Thirty years ago, the store that's now known for its vast wine selection, specialty groceries, and unique fresh produce began as a small stop-and-go liquor store. 
While Martha's Vineyard still carries spirits, the business has grown and evolved with the neighborhood, and these days the shop's focus is more on wines and gourmet foods.
When you step into the store, you'll find wines anywhere from $7 - $100+ per bottle on the shelves. "Our selection of wines range from the United States to spanning the globe," says Ilana Chamelly from Martha's Vineyard. "Our intention is to offer a selection that can be accessible to any wine drinker, whether newly interested or an avid connoisseur."
"Our team is always willing to recommend new wines within your tasting profile or special order a wine, if it's available," says Chamelly. "We're happy to help you pair wines for your next meal, introduce you to a new wine region, or help you find your new favorite bottle."
Martha's Vineyard offers wine tastings; check with the store for details.
Regardless of when you stop by, don't miss the extensive deli with freshly prepared foods and the mouthwatering pastry items from Nantucket Baking Company or stop next door to grab a fresh baguette or pastry. In addition, if you try a glass of wine at nearby Lyon Street Cafe, you may be able to find it in the store.
You can also enjoy charcuterie, lunch, and dinner options with your wine at Forty Pearl.
Photo by Experience Grand Rapids
Forty Pearl
Forty Pearl is a taste of the Leelanau Peninsula here in Grand Rapids. They carry many Michigan wines, including award-winning Brengman Brothers and national and international wines.
Forty Pearl's dinner menu changes with the season and includes suggested wine pairings for each item. The restaurant also offers beer and cocktails and desserts from Nantucket Bakery.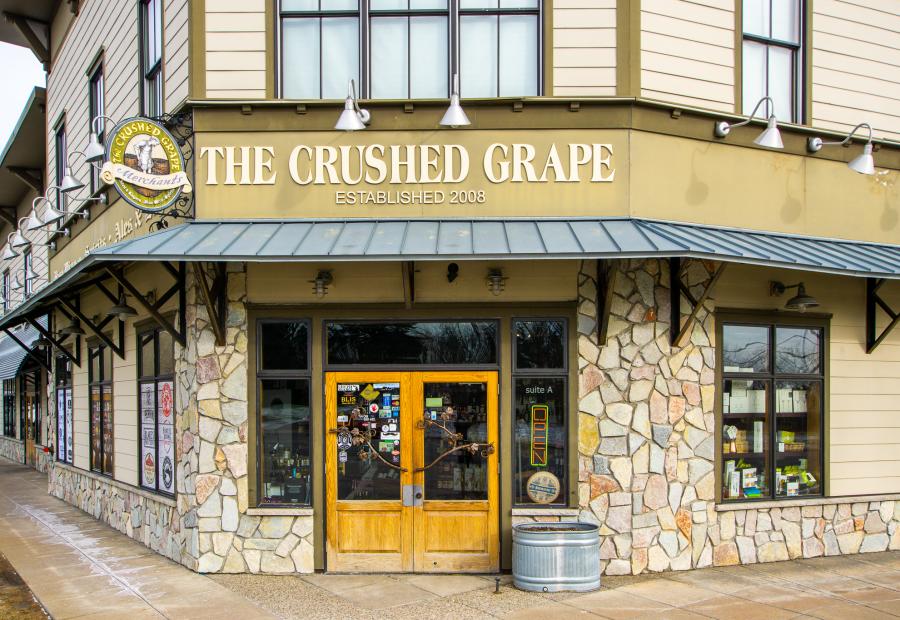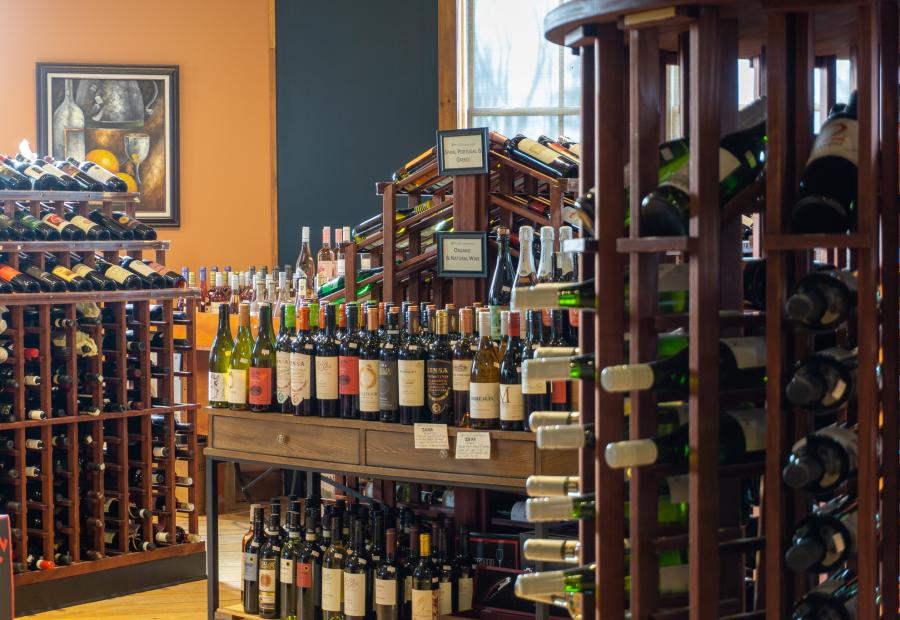 Besides wine, The Crushed Grape offers Michigan spirits and beers, fantastic cheeses, salamis, dips, and more.
Photo by Brian Craig for Experience Grand Rapids
The Crushed Grape ​
On the second floor of The Crushed Grape, you'll find an entire level dedicated to wine from every corner of the world. "We've expanded our international wines and doubled our Michigan wines in the last couple of years," says Ben Price, Wine Director. In the upstairs level, you can expect to find anywhere between 1,600 – 1,700 bottles of wine.
If that seems overwhelming, don't fret. The helpful staff is happy to give you a short tour of the space to help you understand where to find what you're looking for among the many wines. They love to meet customers, ask them questions about what they like, what occasion the wine is for, and help them choose an event-appropriate bottle.
"We're built for hand-selling, one-on-one relationships," says Price. "We work really hard to make sure customers are having a good experience in the store, and want people to have confidence when they leave that the bottle is a good bottle and that it's a good fit for their occasion."
If you prefer just to run in and grab a bestselling bottle of wine, The Crushed Grape also stocks about 100 "grab and go" bottles downstairs. "They're typically under $25, universally delicious, and varietally correct, meaning that a California Cabernet will taste like a California Cabernet," Price explains.
In addition to choosing a bottle or two from the sizable wine selection, you can also purchase Michigan spirits and beers, fantastic cheeses, salamis, dips, and more. The Crushed Grape even carries a few Michigan craftsmen items, like steel laser-cut keychains and granite whiskey stones. "We work hard to try to support as much local as we can while still being diverse and international in our scope," Price says.
Area Wineries
While Grand Rapids has so many fabulous wine shops, you'll also want to check out local wineries. Stop by Kayla Rae Cellars in downtown Rockford to enjoy the wine bar and tasting room there. Rockford is also home to one of a St. Julian Winery location, where you can sample  a variety of wines, from dry to dessert wines, as well as distilled spirits and ciders. 
Robinette's Apple Haus & Winery on the north side of Grand Rapids is well-known as an apple orchard, but its winery, which opened in 2006, serves flavorful wine made on-site.