With a large, easily accessible airport, a wide variety of activities for all ages, and a great nightlife wedding guests love, it's no surprise Grand Rapids is quickly becoming a wedding hotspot.
Whether you're after a large, formal, wedding in one of the many hotels or venues in town, or a smaller, more intimate setting, you can find it in Grand Rapids.
Local couple Caitlin and Chelsea created their perfect wedding with a little help from local businesses, family and friends, and one of Grand Rapids' many parks.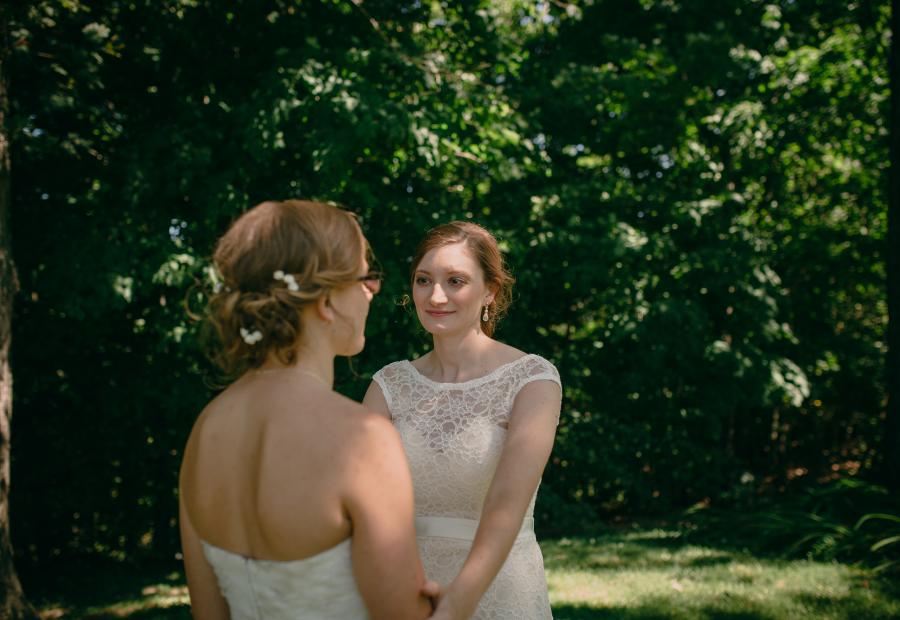 Brides Chelsea and Cailtin knew they wanted an open air wedding in the summer due to their shared love of the outdoors.
Photo by Stephanie Facer
The Couple
After a four-year, long-distance relationship, Caitlin and Chelsea were ready to make it official. The Grand Rapids natives loved the growth the city experienced and knew they could find the smaller, cozy, setting they were looking for in a wedding location.
With a specific budget in mind and a goal of doing as much of the planning and preparation by themselves as possible, the couple set off to plan their dream wedding.
Because of their mutual love of the outdoors, Chelsea and Caitlin wanted to start their new life together in an open air space. Then they decided that the best compliment to an outdoor wedding is a summer date. With those two decisions made, the couple began their venue search.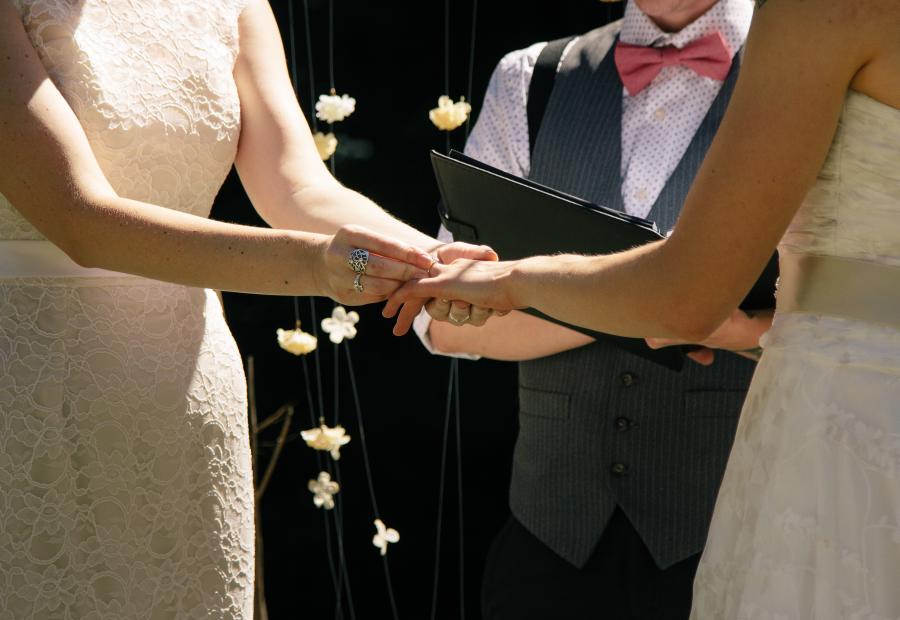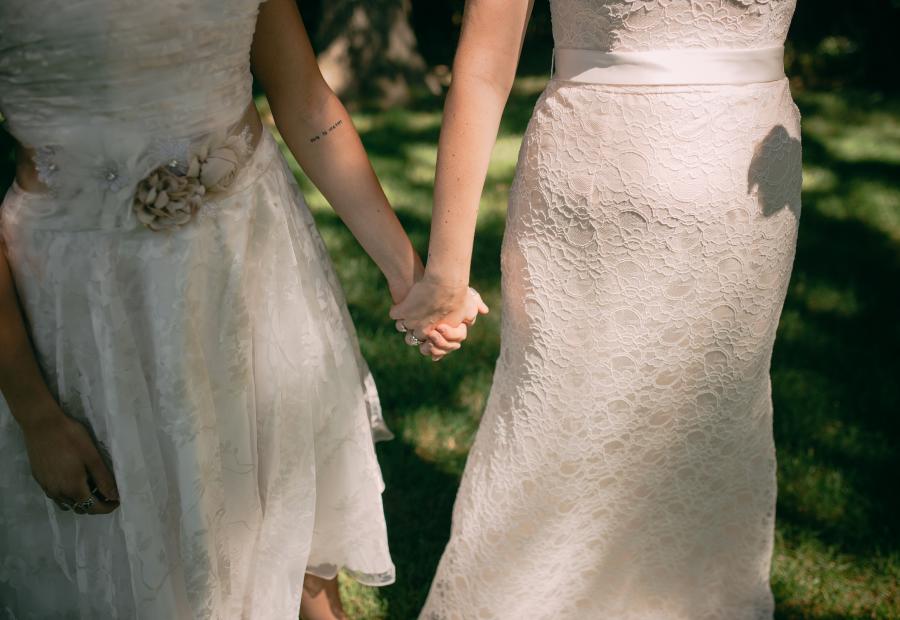 Fallasburg Park was the perfect setting with its variety of areas, making the public space feel private and intimate.
Photo by Stephanie Facer
The Location
"We checked out a couple of different parks in the area, and when we saw Fallasburg Park, we knew it was the one," Caitlin said. The space fulfilled many of their wedding "must haves."
The park's "nooks and crannies" allowed the couple to have a semi-private wedding while it remained open to the general public. They found an area for the ceremony near the reception pavilion, which minimized the wait time between the ceremony and the reception. Lastly, a paved path connected the sites, making it easy for their rented golf cart to take grandparents to and from locations.
The couple booked their space roughly six months out for their August 1 date. "The park staff walked us through the booking process and also suggested renting space near the enclosed reception pavilion for a very reasonable price," Caitlin says. "Their recommendations helped to make our day that much more relaxed for everyone."
The Ceremony
Caitlin's college roommate became ordained online just to perform the ceremony, which took place near a creek at 3 PM and lasted 30 minutes. Caitlin and Chelsea rented chairs from A1 Rent All for their 100 guests and arranged them to allow for two aisles.
Afterward, the wedding party took advantage of the park's gorgeous landscape for wedding pictures. As they smiled for the camera, their guests played lawn games in extra grassy space the couple had reserved and enjoyed live music at the reception pavilion.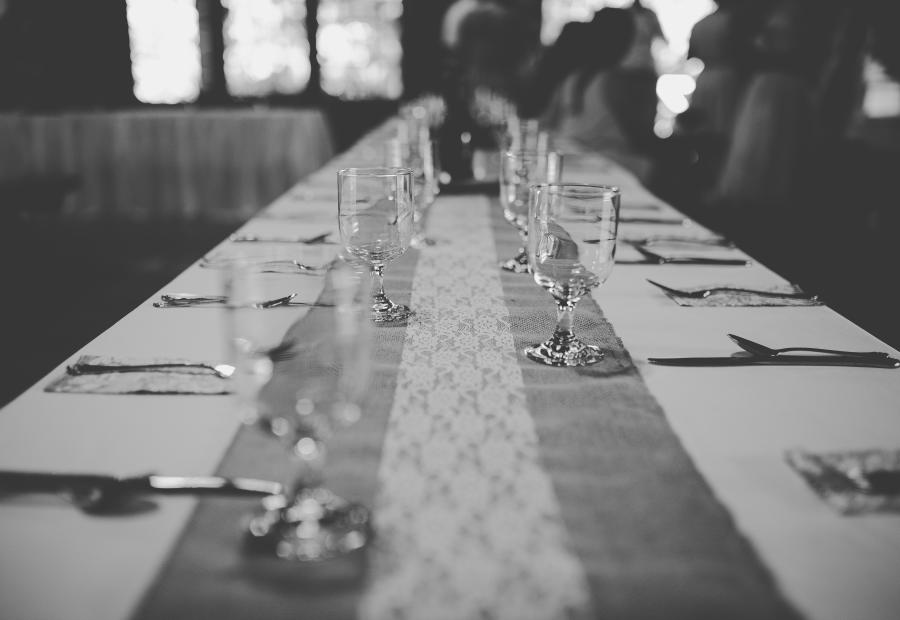 The reception pavilion included a porch for the live band and picnic tables the party decorated with table runners and succulents.
Photo by Stephanie Facer
The Reception
After photos, Caitlin and Chelsea joined their guests for fun, food, and dancing. "We really wanted live music but didn't have a particular band in mind," Caitlin says. "We went to the Winter Bridal Show at DeVos Place and Frederic and Ronza were playing as we entered. They were perfect."
The duo played on the wraparound porch for the full evening. While Caitlin and Chelsea opted for no dance floor, other weddings have rented a hard mat to place outside the pavilion.
Prior to the wedding, the betrothed and their friends arranged the provided picnic tables into communal style eating with table runners down the middle for a family feel. Fallasburg Park doesn't provide food, but the pavilion has a small kitchen for catering, perfect for the wedding meal made by Caitlin's aunt.
Caitlin and Chelsea used all corners of the pavilion. One housed a picture display, another was the start of the food line, and the third showcased the wedding cake created by Caitlin's brother.
Wedding gifts were put on the front porch, and guests were given succulents planted by a family friend as their wedding favor.
Since the majority of the items for the day were brought in by the wedding party, that meant they had to be brought out as well. Park rules state everything has to be cleaned up and out of the area by the time the park closes at sunset. "It was actually a nice, natural way to wrap up the evening," Caitlin says.
Advice for Others
"On the day, no one told me just to relax," Caitlin says. "Just being there and having supportive people is what matters. That's what you're celebrating." She added that the small wedding details don't matter as much as you may think they do.
She was so wrapped up in how amazing it was to be marrying the love of her life that she says, "I didn't really care if I had the absolutely 100 percent correct glass beads [for decoration], that wasn't what the day was truly about!"
She advises couples getting married to trust the process and go with the flow on their wedding day. She also advises to be clear about what you want and set boundaries. "Be intentional about what you want and stand by that. Stay true to your heart and your vision," she suggests.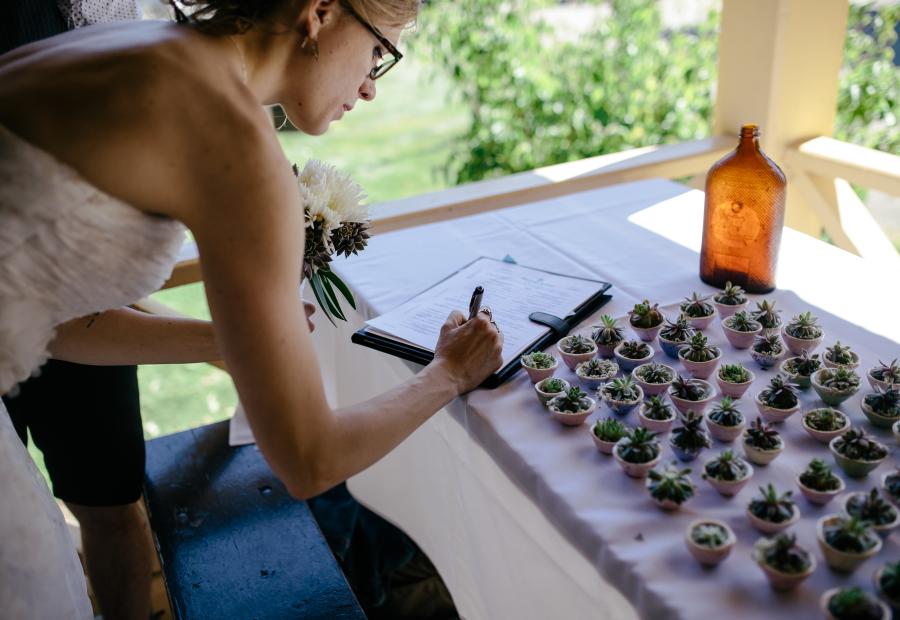 Grand Rapids has a variety of wedding venues, including locations that allow couples to bring in their own decorations.
Photo by Stephanie Facer
The Guests
The couple booked blocks of rooms in hotels on 28th Street for their guests since it was a nice halfway point between Grand Rapids and Lowell. Grand Rapids offers more than 60 hotels, making it a breeze to find one (or more) to fit your budget, location, and amenity requirements.
Many out of town guests made a full weekend out of the wedding by heading downtown to check out the breweries and museums a short drive away.
Caitlin and Chelsea were happy their wedding used local businesses and are very proud they were able to support local business people. "It was important to us, and so we made it happen," Caitlin says. You can find out information on their photographer, Stephanie Facer, on her website. 
Through staying true to their vision and enlisting a little help from their friends and family, Caitlin and Chelsea hosted a fantastic, fun-filled evening that was a flawless reflection of them.
A city the size of Grand Rapids allows couples to have the wedding experience that suits them best.
Whether they choose a "hands-on" approach or hire a wedding planner, a venue that can seat around 500 people or an intimate outdoor setting at one of our many county parks, Grand Rapids has something for every couple who is ready to get married.
For more information on planning a wedding in Grand Rapids, visit our Wedding page.
Written by Amy Busse and reviewed by Experience Grand Rapids staff for accuracy.