One of the great thing about Grand Rapids is the city's close proximity to wildlife, nature, and beautiful outdoor scenes.
You can easily find yourself in a winter wonderland within minutes of downtown Grand Rapids, making it an ideal location for skiing, snowboarding, sledding, ice fishing, and cross-country skiing excursions for the whole family.
If you're interested in cross-country skiing, but don't know where to start, take a look at these tips for jumpstarting the fun winter activity: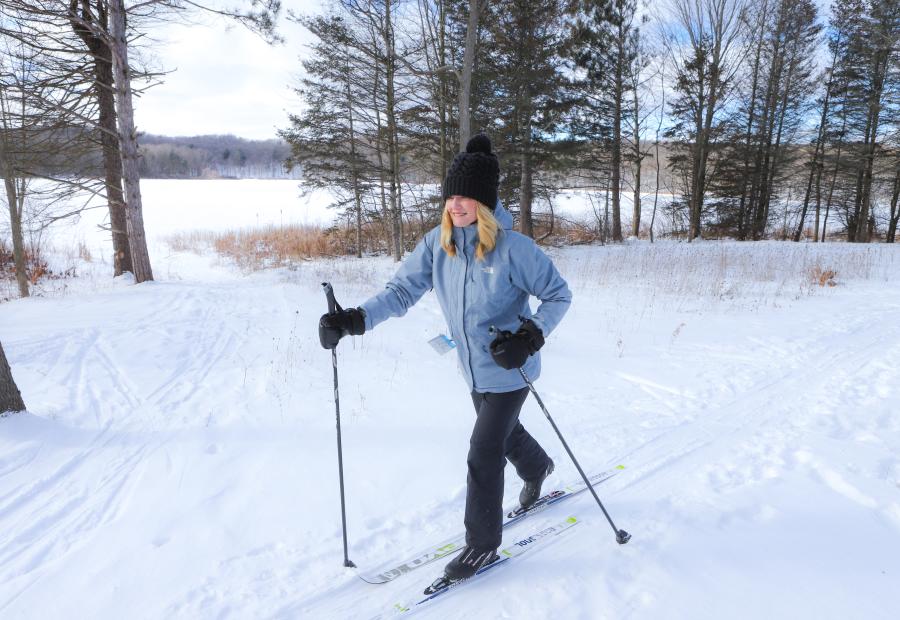 Cross-country skiing is a great way to explore the wintertime landscape, regardless of skill level.
Photo by Experience Grand Rapids
Is cross-country skiing for me?
Cross-country skiing is a great activity for just about everyone, including kids and seniors. Unlike downhill skiing, which can be intimidating without an introductory lesson or two, cross-country is more a learn-as-you-go sport, and easy for beginners to pick up.
If you're used to hiking, walking or other basic forms of physical activity, you should be able to get the hang of cross-country skiing fairly quickly. Check out a few YouTube instructional videos before you head out – and if you can get a more experienced friend to accompany you on your first trek, all the better.
What kind of equipment do I need?
Cross-country skiing equipment consists of boots, skis, and poles. This equipment can be purchased or rented at a variety of outdoor gear and sports stores in Kent County.
Daily or weekend rentals are available from Bill & Paul's Sporthaus for as low as $22 per day. Keep in mind, the gear is easy to transport and can fit in small cars, too.
It's recommended that customers reserve rental gear in advance by calling Bill & Paul's Sporthaus, especially over holiday weekends such as Christmas, New Years, and President's Day.
Layering clothes is key for cross-country skiing adventures. Choose a moisture-wicking base and a light, water-resistant outer layer to withstand elements and for maximum comfort. Cross-country skiing generates a lot of heat, and you'll want to be able to adjust layers as you go. Go-to clothing items include running tights, light gloves, and a hat.
Where can I cross-country ski in Kent County?
Participants can cross-country ski on water or on land. Here are some of the most frequented locations for cross-country skiing in Kent County:
On frozen water:
If you're new to cross-country skiing, you may want to start out on a relatively flat piece of land, such as a frozen body of water. Reed's Lake in East Grand Rapids is a perfect spot once the ice freezes over, which normally occurs mid-January.
Before stepping foot on frozen ice, you'll want to make sure that it's safe and completely frozen. At Reed's Lake, look for ice shanties and people ice fishing – if they're on the water, it's likely that the ice conditions are safe to cross-country ski on, too.
To ensure the ice is completely frozen and safe for cross-country skiing, bring a spud bar (a long metal bar with a pointed end), to test the depth of the frozen ice.  
Make sure there are at least three-to-four inches of frozen ice on any body of water to ensure the sturdiness of the ice and overall safety. If you're unsure for any reason, don't go out on the ice.
Pickerel Lake, which is part of Fred Meijer Nature Preserve, is one of several Grand Rapids-area places to cross-country ski.
Photo by Experience Grand Rapids
On land:
Here are a few of the many Kent County trails that are ideal for cross-country skiing:  
Pickerel Lake Park
Address: 6001 Ramsdell Rd NE, Cannonsburg, MI 49317
Pickerel Lake Park , also known as the Fred Meijer Nature Preserve, is a lovely place to ski. The trail takes you around the lake and is the perfect beginner route. You can easily make it around the lake in about an hour.
Luton Park
Address: 5950 10 Mile Rd NE, Rockford, MI 49341
Luton Park  in Rockford has nearly 10 miles of ungroomed trails. Mix and match the length of your excursion by combining different color loops. The blue and green loops are great for beginners as they are the flattest, but do know there are a few spots with bigger hills on these routes.
Palmer Park
Address: 1275 52nd St SW, Wyoming, MI 49509
Palmer Park  in Wyoming offers groomed cross-country ski trails for a smoother and more efficient skiing experience. It's typically easier for beginners. Heated restrooms and snacks are available for skiers in the clubhouse as an added bonus. There is a $2 per person trail fee for Palmer Park, and ski rentals are available at the clubhouse – $10 for adults, $8 for children and $30 for a family up to five people.
Millennium Park
Address: 1415 Maynard Ave SW, Walker, MI 49534
Millennium Park, just five minutes from downtown Grand Rapids, has nearly 18 miles of trails in several loops through extensive, mostly flat natural areas. Some sections are groomed for skiing when weather permits.
Wahlfield Park
Address: 6811 Alpine Ave, Alpine Township, MI 49321
Visit Wahlfield Park in Alpine Township if you're looking for an intermediate skiing experience. Trails are a mix of hills and flatlands, creek valley, and open fields.
Seidman Park
Address: 8155 Conservation Rd, Ada, MI 49301
Seidman Park  in Ada offers a challenging five-mile course, with rolling hills, and tight turns taking you through a beautiful hardwood forest.
Cannonsburg Ski Area is known for its downhill skiing, snowboarding and tubing runs, but it also maintains winter trails for use by cross-country skiers (and fat bikers and snowshoers). Additionally, many local, public golf courses allow cross-country skiing as long as you stay off of the greens. It's recommended that skiers call the golf course pro-shop before visiting the course.
Beyond Kent County, locals like to visit the Winter Sports Complex at Muskegon State Park or Pigeon Creek  in Ottawa County for rentals and groomed trails.
Are there any licenses needed to cross-country ski?
Cross-country skiing doesn't require a license, and if you stick to trails in public areas, you won't be charged a trail fee. There will likely be a trail fee if you choose to cross-country ski in an area with groomed, or maintained, trails.
This story was originally written by Kirsetin Morello and has been updated by Experience Grand Rapids.
Whether you like to play indoors or outside, there's no shortage of winter fun in the Grand Rapids area.