One of the distinct benefits of living in West Michigan is that we can enjoy the beauty of all four seasons. It's one of the reasons visitors like coming here. No matter the weather, there's plenty to do.
In addition to familiar activities like cross-country skiing, downhill skiing and snowboarding, the winter months present an opportunity encounter nature in a different way. Here, we're profiling three locals who snowshoe, ice fish and fat tire bike (also called fat biking). Each person has found a way to embrace the elements and experience the beauty inherent in wintertime in Grand Rapids.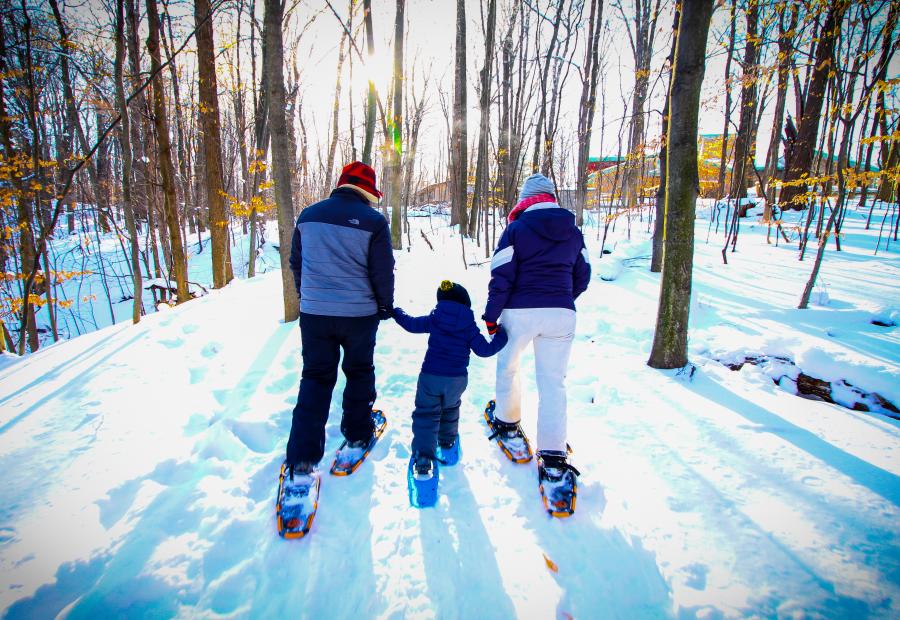 Check out Blandford Nature Center for some family-friendly snowshoeing trails.
Photo by Experience Grand Rapids
Snowshoeing
"Snowshoeing is quiet and very peaceful," says Kate Pavlin, a soft goods sales associate at Bill & Paul's Sporthaus who took up the winter sport after she began working for the local retailer. "I've come across some beautiful lakes in the middle of woods with no accessible roads. It's a good time to reflect and enjoy the beauty of winter here."
If you're a novice or visiting Grand Rapids without your snowshoes, Bill & Paul's rents them by the day. Their experienced salespeople can also help guide you if you decide you'd like to purchase a pair. For beginners, Pavlin suggests looking at the Tubbs brand. "It's a great starter snowshoe and it's economical but well made," she says. Although she's more experienced, it's still the brand she uses.
Before you head out to explore, you'll want to be sure to dress appropriately. "You don't want to overdress because you're going to build up some heat," explains Pavlin. Instead, layer your clothing and be sure to wear something that wicks moisture away from your skin and is quick drying.
Warm boots are another necessity, but not ones that are too big and bulky. If you're ready to invest, look for snowshoe-specific boots. "They have some insulation and a little bit of a smaller profile," says Pavlin.
Important tips for novice snowshoers:
Take it slow! "It can be strenuous," says Pavlin.
Be prepared. "You might want to have a lightweight backpack," Pavlin suggests. "Maybe take a compass, if you're snowshoeing on state land, and a water bottle. It's important to hydrate."
Pavlin suggests snowshoeing at any area park, but especially Cascade Peace Park, Seidman Park and Cannonsburg. No matter where you go, she encourages others to try it. "It's inexpensive, it's a great form of exercise, and a good way to get yourself outside in the winter!" she says.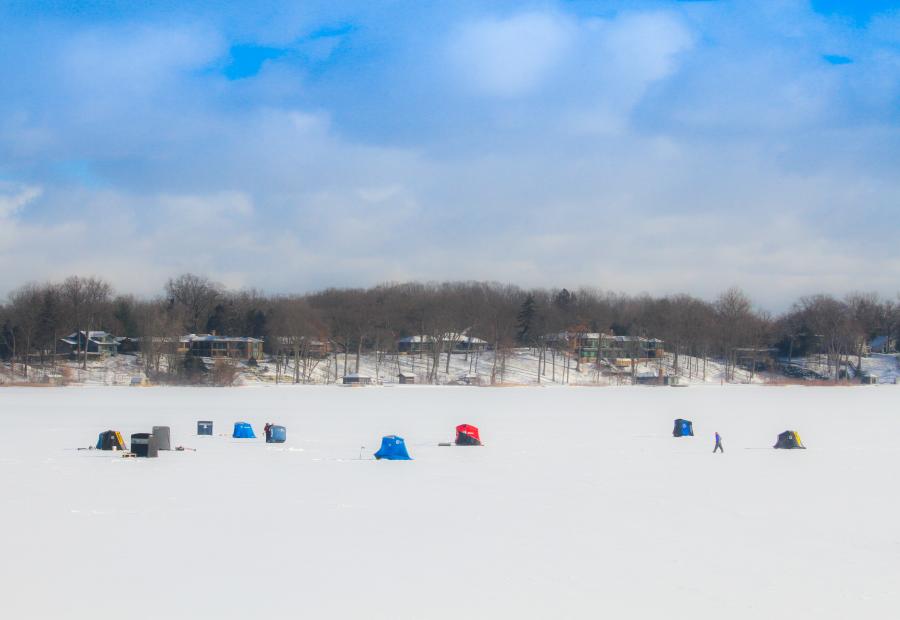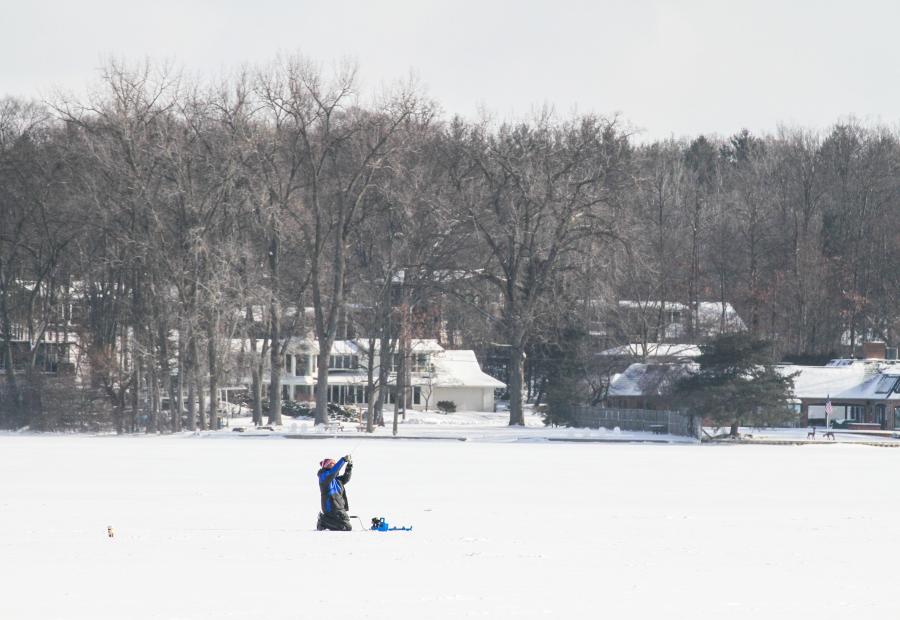 Reeds Lake is a popular place for locals to go ice fishing - Just make sure the ice meets safety requirements!
Photo by Experience Grand Rapids
Ice Fishing
Growing up on an inland lake, Doug, an ice fishing enthusiast who works at Al & Bob's Sports, has been ice fishing since he was a little boy. "My father took me out in the winter when we couldn't go boating," he said. He's been hooked ever since and delights in the potential ice fishing holds for a big yield. "I always notice that I catch some of the largest fish of the year through the ice. They're a little more guarded during the summer months but can be teased into becoming table fare in the winter!"
One of the things he enjoys most about ice fishing is the camaraderie with the other fishermen. "When you're ice fishing, it's kind of a social atmosphere," explains Doug. He also enjoys encouraging others and helping them find fish. "If someone else is out there, and willing to weather the cold temperatures, I want help him have some success." Having fished for so many years, he knows that fish favor different scenarios. "Crappies and speckled bass are usually suspended but perch and bluegills like to stay down near the bottom," he explains.
With so many West Michigan inland lakes, Doug says you can take your pick of ones to ice fish. "If you're a beginner, it's good to go with someone experienced, so you learn some of the intrinsic safety features." It's also a good idea because they'll have a tent, an auger and some of the more advanced equipment you'll need. Beyond that, though, the basic gear – the rods, ice jigs, reels, line – is all relatively inexpensive.
When you're ready to go, be sure to dress appropriately. "Have good gloves, a good hat, and stuff hand warmers into your gloves to keep your hands nice and toasty warm," he suggests. "You can buy warmers for your boots, too.
Then, get ready for some fun. "The reward is overpowering," says Doug. You'll be amazed at what you catch. Some days you can pick and choose whatever you want to keep because you'll catch so many fish!"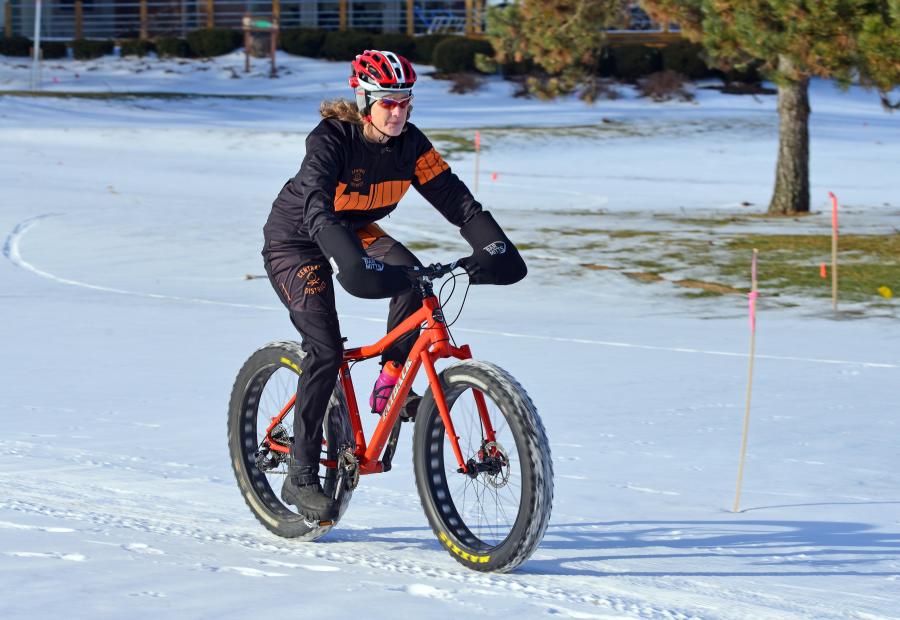 Cycling isn't just for the summer! Try fat tire biking at Indian Trails.
Photo by Photo credit: Howard Meyerson
Fat Tire Biking
Nine years ago Nate Phelps, owner of Central District Cyclery and a fat bike race promoter, saw a fall magazine advertisement for a fat bike. It piqued his interest but he wasn't sure he needed another type of bike. A few months later, when he was walking his dog in Wilcox Park, he saw a stranger riding a fat bike and took notice. "He was riding around on a Surly Pugsley. I didn't know him but I stopped and talked with him, and he let me get on the bike and ride around. I thought, 'This is pretty fun,' and the following year, I bought one."
That was the beginning of Phelps' love affair with fat tire biking. "At that point, I was hooked but my hands and feet were freezing," he recalls. It wasn't long before he invested in shell pants, a shell jacket and merino wool products for base layers. Then, he and a few friends with fat bikes got out there and explored. "At that point, nobody groomed trails for fat biking. We would just go out and ride." They used a technique referred to as 'leapfrogging,' taking turns leading and breaking the snow. "We'd find big rocks and figure out that we could climb up over them because the traction on fat tires is crazy," he says. "The fun factor is what really drew me in."
In addition to fat biking with friends, Phelps relishes exploring on his fat bike alone. "I love throwing in my ear buds, putting music on, and heading out," he says.
If you're worried about falling, you're right: you probably will. "It's snow," says Phelps. "If you fall down, it doesn't hurt as bad. Just make a snow angel and then get back up on your feet and ride!"
We'd find big rocks and figure out that we could climb up over them because the traction on fat tires is crazy. The fun factor is what really drew me in.
Nate Phelps, owner of Central District Cyclery
Beyond riding for fun, Phelps started racing. He tried his first fat bike race, the Farmer's Race at Versluis Orchards, as fat bike technology improved and better tires and lighter frames made racing more viable. "It opened up another dimension when I started to race," he explains. Immediately hooked, Phelps began promoting fat bike races and has been doing so for about six years.
Naturally, his bike shop, Central District Cyclery, carries three different brands of fat tire bikes and all kinds of accessories, in addition to road and mountain bikes. The bikes range in price, with recreational users typically shopping the lower-priced bikes and serious racers purchasing custom-ordered aluminum frame bikes that run upwards of $5,000.
If you're ready to try fat tire biking, you don't need $5,000! Two good, inexpensive local places for beginners are Indian Trails Golf Course and Cannonsburg. Both rent fat tire bikes and groom trails during the winter months.
Cannonsburg grooms their fat bike trails with a Wild Cat groomer and offers a diverse terrain that's fun for fat bikers of all levels, says Danielle Musto, event coordinator at Cannonsburg. As a ski resort, they also offer skiing and snowboarding, as well as tubing, so it's a great place to take a group of friends or family with varied outdoor winter sports interests.