Snowshoeing has been around for almost as long as civilizations have interacted with deep snow. Historians believe snowshoeing traces its roots back 6,000 years to Central Asia and were necessities for survival during the harsh winter season.
Thankfully, our everyday West Michigan survival doesn't rest on trekking through deep snow to hunt and gather, leaving us plenty of time to play in the in snow when we're graced with some fresh powder.
Want to take up a new hobby but don't know where to start? Or are you looking for new trails in the Grand Rapids area? Here are a few tips to help you get going.
Where to Get Snowshoes
First things first, you're going to need some snowshoes. You can rent a pair at Bill & Paul's Sporthaus to use anywhere in the region. One-day rentals cost $22, three days are $50 and one full week is priced at $90. Their expert staff will help you pick and fit the right equipment for you.
One-day snowshoe rental at Freedom Paddle Co. runs $35. The company, which aims to empower women to use the great outdoors as a source of healing from trauma, offers a special Valentine's Day Snowshoe Package every year – watch their website as February 14 draws closer.
If you'd prefer your own snowshoes, you can purchase a new pair at a number of local outfitters, including Bill & Paul's Sporthaus  Boyne Country Sports, Moosejaw , REI  and Sierra Trading Post . If you're looking for something more budget-friendly, check out a resale shop like Play It Again Sports. There's no guarantee that you'll find what you're looking for and it likely won't be as high-tech or modern as the new versions – but snowshoes that look like old, wooden tennis racquets are plenty serviceable for a casual afternoon of winter hiking.
A brief note on snowshoeing etiquette: many snowshoeing trails overlap with cross country skiing trails. If you come across a groomed trail, try to stay off the groomed area. Leave it for the skiers - they need it. Also, try to avoid stepping in and ruining the hard fought tracks cross country skiers work to establish (they look like twin ruts through the snow). This keeps everyone playing well together and makes you ready to hit the trails.
Multiple Grand Rapids-area locations include snowshoe rentals right on site like Blandford Nature Center!
Photo by Experience Grand Rapids
Snowshoeing Trails
Numerous parks and trail systems throughout the region offer ample space for snowshoeing through woods and meadows.
Rent Snowshoes on Site
NOTE: COVID-19 safety precautions may impact rental hours and procedures, please check websites and social media pages for the latest information.
Blandford Nature Center
Set aside in the late '40s and officially established in 1968, Blandford Nature Center  is equal parts education and recreation center. Its programming doesn't come to a halt as the weather gets frostier, but you're more likely to find its expansive 264 acres put to good use by snowshoers in the winter months. The visitor center provides maps and trail guides that allow you to customize your trekking routes, and rentals are available for non-members – $6 for adults and $3 for children on top of the $3 general admission fee. If you're looking for date night ideas, Blandford hosts Snowshoe with Your Sweetie, a series of candlelit outdoor excursions just in time for Valentine's Day.
Hemlock Crossing
This 239-acre park includes more than six miles of trails meandering along the Pigeon River and through bottomland and upland forest. You can rent snowshoes – three hours for $8, $2 per additional hour – at the park's Nature Center.
Indian Trails Golf Course
In summer, Indian Trails is a city-owned and operated golf course. In the winter, it transforms into a cold-weather sports playground for fat-tire bikers, cross-country skiers and snowshoers. A $3 day pass or $15 season pass entitles guests to free snowshoe rentals. Snowshoe users are asked to stay to the right of ski tracks to maintain smooth travel for skiers.
Pigeon Creek Park
Over ten miles of trails wind through old pine plantations, mature deciduous forests and bottomland forests along the Pigeon River at this 282-acre park. Snowshoeing is not permitted on groomed cross-country skiing trails, but off-trail snowshoeing is also allowed. Snowshoe rental fees are $8 per three-hour window and $2 for each additional hour.
Wittenbach Wege Center
Nestled amongst 140 acres of lush forests, rolling prairies, abundant wetlands and open fields, the Wittenbach Wege Center for Agriscience and Environmental Education offers several different trail loops perfect for snowshoeing. You can rent snowshoes for $5 per three hours.
Muskegon Luge Adventure Sports Park
Located 50 minutes from Grand Rapids, this winter fun park is worth the drive for cold-weather sports enthusiasts. The marked snowshoe trail system takes visitors from the low levels of the white pine forest to the tops of sand dunes with breathtaking views of the tree canopy, Lake Michigan and Muskegon Lake. A daily trail pass is $10 and you can rent snowshoes for $8/day.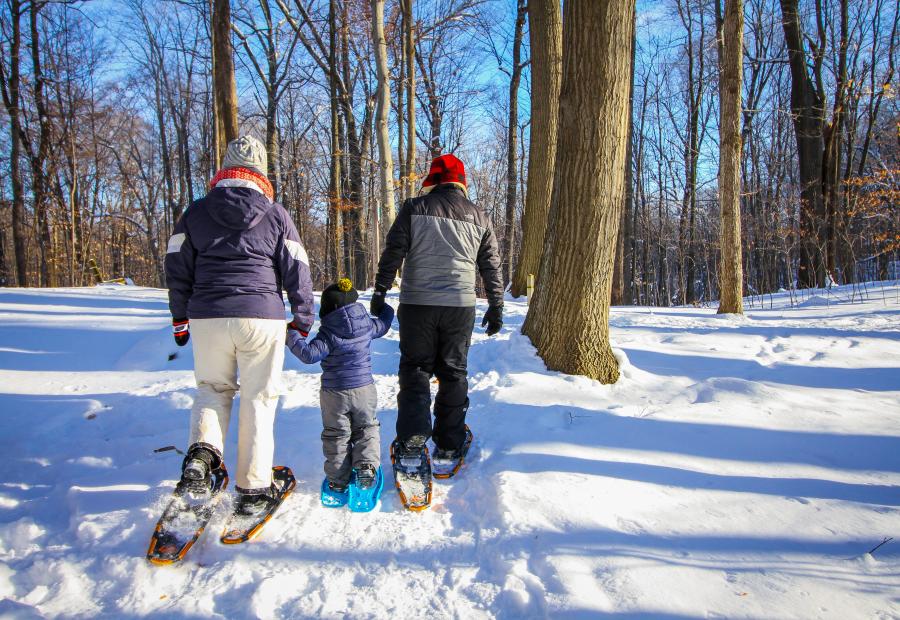 Strap on your own snowshoes and hit the trails in the Grand Rapids area.
Photo by Experience Grand Rapids
Bring Your Own Snowshoes
Cannonsburg Ski Area
Cannonsburg Ski Area is a winter sports mecca for the Grand Rapids area, featuring nine miles of color-coded, interconnected trails that loop around the traditional ski runs. It's not uncommon to see cross country skiers, trail runners, and fat-bikers in full pursuit of their own snowbound activities. Share the trails, and everybody will have a great time.
Frederik Meijer Millennium Park Trails
Adjacent to Grand Rapids' thriving West Side, Millennium Park in winter is a snowshoeing gem. It features 14,000 acres of explorable land including six miles of frontage on the Grand River. Winter parking is available at the Butterworth Street and O'Brien Road trailhead as well as an offseason lot on the east side of Maynard Avenue. The 18 miles of paved trails aren't plowed, so they're perfect for hardy adventurers. While the trails are ungroomed, make sure to stay respectful of cross country ski tracks.
Luton Park
This multi-use park in Rockford offers nearly 10 miles of ungroomed trails in six connected loops of mostly wooded terrain with a stream valley. The trails were primarily designed for mountain biking, but the park is very popular with snowshoers and cross-country skiers come winter.
Provin Trails Park
The deep set pines and more than a mile of interconnected trails at Provin Park are perfect for an afternoon escapade. The center dune makes for a compelling winter challenge – both huffing up it and navigating the sometimes ungainly snowshoes on the quick trot down. Near immediate access to the surrounding area means a post-hike burger and brew aren't hard to track down.
Seidman Park
Various loops of natural-surface trails allow snowshoers to explore the different environments found in this Ada park. The trails are not groomed in the winter but they receive regular use so the path is usually easy to follow. Trail lengths range from an easy quarter-mile loop off the south parking lot to nearly four miles if you follow the entire perimeter of the system.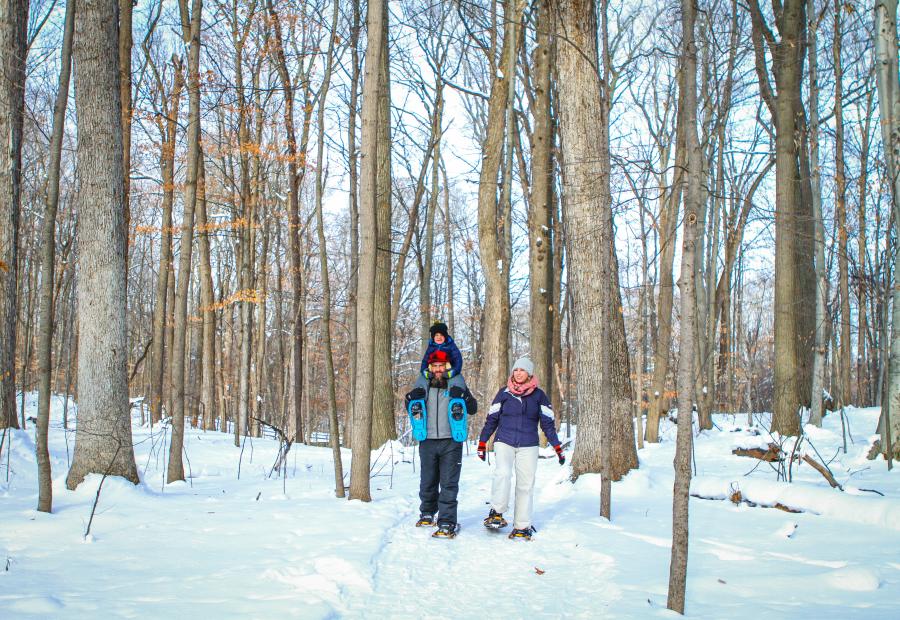 Make your own tracks in the snow while outside in the cool, crisp air.
Photo by Experience Grand Rapids
Whether you like to play indoors or outside, there's no shortage of winter fun in the Grand Rapids area.