With over 90 music venues, Grand Rapids has an impressive music scene that offers many places to dance the night away.
Experience Grand Rapids polled their followers on social media to find out the best places in town to "cut a rug."
Here's what they had to say: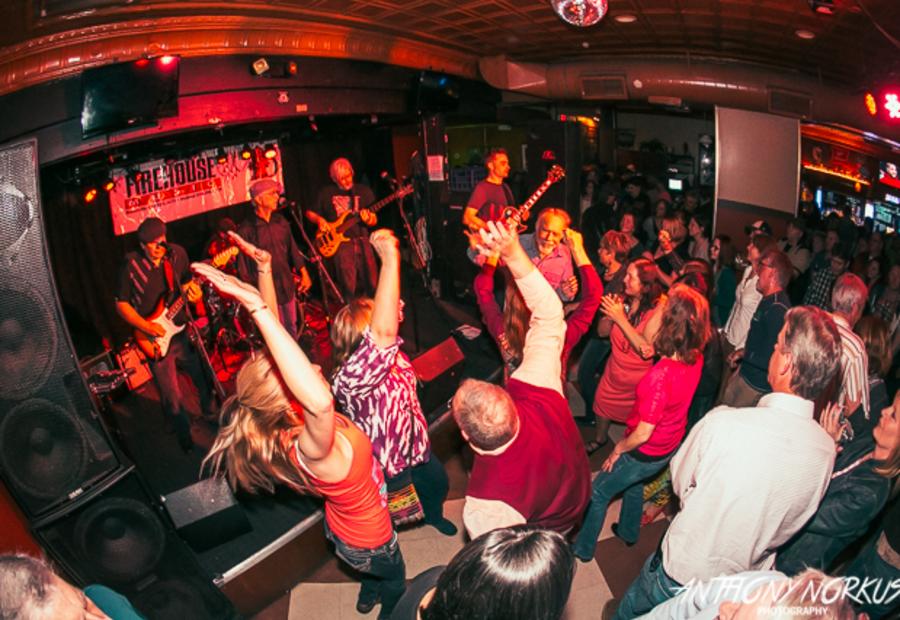 Although Billy's is deeply rooted in Blues, performances from all genres can be heard blazing from its stage on any given night.
Photo by Experience Grand Rapids
Billy's Lounge
Grand Rapids' Uptown neighborhood is the perfect destination for a walkable night out thanks to its restaurants, bars, breweries, and clubs all within a few blocks of each other.
Billy's Lounge is a top dancing spot in Uptown and offers a variety of music genres depending on which night you visit:
Billy's features live music beginning at 9:30 PM every Friday and Saturday. Guests over 21 years old must pay a $7-$10 cover charge.
On Sundays, Billy's hosts multiple DJs from 7 to 11 PM, plus there's no cover charge. 
Mondays are all about electronic music. Guests over 21 years old must pay a $2 cover charge after 11 PM.
Wednesdays are Latin Night and for $5 you can get a "Fuego" dance lesson from 8 to 9 PM and avoid paying a cover charge later on. Otherwise, a $5 cover charge for guests over 21 years old begins at 9 PM. DJs spin Latin music beginning at 9:30 PM.
Students can join the fun every Thursday for College Night Thursdays. Guests over 21 years old must pay a $10 cover charge from 9 PM to midnight, or $5 with a college ID.
Billy's Lounge offers Happy Hour discounts every day from open until 6 PM. Guests under 21 years old are not permitted at Billy's Lounge.
Rumors Night Club
Rumors Night Club is another conveniently walkable dancing destination located in the Heartside neighborhood near downtown.
Known as Grand Rapids' most popular gay bar and dance club, Rumors is open every night with a variety of specials throughout the week, subject to change:
Rumors is now 21+ on Mondays, Wednesdays, Thursdays, Fridays, and Saturdays. 18+ every Sunday and Tuesday.
Rumors features Karaoke every Monday and Wednesday starting at 10 PM.
Rumors Night Club presents Amateur Cabaret every Tuesday starting at 10 PM with DJ Timmy T.
Thursdays are Thirsty Thursdays, where you can get up to 1/2 off alcohol open to close. Enjoy the open dance floor all night with DJ Monica Parker. $3 cover.
Fridays are Fab Fridays, and feature the current pop hits played by DJ Monica Parker beginning at 10 PM. $5 cover.
The dance floor opens at 10 PM every Saturday for Sizzlin' Saturdays.
Show Nights are reserved for every Sunday at 9 PM.
Grand Woods Lounge
The Grand Woods Lounge is a fan-favorite thanks to its wooded-lodge decor, but vibrant atmosphere.
The Woods features live musicians who play a wide variety of genres every Friday night from 9:30 PM to 2 AM, and local DJs spin current hits every Saturday from 9:30 PM to 2 AM. 
The Woods offers Happy Hour specials on food and drinks every Monday to Friday from 3 to 6 PM. 
After 9 PM on Thursday, Friday, and Saturday, cover charges fluctuate between $5-10. Guests under 21 years old are not permitted at Grand Woods Lounge.
Twisted Bull
Slightly off the beaten path, the Twisted Bull is a fun destination if you're staying close to the Gerald R. Ford International Airport.
The Twisted Bull offers live country music every Friday and Saturday from 9 PM to 1 AM, along with free mechanical bull rides from 9 PM to 1 AM.
The Twisted Bull has nightly specials for entertainment, drinks, and food:
Every Monday games of pool are free from 9 PM to 1 AM
Karaoke is offered every Monday, Tuesday, Wednesday, and Thursday from 9 PM to 1 AM.
Guests under 21 years old are not permitted at the Twisted Bull. Guests over 21 years old must pay a $4 cover charge on Friday and Saturday after 8 PM. 
The Holiday Bar
Nestled in Grand Rapids' West Side neighborhood is The Holiday Bar. The bar boasts an indoor bar, outdoor patio bar and bier garden, and plethora of TVs. Get your "dance on" every Friday from 6 PM to 10 PM and Saturday night from 10 PM to 2 AM with DJs spinning current hits.
Guests under 21 years old are not permitted in The Holiday Bar after 8 PM.
The Holiday Bar also offers Happy Hour every Monday to Thursday from 3:30 to 6:30 PM, in addition to other specials throughout the week.
These are just a few of the 'hottest' dance floors in Grand Rapids. Dance on, Grand Rapids!
This was originally written by Lyndsay Daly. Please check with individual businesses to confirm days and times as they may have changed.