An escape room is an immersive, real-life adventure game that players solve (or not) via collaboration and brainpower. Most escape rooms offer a variety of themes or missions that players can choose from, and that choice dictates the shape of the game. The concept is typically this simple: you and your friends are locked in a room with only 60 minutes to make it out before calamity strikes. You'll decipher clues, break codes, crack combinations and tackle puzzles on your way to completing the challenge.
There were only about two dozen escape rooms across the country 10 years ago but today there are almost 2,000 today, reflecting a growing appetite for a fun, unusual activity that friends, family or work colleagues can engage in together. Grand Rapids is home to a number of escape rooms, each offering different themes and experiences. Here's a brief overview of what you can expect at each one.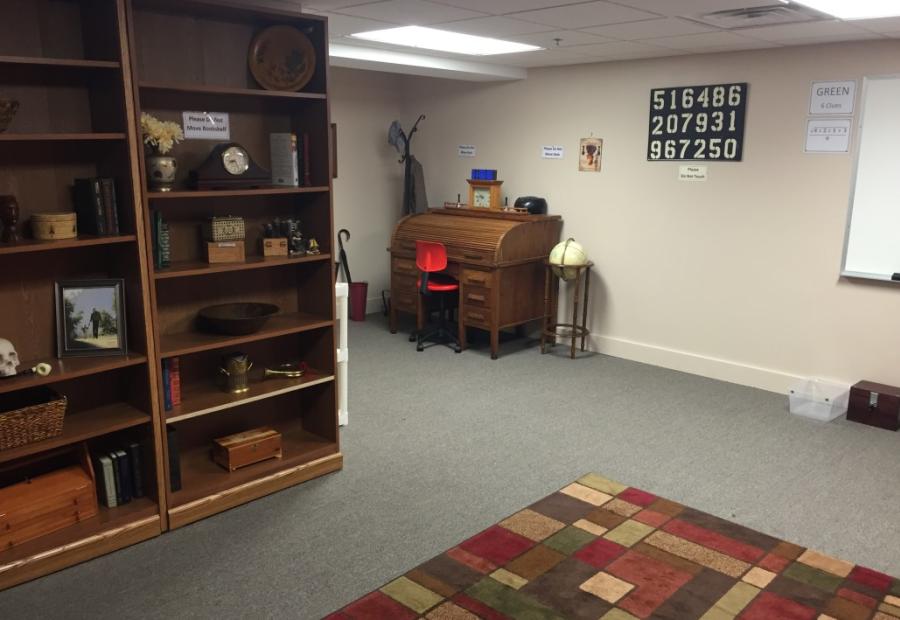 Sherlock Holmes' Library before the guests arrive.
Photo by The Great Escape Room
2675 East Paris Ave. SE, Ste A, Grand Rapids 49546
This escape room close to Woodland Mall invites you to choose from four themes: The Cure (tasking you to find the antidote to a bioweapon), Judgment (which traps you in a jail cell), LiCastro's Lair (can you get out before the vampire rises from his coffin?) and Hacker Corruption Disruption (make your way out of a top-secret government research facility with data intact).
Each room accommodates anywhere from two to ten people, depending on the game. Participants under 16 must be accompanied by a parent or guardian.
233 E. Fulton Street, Suite 211, Grand Rapids 49503
Infirmary: Surgical Crisis, Poker Night at the President's Bunker, Escape Artist: The Final Séance and Mountain Murders are the mission choices at this downtown GR escape room. There are also two Scavenger Hunt Rooms – Sherlock's Study and Moriarty's Gameroom – which are fun for all ages and experience levels.
Group sizes in each room range from eight to twelve. Players under 16 must be accompanied by a parent or guardian. A Portable Escape Experience can bring the game to you.
2035 28th Street, Grand Rapids 49508
Take a trip back to the Old West in the Wanted room, investigate a neighbor's creepy secrets in the '80s-themed Apartment 460, or try to find your way out of Lou's Garage before Lou arrives with a hit man to bump you off. Each room is assigned a different level of difficulty to help you decide which to play.
Rooms hold between 2-8 players, depending on the scenario. Anyone under 16 requires an adult supervisor.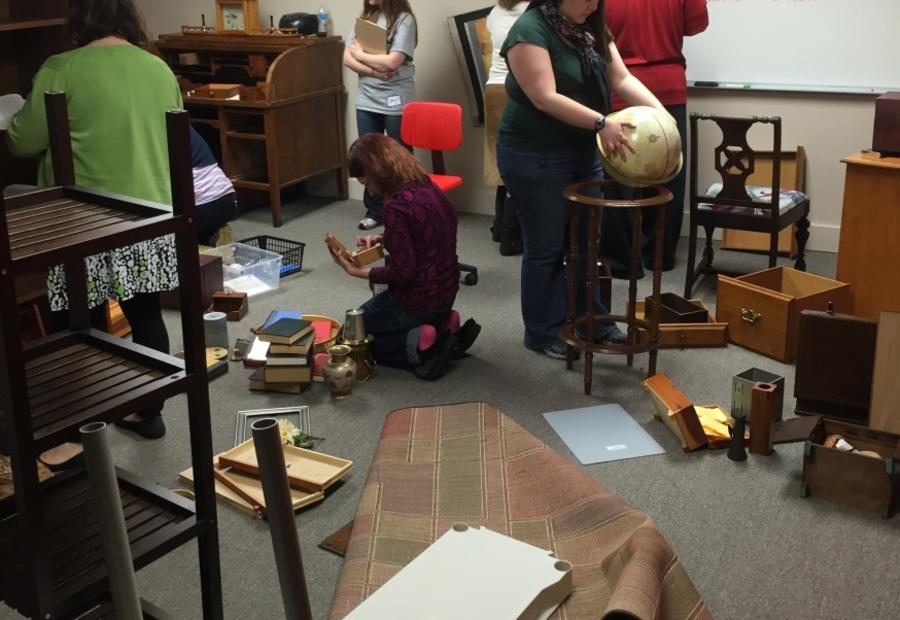 Find your way out of the library through a series of puzzles and strategy.
Photo by The Great Escape Room
25 S Division Ave., Grand Rapids 49503
This downtown escape room presents a choice of three missions: The Trophy Room, in which you must discover what happened to the world's most renowned huntsman; The Inventor's Guild, which puts you on the trail of a rogue inventor; and Checkmate, which requires players to solve some puzzles without the help of the rest of the group. The Ruse also offers an Outdoor Escape Room, requiring you to follow clues to 10 locations in the heart of downtown GR.
You can book a private room for 3-8 people, get paired with other small groups to escape together or engage in a head-to-head race against the clock with another group – your choice. Anyone can participate, but rooms are recommended for ages 13 and up and anyone under 18 must be accompanied by a legal guardian. The Ruse is a street-level, ADA-accessible facility.
Abandoned Acres Escape Rooms
126 E Division St., Sparta, 49345
New in January 2023 from the creators of the popular Abandoned Acres Farm Haunted Attraction, this escape room – dubbed Trapped Mineshaft Escape – is actually a series of highly detailed rooms equipped with digital sound and lighting, CGI effect and hidden doorways.
There are eight player slots available for each game, so you may be teamed with others if your party isn't that large. You can also book a private room for your group. There are no age restrictions, but the game is designed to be challenging for teens and adults. Anyone 15 years and younger must be accompanied by an adult.
2923 28th St. SE, Grand Rapids 49512
This one gets an honorable mention in the escape room category. It's actually a vertical reality arcade in which players strap on VR goggles to play a wide variety of games – including several that mimic the escape room format. The difference is you have only your own wits to rely on.
Note: Tickets should be booked online in advance at each attraction. Themes are subject to change without notice.