The art scene is an integral part of Grand Rapids and locals know outdoor art is everywhere you look downtown. Whether it's your first visit, or you live nearby, here are suggestions for "must-see" outdoor art and art-related experiences. Each of the following 10 works of art has an interesting place in Grand Rapids' history and are easy to view as you walk around downtown.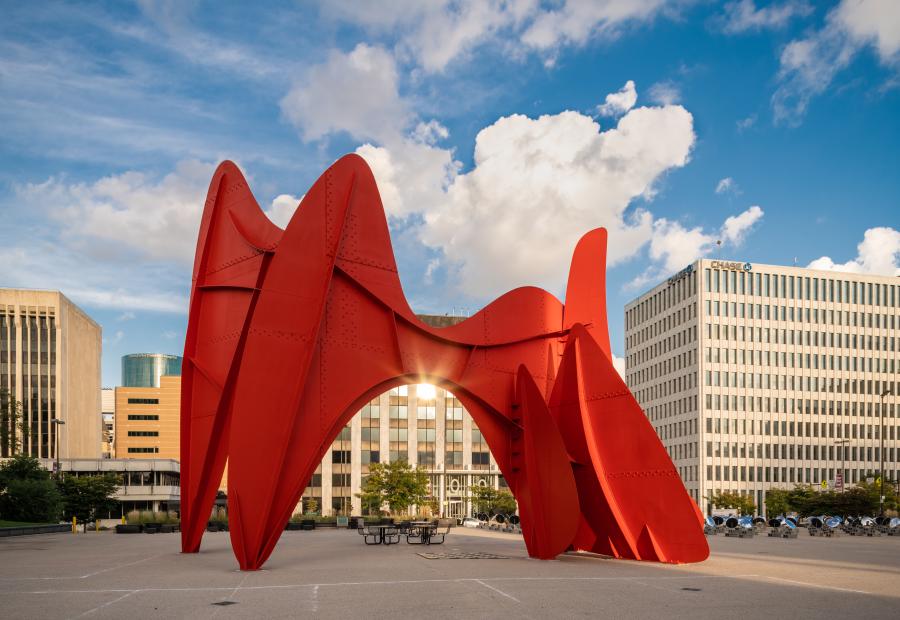 An integral part of Grand Rapids, a likeness of La Grande Vitesse is in the city's official logo.
Photo by Experience Grand Rapids; La Grande Vitesse Alexander Calder
La Grande Vitesse
In 1967, Grand Rapids commissioned American sculptor Alexander Calder, widely considered one of the most important American sculptors of the 20th century, to create a piece of art for the city. Two years later, La Grande Vitesse was installed in Vandenberg Plaza. The sculpture celebrated its 50th anniversary in 2019.
The bright red, 42-ton sculpture measures 54 feet long, 43 feet high, and 30 feet wide. It is such a part of Grand Rapids' history that its likeness is incorporated into the city's official logo. "The Calder," as it is often referred to by locals, is one of the city's top photo spots.
Lorrie's Button
This Pop Art-style sculpture by Hy Zelkowitz, which resembles a 14-foot-wide red button, was installed for Grand Rapids' 1976 Festival of the Arts, a community-wide celebration that continues to this day. Its designed for children to play on it and its buttonholes are large enough to peek through, providing a great photo op.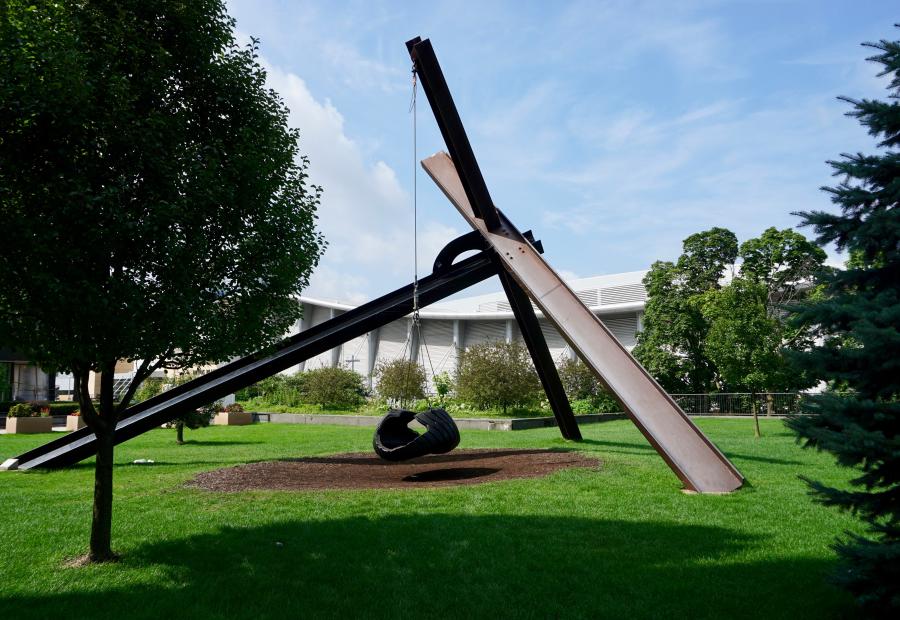 The name "Motu Viget" is Latin for "strength in activity."
Photo by Brian Craig for Experience Grand Rapids
Motu Viget
Standing 33 feet high and made from 12 tons of industrial steel I-beams and rubber, this kinetic sculpture is commonly known as "the tire swing." Its name is a Latin phrase (and the official city motto) meaning "strength in activity." Motu Viget was designed by National Medal of Arts honoree Mark di Suvero.
Civic Auditorium Reliefs
The Civic Auditorium opened in January of 1933 and for 50 years was home to myriad community events. The auditorium was eventually demolished but its edifice is now incorporated into DeVos Place Convention Center, and it retains two square limestone relief sculptures created in the Art Deco style by artist Corrado Parducci.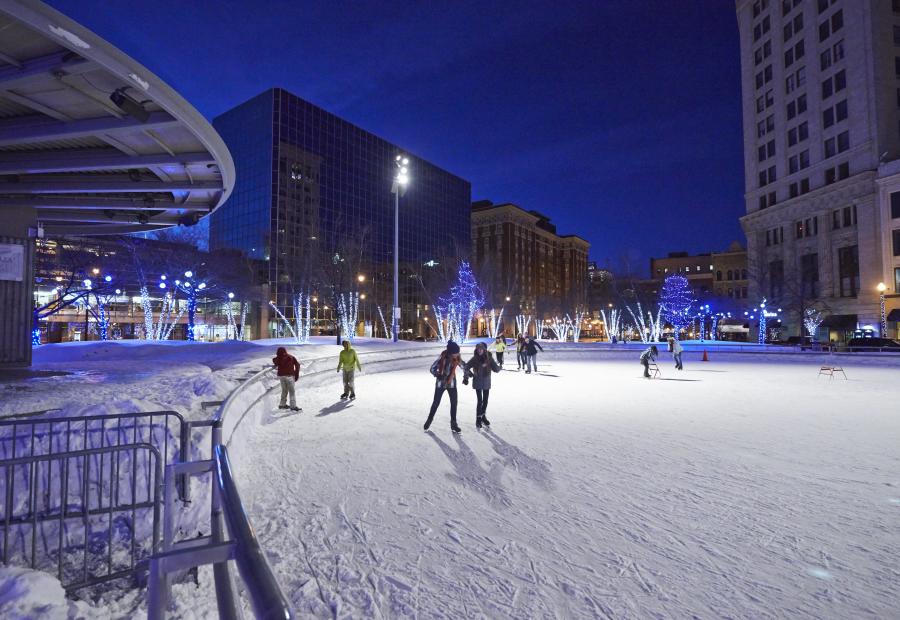 The heart of Ecliptic becomes an ice skating rink in the wintertime.
Photo by Experience Grand Rapids; Ecliptic (detail), Maya Lin
Ecliptic
Ecliptic is a 13,000-square-foot oval concrete amphitheater designed by Maya Lin, creator of the Vietnam Veterans Memorial in Washington, D.C. Installed in 2001 and renovated in 2022, it is both a sculpture and a public gathering space incorporating three forms of water – liquid, vapor and solid (in winter, when it serves as an ice skating rink) – to illustrate the importance of the Grand River to Grand Rapids. Ecliptic is located in the 3.5-acre plaza known as Rosa Parks Circle.
Stand Up for Rosa Parks Statue
Created by Denver artist Ed Dwight, this bronze statue is a likeness of and tribute to the "Mother of the Civil Rights Movement." Erected and dedicated during the 2010 ArtPrize competition, it stands at the entrance to Rosa Parks Circle.
Spirit of Solidarity
The three larger than life bronze figures in the Spirit of Solidarity monument, carved and cast by Roberto Chenlo, symbolize the people involved with and affected by the great furniture strike of 1911, when 4,000 Grand Rapids workers took off their shop aprons and walked away from their jobs.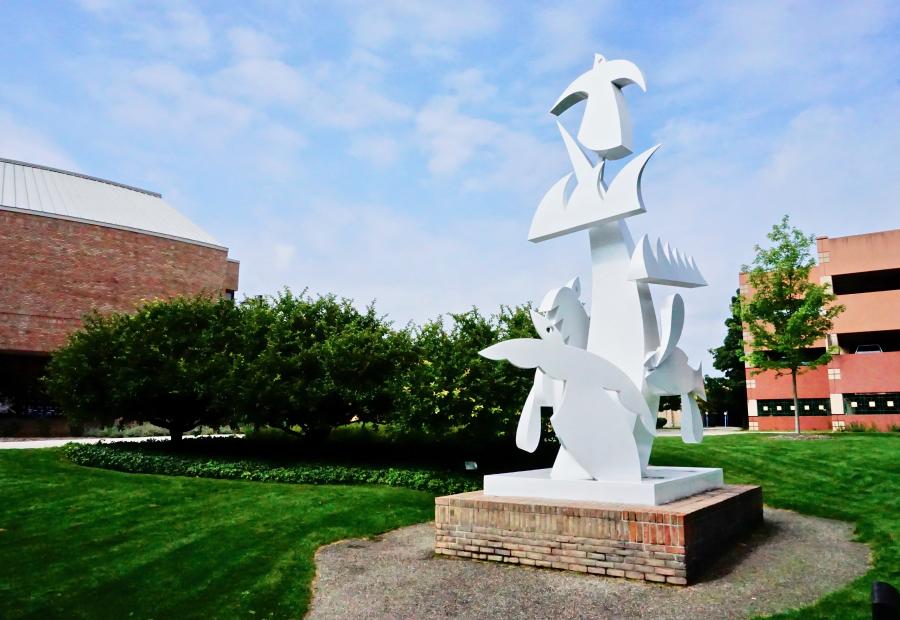 The shapes in the The River's Edge reflect the wildlife typically found by a river, like fish and birds.
Photo by Brian Craig for Experience Grand Rapids
The River's Edge
This 25-foot tall abstract painted steel sculpture was created by internationally acclaimed sculptor James Clover in 1988. With each step around The River's Edge, the shapes appear to shift slightly, interacting with the others in different ways. It's located on the downtown campus of Grand Valley State University (GVSU), where Clover taught for many years. 
Steel Water
Located adjacent to the Grand River and the JW Marriott Hotel, this 33-foot tall structure by contemporary Dutch artist Cyril Lixenberg commemorates Grand Rapids becoming the first city in the world to add fluoride to its drinking water. The five-ton Steel Water sculpture uses steel-shaped waves, painted bright blue, to represent flowing water.
Fish Ladder
Artist Joseph Kinnebrew designed this functional sculpture, which allows migrating fish to bypass the Grand River's rough waters and jump up the "ladder" in their seasonal migrations. It's located along the paved Grand River Edges Trail.