Gilda's LaughFest debuted in 2011 in Grand Rapids as the first-ever community-wide comedy festival in the nation.
Every year, internationally-renowned comedians and local talent tickle the funny bones of the festival's 50,000 attendees during stand-up and improv performances, comedy showcases, and other seriously funny events and activities.
Organizers behind the 10-day festival use LaughFest as a platform to emphasize the positive impact that laughter has on our emotional and physical wellbeing, while also supporting Gilda's Club of Grand Rapids.
Hannah Dayton, LaughFest Marketing, Communications, and Events Manager, says LaughFest was initially created to celebrate the tenth year of operations for Gilda's Club of Grand Rapids. 
"We hoped to achieve visibility for who we are and the work we do. Ten years later, our focus and vision remain the same," says Dayton. "Gilda's LaughFest continues to be an innovative conduit to create dialogue about how we handle the tough stuff in our life, like cancer and grief, and the full range of emotions that our members encounter as they navigate their new normal."
The 10th anniversary of LaughFest will take place March 5–15 and includes more than 150 free and ticketed events. It will feature 100+ artists performing at 40+ venues in Grand Rapids, Lowell, and Wayland.  
As we reflect on 10 hilarious years and look forward to this year's festival of funny, here are 10 seriously funny facts about LaughFest.
LaughFest has provided vital funding to support Gilda's Club operations, helping to ensure our services remain free to the more than 10,000 people served annually.
Hannah Dayton, Marketing, Communications, and Events Manager for LaughFest
All proceeds benefit Gilda's Club of Grand Rapids
Gilda Radner is arguably one of the most famous names in the history of comedy. Her impressive résumé includes being a cast member on Saturday Night Live, starring in numerous films with her husband, Gene Wilder, and performing on Broadway.
Radner's life and career were cut short when she died in 1989 after battling ovarian cancer, but she left more than just the echoes of laughter behind. During her treatments, she became a part of a cancer support community that made such a positive impression that she dreamt of providing a similar community for others. 
After Radner's death, Wilder and Radner's cancer therapist, Joanna Bull, began planning Gilda's Club — a free cancer support community. The first Gilda's Club opened in New York City in June 1995, and Gilda's Club of Grand Rapids opened its doors in 2001.
Since then, Gilda's Club of Grand Rapids has been providing free emotional support and programs to anyone who has been a part of any kind of cancer journey or who are grieving the death of someone in their life due to any cause.
LaughFest both honors Radner's legacy of laughter and supports the mission of Gilda's Club of Grand Rapids by donating 100% of the proceeds to the organization.
"LaughFest has provided vital funding to support Gilda's Club operations, helping to ensure our services remain free to the more than 10,000 people served annually through our Grand Rapids and Lowell Clubhouses and community-based programs," says Dayton.
All-Star comedians perform in Grand Rapids
Question: What do famous comedians Amy Schumer, Jay Leno, Betty White, Whoopi Goldberg, Seth Meyers, and Martin Short all have in common?
Answer: They've all made audiences burst into laughter during LaughFest.
That list of names only scratches the tip of the iceberg of popular performers who have appeared during the festival, and this year's names aren't any less noteworthy.
This year, headlining shows include the Signature Event with Jeff Foxworthy, Jim Gaffigan, Miranda Sings (with Special Guest Colleen Ballinger), Russell Peters, Maria Bamford, Justin Willman, Ralph Harris, and more.
Local talent shines during LaughFest
LaughFest doesn't only shine the spotlight on internationally-known comedians; it also provides a stage for local talent.
This year on March 11-14, at the Midwest's Finest Stand-up Show join seven local comics in a stand-up representing the best the midwest has to offer.
View the Full Event Line-up
Four world records have been broken by the Grand Rapids community to help kick off LaughFest 
When you're telling your friends about the awesomeness of Grand Rapids, you might mention that it's been named Beer City USA, a "Best Travel Destination in Michigan for 2020," or even a "Best Place to Retire in the U.S."
Now you can add that the Grand Rapids community has broken four world records in the past thanks to the organizers of LaughFest. 
For six out of its nine years, LaughFest has kicked off with a community effort to attempt to break a world record. The first challenge during the inaugural festival was attempting to break the record for the world's largest rubber chicken toss.
"When the team was planning that first festival back in 2010/2011, they really wanted a fun and whimsical event that was accessible to the broader community to engage in smiles and laughter together," says Dayton. "At the time, not many world record attempts had been made in West Michigan, and we were thrilled when the community helped kick our first festival off with a bang by throwing 925 rubber chickens."
The other three world records broken during LaughFest included the largest gathering of people wearing sunglasses at night, the largest gathering of people wearing animal noses, and the largest gathering of people wearing fake mustaches.
To celebrate the festival's 10th anniversary, the world record attempt challenge is back. The West Michigan community is invited to try to break the world record for the largest gathering of people wearing mismatched socks on March 7 at the Studio Park Piazza. The festivities will begin at 1:30 PM and LaughFest organizers need at least 1,000 people in place for the official headcount at 3 PM (so all participants need to be in place by 2:45 PM).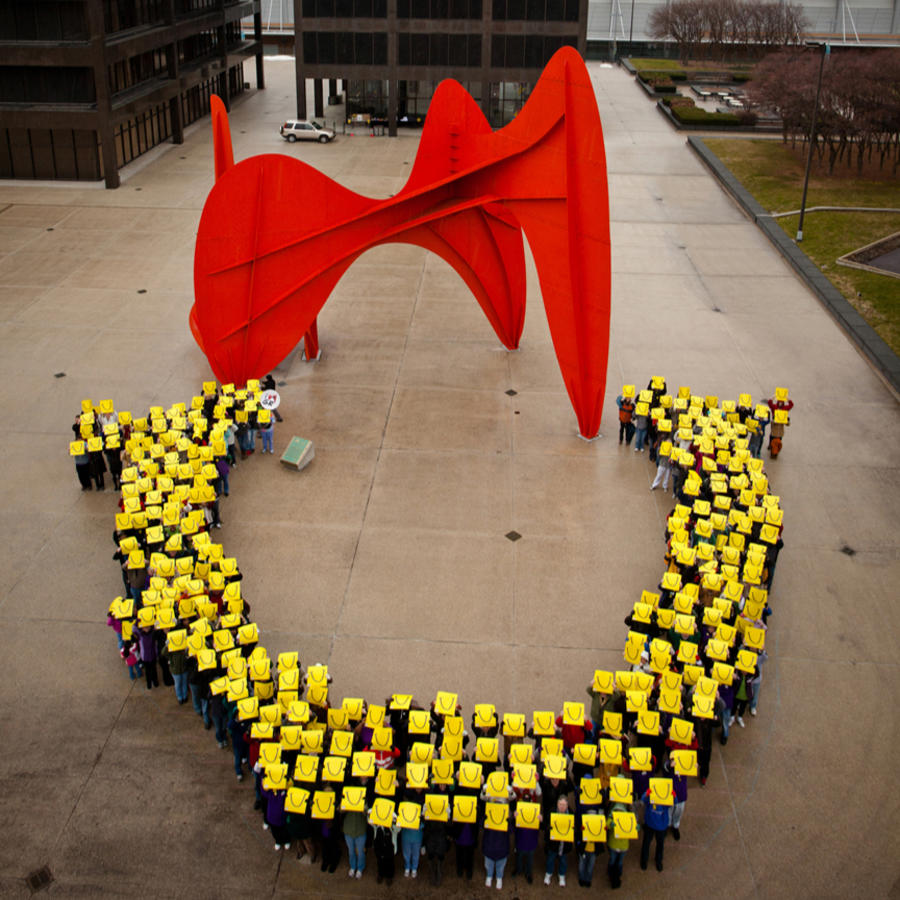 LaughFest doesn't shy away from off-the-wall events, like this gathering that kicked off the festival in 2011.
Photo by LaughFest GR
More than half of festival events are free
The creative minds behind LaughFest strive to make laughter accessible for everyone, which is why more than 50% of festival events are completely free to attend. 
At no cost, you can enjoy the LaughFest Sketch/Improve Showcase on March 15 at The Comedy Project, where you may just see a star being born, as new talent to the sketch/improv comedy scene takes the stage.
Plus, Sunday Night Funnies returns to LaughFest again on March 8 and March 15 to give the microphone to stand-up comics from around Michigan and the country. Sunday Night Funnies also occurs outside of LaughFest as a weekly live stand-up comedy show that takes place at 7:30 PM at Woody's Pressbox. The Sunday Night Funnies event has been a part of LaughFest since the festival began and has raised more than $25,000 for Gilda's Club of Grand Rapids.
A few other free shows to check out this year are the What Makes You Smile Student Showcase, Funny Girls – Grand Rapids, The Musical!, You Have 2 Minutes: Brian Kelly's Favorite LaughFest Portraits, and more!
You can find more information about all of this year's free performances on the LaughFest website.
The festival offers "clean comedy" shows
Comedy with mature content isn't everyone's flavor, so that's why LaughFest offers a variety of clean comedy acts.
In fact, headliners like Jeff Foxworthy, Jim Gaffigan, and Miranda Sings are all in the clean comedy category for this year's LaughFest. 
Another must-see clean comedy act this year is the Clean Comedy All-Stars Showcase, which features six artists: Kermet Apio, Gina Brillon, Erin Jackson, John Novosad, Louis Ramey, and Joe Zimmerman. 
While these shows may still include content that could be considered "suggestive," they exclude adult content, vulgarity, and profanity.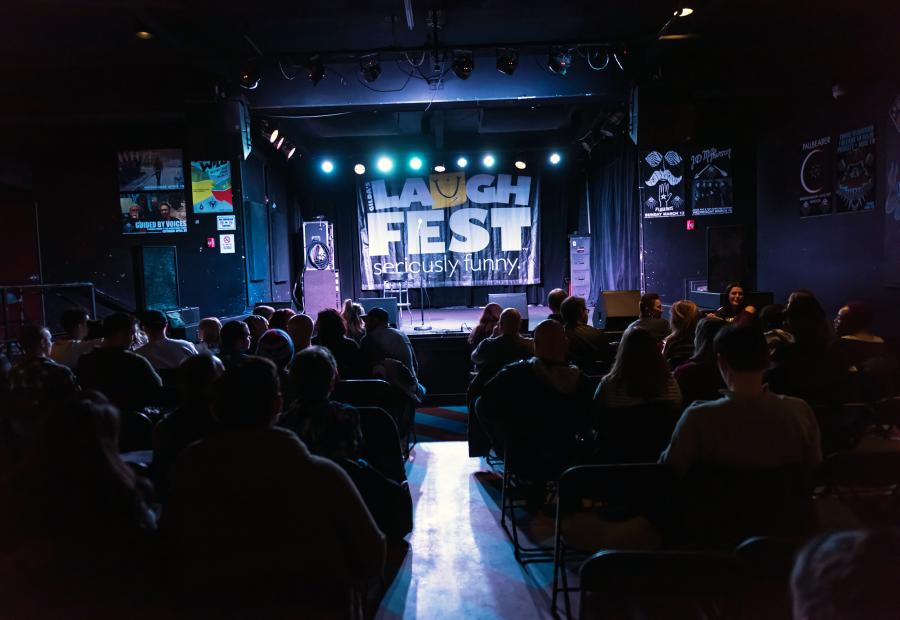 LaughFest offers shows and events for everyone, and their family friendly events mean even little kids can get in on the fun.
Photo by LaughFest
LaughFest provides laughter-inducing activities for the entire family
The laughter heard during LaughFest echos well beyond the multitude of stage-based performances. 
There are also activities that will be fun for the entire family, like the Kids Rock Hip Hop Dance Party taking place at The B.O.B. on March 8 and Super Saturday Fun Zone on March 16 in the Grand Rapids Community College Fieldhouse. 
The latter will be a themed kids' carnival featuring surprise guests, inflatable activities like a velcro wall, dancing, kid-friendly music, games, mini-golf, Grand Rapids Police Department karaoke, and much more.
And if your child enjoys making people laugh, the stage will be ready for them to tell their best jokes during two Kids Joke Time events, one in Grand Rapids and the other in Holland on March 14. These events are also free.
The festival is run by an army of seriously awesome volunteers
It certainly takes a village to produce a 10-day festival of laughter in and around Grand Rapids, so every year 600+ volunteers are recruited to put smiles on the faces of the festival's 50,000+ attendees.
Volunteers serve in various roles from welcoming attendees, providing directions, and answering questions on the Smile Team to special teams that oversee merchandise, transportation, photography, and more.
Anyone 16 years old or older can volunteer, and there are no minimum or maximum time commitments when volunteering. 
If you would like to volunteer for LaughFest, visit the festival's website, email volunteer@laughfest.org, or call (616) 735-4242.
We believe emotional health care is an integral aspect to care when life's tough stuff happens.
Joanne Roehm, Director of Strategic Initiatives & LaughFest at Gilda's Club.
You can "laugh for the health of it" during Laughter Rx events
You can laugh, not only for the fun of it but also for the health of it, during LaughFest. 
The festival offers a series of Laughter Rx events that focus on and celebrate the beneficial impact laughter can have on physical, emotional, and mental health. 
New this year during LaughFest 10 will be the first Laughter Rx Symposium on March 6 at Gilda's Club of Grand Rapids, titled "Emotional Health: The glue that holds us together when life's tough stuff happens." 
This half-day conference will explore stress relieving properties of laughter and how laughter can even be beneficial in the care of the seriously ill.
"We believe emotional health care is an integral aspect to care when life's tough stuff happens," says Joanne Roehm, Director of Strategic Initiatives & LaughFest at Gilda's Club. "We look forward to bringing together professional care providers as well as those on a chronic disease journey or caring for someone on such a journey to explore humor's role in health care, mitigating provider burnout and emotional health care best practices."
The symposium will include multiple presentations by professional care providers, including:
Jayson L. Dibble, Ph.D. — "Humor, Laughter, and Well-Being: What Does the Research Tell Us?" (Keynote)
David L. Sharp, MD — Punching Holes in the Darkness: How Humor can Help in Times of Tragedy and Sadness
Andrew Kline, M.D., Pharm. D. — Pain Management in a Painfully Painful Environment: Challenges and opportunities to pain management in the Emergency Department
As an added bonus for social workers and nurses, there will be an opportunity for three continuing education credits for those who attend all three presentations.
You can learn about the behind-the-scenes of the festival by listening to the LaughFest Podcast
Serving as the host of the LaughFest Podcast, Roehm sits down with LaughFest volunteers, partners, and artists from the last 10 years to illuminate details about behind-the-scenes logistics and explore the festival's local, regional, and national impact.   
The first two episodes feature original LaughFest co-chair Carroll Velie and Gilda's Club President and CEO Wendy Wigger who talk about the history of LaughFest.
You can expect to find new episodes of the LaughFest Podcast every other Friday during the festival. To listen, visit the LaughFest website.
This post was originally written by Matthew Makowski.