Gilda's LaughFest debuted in 2011 in Grand Rapids as the first-ever community-wide comedy festival in the nation.
Every year, internationally-renowned comedians and local talent tickle the funny bones of the festival's 50,000 attendees during stand-up and improv performances, comedy showcases, and other seriously funny events and activities.
Organizers behind the festival use LaughFest as a platform to emphasize the positive impact that laughter has on our emotional and physical wellbeing, while also supporting Gilda's Club of Grand Rapids.
In fact, LaughFest was initially created to celebrate the tenth year of operations for Gilda's Club of Grand Rapids. The organization hoped the one-of-a-kind  would bring more attention to its cancer and grief support activities. (Mission accomplished!) Today, Gilda's LaughFest continues to facilitate a dialogue about how people handle the tough stuff in life.
LaughFest 2023 will take place March 8-12 and include events, social media contests and seriously fun and funny events for all ages. This year, the festival extends beyond Grand Rapids into Holland, Lowell and Gun Lake Casino in Wayland.
As we reflect on 13 hilarious years and look forward to this year's festival of funny, here are 10 seriously funny facts about LaughFest.
1. All proceeds benefit Gilda's Club of Grand Rapids
Gilda Radner is arguably one of the most famous names in the history of comedy. Her impressive résumé includes being a cast member on Saturday Night Live, starring in numerous films with her husband, Gene Wilder, and performing on Broadway.
Radner's life and career were cut short when she died in 1989 after battling ovarian cancer, but she left more than just the echoes of laughter behind. During her treatments, she became a part of a cancer support community that made such a positive impression that she dreamt of providing a similar community for others. 
After Radner's death, Wilder and Radner's cancer therapist, Joanna Bull, began planning Gilda's Club — a free cancer support community. The first Gilda's Club opened in New York City in June 1995, and Gilda's Club of Grand Rapids opened its doors in 2001.
Since then, Gilda's Club of Grand Rapids has been providing free emotional support and programs to anyone who has been a part of any kind of cancer journey or who are grieving the death of someone in their life due to any cause.
LaughFest both honors Radner's legacy of laughter and supports the mission of Gilda's Club of Grand Rapids by donating 100% of the proceeds to the organization.
2. All-Star comedians perform in Grand Rapids
Question: What do famous comedians Amy Schumer, Jay Leno, Betty White (RIP), Whoopi Goldberg, Seth Meyers, and Martin Short all have in common?
Answer: They've all made audiences burst into laughter during LaughFest.
That list of names only scratches the tip of the iceberg of popular performers who have appeared during the festival. Stars who will entertain LaughFest guests in 2023 include Tig Notaro, Pete Holmes, D.J. Demers, Daphnique Springs, Mike Vecchione and Charlie Berens, who will headline the Red Door Gala fundraiser a few days after LaughFest.
3. Local talent shines during LaughFest
LaughFest doesn't only shine the spotlight on internationally-known comedians; it also provides a stage for local talent.
Each year, local comics participate in a stand-up showcase representing the best the Midwest has to offer. This year's shows with local talent include the All Y'All Comedy Showcase, Cooking and Comedy with Chef Jenna & "Chef" Brianna, and improv shows from Battle Bots, River City Improv and Pop Scholars.
4. World records get set
When you're telling your friends about the awesomeness of Grand Rapids, you might mention that it's been named Beer City USA, a "Best Travel Destination in Michigan for 2020," or even a "Best Place to Retire in the U.S."
Now you can add that the Grand Rapids community has broken four world records in the past thanks to the organizers of LaughFest. 
For a number of years, LaughFest has kicked off with a community effort to attempt to break a world record. The first challenge during the inaugural festival was attempting to break the record for the world's largest rubber chicken toss. A grand total of 925 faux poultry pieces were tossed, breaking the then-record of 265 by a very wide margin.
The other three world records broken during LaughFest included the largest gathering of people wearing sunglasses at night, the largest gathering of people wearing animal noses, and the largest gathering of people wearing fake mustaches.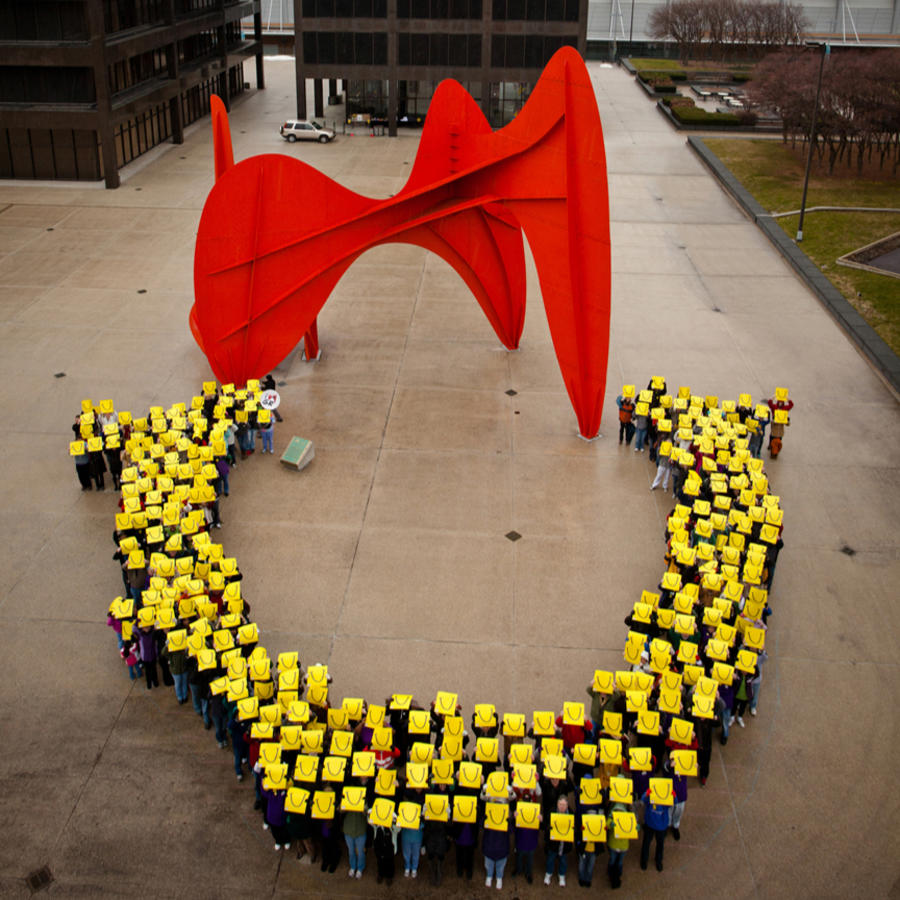 LaughFest doesn't shy away from off-the-wall events, like this gathering that kicked off the festival in 2011.
Photo by LaughFest GR
5. Many festival events are free
The creative minds behind LaughFest strive to make laughter accessible for everyone, which is why the majority of festival events have always been completely free to attend. 
This year's free events include the Seriously Funny Adventure Challenge, Sunday Night Funnies, Family Improv, the Cancer Survivor Showcase, All Y'All Showcase, Drums for All! and more.
6. "Clean comedy" shows are always offered
Comedy with mature content isn't everyone's flavor, so that's why LaughFest offers a variety of clean comedy acts.
In fact, many past headliners – like Jeff Foxworthy, Jim Gaffigan, and Miranda Sings – all fall squarely into the clean comedy category. An annual Clean Comedy Showcase is another source of gentle hilarity.  
While these shows may still include content that could be considered "suggestive," they exclude adult content, vulgarity and profanity. You can search for "Clean Adult Laughs" shows by clicking on Rating at the LaughFest Website.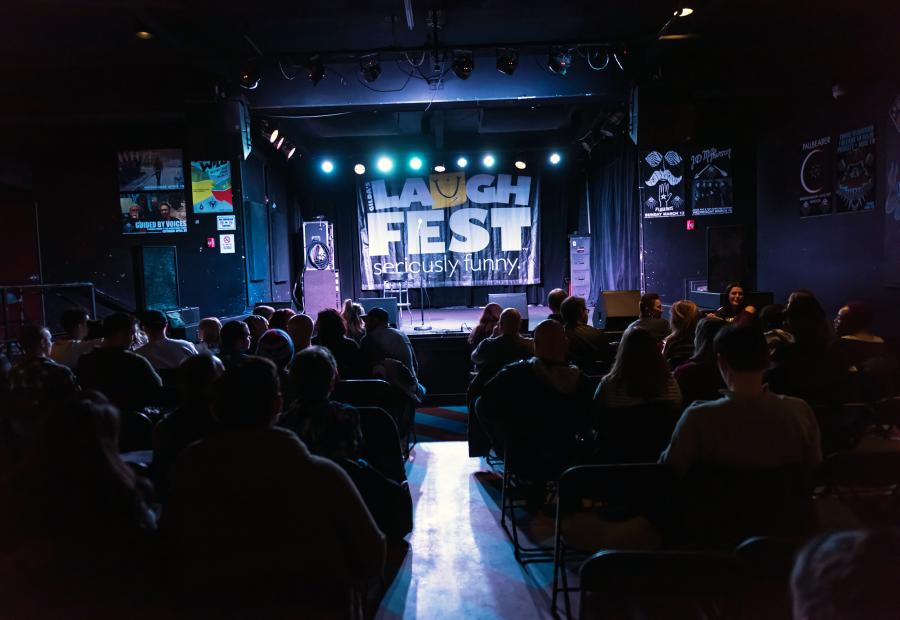 LaughFest offers shows and events for everyone, and their family friendly events mean even little kids can get in on the fun.
Photo by LaughFest
7. There are laughter-inducing activities for the entire family
The laughter heard during LaughFest echoes well beyond the multitude of stage-based performances. 
There are also activities that will be fun for the entire family, from LaughFest: Night at the Museum and Kids Joke Time to the Seriously Funny Family Adventure Challenge, in which invites family teams to tour downtown Grand Rapids while following clues and prompts provided at various stops. You can search for "Family Friendly" shows by clicking on Rating at the LaughFest Website.
8. The festival is run by an army of seriously awesome volunteers
It certainly takes a village to produce a festival of laughter in and around Grand Rapids, so every year hundreds of volunteers are recruited to put smiles on the faces of the festival's 50,000+ attendees.
Volunteers serve in various roles from welcoming attendees, providing directions and answering questions on the Smile Team to special teams that oversee merchandise, transportation, photography and more.
Anyone 16 years old or older can volunteer, and there are no minimum or maximum time commitments when volunteering. 
If you would like to volunteer for LaughFest, visit the festival's website or email Volunteer Manager Rob Johns.
9. You can "laugh for the health of it" during Laughter Rx events
You can laugh, not only for the fun of it but also for the health of it, during LaughFest. 
The festival has long offered series of Laughter Rx events that focus on and celebrate the beneficial impact laughter can have on physical, emotional, and mental health. 
This year, a Laughter RX Symposium will offer continuing education credits for health care professionals. It will be presented in a hybrid format with both in-person and virtual attendance options.
10. The LaughFest Podcast takes you behind the scenes
A 7-episode podcast series on the LaughFest website explores the festival's local, regional and national impact in its first decade of operation. Featuring conversations with volunteers, partners and artists, they're a great way to take a trip down memory lane and get an inside look at what goes into the logistics of the festival.
This post was originally written by Matthew Makowski. It has been updated by the Experience GR team.