With the popularity of electronic dance music (EDM) over the past 20 years, DJs are spanning the entertainment scene, even in Grand Rapids.
You can find DJs spinning the latest tracks at a variety of restaurants, bars, and performing and nightlife venues.
Here are just a few local DJs that are making waves both locally and beyond.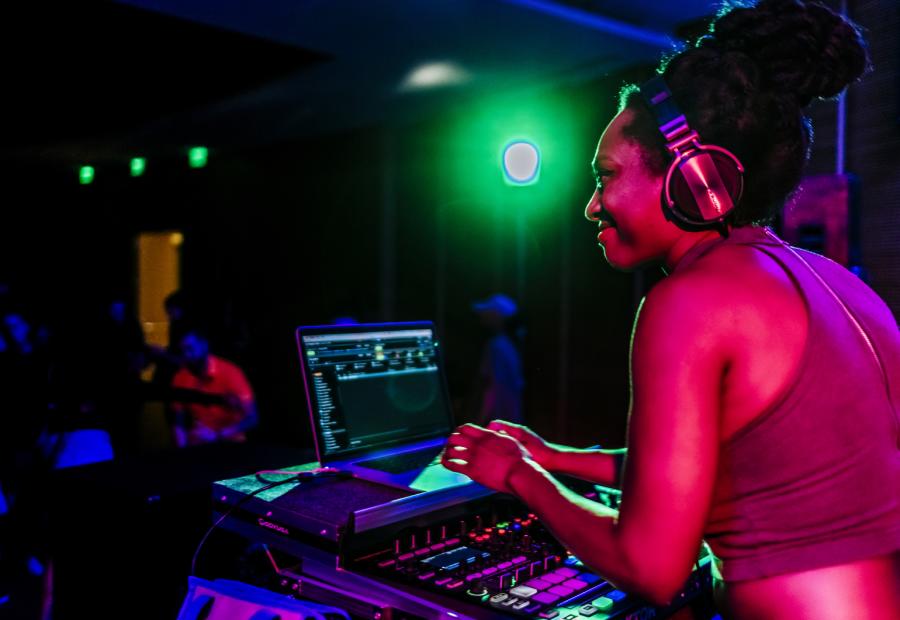 Nationally-touring artist, DJ SuperDre, has opened for numerous top EDM and rap performers.
Photo by Experience Grand Rapids
SuperDre (Andrea Wallace)
Andrea "SuperDre" Wallace, was born in the South Haven area, but spends her time living between Grand Rapids and Detroit.
Beginning in grade school, she delved deep into music, by learning to play the piano, saxophone, violin, and guitar, and evening producing her own original music."I mostly produce hip hop beats and electronic music, but have also done my fair share of classical composition. I studied music in school," SuperDre recalled.

In her early 20s, and after some encouragement from friends, SuperDre began lugging around her DJ gear to local house parties where she'd spin her original tracks, eventually landing her first DJ residency at My Place Bar on Division Avenue. Soon after, she got other gigs at The B.O.B. and (the now closed) Sixx Nightclub, among other spots.

"Then I founded BassBin at Billy's [Lounge] and ran that night for five or so years before moving to Los Angeles, and then to Detroit, where I've had residencies as well."
Keeping crowds moving can be tricky, but SuperDre has some advice for newbies.

"It depends on the style of music and the room," she said. "With hip hop and popular music, it's more about crowd control and ebbs and flows. With electronic music it's the same, but it's more of a consistent build for me."
Along the way, SuperDre has shared the stage with some big names, both in the EDM and rap industries.
"I've done after parties for Twista, Gucci Mane, T.I. and a lot of others," she said. "Doors really opened for me after opening for [California-based DJ/producer] Bassnectar. After that, I got booked for four tours with him. That opened the door for a lot of collaborations with many other artists. It got me plugged into the West Coast scene. Also, shortly after that I was picked up by a management agency in San Diego. They really helped to develop me as an artist."

During her time playing before thousands as the opening act of leading performers, like Bassnectar, SuperDre said she learned a lot about warming up big stages, which is a vital talent for emerging DJs.

"Skill-wise, the hardest slot is the opening slot," she explained. "Master the art of being a good opening DJ first. Almost anyone can rock out a headlining slot, but opening properly takes skill."
Becoming a nationally-touring artist may have affected her booking schedule, but Wallace said she has stayed true to her signature sound.  

"My production style has always been somewhere between house, minimal techno and future bass," she said. "I don't know that my style has changed a whole lot," she said. "Mostly, I think my music production has just gotten better—but overall style/sound has stayed pretty consistent.

"DJing is just one part of music that's part of my life," she added, "but I keep doing it because it gives me a platform to share music that I've created myself."
If you're looking to catch SuperDre's act, The Pyramid Scheme and 20 Monroe Live are common, year-round venues for her shows.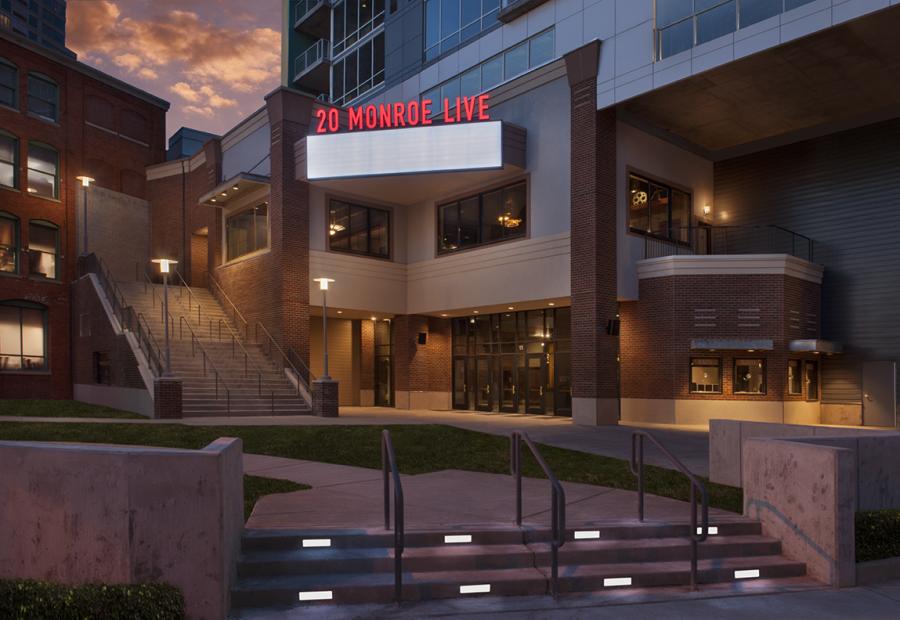 You can find DJ Composition spinning tracks at a variety of venues in Grand Rapids, such as GLC Live @ 20 Monroe, The Pyramid Scheme , The B.O.B., Billy's Lounge, and the Amway Grand Plaza.
Photo by Ryan Forbes
DJ Composition (Damien Allen)
Damien Allen, aka DJ Composition, isn't just a Grand Rapids-based DJ—he's also a podcaster, radio host, and event promoter.
The 30-something-year-old Allen began DJing at age 13 when he hung around a local (now closed) record store, Jammin' CDs & Tapes, often doing small chores just so he could take in the experience and atmosphere.
"I had to pay some dues, just to be around the equipment and learn what was going on," Allen said. "There wasn't an internet or a YouTube you could just type in and get info."

Soon after, Allen's early mentor, DJ Brown Hornet, offered him his first internship at 1680-A.M.
By age 16, Allen had DJed his first gig at teen night at Maxis a (now closed) Grand Rapids club. From here, Allen expanded his performances to clubs, schools, and concerts. Today, he's still performing and honing the perfect mix.
"My evolution today is just fine tuning the music to create the perfect soundscape—no matter if it's a high-energy dance party or a chill setting," he said. "I don't have a favorite genre right now. I just love all types of dope music."

Allen can be heard at a variety of local spots like 20 Monroe Live, The Pyramid Scheme, The B.O.B., Billy's Lounge, and the Amway Grand Plaza. He's also hosts the mix show, My Magic GR, on 104.9-F.M., and hosts a variety of patio parties during the summer.

"Music is the universal language and it can celebrate the victories of our lives and help us escape stressful moments," he said. "I always like to find the common denominator of the room; one or two songs that can connect with everyone. Once I get it going, I look to make a room full of strangers feel closer by the end."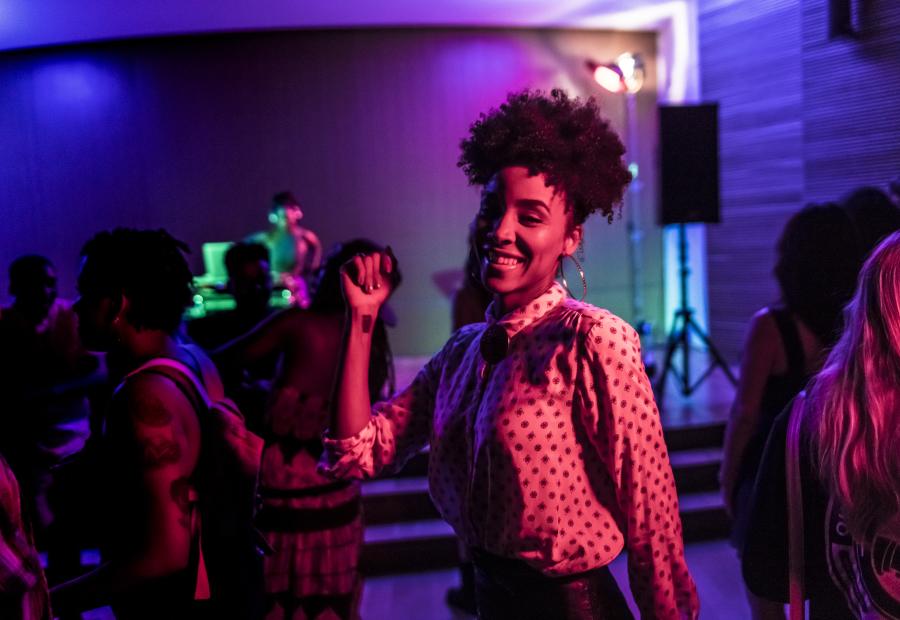 Smiling woman dancing at a night club in Grand Rapids
Photo by Experience Grand Rapids
DJ Sanjay (Gerald Duncan)
29-year-old DJ Sanjay, or Gerald Duncan, may be a West Michigan fixture, but his roots go to Montego Bay, Jamaica, where he first discovered his love of music. Now living in nearby Kentwood, he fondly looks back at his childhood.

"In the community I grew up in, my parents had a small business where they sold food and drinks," Duncan said. "Every Friday, my father would go to the seaside and get fresh fish, fry them and sell them at the store—he also had the local sound system play music late into the night."

He may have been a child at the time, but these moments were already shaping his future.

"I was around five-years-old at the time," he recalled. "I wasn't attracted to the cooking my father was doing, but more to the craft of the sound selectors—that's what we called DJs back then. I'd always be close to the DJ booth, standing on anything I could find so I could see what they were doing.

"This would be the only time you see some of the local people in a merry and relaxing state," Duncan said. "Those DJs would play hits for hours, not running out of things to say to keep the crowd engaged and grooving. That's when I knew I wanted to do this someday."

At 18 years old, Duncan decided to enter the West Michigan music scene. He bought an inexpensive turntable and would record mixtapes for close friends.
"To me, the hardest part of becoming a DJ was learning how to mix," he said. "Transitioning from one song to the next by beat matching, but also learning keys and how to engage an audience."
Today, Duncan doesn't have a regularly standing show, but he can be found at a variety of Midwest venues. Check out Duncan's next performance at Bob Marley's Birthday Celebration on February 2 at Billy's Lounge beginning at 9:30 PM. Guests must be 21+ years old, and a $10 cover charge is required.
"DJs are always first to arrive and last to leave," he said. "It takes one or two hours to setup equipment, depending on the event. You have to keep your music library up to date with new and old songs of good quality. You also have to deal with people that think they know more than you, but if you step away and let them take over the party stops."
DJ Van Hekken
DJ Van Hekken has been spinning tracks for more than 20 years from Holland to Grand Rapids. Over the years, his versatile style has been heard over the airwaves of 104.5-F.M., where he used to host a popular mix show, as well as a variety of local clubs.

Van Hekken purchased his first piece of DJ equipment at 18 years old, and has been mixing ever since.

"I loved music from a young age," Van Hekken said. "The first cassette I ever bought was Michael Jackson's Thriller in third grade. In middle school, I got my hands on mixtapes that my friends would bring back from Chicago. I fell in love with how songs were blended and mixed together. In high school, I remember just standing around watching the DJ mix at house parties."   
After learning the ropes, Van Hekken started to land DJ spots at house parties and high school dances.
"Eventually, I got to know a few more people and started doing bar and club gigs in the Holland area," he said. "I think my first club gig in Grand Rapids was either Margarita Grill or Tap House." Both locations are now closed.

No matter where he's at, Van Hekken said he always manages to keep his distinct taste in the mix, while also keep the club and its patrons happy.

"You need to be able to play a variety of styles. Taking the best of the best from each genre is a pretty good recipe," said Van Hekken. "I have been fortunate to be able to play gigs that pertain to my favorite styles of music."

In the end, Van Hekken said his job still doesn't feel like a job.   
"I love music," he said. "DJing can be therapeutic, stress relieving and fun all at the same time. I enjoy watching people have fun on the dance floor. I enjoy the nightlife, it's my happy place."  
Hekken frequently DJs at Eve at The B.O.B. on Friday and Saturday nights. You can find him at Eve multiple weekends throughout the month.
This article was originally written by Rich Tupica.