Grand Rapids has the best of both worlds – a vibrant city life along with dozens of nearby farms filled with easy-to-pick, delicious fruit. The city's proximity to the Fruit Ridge, a region northwest of Grand Rapids, allows for quick access to many acres of farmland that is perfect for growing some of the best, freshest crops in the state. It is also where you'll find nearly 85 percent of Michigan's apple crops.
With so many fantastic locations to visit, Experience Grand Rapids asked their Facebook and Instagram followers to share their favorite orchard outings within an hour of Grand Rapids. To help make planning your weekend excursion easier, here are the ones we heard a lot about.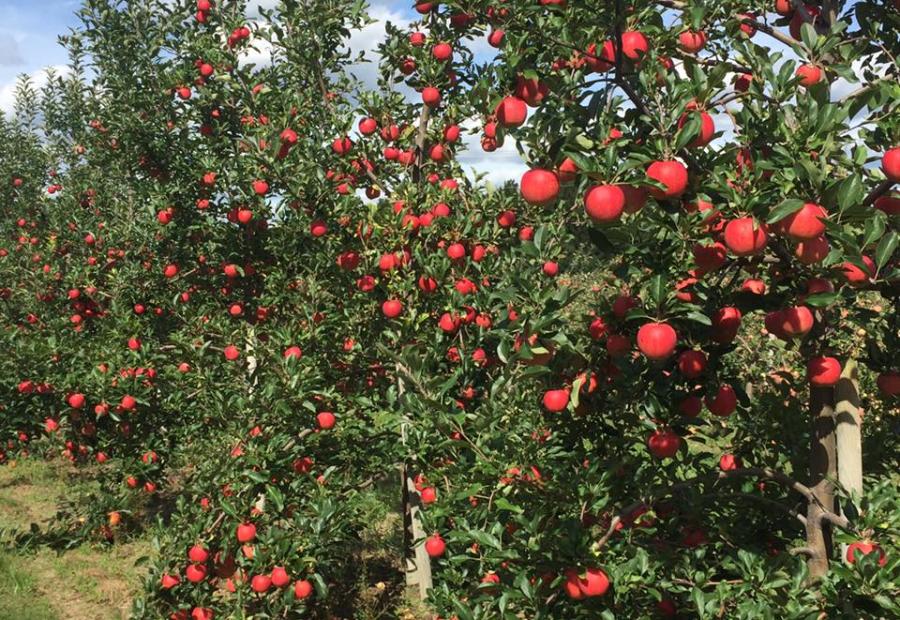 From cherries to apples to pumpkins, there's always something to pick from June through October at Grange Fruit Farm.
Photo by Grange Fruit Farm
Grange Fruit Farm
Grange Fruit Farm in Rockford is a newer orchard that planted its first apple trees in 2013. If you are a Honeycrisp apple fan, be ready to pick in early September for only $1 per pound. Grange Fruit Farm provides large half-bushel picking buckets with a strap that frees up both your hands for picking. They are open from late June for the cherry season until the end of October, and finish the season with u-pick pumpkins.
Frugthaven Farm
Family-owned and operated orchard Frugthaven Farm (formerly Klackle Orchards) offers plenty of fruit and fun on its 600-acre farm. Frugthaven Farm offers 10 varieties of u-pick apples through October along with pumpkins. And don't miss the Cornucopia Farm Market featuring fresh fruits and vegetables, delicious donuts, and other baked goods. You can even bring your (leashed) furry friend to enjoy a day outside on the farm with you.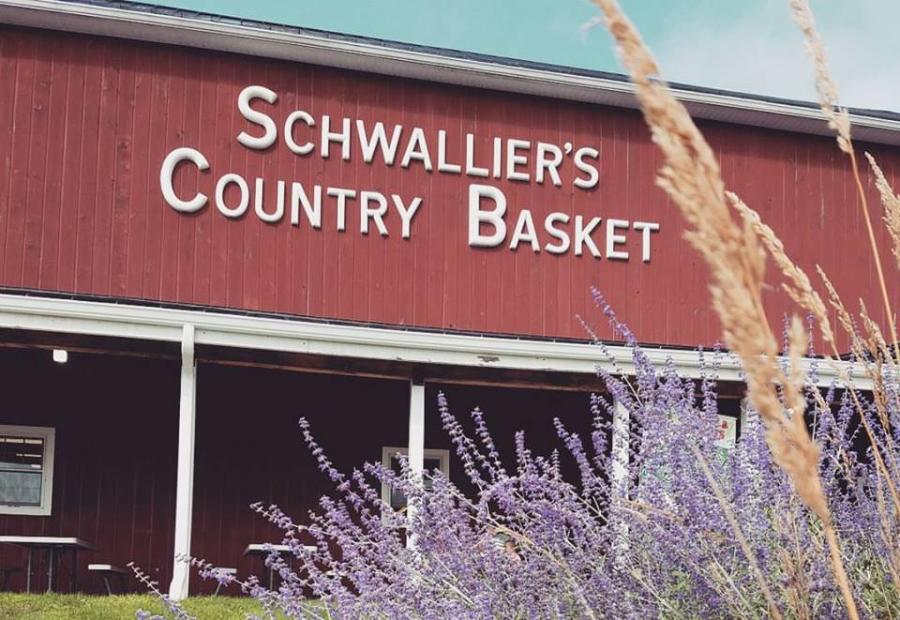 In addition to their wide selection of apples, Schwallier's Country Basket also offers wagon rides, a corn maze and more.
Photo by Schwallier's Country Basket
Schwallier's Country Basket
Located in Sparta in the heart of West Michigan's apple capital, Schwallier's Country Basket has 15 varieties of u-pick apples all ripening now through mid-October. After you've picked your fill, stick around for the giant corn maze, petting farm, pumpkin patch, cow train, wagon rides, and other attractions. With so many activities, it's the perfect spot for all ages and all occasions. Instagram fan coachpetegr named Schwallier's as his favorite spot, saying, "Took a girl on a first date there in 2013, and married that girl 3 months ago." Even better, they were also married at an apple orchard.
Crane Orchards
With over 17 varieties of apples, Crane Orchards is ready for u-pick fans starting Labor Day. The season kicks off with the Gala, Macintosh, and Golden Supreme varieties at $1 per pound. Don't forget the 20-acre corn maze, hay rides, and the "cow train," perfect for kids of all ages.
Moelker Orchards
For over 100 years, generations of Moelker's have enjoyed the farm-fresh fruits and vegetables harvested from Moelker Orchards – and they are happy to share them with you! U-pick apples kick off in early September, and its huge pumpkin patch opens at the beginning of October. Be sure to visit on a Saturday in October for free pumpkin cleaning. After you pick your favorite apples or pumpkins, stop by the Farm Market for more offerings, including delicious and freshly baked treats.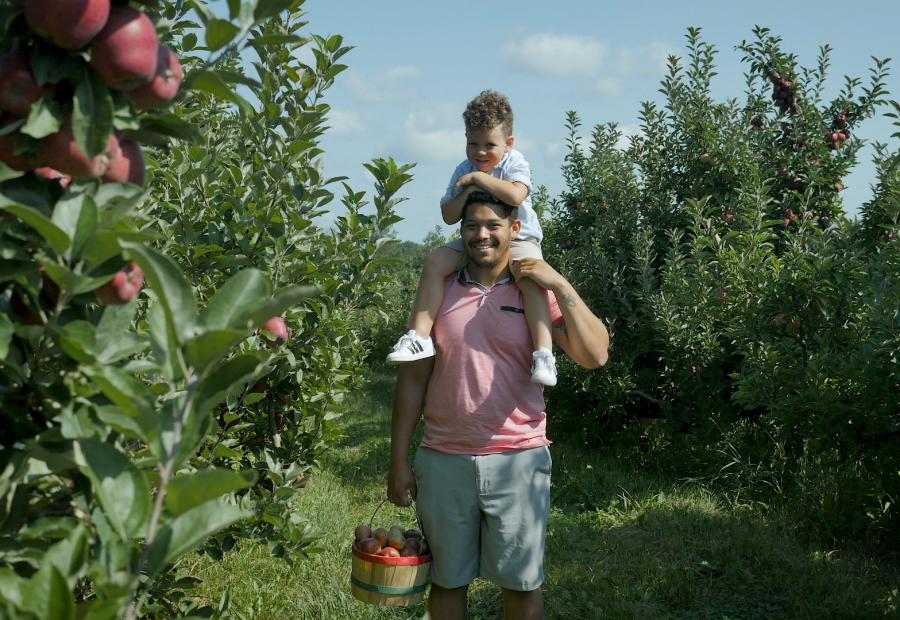 Apple picking at Blok Orchard is the perfect way to spend a fall day.
Photo by Experience Grand Rapids
Blok Orchard
Started in 1965, Blok Orchard offers 45 acres of dwarf apple trees perfect for picking, along with peaches, blueberries and cherries when in season. After you've done your work, enjoy the work of the Blok family and purchase freshly-picked fruits and vegetables from the on-site Farm Market. You won't be disappointed!
If you're looking for even more recommendations, don't worry. There are plenty of other farms and orchards in the West Michigan area that offer u-picks, including:
For the most up-to-date availability, be sure to check with each farm directly.