Grand Rapids has the best of both worlds – a vibrant city life along with dozens of nearby farms filled with easy-to-pick, delicious fruit. The city's proximity to the Fruit Ridge, a region about 15 minutes northwest of Grand Rapids, allows for quick access to many acres of farmland that is perfect for growing some of the best, freshest crops in the state. It is also where you'll find nearly 85 percent of Michigan's apple crops.
You can purchase just-picked apples at many local orchards and farm markets – but there's something quintessentially Grand Rapids about getting out into the orchard and picking them yourself. Here are some of the most popular destinations for u-pick apples.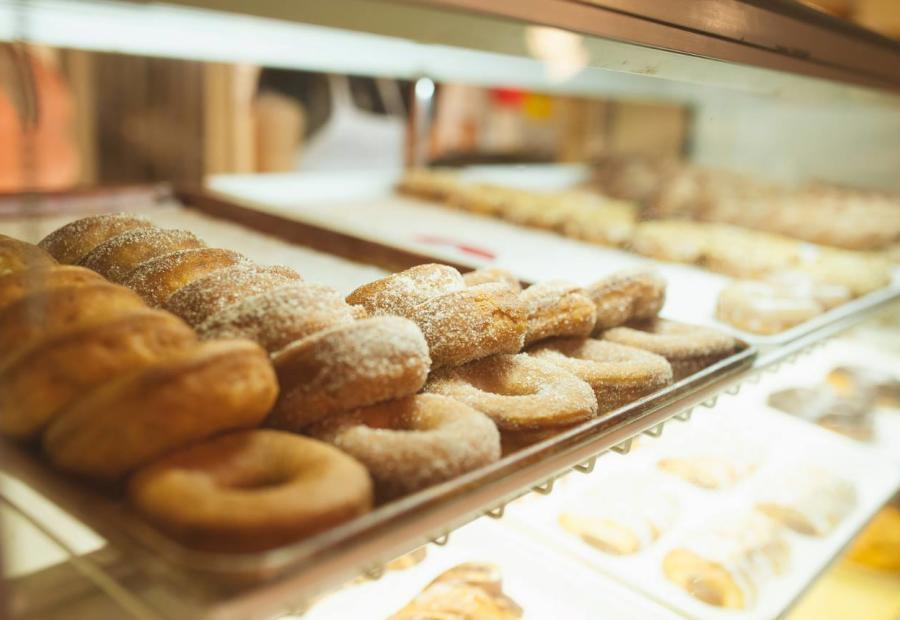 Robinette's fresh-baked donuts are the perfect treat after apple picking.
Photo by Robinette's Apple Haus & Winery
Robinette's Apple Haus & Winery
Located just five minutes from Frederik Meijer Gardens & Sculpture Park, Robinette's Apple Haus & Winery is a century-old family farm that includes orchards, a bakery, lunch counter, cider mill, winery, gift store and lots of family-friendly activities. Open year-round, its u-pick apple season typically starts in mid-September, with around 20 varieties of apples available at different points throughout the fall. U-pick is available most weekends, but always check their Facebook page or call 616-361-5567 before you visit for current varieties and picking times.
After you're done picking, you can enjoy lunch in the Apple Haus (open 11am-3pm), grab a fresh-baked donut and some fresh-pressed apple cider, or sample house-made wines and hard ciders in the tasting room. There's plenty for kids to do here, too, including a fall corn maze, petting zoo, and hayrides. Oh, and if you happen to come down with the u-pick bug, come back in summer for pick-your-own sweet cherries and apricots.
Ed Dunneback & Girls Fruit Farm
Ed Dunneback & Girls is a fifth-generation family farm atop the Fruit Ridge. They offer a number if varieties of u-pick apples – including Honeycrisp – typically starting in early September. You can also pick your own asparagus, strawberries, sweet and tart cherries, sunflowers and pumpkins in season. Check the farm's social media pages for availability and specific picking hours, because things can change daily based on what Mother Nature decides to do.
Leave yourself plenty of time to explore all the other wonders on the farm, including a produce and farm goods market, bakery, restaurant and taproom, where the Dunnebacks serve their own house-made beer, hard cider, seltzer and wine. You might want to time your visit with one of the farm's special events, which include outdoor concerts, trivia nights, farm-to-table dinners and more.
Fruit Ridge Hayrides & Apple Orchard
As the name implies, Fruit Ridge Hayrides & Apple Orchard is also located on the Ridge. It's open for u-pick apples from mid-September through late October (weather willing!), with 12 varieties available – including Fuji and Honeycrisp – at different times. U-pick is open on Saturdays, Sundays and October Fridays, with group availabilities (by reservation) during the week.
All the trees here are small and easy to pick without a ladder, so it's a great choice for young ones who want to help with the task. However, they may get distracted by all other things to do here – horse-drawn wagon rides, a corn maze, petting zoo, pony rides, a fire engine ride, "pig train and more. There's also a well-stocked farm market, a picnic area and u-pick pumpkins later in the season.
Steffens Orchard Market
Also on the Ridge, Steffens Orchard Market is a fourth-generation family farm growing 300+ acres of apples, sweet cherries and pumpkins. U-pick apple season typically begins in early September and lasts through the end of October. Steffens provides pickers with baskets and plastic bags for your harvest along with small wagons you can pull out to the orchard (and the pumpkin patch) to transport your haul.
U-Pick varieties include Blondee, Gala, McIntosh, Honeycrisp, Cortland, Golden Delicious, Red Delicious, Ida Red, Fuji and Cameo, listed in the order in which they ripen. Visit the farm market after your "chores" for snacks and beverages you can enjoy in the picnic area. There's also a swing set and wooden tractor for kids to play on.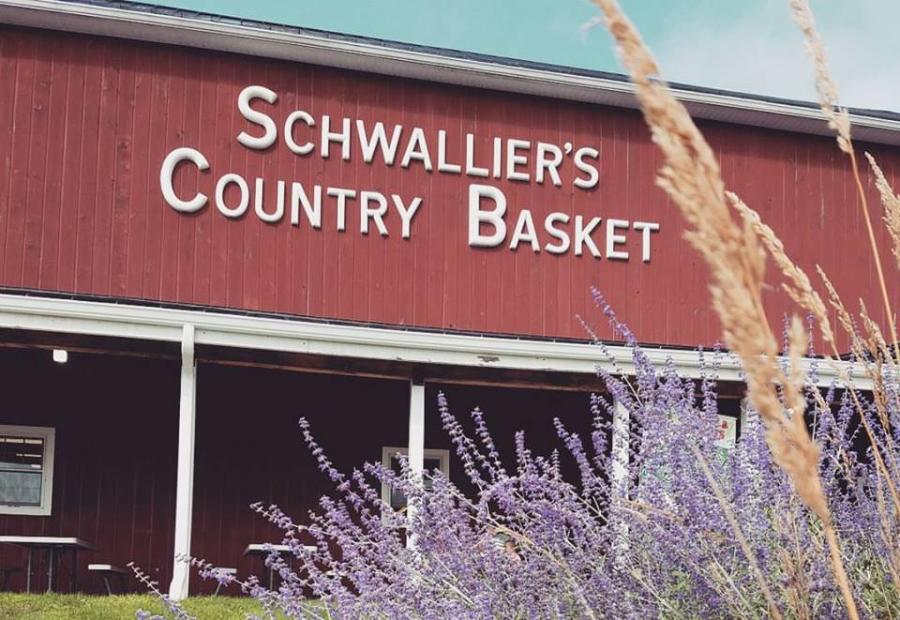 In addition to their wide selection of apples, Schwallier's Country Basket also offers wagon rides, a corn maze and more.
Photo by Schwallier's Country Basket
Schwallier's Country Basket
Located in Sparta in the heart of West Michigan's apple capital, Schwallier's Country Basket has 15 varieties of u-pick apples all ripening from mid-August through late October. After you've picked your fill, stick around for the giant corn maze, petting farm, pumpkin patch, cow train, wagon rides, and other attractions. Don't leave without browsing the market, stocked with fresh produce, tasty baked goods, house-made honey, salsa, cider and unique gifts. With so many activities, it's the perfect spot for all ages and all occasions.
Apple Valley Fun Farm
This Fruit Ridge attraction opened up in fall of 2021 and quickly became a family favorite. Its u-pick apple crop includes Honeycrisp, Gale Gala and Sunrise Fuji, and they also have u-pick pumpkins. Good luck getting your kids to pitch in, though, because Apple Valley also offers a dazzling array of fun activities – a five-acre corn maze, zip line, pedal karts, petting zoo, corn crib box, hayride, giant pumpkin jumping pad and more.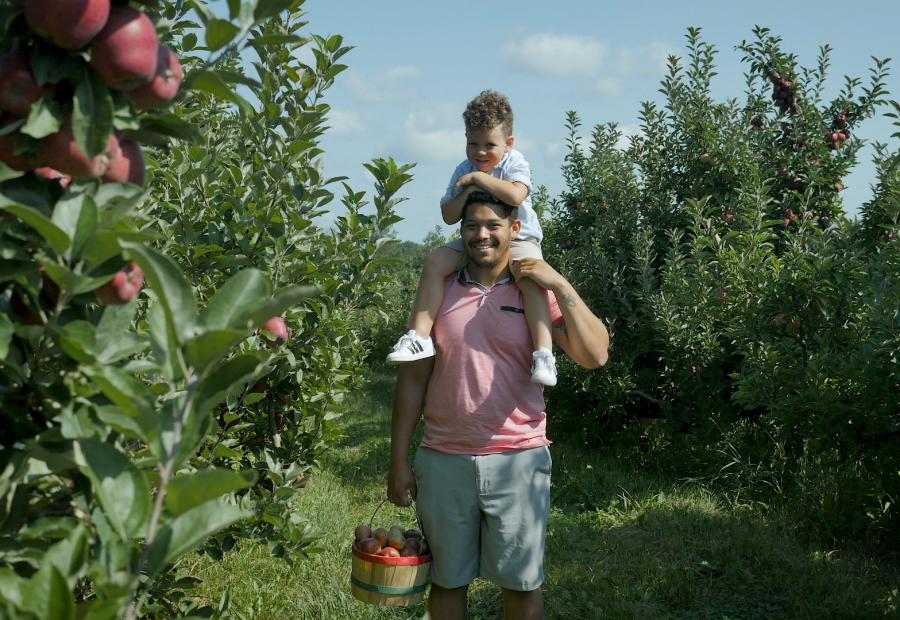 Apple picking at Blok Orchard is the perfect way to spend a fall day.
Photo by Experience Grand Rapids
Blok Orchard
Started in 1965, Blok Orchard is located in Ada, about 20 minutes from downtown Grand Rapids. Blok offers 45 acres of dwarf apple trees, which are easier to pick than traditional apple trees. Apple varieties include Honeycrisp, Zestar, Fuji and Golden Delicious varieties, and you can also pick your own peaches, blueberries, cherries and pumpkins when in season. After you've done your work, enjoy the work of the Blok family and purchase freshly picked fruits and vegetables from the on-site Farm Market. You won't be disappointed!
Grange Fruit Farm
Grange Fruit Farm in Rockford (20 minutes from downtown GR) planted its first apple trees in 2013, so it's a relative newcomer to the apple scene. But it's proved its u-pick mettle over the past decade. If you are a Honeycrisp apple fan, be ready to pick in early September. Grange Fruit Farm provides large half-bushel picking buckets with a strap that frees up both your hands for picking. They are open from late June for the cherry season until the end of October, and finish the season with u-pick pumpkins. They also offer pick-your-own raspberries, blueberries and peaches. Be sure to stop by the market before you leave for fresh vegetables and other farm goods.
Crane Orchards
With over 17 varieties of apples, Crane Orchards is ready for u-pick fans around Labor Day. The season kicks off with the Gala, Macintosh, and Golden Supreme varieties, and Honeycrisp is typically ready around the third week of September. Crane's also offers u-pick peaches and sweet cherries in summer and a u-pick pumpkin patch as October draws near. Fall is also the time to enjoy the 20-acre corn maze, hay rides, and the "cow train," perfect for kids of all ages. Located in Fennville, it's a bit of drive – about 50 minutes from downtown GR – but it's well worth it, especially if you sneak visits to Crane's Pie Pantry Restaurant and quaint downtown Fennville on your trip. 
Remember, it's always best to check with each farm directly for the most up-to-date availability. And if you don't feel like picking your own, all of these attractions – and many other local farm markets – have fresh-picked apples ready for you to purchase.