Though Grand Rapids' downtown is often bustling, nature is never far away: green havens can be found throughout the city and all along the Grand River corridor. More than two dozen natural environs can be found within 10-minutes of Rosa Parks Circle in downtown Grand Rapids. Several are within easy walking distance, and the rest are close enough to visit on your lunch break or during a lull in your trip itinerary!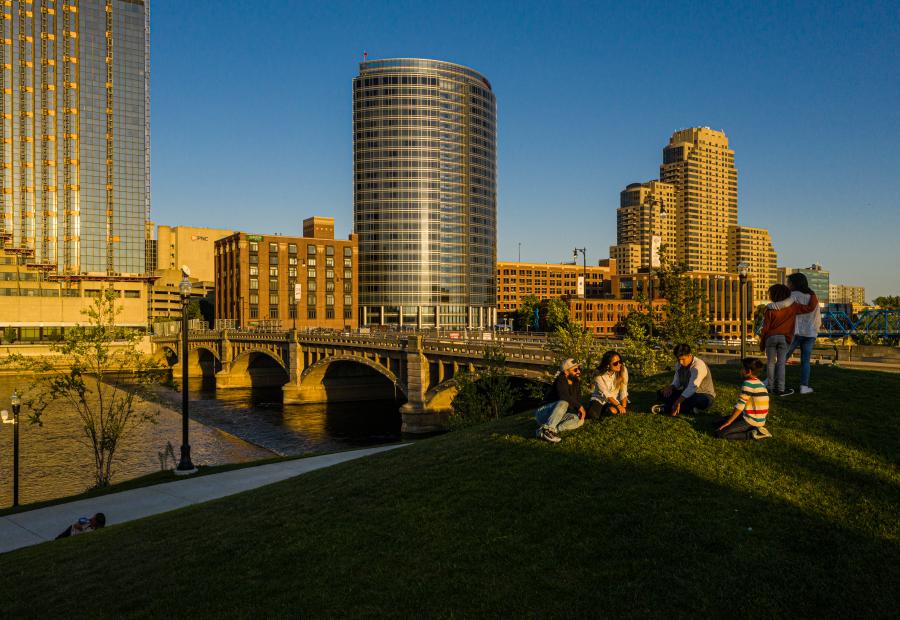 Can't beat the city views from Ah-Nab-Awen Park right within downtown Grand Rapids.
Photo by Experience Grand Rapids
Along the Grand River
Immediately downtown, amid the bustle, consider the Grand River Edges Trail, a pleasant walk along the Grand River. A popular scenic stroll is from Fulton St. north to the Sixth St. Bridge, then across the river and back along the west bank. Bring binoculars because spring especially is a great time to see birds in Kent County, but there is beauty to be seen in every season. The route passes by Sixth Street Bridge Park and Canal Street Park - both small but peaceful riverside areas where nature-lovers can enjoy a view of the Grand River.
Fish Ladder Park, across the river and one block south of Canal Park, is a popular destination for watching spring steelhead and fall salmon runs. Ten or so minutes further downstream is the tranquil, grassy knoll overlooking the river at Ah-Nab-Awen Park, a fine place to enjoy a snack.
Plans are underway to extend the Grand River Edges Trail to Riverside Park, about 2.5 miles upstream from Canal Park. Until then, you can drive or take a Rapid bus to the 180-acre site, which is lined with mature trees and includes a paved biking/hiking trail, river overlooks, picnic shelters, ballfields and a playground.
Enjoy a bike ride with a view of the Grand River along the paved, tree-lined trails at Riverside Park.
Photo by Paul Jendrasiak for Experience Grand Rapids
Outside of the City Center
South of downtown is Kent County's Millennium Park. The 1,500 acre expanse has 18 miles of trails, a six-acre beach and an abundance of wildlife. Anglers catch panfish, bass, and even northern pike in its lakes. The park encompasses portions of the Grand River and connects via paved trail to Johnson Park, a Riverside Natural Area great for walking, picnicking or simply relaxing. 
One of the best-bird watching areas is Hodenpyl Woods on the north side of Reeds Lake, in East Grand Rapids. The 43.9-acre nature preserve has a .9-mile loop trail that meanders through the woods and wetlands. White-tail deer and great horned owls are known to live there. Reeds Lake's northwest shoreline also is good for birds. More than 190 species have been identified there by the Grand Rapids Audubon Club. The accessible floating boardwalks at Waterfront Park go out through the marsh and offer a great platform for spotting birds, or for fishing. Pick up a "Common Birds Found at Reeds Lake" checklist brochure at the kiosk there.
Grand Rapids has 75 city parks and public spaces, but eight of them have designated natural areas, undeveloped places left to nature for people to enjoy. Five of those are within 10 minutes of downtown hotels. They include the Huff, Fourth St. Woods, Burton Woods, Richmond Hills, and Ball Perkins parks.
Knapp Valley Forest Park, a undeveloped 87-acre Kent County park, offers scenic, wooded hiking trails. Linus Palmer Park is another with forested trails and streams. Both offer peaceful green spaces in spring. Visit the Kent County Parks and Trails website to explore all 43 natural sites in the county system.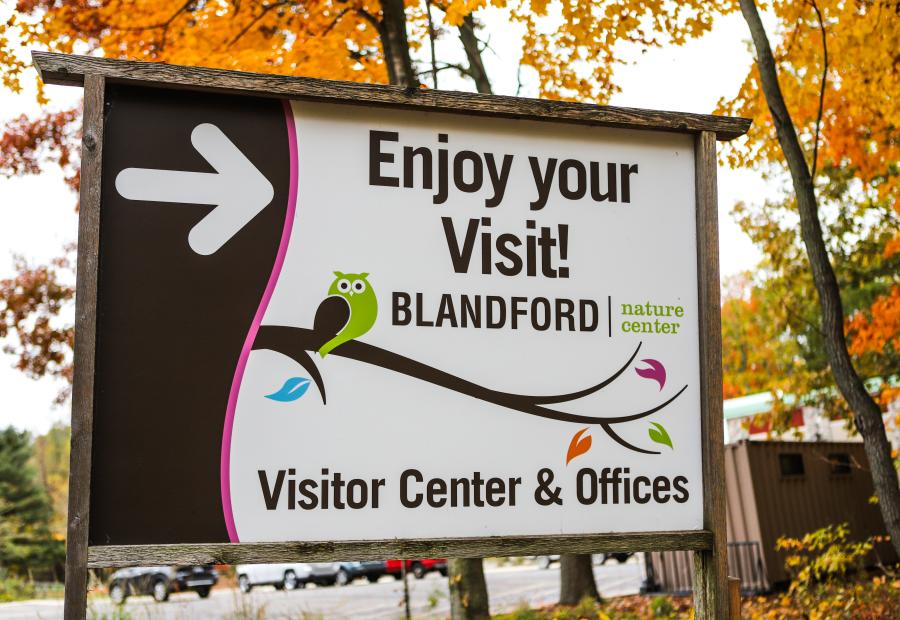 The Blandford Nature Center features eleven different trails to choose from, ranging from easy to difficult.
Photo by Experience Grand Rapids
Park Attractions
Blandford Nature Center, one of Grand Rapids' best spots to experience and/or learn about nature, has 8+ miles of walking trails through 264 acres of woods and rolling meadows. All are open to the public. Dogs are allowed on all but the Wildlife Trail where several live animals can be seen, including an osprey and bobcat.
Calvin University's Ecosystem Preserve & Native Gardens offers hiking trails through 100+ acres of native plants and natural habitats. It's a great spot for birdwatching – more than 179 species have been spotted here – or to just sit and immerse yourself in nature. It's located just 10 minutes from Frederik Meijer Gardens & Sculpture Park, which juxtaposes natural beauty and manmade art along easy-to-walk trails.
Wild animals and the eco-regions where they live are also the heart of Grand Rapids' John Ball Zoo. It can be crowded on weekends, and it is less "natural," but its dynamic and informative displays provide a taste of what nature looks like in other parts of the world. The zoo is at John Ball Park, also a nice place to just watch ducks and geese.