Art is everywhere you look in downtown Grand Rapids, from sculptures to murals to historic buildings.
Start at the masterpiece that started it all - La Grand Vitesse, the massive red Alexander Calder sculpture that was installed in front of City Hall in 1969 and has come to symbolize the city's artistic spirit.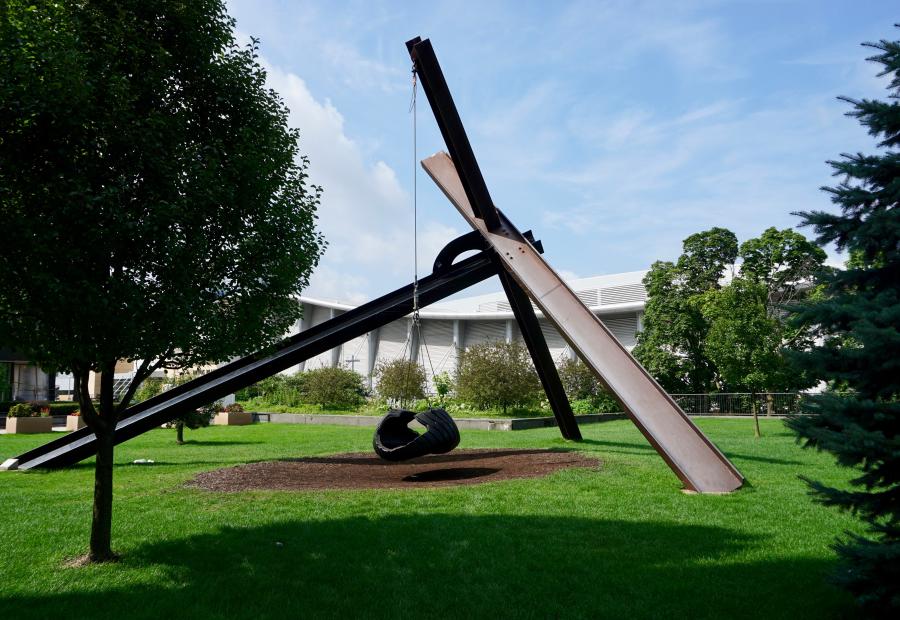 Motu Viget, or "the tire swing" as it is sometimes called, was created by Mark Di Suvero.
Photo by Brian Craig for Experience Grand Rapids
You're just steps away from Motu Viget, a kinetic art creation of famed sculptor Mark di Suvero. It is, in essence, a giant tire swing - suitable for kid's play!
It's a short walk south to Rosa Parks Circle, a community amphitheatre designed by Vietnam Veterans Memorial artist Maya Lin. The space converts to an ice rink in winter. A statue of civil rights pioneer Rosa Parks stands not far away.

Step west around the corner of the Children's Museum and you'll see Veterans Memorial Park, which is home to Soldier's Monument by sculptor Leon Coquard as well as busts of Henry Wadsworth Longfellow and influential 19th century Grand Rapids businessman Thomas D. Gilbert.It's a three-minute walk southwest to the Grand Rapids Children's Museum. One exterior wall of the museum features Imagine That!, a glittering mosaic mural by artist Tracy Van Duinen. Van Duinen donated the art to the city after it won second prize in the inaugural ArtPrize competition. Another large-scale Van Duinen work, Metaphorest, graces the outside of the WMCAT building, just 300 feet from the museum.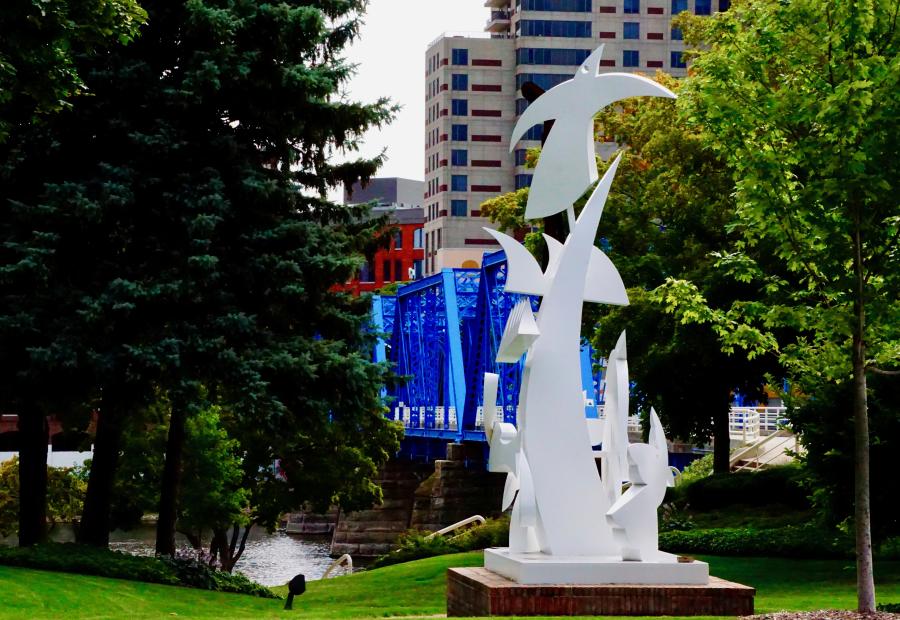 The River's Edge, created by James Clover, is a unique and eye-catching sight that looks different at every angle.
Photo by Brian Craig for Experience Grand Rapids
Head further west to the Grand River and follow its banks north to see a number of sculptures, including River's Edge Environmental Sculpture by Michael Singer and a Fluoride Sculpture (Grand Rapids was the first city to add fluoride to its water supply, in 1945) near the JW Marriott.
Stop at the south entrance of DeVos Place to view the façade reliefs created by artist Corrado Parducci as part of a Depression-era public works project. These reliefs were saved when the original Civic Auditorium was converted to the existing performance hall and convention center.
Keep following the river about 1.5 miles until you reach Joseph Kinnebrew's Fish Ladder sculpture. Watch the salmon and steelhead leap up the "stairs" of this functional art piece.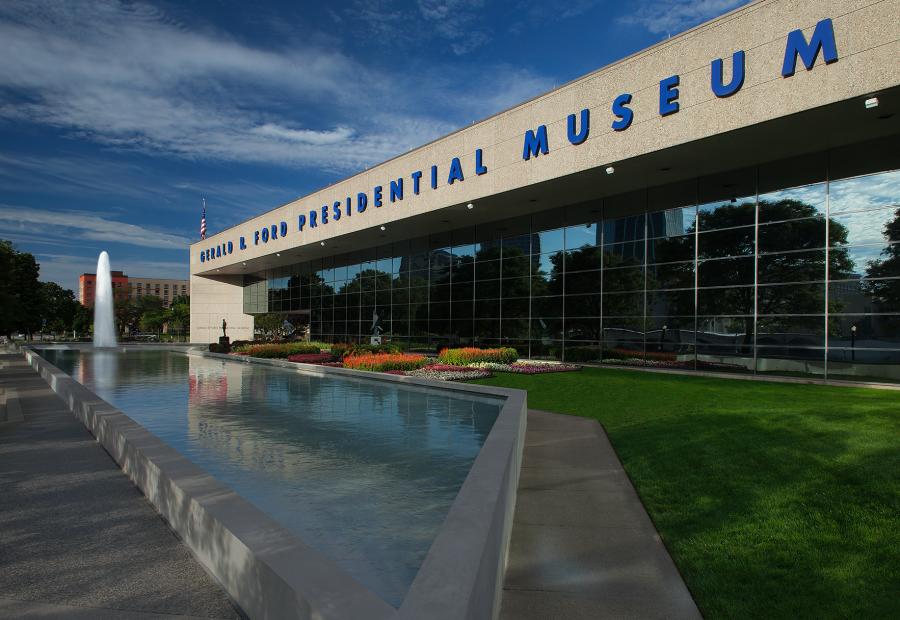 No visit to Grand Rapids is complete without a stop at the Gerald R. Ford Presidential Museum!
Photo by Gerald R. Ford Presidential Museum
Return south to downtown along the river's west bank. Note the three symbolic Indian mounds in Ah-Nab-Awen Park, outside Gerald R. Ford Presidential Museum. These mounds represent the three major tribes of Michigan: the Ottawa, Potawatomi and Chippewa. Another point of notice is the burial grounds of President and Mrs. Ford on the grounds of the Museum, on a hillside spot that attracts a steady stream of people paying their respects to our native son and his dear wife.
Directly north of the Ford Museum, you can climb onto Lorrie's Button by artist Hy Zelkowitz, winner of a 1976 playground sculpture competition.
As you walk this tour you may also encounter artistic tributes to notable figures from the city's history. The Community Legends Sculpture Project is an ongoing initiative to erect 25 bronze statues honoring people who helped shape Grand Rapids.
This is just a small sampling of dozens of significant sculptures and buildings lining downtown streets. Keep your eyes peeled on your journey!
Community Legends Sculpture Project
University Collections
If you're interested in viewing even more local art, explore the beautiful campus of Grand Valley State University. Download the Art at GVSU app for information on the university's art collection. You can also take a trip to the exhibition space at the Kendall College of Art and Design of Ferris State University. The Center Art Gallery at Calvin College also has a lot to offer, featuring exhibits by students, faculty, alumni, and noted secular and religious artists.