Art is everywhere you look in downtown Grand Rapids, from sculptures to historic buildings to murals on historic buildings.
You can get an eyeful on the walking tour outlined below, which covers about three miles of city streets. There are lots of restaurants and snack shops along the route, so you can stop to refuel at any point.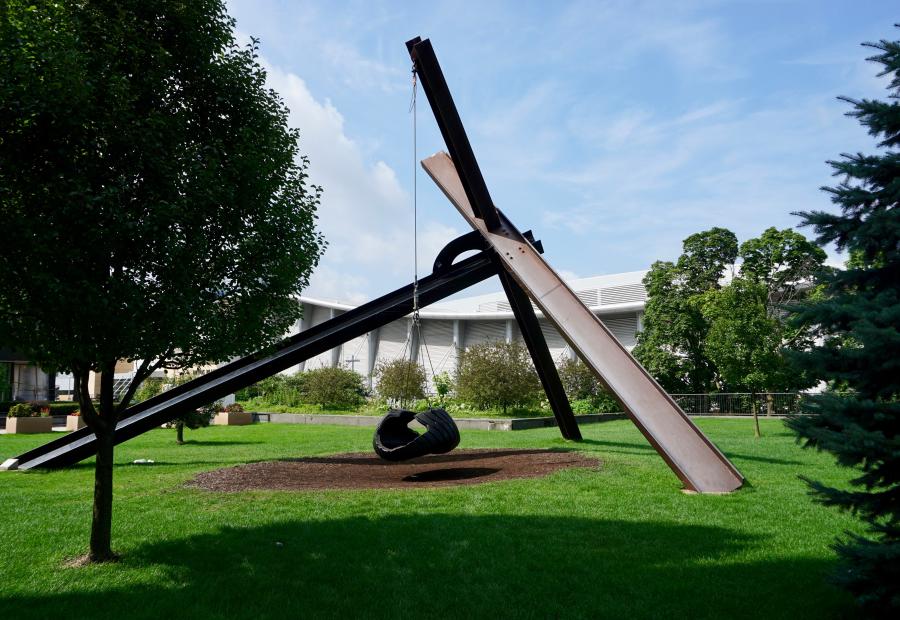 Motu Viget, or "the tire swing" as it is sometimes called, was created by Mark Di Suvero.
Photo by Brian Craig for Experience Grand Rapids
Start your tour with the artwork that has come to symbolize the city's creative spirit – La Grande Vitesse, the massive red Alexander Calder sculpture that was installed in front of City Hall in 1969. It's the centerpiece of Calder Plaza, a large community gathering space in the heart of the city.
Just a few steps north from Calder Plaza, next to the Gerald R. Ford Federal Building and US Courthouse, you'll find Motu Viget. This kinetic art creation of famed sculpture Mark di Suvero is, in essence a giant tire swing – suitable for kid's play!
From there, take Ottawa Avenue south to Pearl Street. Head west. Across from the Pearl Street/Monroe Avenue, you'll see a bronze sculpture of Rosa Parks. This is one of a series of sculptures paying tribute to notable figures from the city's history. The Community Legends Sculpture Project is an ongoing initiative to erect 25 bronze statues honoring people who helped shape Grand Rapids. Scroll down for a list of statues installed so far.
Cross the street to admire the statue. You're standing at the entrance to Rosa Parks Circle, which is both a sculpture named "Ecliptic" and a community amphitheater. It was designed by Vietnam Veterans Memorial artist Maya Lin to represent the three phases of water – liquid, vapor and ice. The park converts to an ice rink in winter.
The city's first skyscraper, McKay Tower, overlooks Rosa Parks Circle.
Photo by Experience Grand Rapids
Look to your north (across Monroe Center Street) to see McKay Tower, originally erected in 1890 as a two-story structure and expanded several times. By 1927, it has reached 18 stories, marking it as the city's first skyscraper. It is constructed from granite and terracotta, in a Neoclassical style. Inside the building, the lavish McKay Ballroom hosts weddings and corporate events.
Walk three minutes southwest on Monroe Center Street to the Grand Rapids Children's Museum. Outside the museum is a bronze statue of Roger B. Chaffee, the Grand Rapids-born astronaut who perished in the 1967 test run of Apollo 1. It was sculpted by artist J. Brett Grill.
The east wall of the Museum features "Imagine That!," a glittering mosaic mural by artist Tracy Van Duinen. Van Duinen donated the art to the city after it won second prize in the inaugural ArtPrize competition.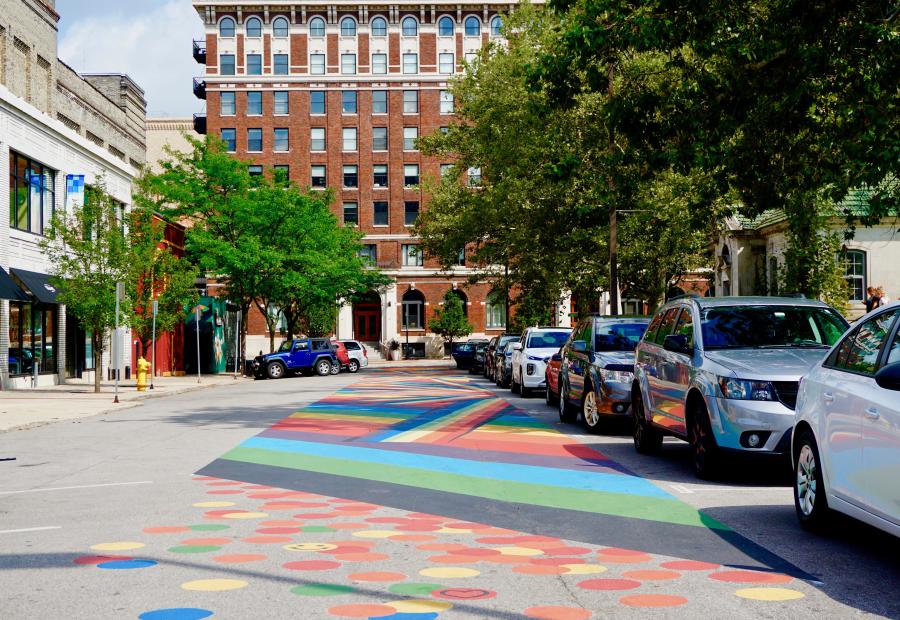 Grand Rapids' first street mural, "Rainbow Road" honored the 50th anniversary of the 1969 Stonewall Riots.
Photo by Brian Craig for Experience Grand Rapids
Look down and you'll see the city's first street mural, "Rainbow Road," created by artist Joey Salamon in 2019 to celebrate the local LGBTQ+ community and commemorate the 50th anniversary of the 1969 Stonewall Riots in New York City.
On the other side of the rainbow is Veteran's Memorial Park, which contains memorial pillars honoring war veterans and busts of poet Henry Wadsworth Longfellow and local philanthropist Thomas D. Gilbert. A 1926-era building in the park has been transformed into a coffee shop and creative space operated by an arts-focused veterans group.
Head west on Fulton Street from the Museum and you'll almost immediately encounter Monument Park, which contains a 34-foot tall Civil War Monument and a fountain, which were dedicated in 1885.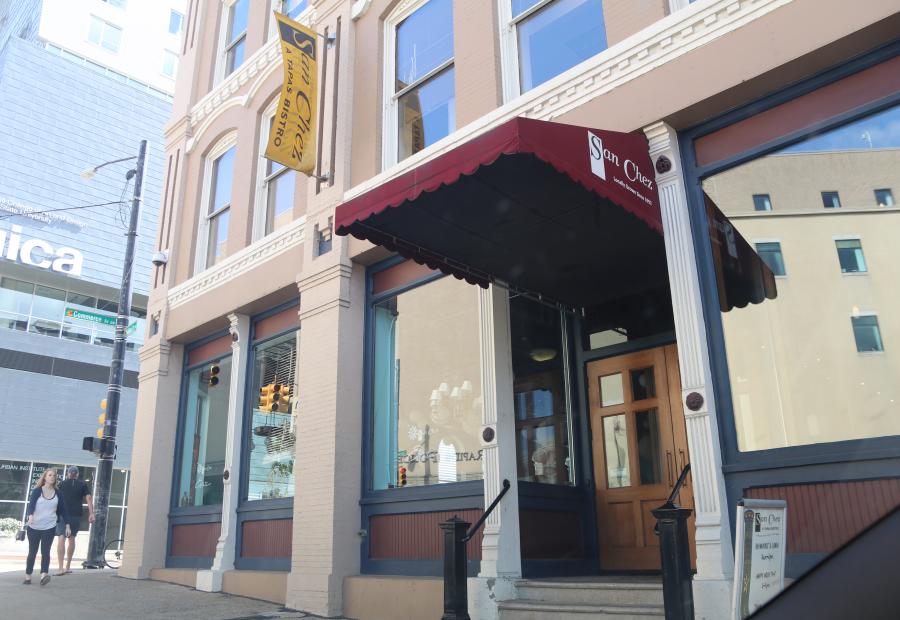 Originally a home furnishing store built in 1883, San Chez and Beacon Corner Bar now occupy the Leonard Building.
Photo by Experience Grand Rapids
Keep going west, past the Grand Rapids Police Department. Across the street at the corner of Commerce and Fulton is the Leonard Building, built by pioneer refrigerator manufacturer Charles H. Leonard sometime between 1883 and 1884 as a wholesale location for his furnishings, crockery, carpet and stove business. Since 1992, it has been the home of San Chez Bistro. A sister restaurant, Beacon Corner Bar & Coastal Fare, opened in the same building in 2022.
The next intersection to the west is Ionia and Fulton. It's worth a detour south on Ionia to see a collection of well-preserved buildings dating back to the 19th century as well as some vibrant new murals: "Currents to Unknown" by artists Natalia Rak (26 Ionia SW), a Kevin Wolfrom mural depicting six local women who stood up for equal rights (44 Ionia SW) and "One Wish" by Keyon Lovett (58 Ionia SW).
Go back north on Ionia and cross Fulton until you come to Louis Street, and then head west. On the second block, you'll pass by a newer building that contains thousands of works of historic art. The Grand Rapids Art Museum, named one of the world's best buildings of 2007 by Newsweek Magazine, is recognizable by its modernist concrete, aluminum and glass exterior.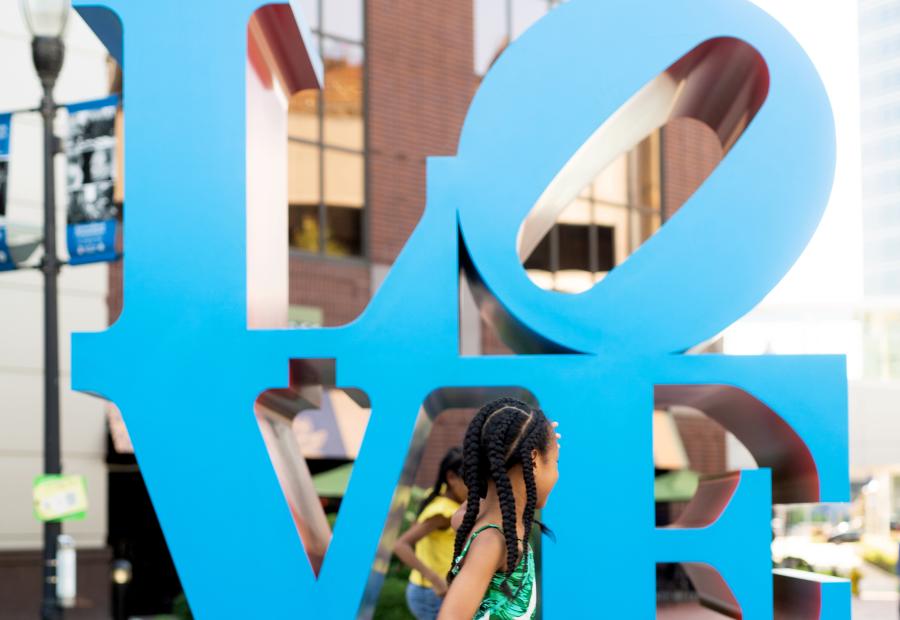 The LOVE pop-art sculpture by Robert Indiana is a Grand Rapids staple and serves as a great photo opportunity!
Photo by Experience Grand Rapids
Louis dead ends into Monroe Avenue. Cross the street and head a few steps north to see "LOVE," one of 20-some authorized version of the iconic pop-art sculpture by Robert Indiana. You're standing on Louis Campau Promenade – follow it west, across Campau Avenue, until you reach the JW Marriott Grand Rapids. Out front, you'll see "Steel Water," a 33-ft. tall bright blue sculpture by contemporary Dutch artist Cyril Lixenberg. It's a nod to Grand Rapids' history as the first city to fluoridate its water supply, in 1945.
Turn back north to Campau and then north a block. The Amway Grand Plaza, Curio Collection by Hilton Hotel is across the street. Step into the lobby to admire the lavish Art Deco details, some of which date back to 1916, when the original hotel on the site was built.
Back outside, take Pearl Street west across the Grand River. You can cross the street to the campus of the Grand Rapids Public Museum to see The Memorial Bell, first tolled in 1878 for firefighters lost in action, and the Apollo Space Capsule, an Apollo Command Module made for tests and training purposes.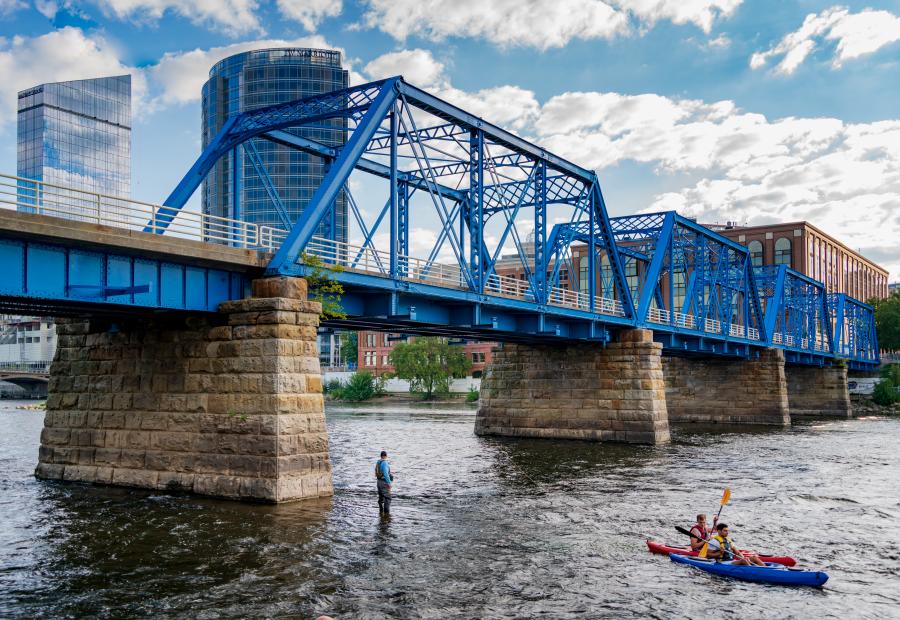 The iconic Blue Bridge is a pedestrian only bridge that overlooks the Grand River.
Photo by Experience Grand Rapids
Walk south on Front Avenue past the Museum and look to the small riverside greenspace at the left. It contains "The River's Edge," an all-white James Clover sculpture that uses fish and bird-like shapes to reflect on the wildlife you might naturally find in a river scene. Beyond that, you can catch a glimpse of The Blue Bridge, a pedestrian bridge that was originally constructed in 1892 as a railroad bridge.
Continue to follow Front Avenue and you'll pass through a highway underpass brightened by "In Our Element," a mural created by artist Ruben Ubiera for ArtPrize 2015.
The Pew Grand Rapids Campus of Grand Valley State University awaits you on the other side of the underpass. You can wander the grounds to see such creations as "Akii Ndodeom" (Earth Totem), a carved Anishinaabek limestone sculpture created by Jason Quigno, a local Anishinaabe artist; "Chief Noahquageshik," a bronze likeness of one of the area's first Native American leaders, sculpted by Antonio Tobias Mendez; and "Magela - S," two side-by-side sculptures by Cyril Lixenberg that are based on the Biblical story of Queen Esther.
Head back east on Front Avenue and cross Pearl Street to reach the Gerald R. Ford Presidential Museum. You'll find several sculptures of note: Number 48, a Stuart B. Padnos tribute to the President's football days at the University of Michigan; "Man in Space," a 3,000-pound sculpture by New York Artist Judson Nelson; and statues of the President and First Lady Betty Ford by artist J. Brett Grill.  You can also pay your respects to the 38th president and his wife at their gravesite on the Museum property.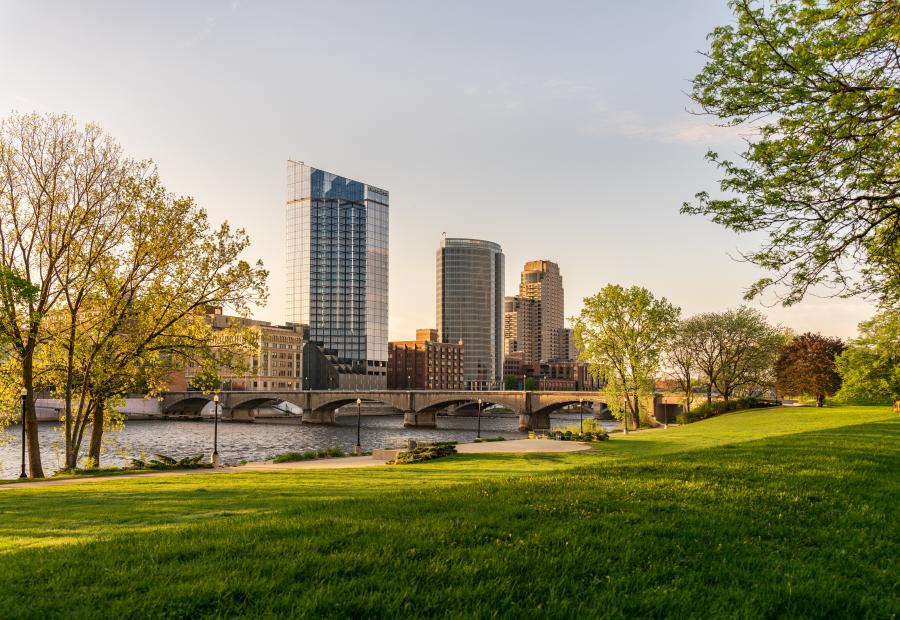 Three symbolic Indian mounds are found at Ah-Nab-Awen Park and represent the Ottawa, Potawatomi and Chippewa tribes.
Photo by Experience Grand Rapids
Walk across Ah-Nab-Awen Park at the front of the Museum to the riverwalk. Just north, you'll see the bright red Lorie's Button by artist Hy Zelkowitz, winner of a 1976 playground sculpture competition. Go south and take note of the three symbolic Indian mounds in the park. They represent the three major tribes of Michigan: the Ottawa, Potawatomi and Chippewa.
Cross the Grand River on the Gillett Bridge, built in 1915 to accommodate rail travel and now serving as a pedestrian bridge. You'll end up at the DeVos Place Convention Center and DeVos Performance Hall complex. Make a slight right and left on Lyon Street to view façade reliefs created by artist Corrado Parducci as part of a Depression-era public works project. These reliefs were saved when the city's original Civic Auditorium was converted to the performance hall and convention center.
Follow Lyon Street and cross Monroe Avenue to view "The Four Elements," a 5,400-lb. steel sculpture by renowned Spanish artist Jaume Plensa. Head north along Monroe, past several office buildings and Roam by San Chez restaurant until you encounter a bronze statue of Lyman Parks, the first African American mayor of Grand Rapids. It was sculpted by Antonio Tobias Mendez.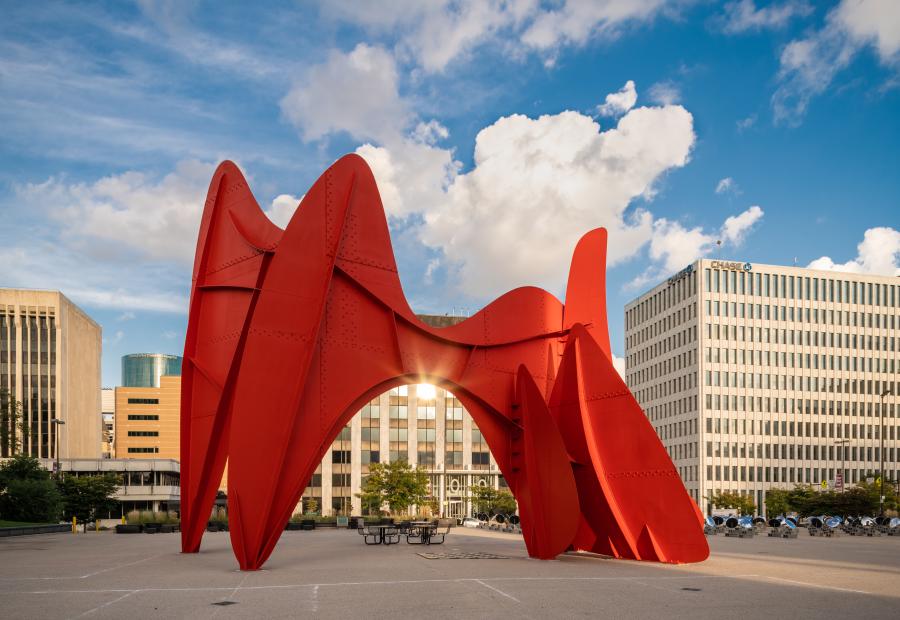 Located in Calder Plaza is the La Grande Vitesse, a sculpture designed by Alexander Calder.
Photo by Experience Grand Rapids; La Grande Vitesse Alexander Calder
Enter the tunnel behind the Parks statue to get back up to Calder Plaza, where your journey began.
This is just a small sampling of dozens of significant sculptures, buildings and other artworks lining the streets of downtown Grand Rapids. Keep your eyes peeled on your journey!