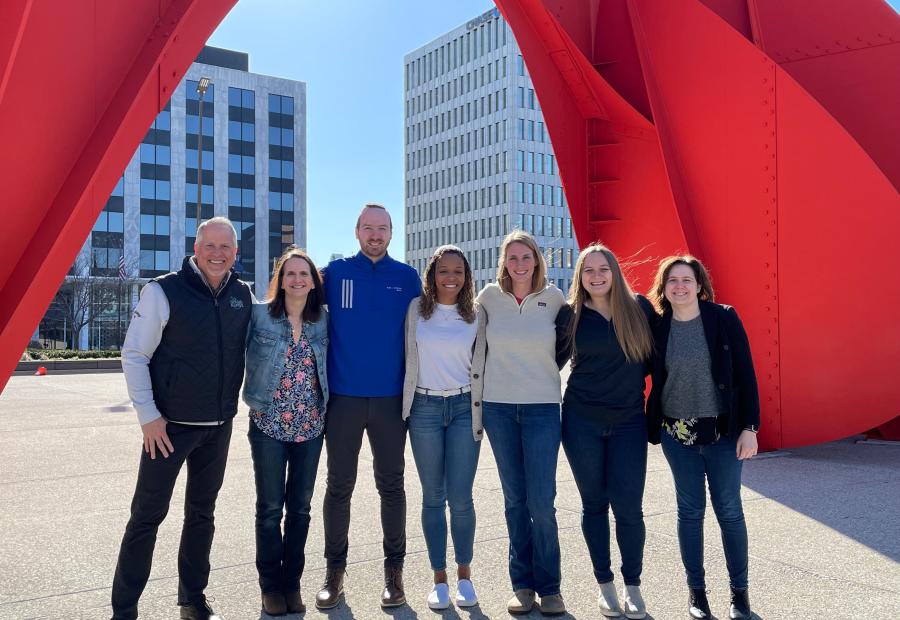 The West Michigan Sports Commission staff works to promote the area as the premier venue for sporting events of all kinds.
Photo by West Michigan Sports Commission.
Sports groups get an extra edge when they meet in Grand Rapids – the assistance of the West Michigan Sports Commission.
The mission of the West Michigan Sports Commission is to foster economic development by attracting sporting events to the area, which in turn improves citizens' quality of life and elevates the brand of Grand Rapids. The Commission is the operating force behind two branches that contribute to their mission: the Meijer Sports Complex, which hosts local, regional, and national baseball/softball tournaments, and the State Games of Michigan, a twice-yearly Olympic-style event that features thousands of in-state athletes competing in multiple sports.
Since opening the Meijer Sports Complex, the WMSC has hosted over 148 events, 7,500 teams, and 243,750 visitors. All of which has contributed to $52 million in total direct visitor spending. In 2022, the WMSC hosted 250,000+ athletes for 113 sporting events and was recognized as a 2022 Champion of Economic Impact in Sports Tourism by Sports Destination Management. That same year, the Commission also added a second hub for the Winter Meijer State Games – Marquette in Michigan's Upper Peninsula – to accommodate more snow-dependent sports. In 2023, it is conducting a major fundraising campaign to expand the Meijer Sports Complex with a new championship-level softball field, 20 pickleball courts and more. The expansion plans to bring in an additional 200 teams and $1 million in visitor spending per year.
EXGR works closely with the Sports Commission to coordinate and schedule sporting events and meetings, a task made easier by the abundance of first-class facilities here. Visit the West Michigan Sports Commission website for information on venues, events and more.