They hit hard, leap high and run like a freight train when hooked. It's no wonder steelhead are considered one of the country's top sport fish – and it's no surprise that hundreds of anglers converge on rivers in the Grand Rapids area each fall, hoping to hook one of these majestic fish.
Steelhead is a name given to migratory rainbow trout that are born in rivers but spend most of their time in the Great Lakes (or in the ocean, on America's West Coast). Steelhead and rainbow trout are the same species, but their lifestyles are quite different, as rainbow trout never leave their natal streams. Steelhead tend to be larger and are silvery to brassy in color, as compared to the multi-hued coloration of the trout.
Muscular and feisty, steelhead have a violent strike and can put up quite a fight. Stories of sudden line breakoffs and muscle-burn are legion among steelhead anglers. The burly fish can shame even the most bravado-prone anglers.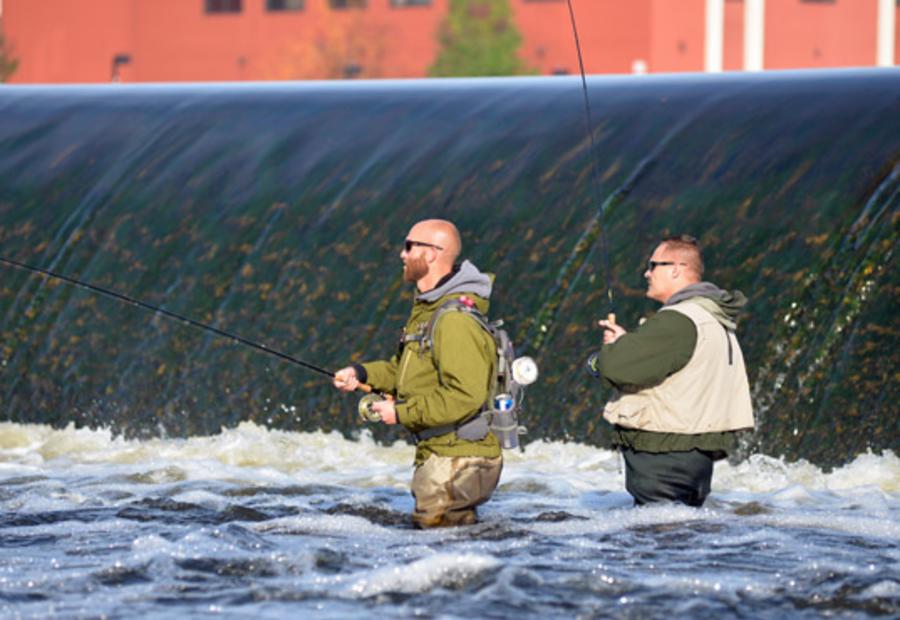 Two area angler wade-fish for steelhead on the Grand River just downstream from the Sixth Street Dam on the east side of the river.
Photo by Howard Meyerson
Downtown Fishing
Which, of course, is part of the fun. In Grand Rapids, thrill-seeking anglers regularly gather downtown to fish the Grand River as it flows past bustling streets and iconic buildings. River access is easy from Fish Ladder Park on the west bank and from Sixth Street Bridge on the east side.
The downtown fall fishery is often a spectacle, one of shoulder-to-shoulder anglers wading in the river's shallows and boils. Lucky onlookers observing from the banks, or from Fish Ladder Park, can catch an eyeful of the torpedo-like fish trying to jump the river's nine-foot dam or working their way up the fish ladder.
Each year, thousands of steelhead make the run through downtown, with good fishable numbers typically starting the first week in November. The average catch is six to seven pounds, but there are 10- and 12-pounders in the mix.
That's enough muscle to leave most any angler breathless after doing battle with one in a raging current. The Grand River can run high and fast, so caution is needed if anglers choose to wade its rocky rapids, where deeper holes are often not visible. Anglers also are generally advised to use a wading staff when fishing there. Some also wear cleats for added traction.
The Grand River is readily fished from its banks too. A long-handled net is often helpful, or one secured by a rope to help pull it up, particularly when fishing from the east bank wall.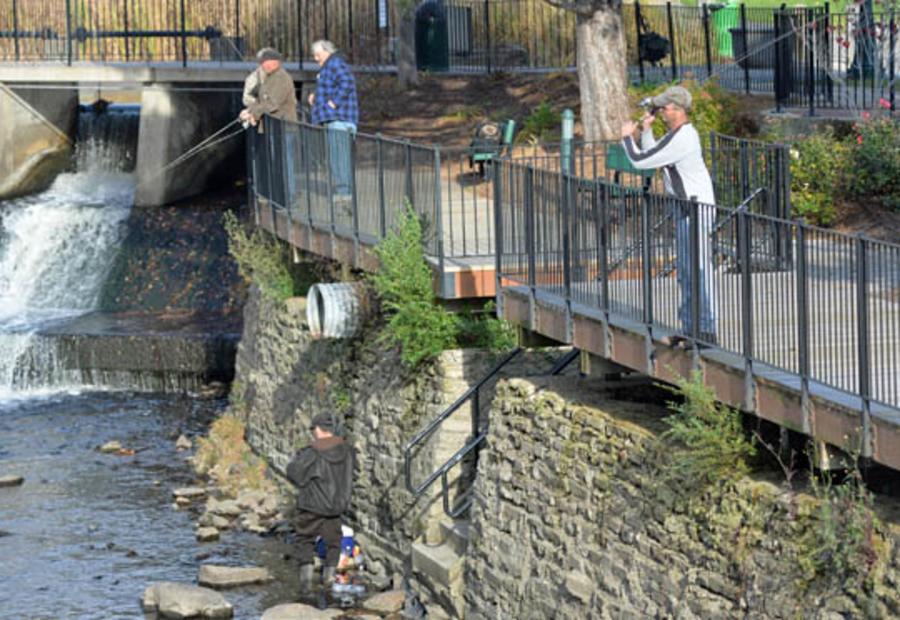 Anglers gather on the wall at Rockford Dam to fish for fall steelhead.
Photo by Howard Meyerson
Beyond Downtown
Other Kent County waters also offer good steelhead opportunities. The Rogue River in Rockford, 20 minutes from downtown Grand Rapids, is fabled for its steelhead runs. The runs are often stronger in spring than fall, but the river offers plenty of good fishing once the leaves have come down.
Downtown Rockford, just below the Rockford dam, is a popular fishing spot on the Rogue, as is a DNR access site farther downstream (just upstream from the old Childsdale Dam). Much of the river is wadeable, and you can catch fish with just wax worms or spawn.
Steelhead are also abundant in the Kalamazoo River, including just downstream from the Allegan Dam, about 45 minutes from Grand Rapids. There are many places there that anglers can wade or fish from shore – and unlike the Grand River, where the Fish Ladder means steelhead can be there one day and gone the next, steelhead here tend to congregate at the dam and settle in for the winter.
The lower Flat River, near Lowell, is another stream that is productive for steelhead. It is a Grand River tributary and they can be caught as far upstream as the first dam in town. 
While the big fish may appear in other streams, most other Grand River tributaries are closed to steelhead fishing in the fall and reopen in spring for the regular trout season.
Fishing Tactics
Fall tactics are about attracting feeding fish. Steelhead are still actively feeding in fall, often keying in on the eggs (spawn) of salmon that are still around in rivers.
Anglers use a variety of techniques, from drifting spawn bags while fishing from shore, to casting crankbaits like Hot 'N Tots, spinners in a variety of colors, and drifting spawn under Wobble Glos or Lil Corkies. Bouncing spawn on the river bottom or fishing it under a bobber can be very effective tactics.
You may up your odds of a good haul by chartering a local fishing guide service – these experts know all the best fishing spots. Charter fishing can also be a good alternative for beginners. Scroll to the bottom of our Fishing in Grand Rapids page for a list of charter services.
While many anglers opt for a photo and quick release of their catch, others take them home and smoke, grill, broil or fry them. They make excellent table fare!
If you're planning to give fall steelhead a try, be sure to dress warm. A Michigan fishing license is required. Those are available at Meijer stores and most bait and tackle shops. They can also be purchased online.