It can be hard to please everyone when planning an outing. Some people want to go out to eat, while others might want to see a movie, or maybe even go shopping. 
Studio Park in the heart of downtown Grand Rapids is a one-stop entertainment hub that has something to make everyone happy.
Emily Loeks, Director of Community Affairs for Studio C, the parent company of Celebration Cinema, says Studio Park is a convenient entry point from which to explore the city. "With its central location, easy parking, heated walks, and food and entertainment every day, it's a great place to connect with people."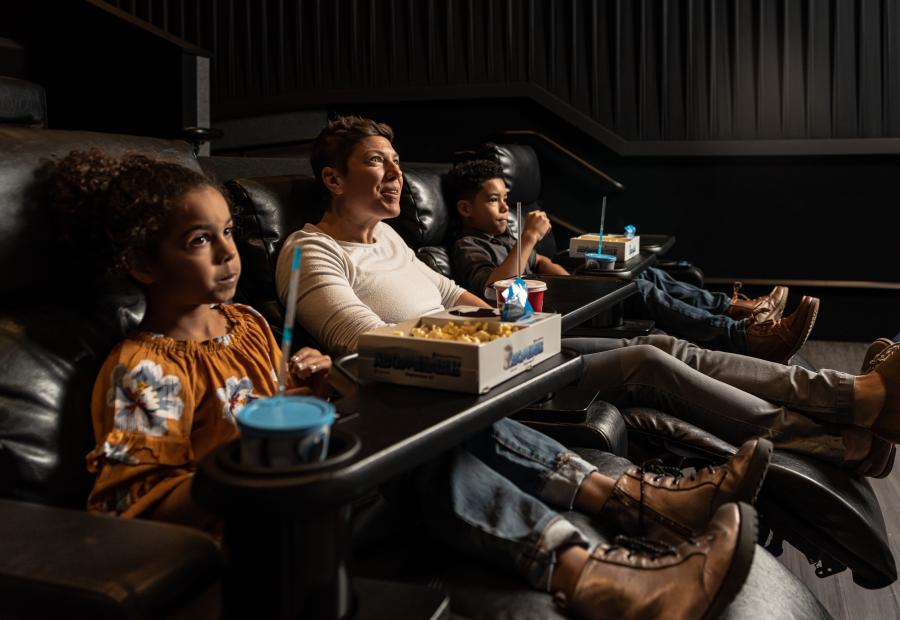 With the largest screen in West Michigan, Studio Park is the perfect place to enjoy upcoming blockbusters.
Photo by Experience Grand Rapids
Premium Movie Experience
The Majestic Theater, the last of downtown's grand movie houses, stopped showing movies in 1972. (It was later renovated into a home for the Grand Rapids Civic Theatre, one of the nation's oldest community theatres.) Studio Park bought movies back to downtown in a big way in 2019 with the opening of Celebration Cinema Studio Park.
Boasting nine indoor screens and one outdoor screen (overlooking a piazza), Celebration Cinema is a moviegoer's nirvana. Its "Theater One" seats 300 guests and boasts the largest screen in West Michigan, a 90-foot widescreen.
Guests can enjoy in-theater food delivery – everything from popcorn, soda and sweet treats to boneless wings, chicken quesadillas and pizza. It also has a full bar serving beer, wine and spirits. To top it all off, parking in the Studio Park covered parking lot is free for four hours when you see a movie. Just be sure to validate your ticket!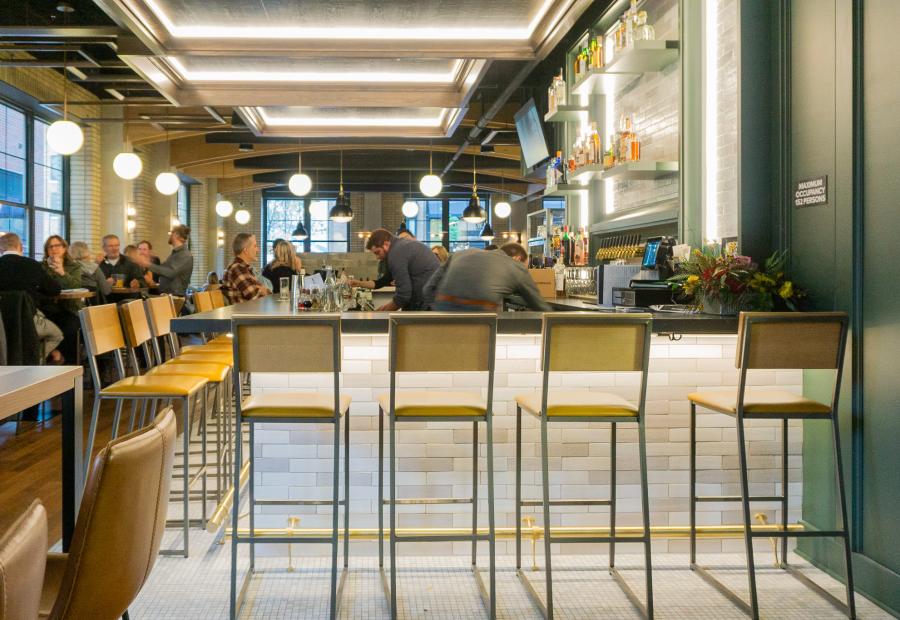 Studio Park's flagship restaurant, One Twenty Three Tavern, offers new takes on classic American dishes.
Photo by Brian Craig for Experience Grand Rapids
Eat, Drink and Get Moving
Studio Park is home to its own original restaurant, One Twenty Three, named for one of the first theaters owned by the Loeks family, which was located at 123 Pearl. This unique spot has a cozy atmosphere with fresh takes on American cuisine, including California garlic fries and the One Twenty Three burger with bacon-onion marmalade. The tavern also features outdoor seating, a full bar, vegan options, a Chef's Table experience and a kids menu sure to please all in your group. 
The Studio Park complex includes other food options as well. Leo's Coney Island On Tap serves up breakfasts, burgers, sandwiches, salads and Coney Island hot dogs in addition to beer, wine, cocktails and yummy "adult" shakes. Elsa's is the place for ice cream, frozen yogurt and other sweet treats. There's even a Starbucks pick-up location on site, allowing you to order and pay ahead of your arrival.  
Numerous other dining options – including Luna (Mexican cuisine), Max's South Seas Hideaway (Polynesian), Peppino's (Italian) and Pochis Café (Colombian) are just steps away.
Want to work off some of those calories? Funky Buddha Yoga Hothouse offers yoga for all ages and abilities, including outdoor classes in the piazza. For a lower-key workout, browse The Arts Marketplace, which carries a selection of quality hand-made goods from 40+ local, diverse makers.
Unique Concert Experience
The 200-seat Midtown venue at Studio Park provides an intimate setting complete with in-seat drink service for an exceptional live music (or live comedy) experience. The venue features a top-of-the-line sound system and semi-circle seating, allowing a more engaging evening for the artist and concert goers alike. 
Midtown also hosts outdoor concerts on the Listening Lawn, which is equipped with a state-of-the-art sound system and offers food and beverage service from One Twenty Three Tavern's outdoor bar. Visit Midtown's website for ticket prices, dates and upcoming shows.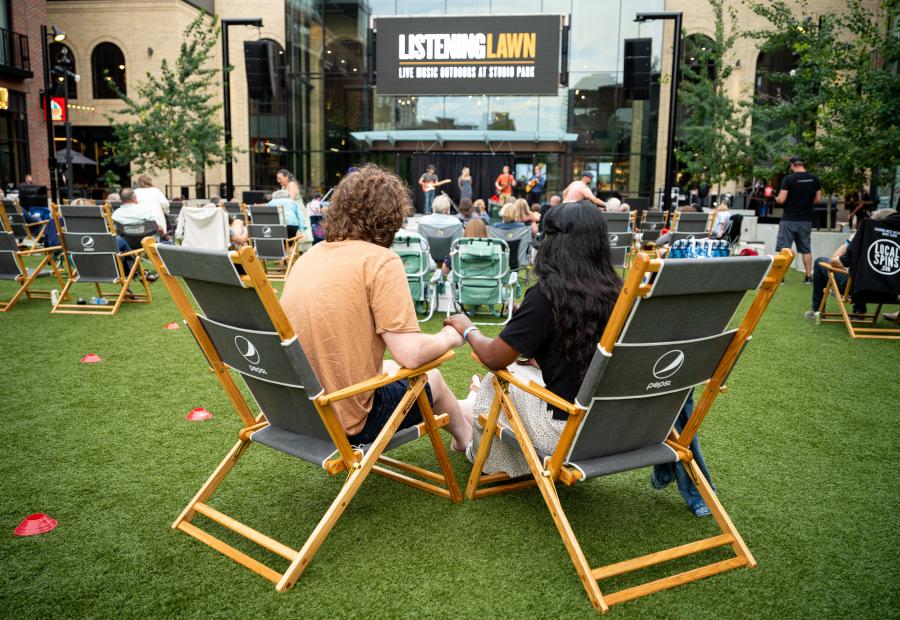 Studio Park's outdoor piazza features heated sidewalks and a screen/stage that is used for outdoor movie or music nights.
Photo by Experience Grand Rapids
Outdoor Gathering Space 
The Piazza at Studio Park is designed as a public gathering spot to bring a bit of the outdoors to the center of downtown. Sunset Cinema movie nights welcome guests to watch popular flicks on a mammoth outdoor screen complete with a superb sound system. Tickets are available on the Celebration Cinema website.
On any given day, the piazza might also host outdoor yard games, yoga classes, a comedy show, a drag show and so much more. Check the Studio Park Events page for upcoming dates.
Heated sidewalks allow visitors to exercise outside year-round and make every season that much more enjoyable – including winter, when Studio Park often participates in the months-long World of Winter Festival.
A Global Headquarters
Studio Park is also home to the corporate office of Acrisure, one of the world's largest and fastest growing insurance brokerages. Its sleek seven-story headquarters opened in 2021 to welcome 500 or so employees from throughout the area. Attracting and retaining talent to the region is a key business strategy for Acrisure, and the concentration of urban amenities at Studio Park – including restaurants, retail and entertainment options within easy walking distance – helped clinch site selection.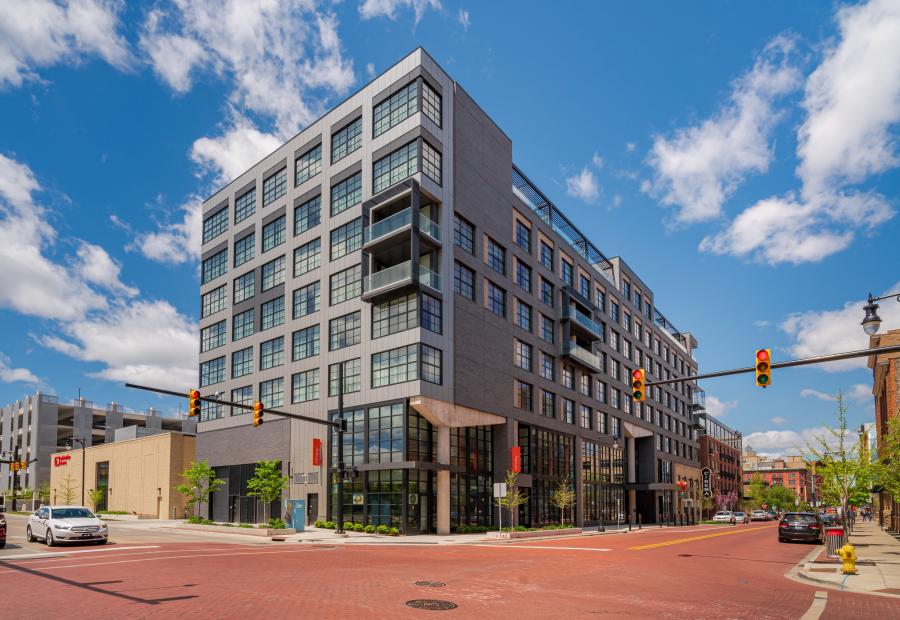 Canopy Hotel by Hilton Grand Rapids Downtown at Studio Park offers luxurious accommodations.
Photo by Experience Grand Rapids
Stay Where You Play
Grand Rapids visitors looking for short-term stays can check in to the 155-room Canopy by Hilton for a local experience with a boutique hotel feel. There are also lofts for rent – and a 16-floor residential tower with apartments and condominiums, scheduled for completion in late 2024 – all of which put residents right in the heart of all the action at Studio Park and the Ionia Avenue Entertainment District.
Within walking distance of such downtown mainstays, as the Van Andel Arena, Grand Rapids Downtown Market, Founders Brewing Co. and the Peter Martin Wege Theatre – home of the Grand Rapids Ballet – Studio Park should be on everyone's to-do list. Just be sure to plan plenty of time to enjoy all Studio Park has to offer!
This story was originally written by Amy Busse and has been updated by the Experience Grand Rapids team.