Experience Grand Rapids makes a big impact on the economy and quality of life in West Michigan thanks to the talents and dedication of our diverse employees. From the leadership of our CEO to the warmth and hospitality of our concierge "blue jacket" staff at the Gerald R. Ford International Airport, our team members' experiences are vast, and they all have a story to tell. Collectively and individually, they make promoting our destination very rewarding work.
In an interview with Experience Grand Rapids' Director of Convention Services, Brandy Martin, she shared her exciting career journey in hospitality and tourism. She discussed her transition from Vegas back home to Grand Rapids, shared how she provides exceptional customer service to her meeting clients and provided some tips on maintaining work-life balance.
Tell me a little about how you landed a career in hospitality.
I graduated from Western Michigan University in 2008 during a recession. Despite the tough job market, I got an offer to work as Floyd Mayweather's personal assistant, and I moved to Las Vegas two weeks after graduation. In that role, I learned a lot about planning events, contracts and facilitating his appearances. Although, it was unconventional experience, I learned so much about customer service. Floyd was the client and those who wanted to see him were the customers. It was important that all parties were satisfied. 
After a year and a half of working for Floyd, I took a job at Aria Resort and Casino. My first role was a front desk agent/guest services representative. The position was very demanding and humbling. Aria Resorts was a 4,000-room hotel with 32 check-in windows, so I had to learn very quickly. Fortunately, I did and was quickly promoted to back office group desk. That's where I started to work with convention clients and became interested in the convention side of things.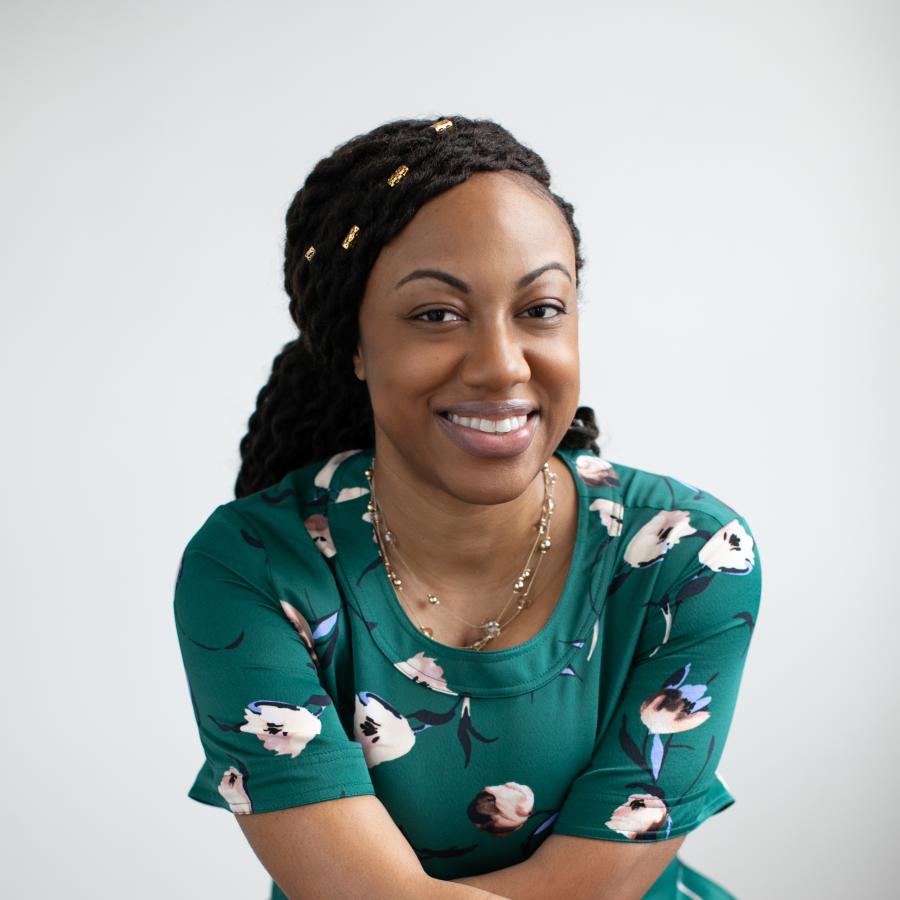 Brandy Martin, Director of Convention Services
Photo by Experience Grand Rapids
Other opportunities to grow my skills came along, including participation in a leadership program through MGM Resorts International. Upon completion of the leadership program and sparked by previous experiences with Floyd Mayweather, I decided I wanted to work in events. I applied for the special events coordinator at Aria but didn't get the job the first time. While disappointed, I was determined to build my skills, and I volunteered to help with some events. That included a lot of humbling tasks, but when another position became available, I was hired.
That's a great story. I love how you turned disappointment into an opportunity.  You didn't instantly step into your dream job, but you took the opportunity to create additional value for yourself and when the second chance came around, you came out a winner.
Absolutely! I realized I that I wasn't ready for that job the first time around, and I learned from that. I applied for other promotions and was looked over, but I'm not one to let "no" be the end of it. Eventually, I sought jobs outside of the Aria and accepted a position as a corporate event manager for Drai's Management group. Again, it was very fast paced, a fun job, and overall great opportunity to continue to build my skills. But after a year and a half, I decided to come back to Grand Rapids.
Why Grand Rapids? What was Grand Rapids for you?
I was born and raised in Grand Rapids and attended Creston High School. My roots are in Grand Rapids and the basis for who I am came from being in a city like this. I was already considering the transition, and then I started dating my high school boyfriend again. I started to contemplate what my family and work life would be like in five years. Working for Drai's was cool, but I no longer wanted to work late nights. So, I moved back to GR, and my experiences and skills landed me a convention services manager position at the Amway Grand Plaza. The Amway Grand was a great place to restart my career in Grand Rapids.
Well, welcome home. Tell us more about your role in Convention Services at Experience Grand Rapids and what are the best and the most challenging parts of your position.
After working at Amway for only 10 months, meeting clients and learning the landscape of the community and the local hospitality industry, the convention services manager position posted at Experience GR. Because the Amway Hotel Collection and EXGR already worked closely together, the job was perfect for me. I could now make an impact beyond the hotel. I was excited about working on behalf of the city.
In my role, any Michigan-based group that has hosted their conference in Grand Rapids consistently – at least three times – is assigned to me. In general, I make sure clients are happy with their contracts and that we provide the best customer service during their time here.
Brandy Martin, Director of Convention Services at Experience Grand Rapids
In my role, any Michigan-based group that has hosted their conference in Grand Rapids consistently – at least three times – is assigned to me. In general, I make sure clients are happy with their contracts and that we provide the best customer service during their time here.
I also attend their conferences in their current host cities to promote Grand Rapids as the upcoming conference location. For example, I attended the 2019 Michigan Dental Association Conference in Detroit because they're coming to Grand Rapids in 2020.
The best part of my job is getting a sneak peek into the exciting activities and events that take place in or are planned in and around the city. I love being able to talk about all the great things that are happening in Grand Rapids with family and friends. This city has grown so much in the last 10 years, and it's great to be on the inside track and share everything that is going on.
A challenging but rewarding part of my job is maintaining a consistent level of service in everything I do, including sales, maintaining sales contracts with repeat Michigan-based groups, and managing our STARS volunteer program. I am still learning my job every day. So, I just try to keep my schedule as manageable as possible.
You talk about volunteers. How do they help you with your job, and can someone become a volunteer?
Our STARS volunteers help our convention services team provide a greater level of service for convention attendees. For example, one volunteer comes in regularly to help assemble welcome bags. And others serve as informational guides. When we have conferences, they staff our informational kiosks filled with visitor guides, dining maps and conference agendas, and they're equipped to direct attendees to meeting rooms and local attractions.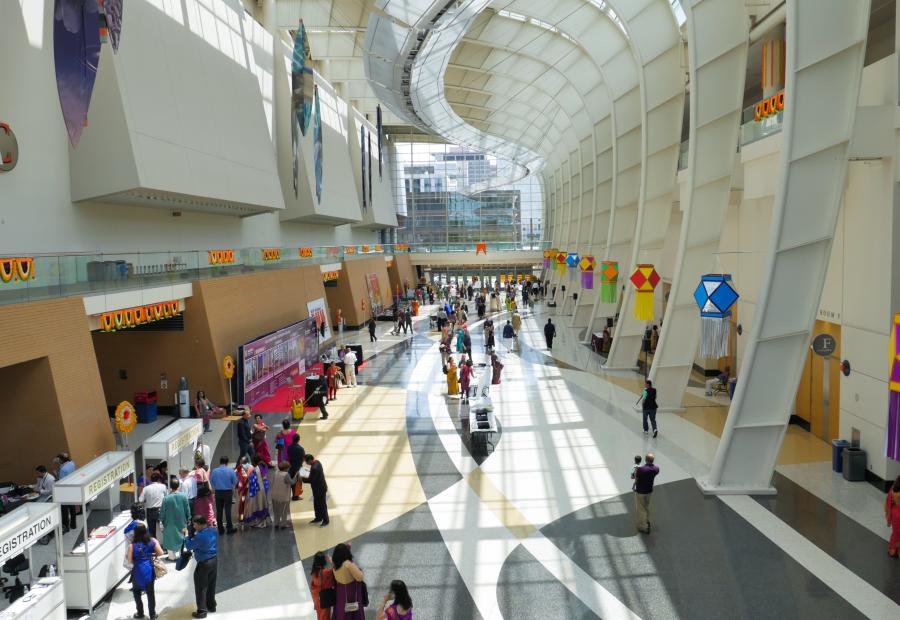 People visiting various exhibitor tables during a conference at a convention center in Grand Rapids.
Photo by Experience Grand Rapids
But, the best way to become a volunteer is to go through the Certified Tourism Ambassador program. It's easy and fun to get certified, and it opens the door to all kinds of volunteer opportunities. 
Is there any final thought that you want to leave our readers with?
Yes! There's a common misperception that in jobs like mine, there's no work-life balance. People think that you are always on call. And while that can be true for some, I always tell people to determine what's important to them. Create expectations for yourself and adjust based off what you consider to be a rewarding career, but you can't let yourself get overwhelmed.
For anyone considering this field of work, work with someone who empowers you to make decisions. Find a peer and/or a senior leader to mentor you, then work to create the best opportunities for yourself along with the best customer service experience for your guests.