Biking the White Pine Trail provides a simultaneous exercise in solitude and solidarity. The trail allows for an escape from the buzzing cars on the roadway and fosters a sense of camaraderie with every passing exerciser and dog walker. Home to a range of cyclists, runners, and the occasional rollerblader, the trail traces a defunct railway's intended path through a series of small towns and communities. In its entirety, the trail is 92.6 miles long and reaches from Comstock Park to Cadillac, spanning five counties. Kent County's section, which covers about 18.5 miles from Riverside Park to Cedar Springs, makes for a pleasant ride whether setting out on a full day cruise or attempting a new land speed record.
Before You Begin
Wear a properly fitting helmet that's strapped under your chin, and make sure to obey all stop signs. The Comstock Park section is home to the most road crossings, but they are common throughout the entire trail. It can be tempting to maintain momentum, especially as the majority of the trail is covered with asphalt, but crossing cars have no stop or yield signs. Cyclists do not have the right of way on these crossings, and they can be especially busy around rush hour.
Cyclists are naturally the fastest movers on the trail, so it will be a common experience to pass runners and walkers. When passing, always give a heads up by calling out, "Passing on your left!" or something similar. This gives pedestrians a quick warning to stay to the right and avoid any accidental collision.
It's a good idea to bring water, cash, and a bike lock for city exploration. For information specific to Grand Rapids, visit GRDrivingChange.org, a joint safety campaign between the City of Grand Rapids and the Michigan Department of Transportation.
Biking on the White Pine Trail.
Photo by Matt Makowski
Riverside Park to Comstock Park
(three miles, approximately 15 minutes)
Located just north of Grand Rapids, Riverside Park is an expansive waterfront green space with plenty of space to play. Featuring a boat launch, sports fields, a disc golf course and a plethora of picnic shelters, it's a gem of the City of Grand Rapids Park & Recreation Department. The well-maintained bike lanes also allow for a traffic-free cruise.
There is parking at the trailhead as well as several other lots scattered throughout the park – both along the trail and next to the little league baseball fields. You should have no problem finding parking, unloading bikes and getting started.
Riverside is a popular Grand Rapids park, so it's generally a good idea to be considerate and keep speed under control while biking through.
Comstock Park to Belmont
(4.2 miles, approximately 27 minutes)
Comstock Park is a small, unincorporated town north of Grand Rapids. The trail is a straight shot to the downtown area and provides a front row seat to this vibrant community. Take a detour to check out Mill Creek as it winds through Dwight Lydell Park.
Along the way, you'll pass LMCU Ballpark, home of the West Michigan Whitecaps. If there happens to be a game in progress, you can catch the smell of popcorn and hear renditions of "Take Me out to the Ball Game" during the seventh inning stretch.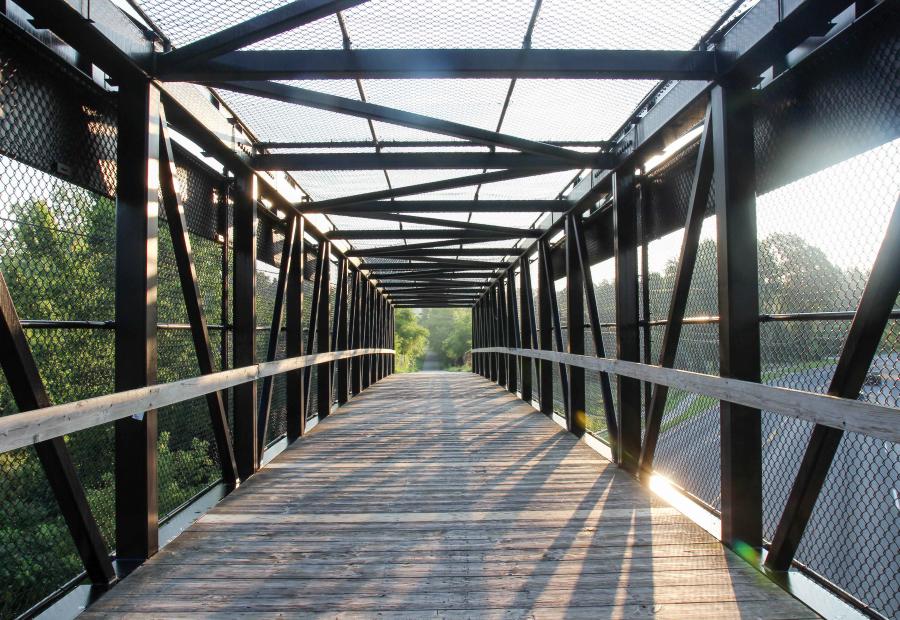 The nearly 93-mile Fred Meijer White Pine Trail begins on Grand Rapids' northside and ends in Cadillac, Michigan.
Photo by Matthew Medendorp
Belmont to Rockford
(four miles, approximately 24 minutes of ride time)
The Belmont trailhead features bathrooms but no water fountains. To cool off, stop for some ice cream at Trailside Treats just before the trailhead. Keep an eye out for other bikers and runners joining at a sharp intersection. From this trailhead, it's a cool four miles to downtown Rockford. The overarching green canopy and prairie grasses along the trail keep you company, alongside the occasional darting rabbit and warbling songbirds. With good weather, the sun casts shadows across the pathway and makes for a beautiful ride through the forests.
Rockford to Cedar Springs
(7.4 miles, approximately 45 minutes of ride time)
After crossing a scenic trestle bridge, the trail enters into Rockford. There are a few opportunities to diverge from the path, but stay on the White Pine Trail by following the signs to downtown Rockford. This is an excellent place to pause for an extended break. Take a minute to refill water bottles and rest your legs at the Rockford Dam Overlook.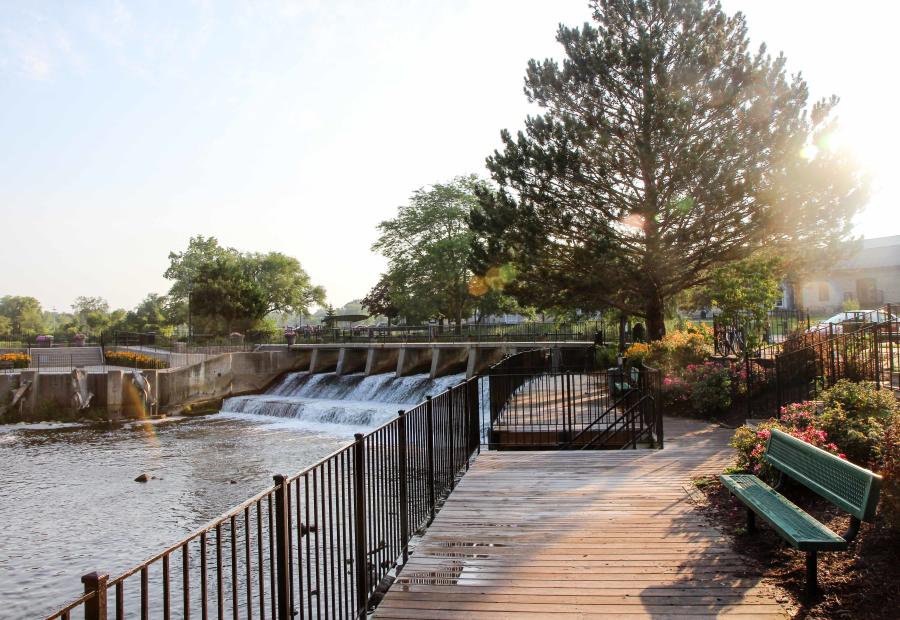 The Rockford Dam Overlook is a great place to stop to rest your legs.
Photo by Matthew Medendorp
Downtown Rockford is a can't-miss rest stop along the trail where you can take advantage of all its shopping and eating destinations. Some places of note: Rockford Brewing Company is located immediately trail-side and is a great place to swing in to refuel with snacks or a meal. The beer battered cheese curds are highly recommended (it's high time to start earning back those calories burned on the ride). Also check out Sweetland Chocolates & Coffee a block away from the trail for a caffeine boost and something sweet, Dam Dogs for hot dogs and salty snacks or Custard By The Dam for ice cream. Just past downtown, the trail also passes Rockford Footwear Depot – home to over 23,0000 square feet of shoes, apparel and gear.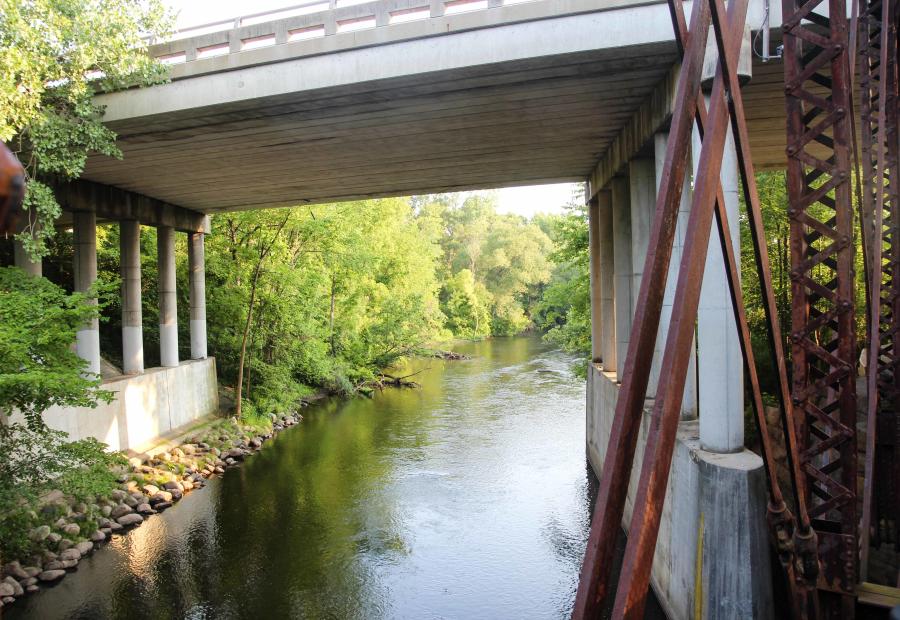 Glimpses of scenic Rogue River spotted from the trail.
Photo by Matthew Medendorp
Just past downtown Rockford, the White Pine Trail rolls along the Rogue River for some of the most scenic stretches of the trail. Depending on the day, expect to see a number of paddle boarders floating their way down the Rogue. Expectedly, this is among the busier sections of the trail. Traffic drops as the trail pulls away from the river and through residential areas up to Cedar Springs – quite literally up. A nicely-graded hill climbs steadily for a mile or so, with its peak conveniently located under a bridge with a well-placed bench, perfect for catching your breath.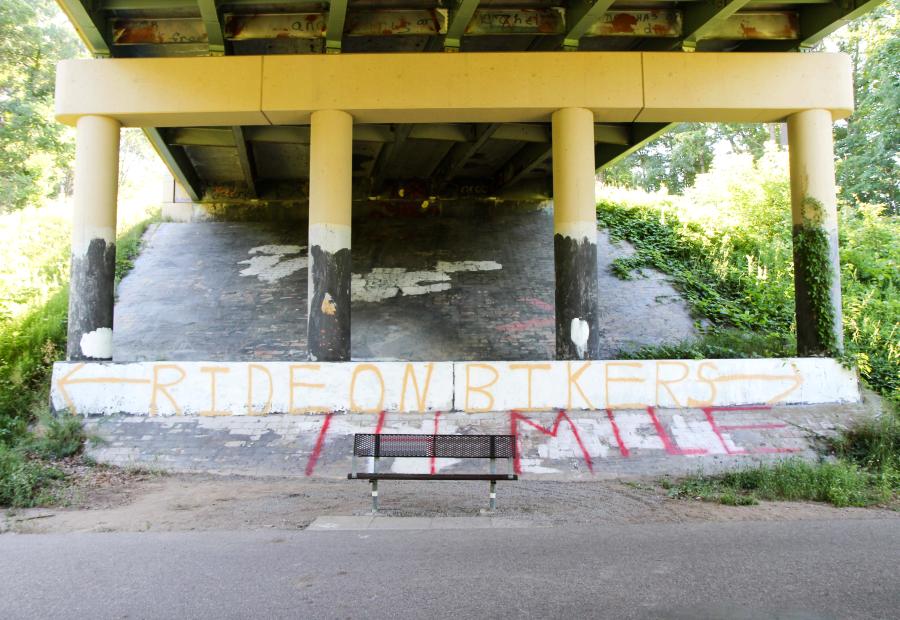 Some helpful bridge graffiti for a self-esteem boost.
Photo by Photo credit: Matthew Medendorp
From here, bike into Cedar Springs - dubbed the "Red Flannel Town" for its historical production of "drop seat" long johns and union suits famously worn by old-timey lumberjacks. Main Street is only a few blocks from the trail and this charming, small town is worth the exploration, including a stop at Cedar Springs Brewing Company.
Now take it all backwards, but fear not, there are plenty of stops you can make along the way to refuel. As you pass through Belmont towards Comstock Park, you'll run into Bier Distillery, which offers a wide assortment of beer, wine, spirits and cocktails, as well as a full menu to give you one last burst of energy for your ride back.
Trip Summary
Total Mileage: 18.5 miles one way, 37 miles round trip.
Total Ride Time: Approximately one hour 20 minutes one way, approximately two hours 40 minutes round trip. Ride time is based on an average speed of 12 miles an hour. Check out the route below, which includes additional suggestions for things to do while on the trail.
Grab your bike, helmet and a sense of adventure, as you prepare to make this scenic trip!
Discover more trails to explore by checking out the Grand Rapids Biking Trails page.
This was originally written by Matt Medendorp and had been updated by Experience Grand Rapids.