Every year, thousands of visitors and locals enjoy the sights and sounds of Grand Rapids' robust downtown area and surrounding neighborhoods. 
Grand Rapids and those who own and operate its diverse array of experiences strive to accommodate visitors with special needs so that everyone can enjoy the area and what it can offer. From attractions and restaurants to parks and trails around the city, there are plenty of reasons why Grand Rapids has previously been ranked the #2 best city for people with disabilities in 2017 and #8 in 2019.
Local hotels are no exception as many are making strides to improve their systems and services to provide accessible experiences for all travelers, especially those who use wheelchairs. 
To help identify some of the most accessible hotels in the Grand Rapids area, we enlisted the help of a local hotel aficionado — Gabriel Grant, founder and CEO of Care Granted and Access Granted.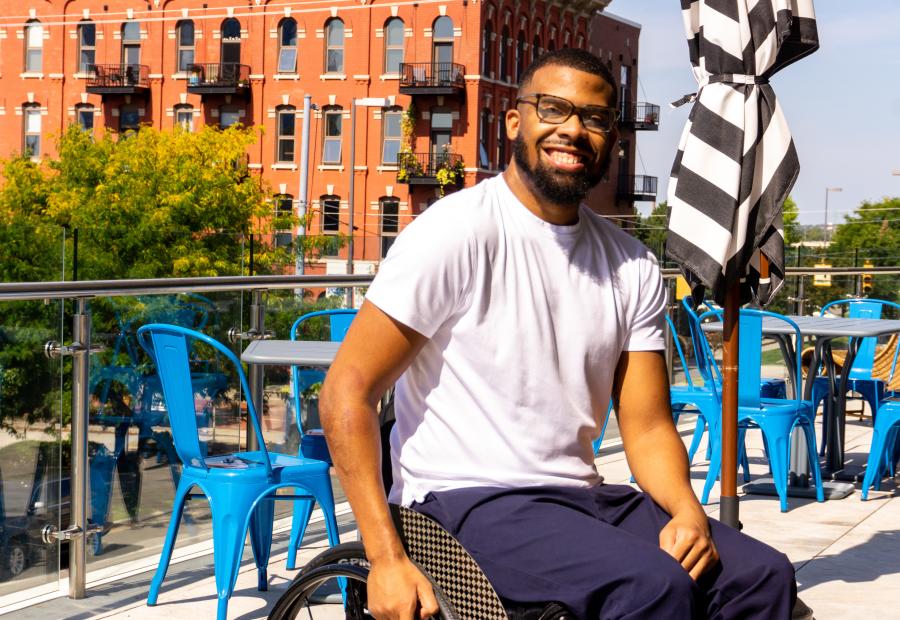 Gabriel Grant is the founder and CEO of Care Granted and Access Granted, organizations aimed at providing support for those who want to be more inclusive and accessible to everyone.
Photo by Brian Craig for Experience Grand Rapids
Access Granted
Gabriel Grant became quadriplegic at the age of 18 after being severely injured in a car accident in 2009. While he was told he would never walk again, he can now walk short distances but primarily uses a wheelchair. 
Following his accident and recovery, Grant, a Grand Rapids native, began growing his knowledge about what was truly accessible in Grand Rapids and even around the world during international travels.
"I'm hard-headed and don't use the word 'can't,' but I found certain things were almost impossible for people with different abilities because of a lack of accessibility," says Grant. "I found the best way to combat this was to work with companies and organizations to better their awareness and education to solve these issues in hopes it would happen less and less."
Grant's disability opened a new door of opportunity to create Care Granted, a home health care company, in 2016. A few years later in 2019, Grant also established Access Granted — a diversity and inclusion consulting firm with a mission of providing information, education, and assistance to companies, individuals, and organizations who want to be more accessible and inclusive to all. 
Grant's work has provided him with opportunities to collaborate with the organizers of ArtPrize®, as well as Disability Advocates of Kent County, in a growing effort to make Grands Rapids as accessible and inclusive as possible. 
Grant's responsibilities with Care Granted keeps him on the move, requiring frequent travel between Phoenix, Arizona, where he resides part-time, and Grand Rapids. So, he is always on the lookout for hotels in Grand Rapids that go above and beyond to provide accessible accommodations. 
"Last year alone, I stayed in Grand Rapids hotels for a little over 20 weeks," says Grant. "During that time, I bounced around to different hotels to see which offered me the best accessibility and experiences." 
Below you'll read about six hotels in Grand Rapids that Grant has either personally stayed at or toured that strive to create an accessible and enjoyable experience for all of their guests. 
What makes a hotel accessible?
First, it's important to understand what makes a hotel accessible to its guests. 
Grant says that bathrooms should ideally include adequate space and convenient toilet/door placement for wheelchair users, accessible counter space, and an easily usable shower, such as a roll-in shower.
It's also ideal for bedrooms to have open concept designs, various bed size options, two access points to bedsides, room for equipment storage, and room under the bed for Hoyer Lift storage (used to help transfer a person from a wheelchair to a bed and vice versa).
In terms of amenities, all guests should have equal access to the hotel's pool, gym, parking spaces, bars and restaurants, and lobby area.
Also, Grant says it's certainly a plus when hotel staff is knowledgeable about accessibility features and ready to assist with bags, valet, or self-parking.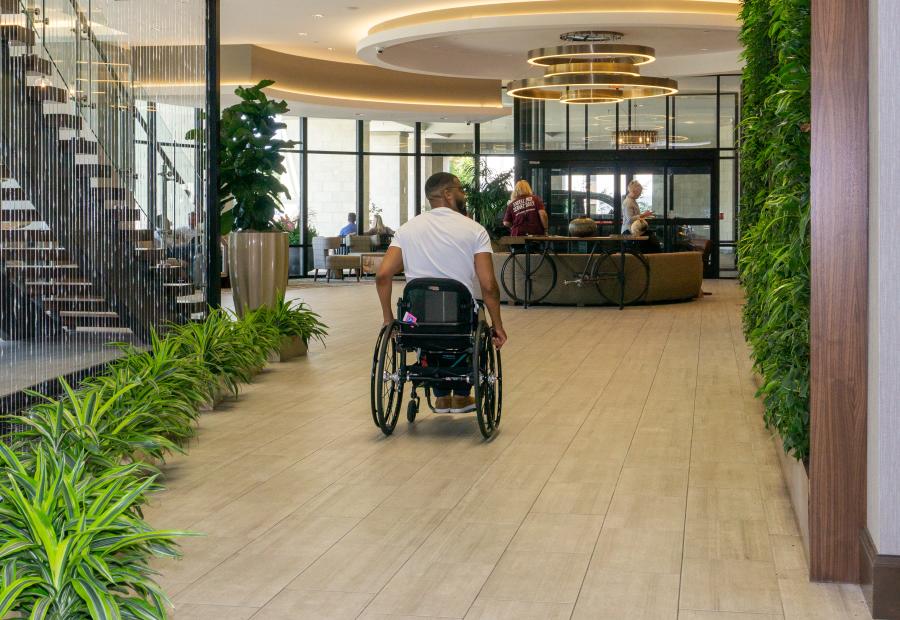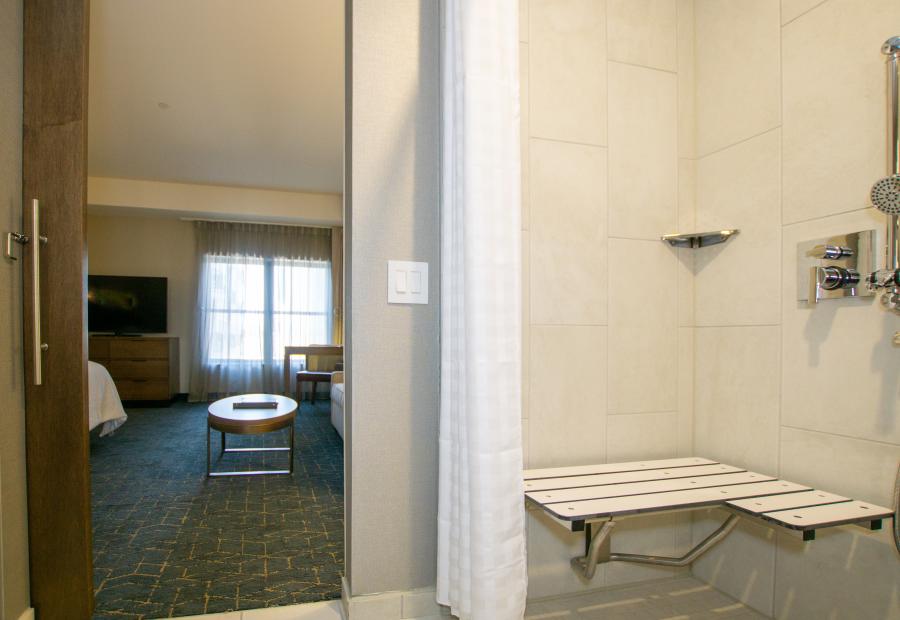 Among Embassy Suites' accessible amenities are an open layout lobby, bathrooms with a full turn radius for a wheelchair, and showers large enough for travel shower benches.
Photo by Brian Craig for Experience Grand Rapids
Embassy Suites by Hilton Downtown Grand Rapids
When arriving at the Embassy Suites Downtown Grand Rapids, Grant says you're greeted by smiling staff members who are ready to take your luggage and equipment up to your room when you check-in and take everything out to your car at check-out.
The hotel offers both valet and self-parking options (a parking ramp is attached to the hotel) and an easily accessible lobby area that includes bathrooms for quick use. 
In your accessible room, Grant says you'll find suite-style accommodations with a shared living room and bedroom space with an in-room wet bar that has a sink, microwave, and mini-refrigerator. In the living room, there is plenty of storage for equipment and luggage during your stay, and Hoyer Lift users will have ample space for transfers on each side of the bed in the bedroom.
"The bathrooms have full turn radius for a wheelchair and the showers are large enough for travel shower benches," Grant explains. "A wheelchair cannot fit under the sink, but the height is perfect and there is enough room to turn your wheelchair to the side to use it."
As an added perk when you're hungry, Big E's Sports Grill is conveniently located on the ground floor of the hotel.
"With an open floor plan, the restaurant has easy access doors with ample space at the bar for wheelchairs, plus seating inside and outdoors," says Grant. 
With a short elevator ride to the second floor, you can also enjoy hotel amenities, including an exercise room, a pool, and a hot tub featuring accessibility lifts. 
The hotel is located across the street from the beautiful Sixth Street Park, which includes access to the historic Sixth Street Bridge and Riverwalk.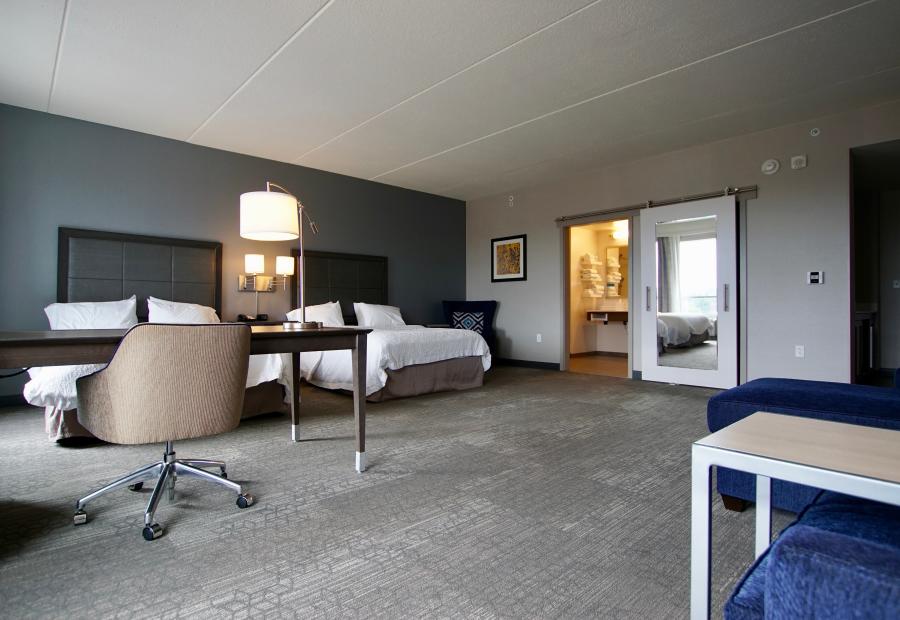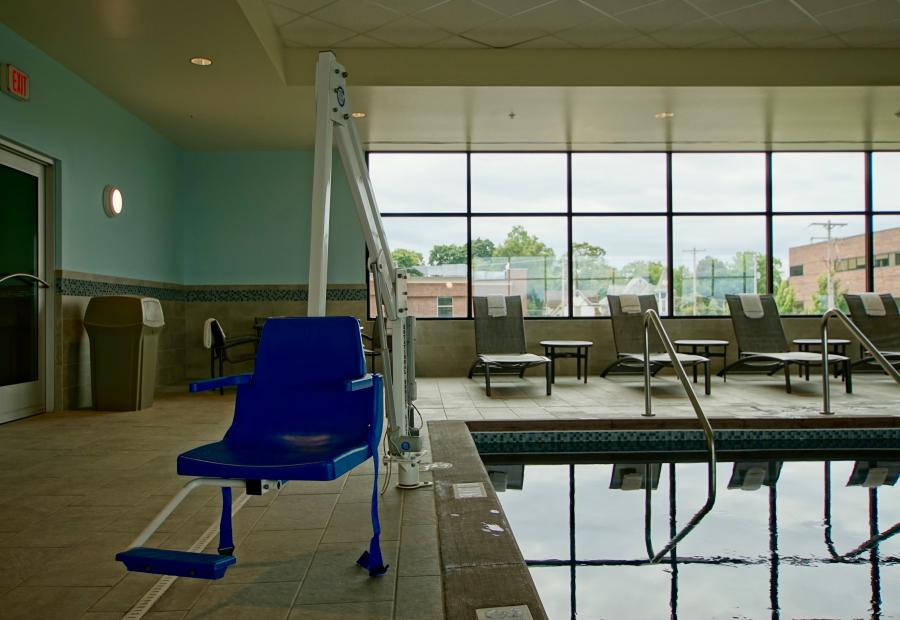 Hampton Inn features accessible rooms with Hoyer Lifts at each bedside, ample storage, and accessible lifts in the pool and hot tub.
Photo by Brian Craig for Experience Grand Rapids
Hampton Inn & Suites Grand Rapids Downtown
Hampton Inn & Suites is conveniently located just off of I-196 along the Medical Mile and less than one mile from the center of downtown Grand Rapids. 
Grant says that the staff at this hotel help enhance the experience of guests with accessibility needs.
"The staff is extremely helpful with individuals with disabilities because they're knowledgeable about the rooms and the accessibility features included," says Grant. "The staff will also assist with luggage and food in the morning upon request."
Speaking of food, free hot breakfast is included in every stay, and the breakfast area is accessible with multiple seating options available. 
The hotel offers large, accessible rooms with open floor plans and both king and double queen bed options. Hampton Inn & Suites also includes amenities like a pool and hot tub (both with accessibility lifts), a fitness center, and a parking structure attached to the building for an added nightly charge that includes accessible parking spots. 
"All bedsides have two access points for Hoyer Lifts to roll under for easy transfer, and the rooms have ample room for equipment storage," says Grant. "The bathroom has a full-turn radius, roll-in shower with a bench, large counters with roll-under accessibility, and a toilet that's accessible from multiple angles."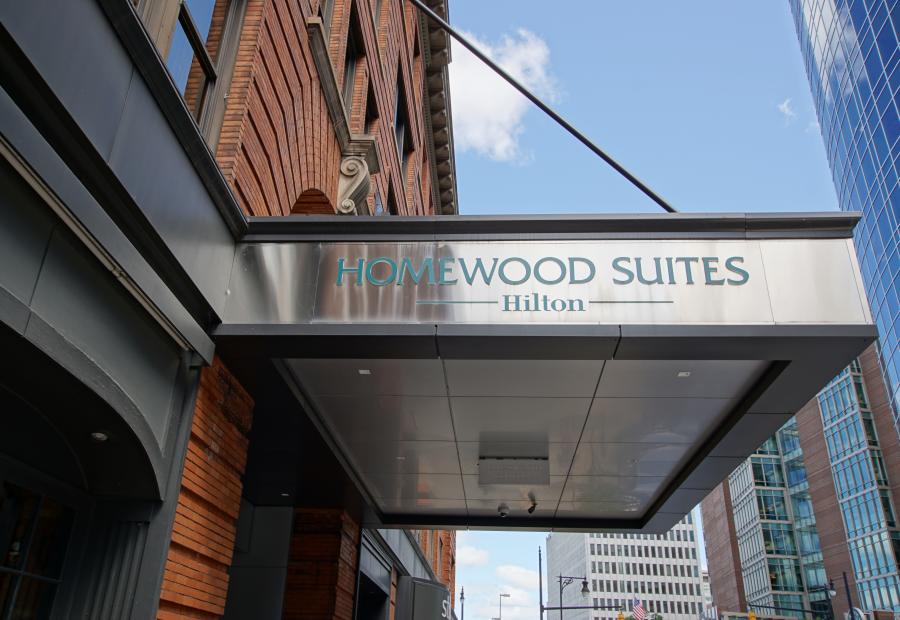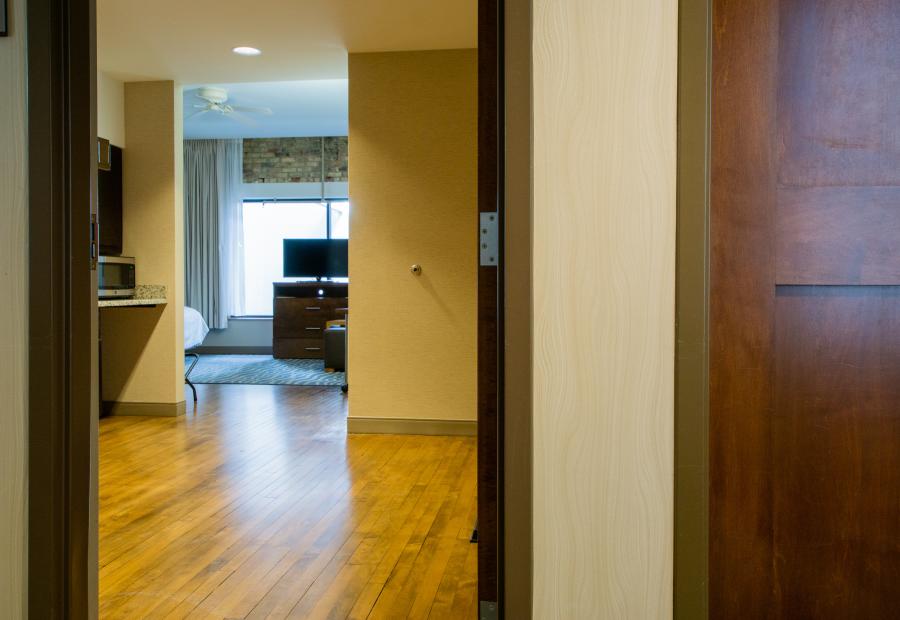 At Homewood Suites, you'll find wider doors, grab bars, braille room numbers, visual alarms, and doorbells and phones with audio/strobe alert capabilities.
Photo by Brian Craig for Experience Grand Rapids
Homewood Suites by Hilton Grand Rapids Downtown
When you stay at Homewood Suites, you're staying in the heart of downtown Grand Rapids.
An Ellis parking area is also attached to the hotel with elevator access and van-accessible parking.
With a sleek, contemporary interior, the apartment-style rooms in Homewood Suites include lowered beds, light switches, shelf storage, sinks, and toilets. Additionally, you'll find wider doors, grab bars, braille room numbers, visual alarms, and doorbells and phones with audio/strobe alert capabilities.
Elsewhere in the hotel, be sure to check out the easily accessible rooftop bar, which includes a fire pit and stunning views of downtown Grand Rapids. You can also enjoy evening social hours Monday-Thursday in the lobby area that include complimentary small plate and drink options.
Plus, the hotel's pool comes equipped with lifts, and the exercise facility has plenty of equipment available for wheelchair users.
This hotel and Hyatt Place (see below) are located within a short distance to Rosa Parks Circle, the Grand Rapids Art Museum, DeVos Place Convention Center, and DeVos Performance Hall where you can enjoy Grand Rapids Symphony concerts, Broadway Grand Rapids, and more. 
You'll also have quick access to an array of dining options, including Reserve Wine & Food, The Chop House, Mojo's Dueling Piano Bar & Restaurant, and Flanagan's Irish Pub.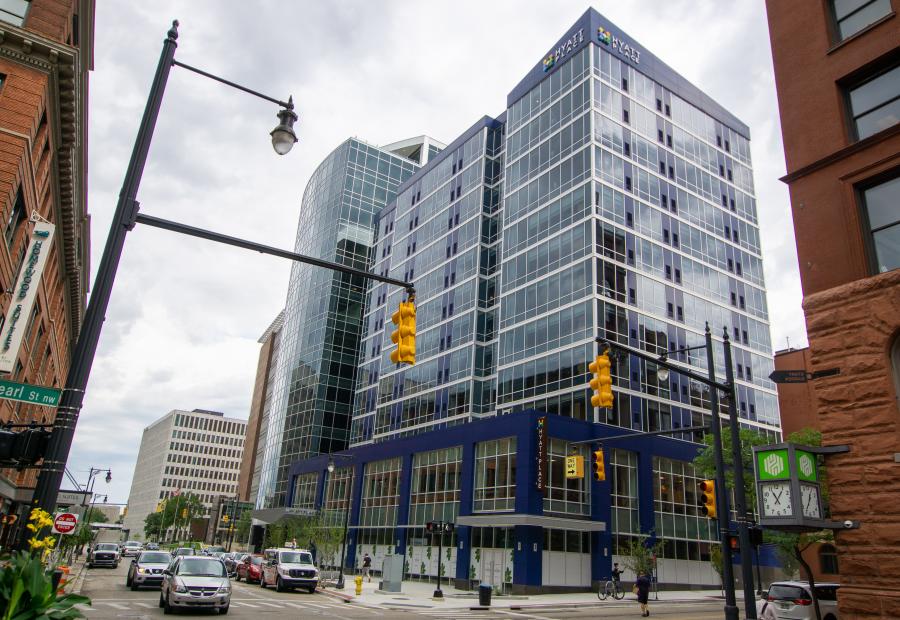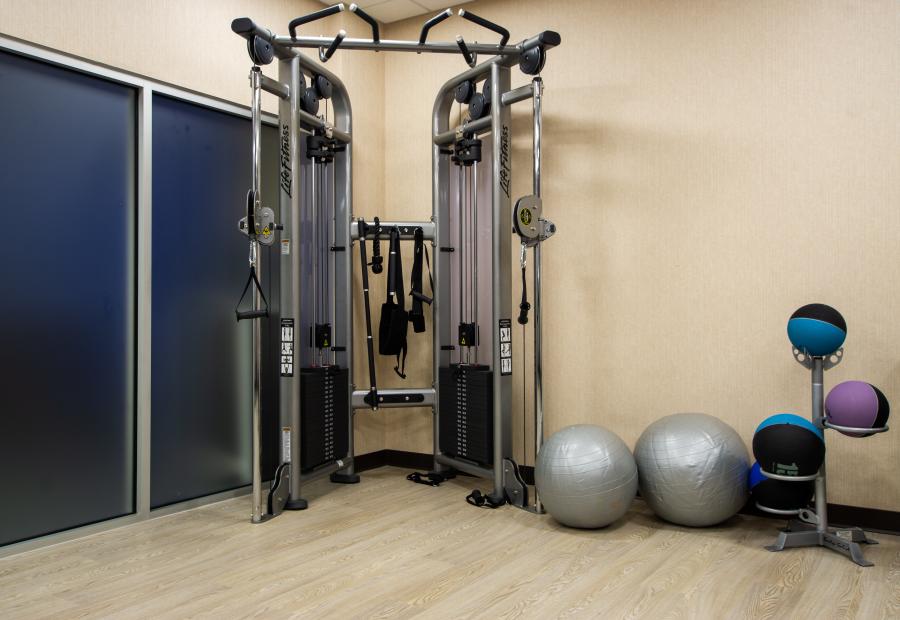 Hyatt Place is in downtown Grand Rapids and includes accessible features like a pool with lifts, an open-floor-plan exercise facility, and an easy flow lobby.
Photo by Brian Craig for Experience Grand Rapids
Hyatt Place Grand Rapids Downtown
Hyatt Place Grand Rapids Downtown is one of the most recent additions to the roster of Grand Rapids hotels. Opening its doors in September 2019, Hyatt Place is located just one block away from Homewood Suites, near Rosa Parks Circle. 
This 12-story hotel offers city and garden view rooms as well as standard rooms, all of which include a work desk and a "Cozy Corner" with a sofa-sleeper. The accessible rooms include a roll-in shower, king bed, wide doors, lowered switches and other room comfort controls, and plenty of storage. Rooms with two queen beds are also available that include an accessible bathtub.
Hyatt Place is attached to a parking garage with handicap accessible parking available for a nightly charge and includes a pool with lifts, an open-floor-plan exercise facility, and an easy-flow lobby. 
While Hyatt Place is surrounded by plenty of eateries, the hotel offers tasty in-house dining options, such as The Bar, which is open from 6 AM to midnight, whether you're in the mood for coffee, a nightcap, or a late-night menu. Hyatt Place also includes The Market, which offers a selection of grab-and-go items ranging from snacks and salads to pastries and other sweet treats.
Besides its convenient downtown location, the JW Marriott has accessible rooms, bathrooms, doorways, and open floor plans throughout.
Photo by Experience Grand Rapids
JW Marriott Grand Rapids
The JW Marriott's towering 23-floor blue exterior is a focal point of the Grand Rapids skyline. With 330+ rooms and suites, you'll be surrounded by an array of attractions, eateries, and more when staying at this hotel. 
The Grand Rapids Public Museum, Gerald R. Ford Presidential Museum, and historic Blue Bridge are all nearby west of the hotel, and you'll find Rosa Parks Circle and the Grand Rapids Art Museum to the east, in addition to many other downtown attractions. Plus, there's no shortage of breweries and restaurants scattered throughout the downtown area.
(Insider tip: get your Culture Pass GR to save on admission to the aforementioned attractions and more!)
Grant says the JW Marriott checks off many of the traits that make a hotel accessible, including helpful staff, rooms with accessible entrances, bedrooms, and bathrooms, Hoyer Lift accommodations, equipment storage, and open floor plans. 
The hotel's signature restaurant, Margaux, is also conveniently located on the first floor. 
"The restaurant has indoor and outdoor seating, and the riverside patio was built with accessibility in mind," says Grant. "The patio has wonderful views from all accessible seating options."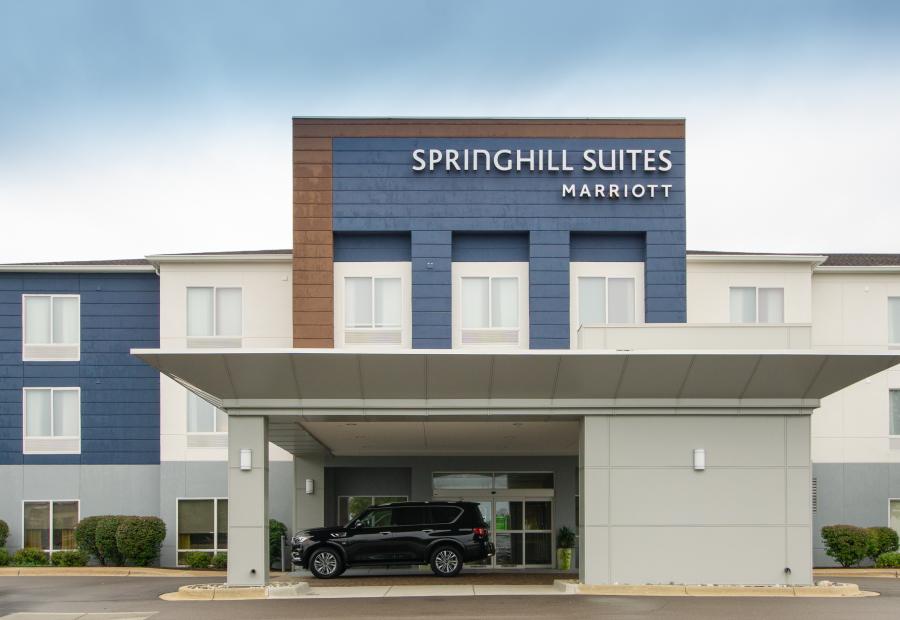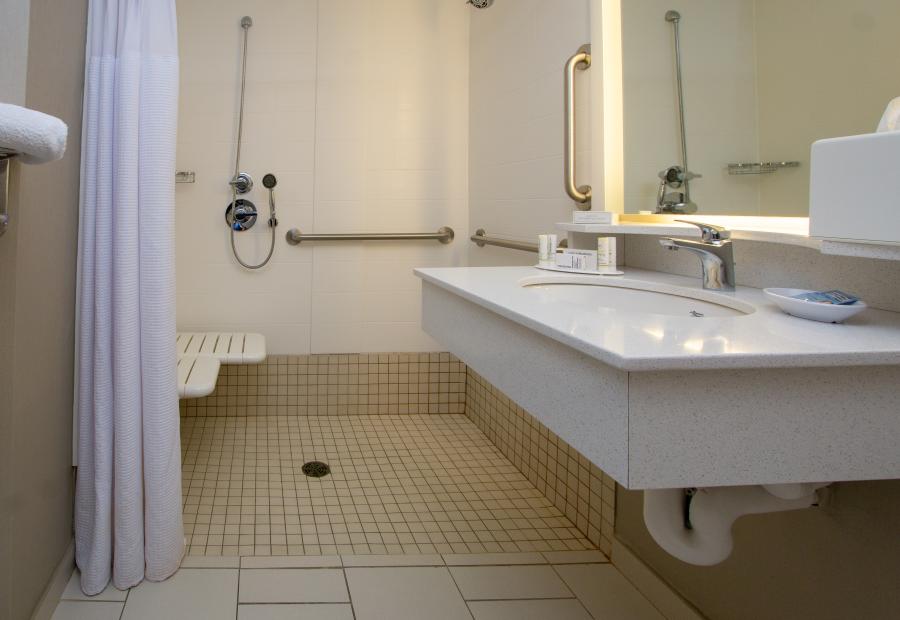 Bathrooms in SpringHill Suites' accessible rooms are large enough for a total turn radius and include a roll-in shower equipped with an adjustable shower wand and grab bars.
Photo by Brian Craig for Experience Grand Rapids
SpringHill Suites by Marriott Grand Rapids North
Springhill Suites North offers a great value and location. It's nestled behind the AMC Star Grand Rapids 18 movie theater off of Alpine Avenue, less than a 10-minute drive from downtown Grand Rapids.
From an accessibility standpoint, Grant says that Springhill Suites North offers an ideal experience for guests, including knowledgeable staff, luggage assistance, self-parking, a pool with wheelchair lift access, and a spacious breakfast area and lobby.
Springhill Suites North, like the other hotels on this list, happily welcomes service animals on the property, as well as hearing accessible rooms and/or kits, TVs with closed-captioning, and an accessible route from the public entrance to accessible guest rooms.
Accessible rooms offer dual bed sizes and multiple access points to the beds for wheelchair users, plus ample storage space for equipment. Bathrooms are large enough for a total turn radius and include a roll-in shower equipped with an adjustable shower wand and grab bars.
"The toilet placement is ideal for self transfers and caregiver-assisted transfers with a grab bar available for extra assistance," explains Grant. "The bathroom door is on a hinged swing toward the bedroom door, so it won't interfere with entering or exiting the bedroom."
This hotel is also a short drive from Riverside Park.
Curious to learn more about the ways in which Grand Rapids strives to be accessible? Check out the Accessibility Guide to read about more of the accessibility features of the city and even identify properties that meet your specific needs as you travel around Grand Rapids. 
You can also find more information in this previous blog about accessible restaurants, and you can find more hotels around Grand Rapids by visiting the Hotels page.