Beer City, USA's radius has not only been expanding but deepening. The city of Lowell welcomes its second craft brew establishment, Big Boiler Brewing. Located downtown on quaint and cozy Main Street, just a few-minute walk from the city's first craft taproom, New Union Brewery, Big Boiler sits just north of where Flat River and Grand River intersect in the former Superior Furniture building with its original roots dating as far back as 1867. 
Co-owners Brent Slagell (President) and Rick Sauber (Beverage and Catering Director) have charged Executive Chef Arjay Mijares to execute a wide-ranging menu as the anchor to Head Brewer Matthew Fouts' beer program. Slagell's vision to complement Lowell's recent growth with a "comfortable place to enjoy good craft beer and delicious food in a relaxed environment" seems to be satisfying the community's demand for dining options, says General Manager Matt Horan.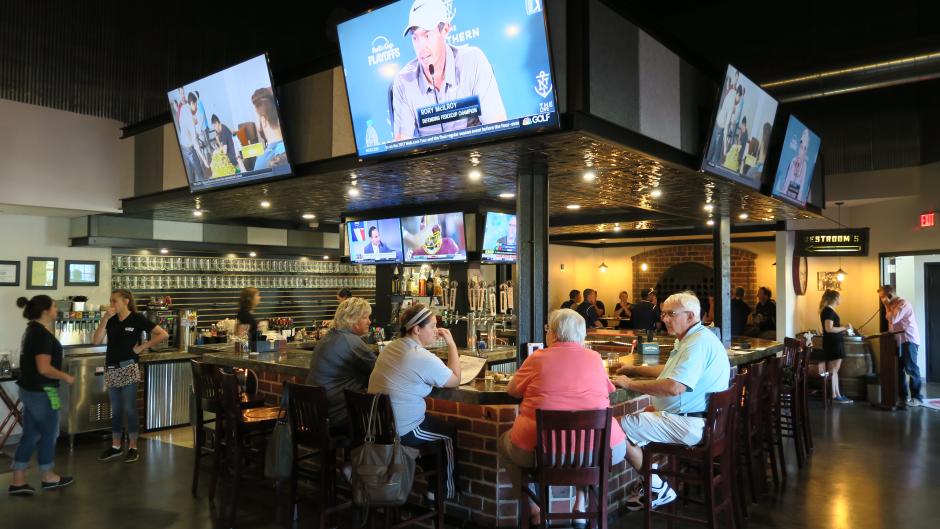 Big Boiler Brewing
Photo Credit: Jason Ley
---
On Draft
Unique to Big Boiler is its brew equipment. Designed and installed by Greenville, Michigan's Psycho Brew, Big Boiler "brews on the only Psycho Brew steam brewhouse currently in existence," says Fouts. The kettles use steam that heats faster and more evenly around the vessel, which allows for a more efficient use of heat with a lower chance of scorching the batch.
Big Boiler currently offers six of its own house-brewed beers on draft, and it is working on brewing enough to cover all 12 taps. Fouts' focus is on traditional American and European ales, with the expectation to introduce lagers into the mix.
In the meantime, Big Boiler hosts three rotating local and national guests taps and two locally-sourced ciders from Painted Turtle. Most draft options are available for to-go growler fills.
For those dedicated craft brew enthusiasts looking for another virtual stamp in their Beer City Brewsader® Passports, Big Boiler is one of the participating breweries. Don't know about the Passport yet? Download the Beer City Brewsader® app, collect eight stamps, and receive an official Beer City Brewsader® t-shirt!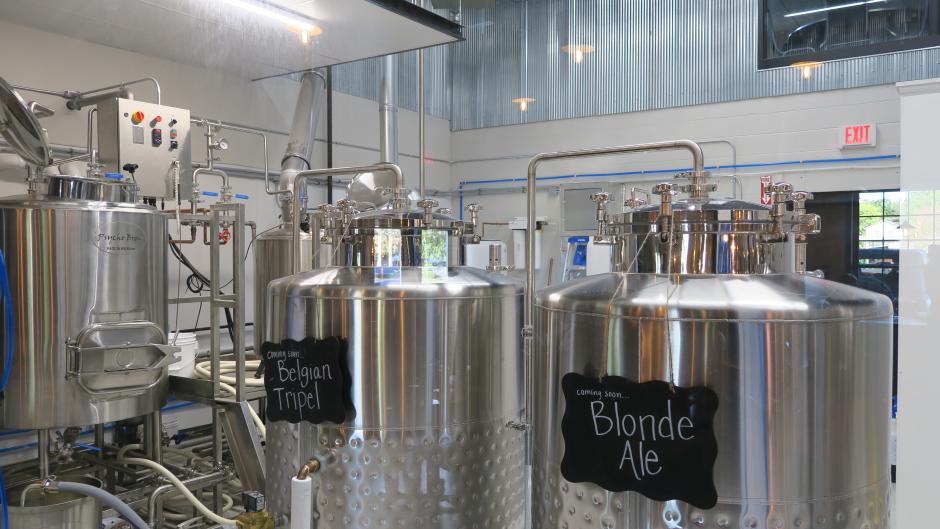 Big Boiler Brewing
Photo Credit: Jason Ley
---
Mug Club
Big Boiler offers a mug club with personalized mug inscription for $50 for the first year and $40 for annual renewals. Mug club memberships are available for purchase online. Benefits include:
$1 off 16 ounce pours anytime
$2 off 16 ounce pours on Tuesdays
$2 off growler fills anytime
20% off all merchandise
Priority for special events
Behind the Bar
In addition to its tap list, Big Boiler also has a fully stocked bar with spirits and wine. For spirits, it offers a seasonal cocktail menu with as many as 13 signature drinks. For wine lovers, the wine list represents Michigan, California, and international reds and whites.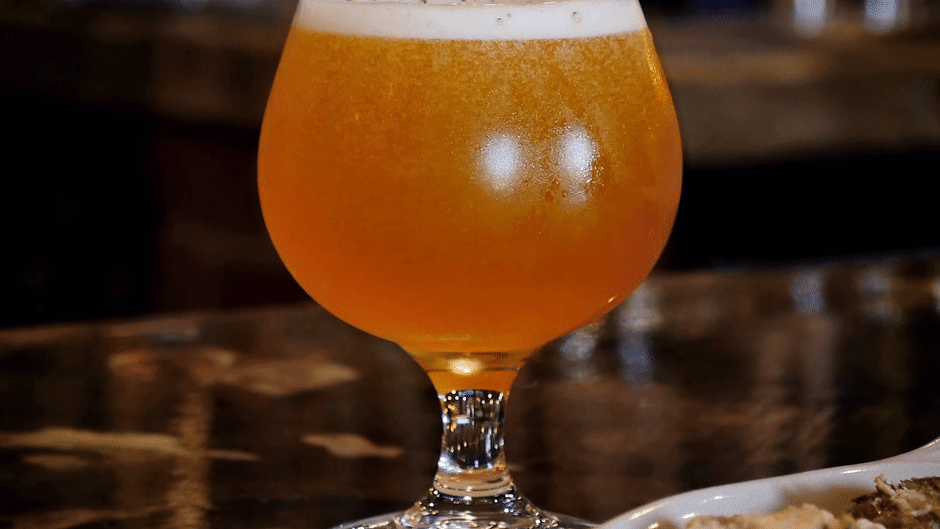 Big Boiler's Blonde Ale, one of six house-brewed beers on tap at their Lowell brewery.
Photo Credit: Experience Grand Rapids
---
Food
Big Boiler's menu boasts a solid variety whether you're looking for a snack or you're here for a full meal. Much of the menu is meant to be communal with 13 sharables and small plates. The Irish nachos, the homemade tots, the beer cheese dip, and big brew chicken wings are staff favorites. Out of the 11 burgers and handhelds, The cordon bleu (ask for a side of house-made potato salad with ground mustard), is a two-handed, delicious monster of a meal. And, the "Knife & Fork" entrées are approachable and reasonably priced.
For those looking for reliable features, Big Boiler posts weekly specials on its Facebook page that include:
Wednesday: Half-off wings all day
Friday: Rotating market-priced specialty seafood (dinner only)
Saturday: Prime Rib (dinner only)
Sunday: $5 Bloody Marys with a select Big Boiler brew sidecar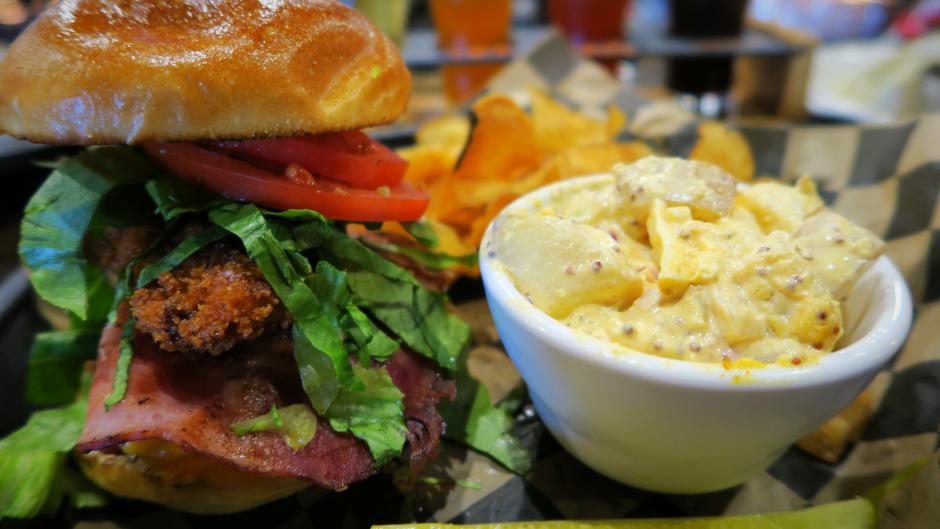 Big Boiler Brewing is one of two breweries in Lowell, and it serves a full menu with more than 10 beers on tap.
Photo Credit: Jason Ley
---
Atmosphere and Amenities
Main dining room seats 120
Free WiFi
Brewery tours: Aside from the panoramic view through the dining room windows into the brewery, interested guests may luck out and catch Head Brewer Matt Fouts with a few moments to spare for a quick tour
Reservations/call-ahead seating: Generally limited for larger parties; please call ahead to inquire
Carryout: Available
Patio seating: Planned for spring 2018
Kid-friendly: Yes. Kids' menu, crayons, booster seats, and highchairs available
Upstairs private event space, equipped with WiFi and a SmartTV, for special occasions, weddings, banquets, business meetings, etc., available for rent, seats 80, and expects to have its own draft system available soon
Parking: Lot with an abundance of spaces, and free adjacent street parking
Hours
Monday – Thursday: 11AM - 10PM
Friday – Saturday: 11AM - 11PM
Sunday: 11AM - 8PM
Contact
Address: 318 E Main St, Ste B Lowell, MI 49331
Phone: 616-987-3155
Email: bigboilerbrewing@gmail.com
Website: bigboilerbrewing.com
Facebook: facebook.com/bigboilerbrewing
Instagram: @bigboilerbrewing
Twitter: @bigboilerbrew
Don't miss a post!
Sign-up for the Insider Experience blog