When it comes to shopping second-hand for clothing, there are many unique shops to choose from in the Greater Grand Rapids area. As an avid thriftier and personal stylist, the questions I'm asked most often are, "where did you get that" and "tell me your secrets", so here I am to spill it all.
Choosing second-hand has become increasingly popular as locals are looking to find ways in their life to be eco-friendly and budget-conscious — buying pre-loved clothing at local shops checks both boxes! For visitors, checking out a second-hand shop is a great way to get an insight into the community and its fashion, as self-expression is often conveyed through style!
Whether you're looking to give second-hand shopping a try for the first time or are looking to explore a new-to-you shop in Grand Rapids, let's dig into the types of second-hand shops you'll find along with a few of my favorites.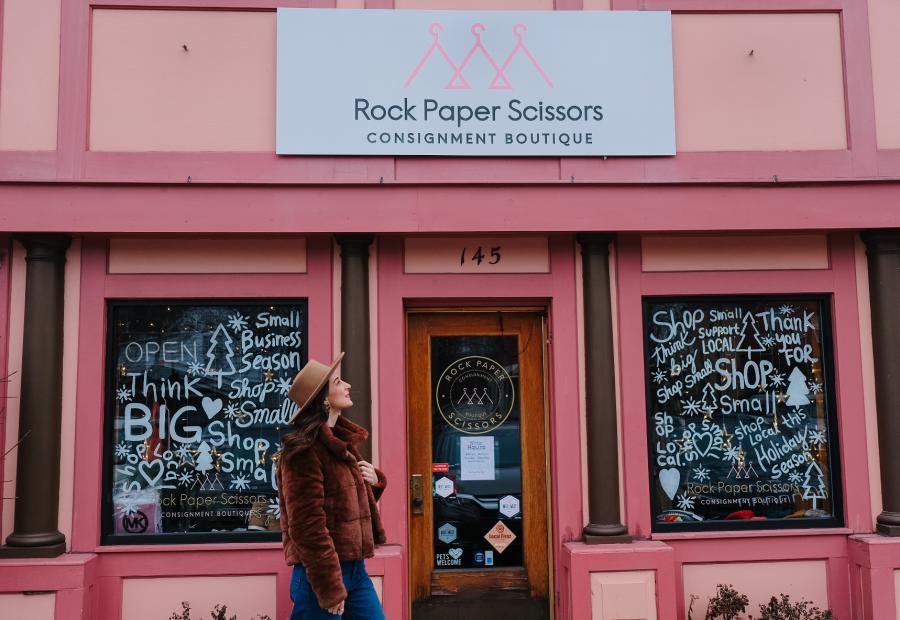 Make the most out of your closet and consign your clothes at Rock Paper Scissors.
Photo by Experience Grand Rapids
Consignment
Consignment stores have a more curated selection of clothing since customers bring items in to sell, and an employee sorts through, choosing what they want to include in the store's inventory. For locals, selling clothes at a consignment shop can be a great way to make extra money on those trendy items sitting in your closet that you just don't wear anymore.
When visiting a new city, I always opt to buy my souvenirs at a consignment shop. I love taking home a piece of clothing that was once owned by a local and giving it a new adventure.
I recommend:
Rock Paper Scissors Consignment Boutique: When you walk into this pink storefront, you'll instantly notice the cool boho vibe, and their clothing selection reflects it! Here you'll find unique items with flare perfect for work or play.
Pro tip: Need fuel for your thrifting adventure? Grab a coffee from Global Infusion next door.
I also love LBD Exchange Consignment Boutique in Rockford. It's my go-to spot for contemporary wardrobe essentials, with an unparalleled collection of workwear that often includes items from J.Crew, Anthropologie, and Ann Taylor at a great price!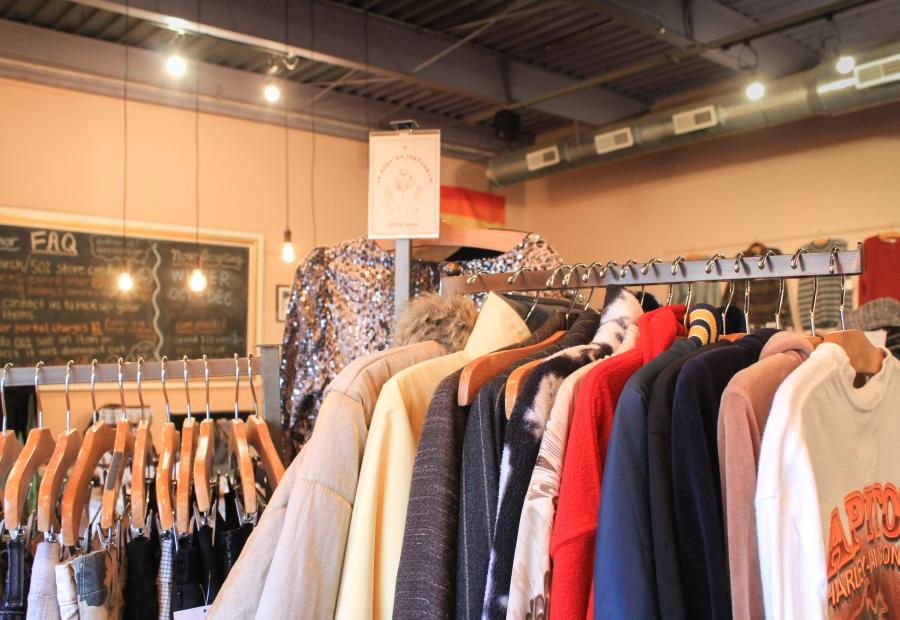 Rock Paper Scissors carries brands like Anthropologie, Free People, and Lululemon.
Photo by Rock Paper Scissors Consignment Boutique
Thrifting
If the thrill of the hunt excites you, thrifting is the place to start! Thrift stores accept donations, so you'll find a large quantity of items, from name-brand items with the tag still on to grandma's sweater. You never know what you are going to find!
I recommend:
Goodwill: With multiple locations in the greater Grand Rapids area, chances are there's a location by you. Offering both women's and men's clothing, there's so much inventory to see with unbeatable prices. From modern clothes to unique vintage finds, I never leave empty-handed when shopping here.
Helping Hands Mission Thrift: Located on the West Side of Grand Rapids, you'll find Helping Hands on Leonard Street. This thrift store puts the community first! Not only do they donate proceeds to local charities, but they also created a voucher program to help provide clothing to neighbors in need.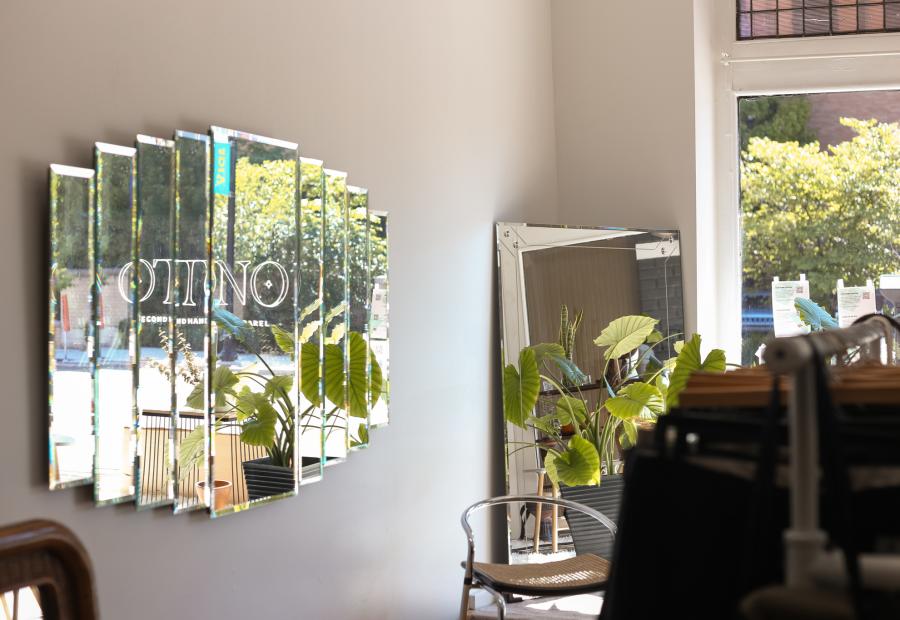 In addition to thrifted clothing and home decor, OTONO sells handcrafted spoon rings.
Photo by OTONO
Vintage & Personally Curated Shops
We've had more curated shops open their doors over the last few years. These store owners have an eye for finding the best second-hand pieces and creating niche collections for us to shop, like vintage and other unique concepts!  
I recommend:
The Petrichor Market: This market hosts multiple vintage collections, known as Reverie Vintage Collective, along with an eco-friendly general store, and "refillery" where you can bring in empty containers to refill your soap, lotion, shampoo, etc. Here you'll find eco-friendly goods and some of the most beautiful vintage pieces from rad local Michigan vendors. 
OTONO: Building community, creating change, and selling a curated collection of uniquely designed clothing are at the heart of this thoughtful shop located on Division Ave. The space changes weekly with new finds! Oh, did I mention the handmade spoon rings? Must-see.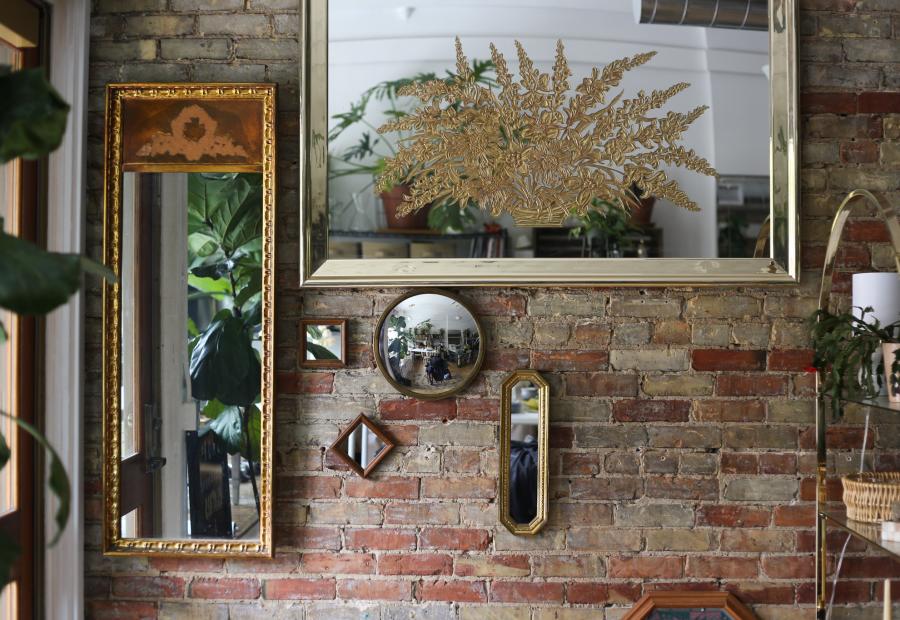 OTONO carries styles ranging from XXS to 4XL.
Photo by OTONO
Tips for second-hand shopping:
Go when you have time: No one enjoys feeling rushed when they're shopping, especially when there are so many items to go through! Think of second-hand shopping as an experience and come prepared to take it on!
Shop outside your typical size range: Each brand fits differently and vintage sizes are very different from sizes today. Grab items you like and try them on!
Pro-Tip: Wearing a camisole or undershirt, makes it quicker to try on tops and jackets
Check the go-back racks: Let other shoppers do the browsing for you by going through the items they pass on. It's easy to grab a few more things before heading into the dressing room.
Each second-hand shop is different. There are so many great destinations in Grand Rapids, with more appearing as buying pre-loved clothing becomes more popular! I hope my recommendations and tips encourage you to experience all that the area's second-hand scene has to offer. Have a favorite second-hand store I didn't mention? Share it in the comments!