What's old is new again, at least in the world of gifts and home decor. Antique shops, up-cycled outlets and vintage storefronts dot the Grand Rapids area, making this town a treasure-seekers delight. Whether you're looking for something in the style of Fixer Upper or are ready to dig deep through room upon room of antiques, Grand Rapids has something to offer. And if you're in the market for a gift or two, you won't be disappointed.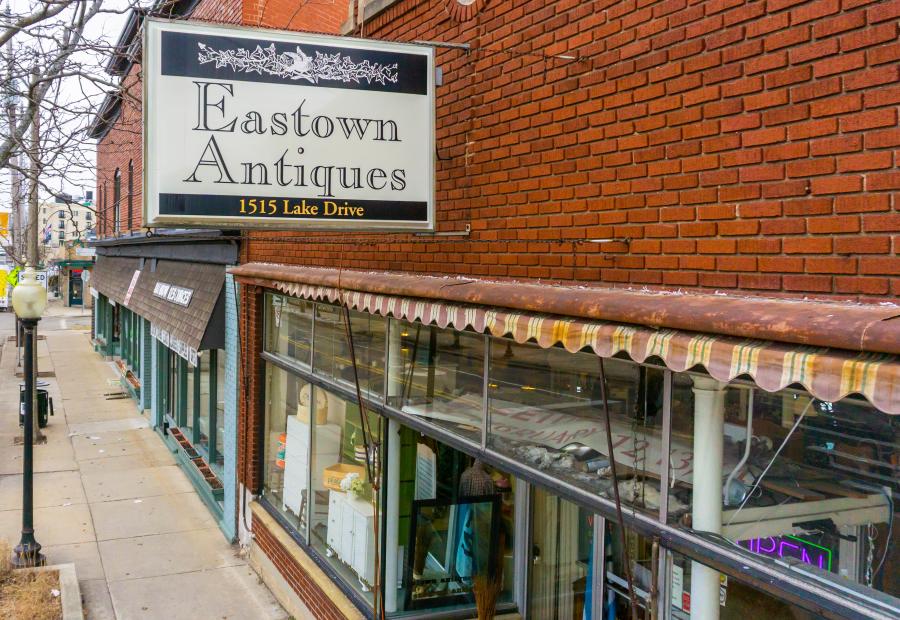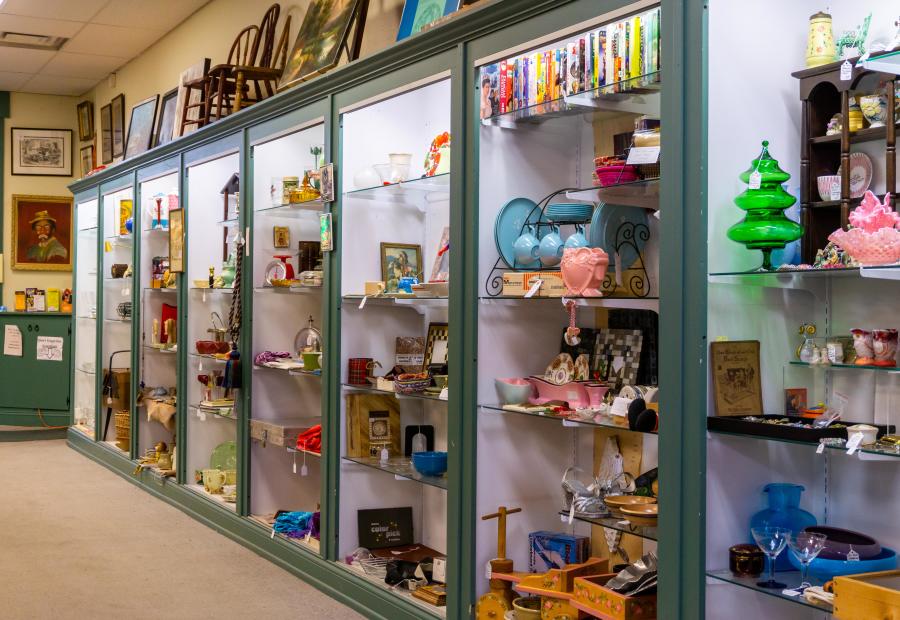 Eastown Antiques is a local shopping favorite in the Uptown neighborhood.
Photo by Brian Craig for Experience Grand Rapids
Eastown Antiques
A staple in the antique community for years, Eastown Antiques is known for its wide variety of antiques and upcycled, painted furniture. You can get that distressed look custom applied to your piece, too, with their in-house painting services. The store features over 45 different dealers spread over two floors, creating a truly eclectic collection of unique finds.
Vintage + More
Refurbished, restored and new items offered by multiple vendors in this Kentwood location. Find jewelry, furniture, home furnishings and more when you explore at Vintage + More.
​Lost & Found - Treasures of Old and New
Mid-century modern sofas, desks, kitchenware, and pottery are scattered throughout this industrial loft-type building that will make you want to lounge forever. Lost & Found has two floors and multiple rooms filled with themed, curated merchandise, you'll be inspired to find places for many new-to-you items in your home.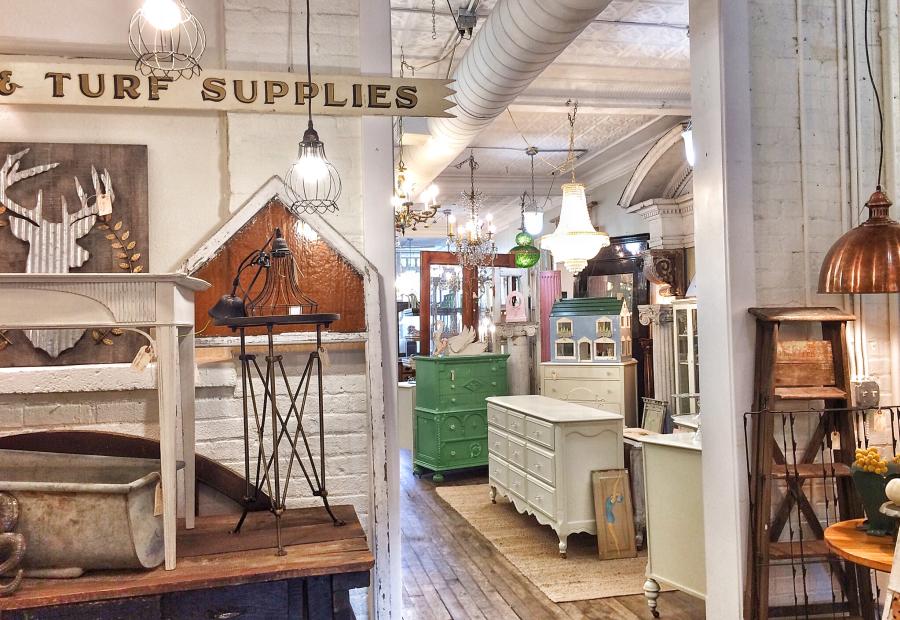 Find a highly-curated selection of re-purposed and antique furniture and fixtures at Bluedoor Collective.
Photo by Melody VanderWeide
Bluedoor - A Home Collective
This is not your typical antique shop. The owners of Bluedoor have taken great care to curate the European chandeliers, sconces and school lights in their lighting collection. Sections of the store are devoted to colorful fixtures and re-purposed furniture. Wall hangings and vintage finds from Blue Door will be sure to make their way home with you.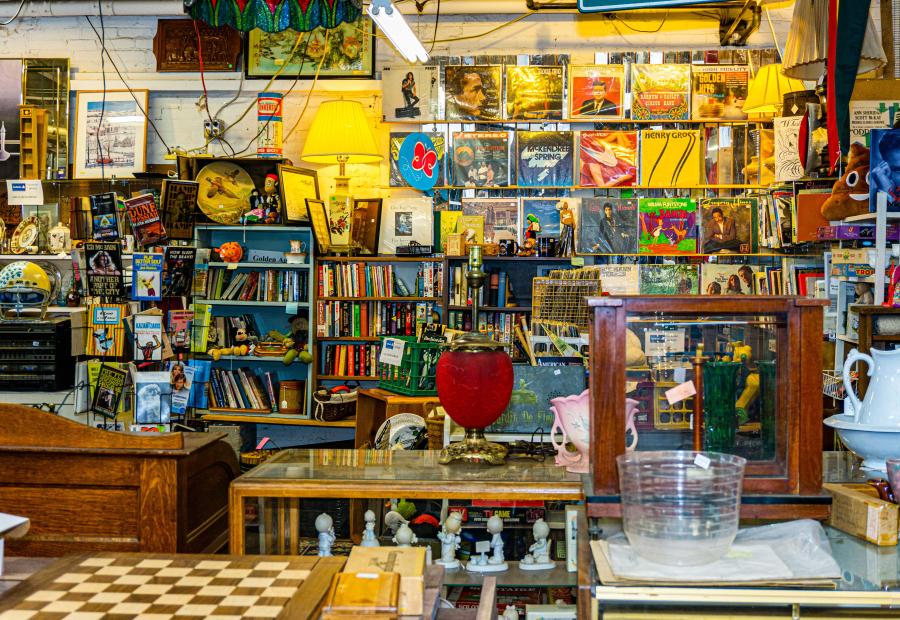 With 25,000 square feet of retail space, Warehouse One has something for everyone.
Photo by Brian Craig for Experience Grand Rapids
Warehouse One
Time is on your side at Warehouse One. You'll be amazed by how many rooms are in this place when you first visit. 25,000 square feet filled with the wares of 100 antique dealers means serious antiquing business. Every category of antique can be found here, often in multiple iterations. 
Century Antiques
At Century Antiques you'll find vintage clothes, toys, dishes, and furniture are staples at this classic antique shop located next to Lost & Found.
City Antiques Resale Boutique
Razzle dazzle your friends with eye-catching vintage pieces from City Antiques Resale Boutique. The shop is inside Bluedoor and is organized into themed sections, making it easy for you to find what you're looking for. Top it all off with their vintage photography and you have a gem of a store
Reinspired Treasures
Mixing handmade, local fare with vintage home decor, Reinspired Treasures store has found the perfect mix of farmhouse and city. If you love re-purposed, up-cycled, and vintage items, put this shop at the top of your list.
invalid widget [plugins_common_blog_subscription] []