You'll find the quaint town of Lowell, Michigan, nestled at the mouth of the Flat River where it joins the Grand River. With a heritage that dates to the early 1800s, Lowell's downtown features beautiful Victorian-style street lamps and turn-of-the-century architecture.
As you stroll along Main Street, you'll find eclectic shops, breweries, and restaurants. Lowell also has a thriving art scene. Best of all, it's only about 20-miles east of downtown Grand Rapids, making it the perfect day trip destination.
To customize your perfect day in Lowell, consider choosing some of the below items to help plan your trip. Keep in mind, the below items are just some of the many activities and establishments in Lowell.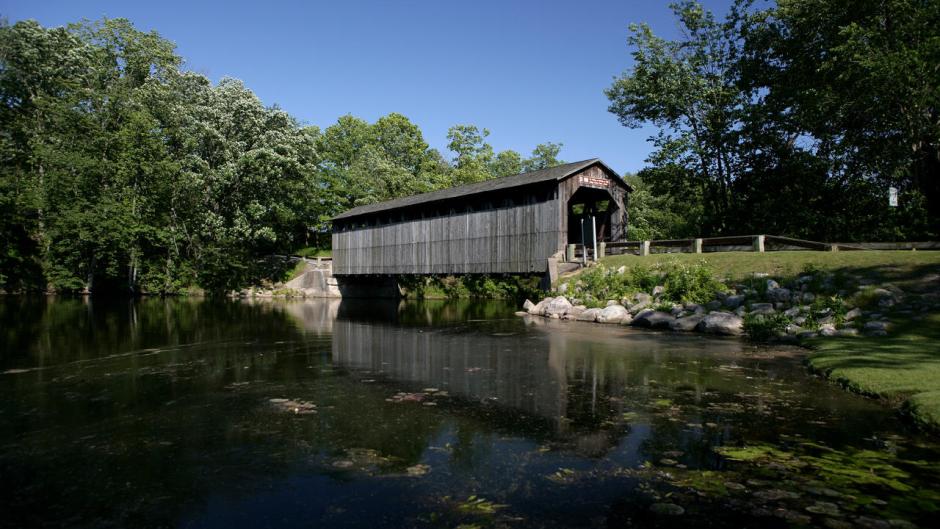 Fallasburg Park offers plenty amenities including three playgrounds, fishing, disc golf, hiking trails, and a bridge built in 1871 that you can still drive over.
Photo Credit: Experience Grand Rapids
---
Outdoor Activities
Fallasburg Park
North of downtown Lowell, Fallasburg Park is a gorgeous gem located along the Flat River, with rolling hills and an old-fashioned covered bridge (built in 1871) that you can still drive over. The park has three great playgrounds and offers fishing, disc golf, and awesome hiking trails, including part of the North Country National Scenic Trail.
All of these attributes make it a fantastic place to spend an afternoon, no matter the season. Pack a picnic lunch in the warmer months, or gear up with your hiking boots in the autumn, or snowshoes in the winter to enjoy a long, peaceful, outdoor stroll.
Kayaking
The picturesque Flat River is perfect for kayaking. You can put your kayak in at Whites Bridge (the bridge burned a few years ago, but you can still access the kayak launch area) and paddle your way to Fallasburg Park. It's about five-in-a-half miles of scenic views
If you don't own a kayak, check out GR Paddling. You can kayak the same route, but they'll pick you up, provide all equipment needed (they even provide snacks), and certified instructors will guide you for an easy day on the water.
Stoney Lakeside Park
Bring your friendly four-legged companion to the Lowell Dog Park at Stoney Lakeside Park for well-deserved exercise. The park also has a playground and lake where kids can fish, making this a great stop for all family members.
Hiking and Biking
There's no shortage of hiking and biking trails in Lowell, including the The Fred Meijer Flat River Valley Rail Trail. This 22-mile dirt, ballast, and asphalt trail runs northeast from Lowell through woodlands and the charming small towns of Belding and Greenville.
The North Country National Scenic Trail is also headquartered in Lowell. The 4,600-mile trail goes from New York to North Dakota, and has two North County Trail Towns in Michigan: Lowell and Middleville.
Wittenbach-Wege Center is a fantastic place to hike. With four miles of nature trails and 140-acres of forests, wetlands, and prairies, it's a treasure for nature explorers. The Center also offers a variety of programs, like Beekeeping 101, and hosts a luminary walk in the winter.
The Lowell Area Trailway is a two-in-a-half mile paved pathway that connects the two trails described above: the Wittenbach-Wege Center lies at the northwest end of the trail and the Fred Meijer Flat River Valley Rail Trail is at the southeast end.
The Fred Meijer Grand River Valley Rail Trail, about 15.5-miles long, also begins in Lowell, but runs east towards Ionia. It's a combination of pavement, crushed stone, and ballast.
James C. Veen Observatory
When you visit the James C. Veen Observatory, you're not technically outdoors, but you are closer to the stars (and planets). The observatory is an astronomical facility that hosts presentations and events, and has public-viewing nights on the second and last Saturday of each month, from April to October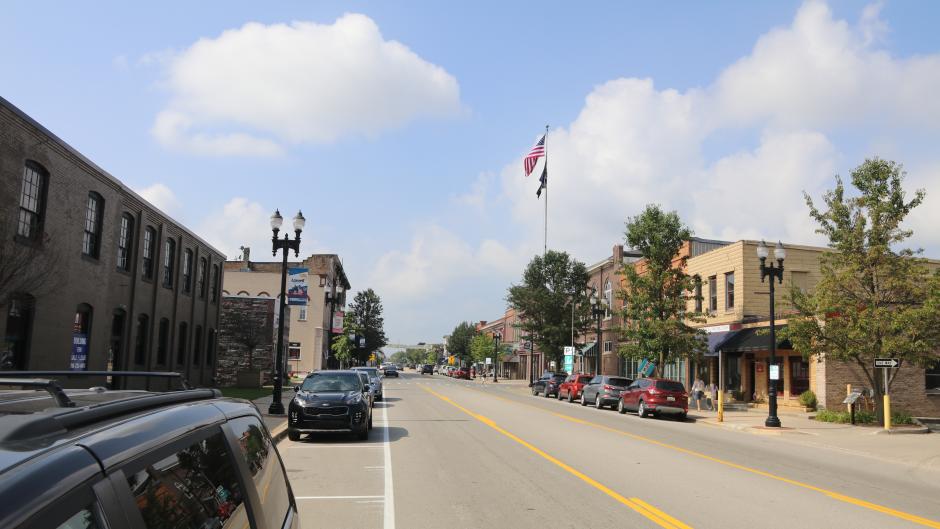 Lowell, Michigan hosts a variety of festivals throughout the year for families.
Photo Credit: Experience Grand Rapids
---
Festivals
Fallasburg Arts Festival
Join other art-lovers each fall at the annual Fallasburg Arts Festival held in Fallasburg Park. There's always a variety of musical entertainment, over 100 booths and vendors, as well as fun crafts and demonstrations for kids of all ages. The event is generally held the third weekend in September.
Lowell Harvest Celebration
If the fall is your favorite season, you're going to love the Lowell Harvest Celebration. This annual event features all sorts of fall fun: a pancake breakfast, a chili cook-off, a Harvest Hustle 5K run/walk, an autumn marketplace, a scarecrow-building hoedown, and lots more. The event grows and changes year-to-year, but you'll want to mark your calendar for this one.
LowellArts: Arts, Music & Theater
Art
LowellArts is a vibrant part of Lowell, supporting both the visual and performing arts. Their beautiful art gallery features rotating exhibits throughout the year. Check their website to see what's currently showing.
Music
If you love music, you'll want to check out LowellArts' House Concerts featuring local and regional musicians. The concerts are held in the gallery, so you can view the current art exhibition while you listen.
In the summertime, LowellArts takes the musical fun outdoors and sponsors free outdoor concerts every Thursday on the Riverwalk Plaza in downtown Lowell. If you like the outdoors and music, be sure to check the schedule for next summer's Lowell Showboat Sizzlin' Summer Concert Series.
Theatre
Another part of LowellArts' contribution is the LowellArts Players Community Theater. They put on several productions each year, including dinner theater plays, a children's play, and a playwright festival. Visit their next performance, Breaking Legs by Tom Dulack, which will play throughout the month of November.
Artists' Creations for Purchase
In addition to all of that, every year shoppers look forward to buying gifts for themselves and others at the Annual Holiday Artists Market, hosted by LowellArts, that features over 50 local artists. You'll find handmade times like pottery, paintings, jewelry, photography, handbags, wreaths, ornaments, and much more. Mark your calendar for this year's event, which runs November 6 to December 23. Market hours are Tuesday to Saturday from 10 AM - 6 PM and Sunday from Noon - 4 PM.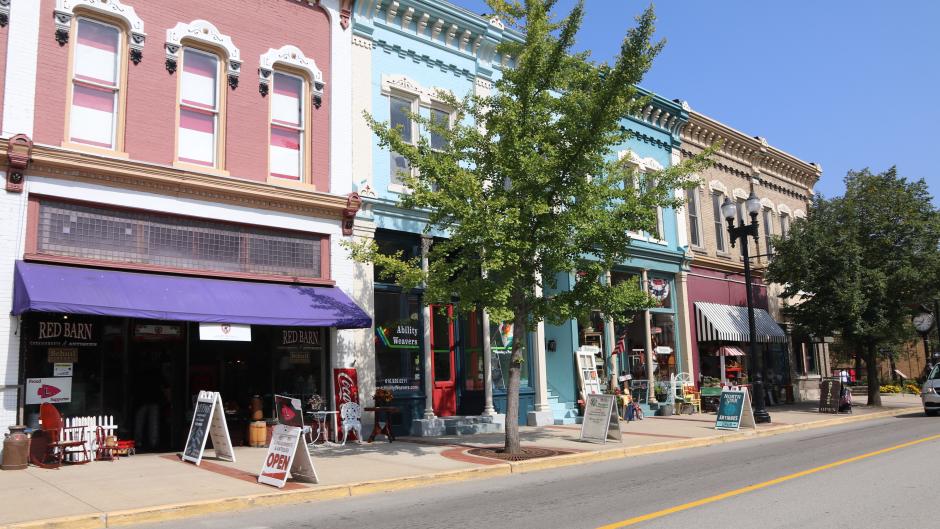 Visit downtown Lowell during to shop at a variety of boutiques.
Photo Credit: Experience Grand Rapids
---
Shopping
Antiques
If you love the hunt of searching for the just-right antique, Lowell has four antique shops where you're sure to find a treasure. Check out:
North Star Antiques (previously Dovetail Antiques)
Jewelry
Owners Julie Claire DeVoe and Cliff Yankovich make and design most of what you see at Chimera Design, although they do partner with other designers. They specialize in custom engagement rings and offer a variety of beautiful gems in unique settings. Stop in and find something special during your day trip!
Produce, Pumpkins, and More
Visit Heidi's Farmstand and Bakery and treat yourself to an amazing pie, cookies, breads, and other baked goods, but don't stop at the treats! Heidi's Farmstand and Bakery also offers fresh produce straight from their fields, as well as produce from other local farmers.
Heidi's Farmstand and Bakery also offers fun activities every fall, including a pumpkin patch, hayride, and numerous corn mazes for all skill levels.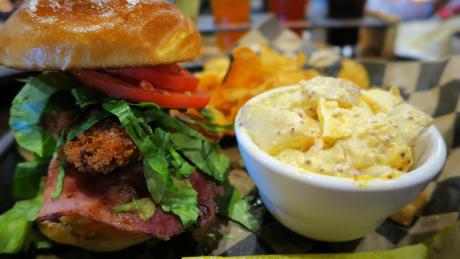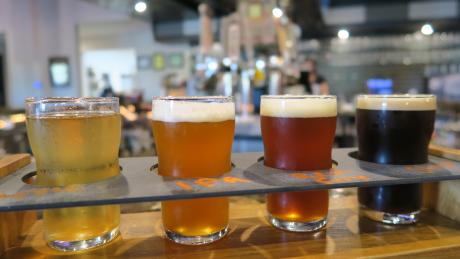 Big Boiler Brewing is one of two breweries in Lowell, and it serves a full menu with more than 10 beers on tap.
Photo Credit: Jason Ley
---
Food & Drink
Craft Beer
If you're in the mood for craft beer, you're in luck.
Big Boiler Brewing opened its doors in June 2017 and serves 10+ beers on tap, including IPAs, Pale Ales, Hefeweizen, Stout, and whatever else their brewer crafts. Their kitchen features a full menu with soup, salad, burgers and sandwiches but you're missing out if you don't try the white cheddar cheese curds!
New Union Brewery's pub-style taproom opened in November 2016. Here, you'll find 14 taps with beers ranging from interesting IPAs to a variety of Ales to Barrel-Aged goodies. The kitchen doesn't serve meals but their hot popcorn is the perfect brew accompaniment.
When you visit either brewery, make sure you bring your Beer City Brewsader Passport to gain another stamp, or check in digitally on the Beer City Brewsader App, and be one step closer to becoming a Brewsader or Ultimate Brewsader.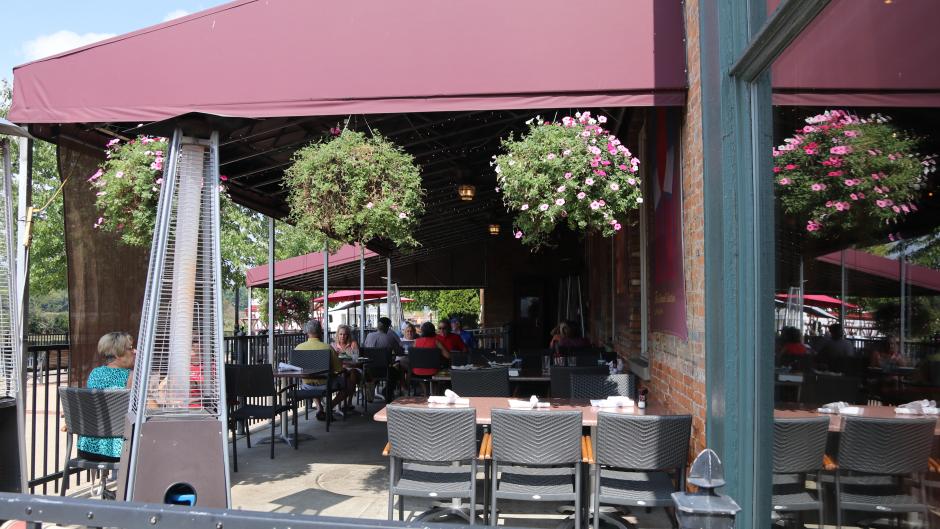 Sit on the Flat River Grill's outdoor patio for dinner with a view!
Photo Credit: Experience Grand Rapids
---
Dining Options
If you're looking for a traditional restaurant, check out Main Street BBQ where all meats are wood-fired and slow-smoked.
Or, stop by the Flat River Grill, for wood-fired burgers, quesadillas, pizzas, and more. Raise a glass after choosing from their extensive wine menu and, if the weather's cooperating, be sure to sit on their beautiful deck alongside the namesake Flat River.
What are your favorite things to do in Lowell? Let us know in the comments!
Happy exploring.
Never miss a post!
Subscribe to the Insider Experience blog.