Ranked as one of the "Gayest Cities in America," Grand Rapids is a must-visit for LGBTQ+ travelers! Just 3-hours from Chicago, you'll find tons of LGBTQ-owned businesses, queer coffee shops, art, music, delicious (vegetarian-friendly) food, and even the oldest gay bar in Michigan! Here are lesbian-friendly things to do in Grand Rapids, Michigan as well as must-see annual events, where to stay and eat.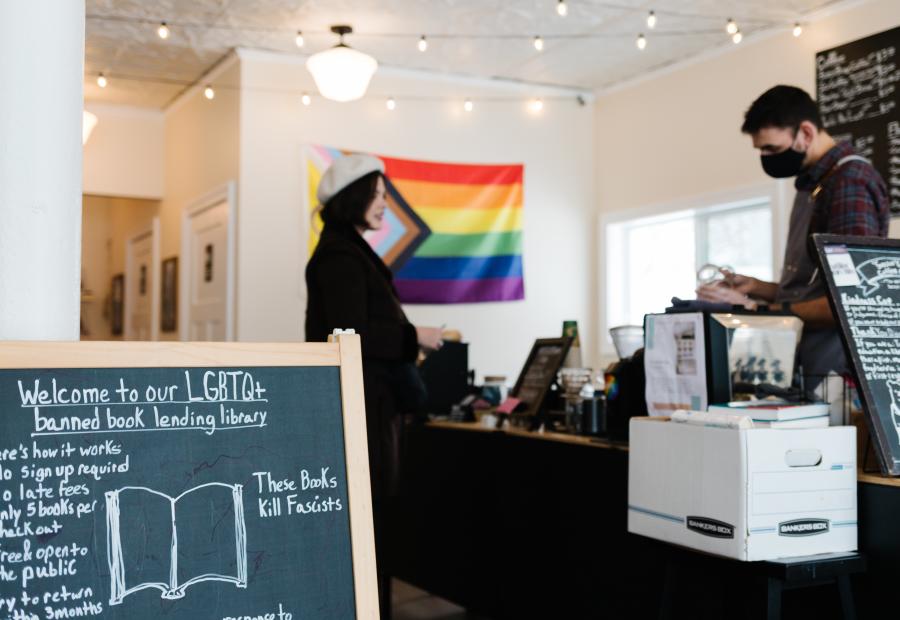 The Lotus Brew Coffee and Dry Bar creates an inclusive environment filled with coffee, board games, and an LGBTQ+ library.
Photo by Aly Zuiderveen
LGBTQ+ Things to Do in Grand Rapids
Coffee at "the secret gay coffee club" and LGBTQ+ library
Owner, Max Freeman, wanted to create a safe space for sober and/or neurodivergent queer folks to drink coffee, read, play board games, or just simply hang out. Lotus Brew Coffee and Dry Bar is a "secret gay coffee club" for everyone…that's not so secret. 
The cafe also offers an LGBTQ+ library where you can find banned books and check out LGBTQ+ books for free as well as a small food pantry with food and essentials for anyone in need, no questions asked. They also host weekly events and meet-ups. Check out their Facebook Page for more information.
Visit Rainbow Road
Rainbow Road, a permanent rainbow street mural, was painted in 2019 by artist Joey Salamon to commemorate Pride Month and the 50th anniversary of the 1969 Stonewall Riots. It's located right in front of Apartment Lounge on Sheldon Avenue NE between Fulton and Library streets and makes for the perfect photo op!
Grab a drink at Michigan's oldest gay bar
Apartment Lounge is a relaxed, towny bar in the heart of downtown Grand Rapids. Inside you'll find a full bar, comfortable booths, and welcoming faces. I love when places are inclusive and offer good mocktails–Apartment Lounge did not disappoint! The bartender made me an apple-inspired mocktail that was quite tasty. This spot is great for a pre-game or chill evening with friends.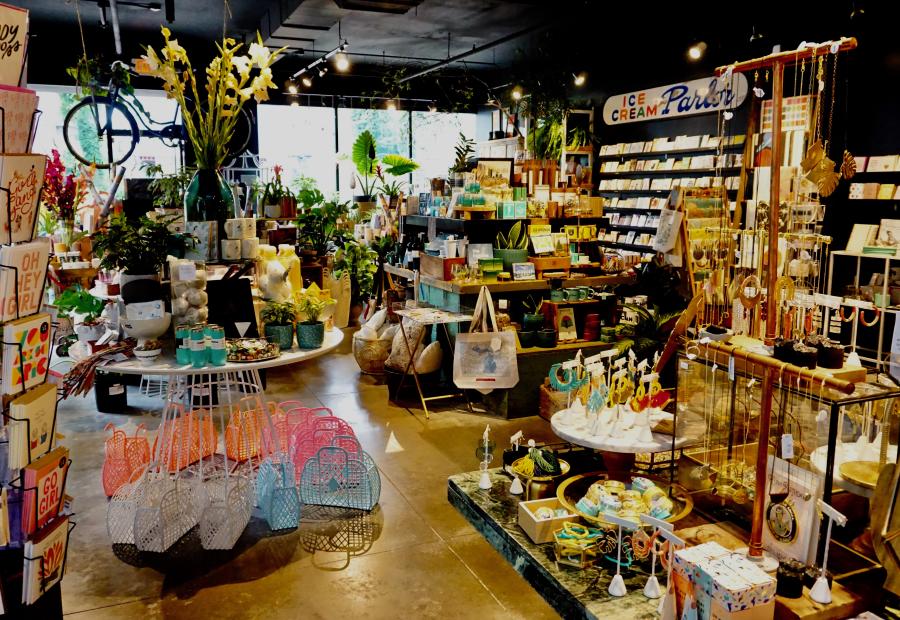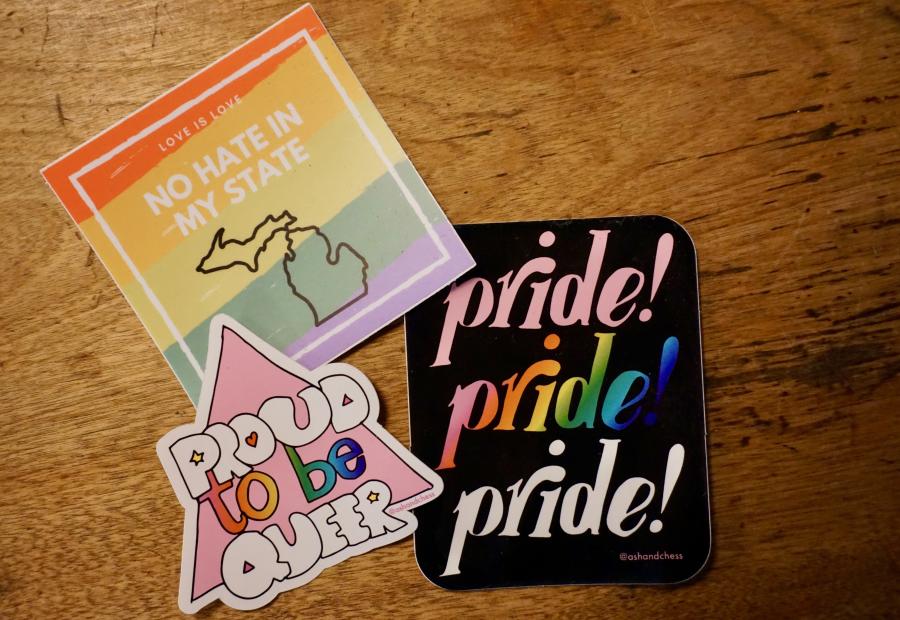 Rebel on Wealthy Street is the perfect place to buy gifts for everyone, even the hard-to-shop-for family member.
Photo by Brian Craig for Experience Grand Rapids
Shop with pride
Make sure to shop with pride while in Grand Rapids! There is an array of LGBTQ-owned shops downtown and in surrounding neighborhoods. Check out Woosah Outfitters for naturally inspired art and apparel. Stop by Outside Coffee Company, which is also owned by Erica Lang, for locally roasted coffee, vegan ice cream, pastries and toast year round.
For gifts for you or someone special, stop by one of my favorites, Rebel. Disclaimer: you may be tempted to buy every single item in the store. I found rainbow socks, a candle with a Trans flag on it, LGBTQ+ stickers, a decorative pillow for my office, and even a cute Valentine's Day card for my partner. I also recommend Fox Naturals for locally-made beauty, cosmetic and personal care products. They have everything from shampoo and conditioner bars to fragrances and facial toners.
For a tarot reading or some crystals (let's be honest, you can never have enough), stop by The 12th House.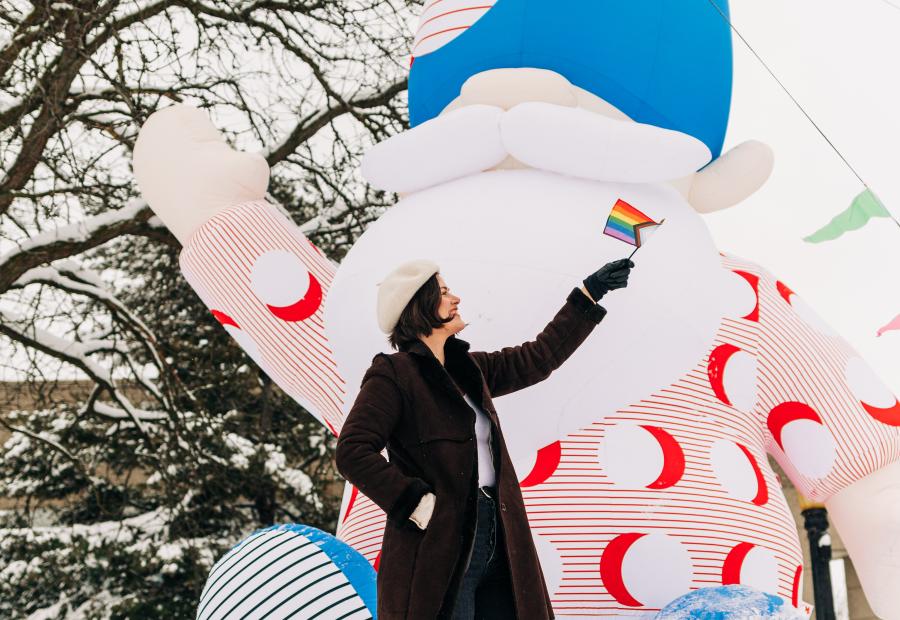 Roaming Gnomes at Ah-Nab-Awen Park are a part of the World of Winter Festival.
Photo by Alyssa Zuiderveen Artwork: Roaming Gnomes by Simone Chua Massimals by Scroggin Studio
Attend the largest winter festival in the Midwest, World of Winter
Did you know that Grand Rapids hosts the largest outdoor winter festival in the Midwest?! The World of Winter showcases over 100 free events, activities, and outdoor art installations. This family-friendly event takes place January 1st until March 6th and is a great way to embrace the winter! 
I attended the Fire & Ice show which featured the Greater Grand Rapids Figure Skating Club skating with fire at Rosa Parks Circle. I recommend checking out the art installations, including Roaming Gnomes, larger than life gnomes each with a unique (and hilarious) story and origin. As well as the family of colorful polar bears, Massimals Polar Bears by Scroggin Studio!
Explore the rainbow houses of Heritage Hill
One of the nation's largest historic districts is located right in downtown Grand Rapids. Heritage Hill features 1,300 colorful homes dating back to 1843 representing more than 60 architectural styles. There are home tours throughout the year, click here for more information!
Visit Frederik Meijer Gardens & Sculpture Park
Explore one of the top horticultural display gardens and sculpture parks in the US! Frederik Meijer Gardens & Sculpture park features both indoor and outdoor displays including The Lena Meijer Tropical Conservatory, a permanent indoor exhibit perfect for winter time. Outside you'll find an impressive sculpture park, children's play area, and Japanese gardens. I recommend checking the weather beforehand and making sure to go when it's not snowing to have access to the entire park.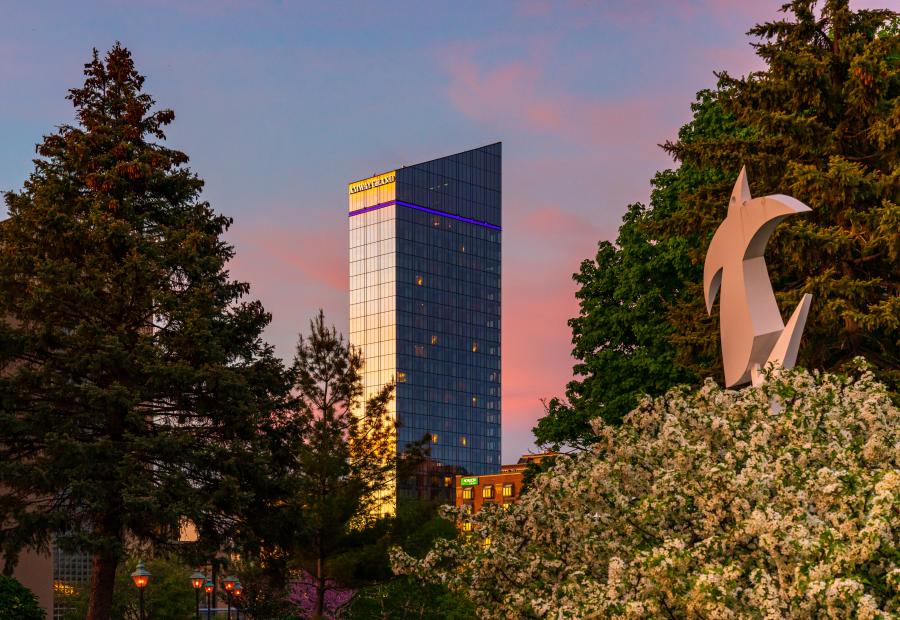 The Amway Grand Plaza is a destination within itself with 9 restaurants and bars, 2 coffee shops, and duckpin bowling.
Photo by Experience Grand Rapids
Where to Stay
Amway Grand Plaza, Curio Collection by Hilton
If you're looking for an LGBTQ-friendly hotel that's a bit of luxury and has everything inside (e.g. 9 restaurants and bars, 2 coffee shops, and even a duckpin bowling alley), I'd go for Amway Grand Plaza. This 1920s historic, riverfront hotel features modern rooms, perfect for a weekend trip. Their valet service, indoor pool, gift shops and workout facility make it a (very) convenient stay. 
Even if you don't stay at Amway, I would still stop in for a quick peek. More than 7,000 square feet of ceiling area is covered in gold, making it the largest gold leaf installation in the nation.
Where to Eat
As a vegetarian traveler, I always look for the best vegan and vegetarian-friendly restaurants. Below are some of my favorites in Grand Rapids.
Lucy's (for brunch)
Lucy's is a scratch kitchen that serves up creative local dishes. I recommend going for a weekend brunch and ordering fresh OJ and their root vegetable hash. Do NOT leave Grand Rapids without trying their fresh croissants and made-in-house vegetarian sausage.
Basalt (for lunch)
For lunch, head to LGBTQ-owned modern Tex Mex restaurant, Basalt. Basalt blends midwestern sensibilities and Tejano flair. Local's say it's the best in town for authentic food and good vibes.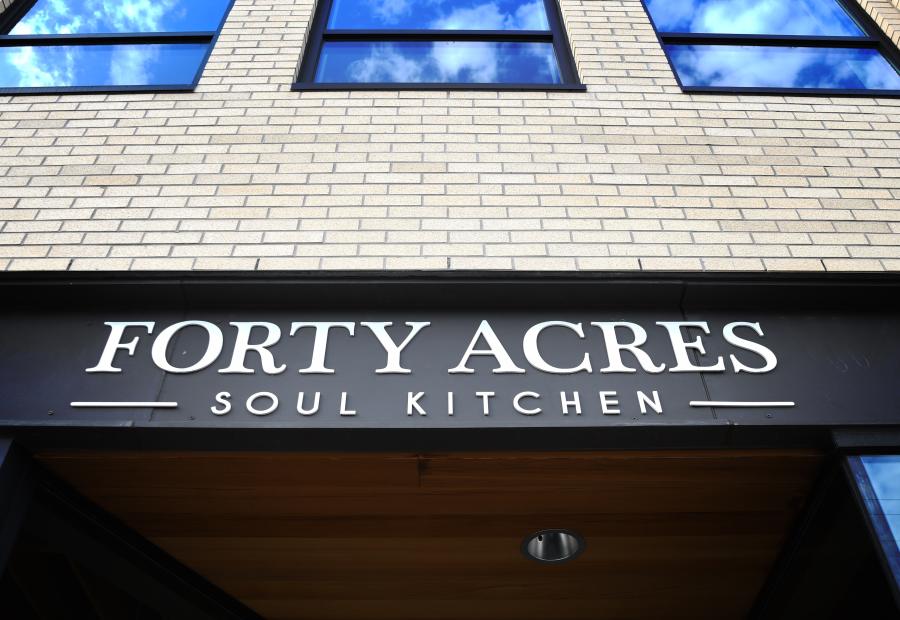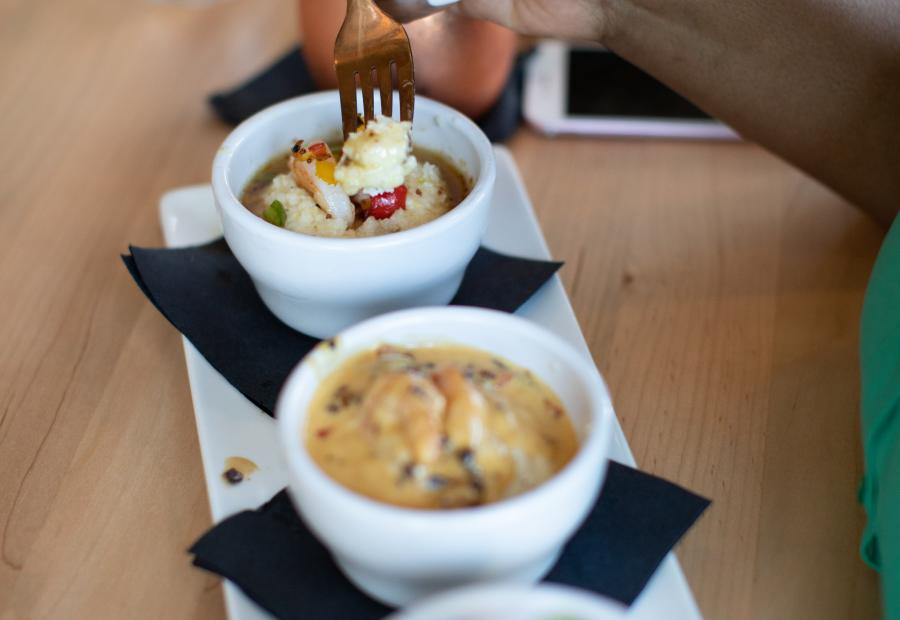 Forty Acres Soul Kitchen offers vegan soul food and is home to the only cognac bar in MI.
Photo by Eric Zuniga for Experience Grand Rapids
Forty Acres Soul Kitchen (for lunch)
Forty Acres Soul Kitchen is a perfect spot for vegan soul food. While they offer delicious food for everyone, their vegan selection is quite impressive. I highly recommend their vegan chicken sandwich, soulpossible chx sandwich. If you're thirsty, it's also home to the only cognac bar in Michigan.
The Electric Cheetah (for dinner)
Welcome to the cutest diner in town. The Electric Cheetah is great for homestyle American comfort food like meatloaf, mac and cheese, and a selection of 40 kinds of craft root beer. They offer a separate vegetarian/vegan menu. I highly recommend their vegan pumpkin mac, vegan meatloaf, and veggie bean burger. This was some of the best classic comfort vegan food I tried in Grand Rapids and possibly ever.
Alas, some tips for your trip
I loved my time in Grand Rapids and I'd love to go back again. Here are some tips to make your gaycation even better! I recommend pairing Grand Rapids with a trip to Saugatuck/Douglas, another LGBTQ-friendly destination in Michigan. For a unique trip, travel on a train from Chicago via Amtrak (3 hours, 55 minutes). For convenience, I would rent a car upon arrival. There are a lot of things to see, a car makes it easy to see a lot of things in just a few days. Lastly, I recommend utilizing the Skywalk and tunnel system downtown, especially if you come during cold or rainy months! The elevated, heated Skywalk covers 7 blocks across downtown making it easy to check out other hotel restaurants and bars like The Bistro at Courtyard Marriott as well as access events like a concert at Van Andel Arena. 
Happy travels in one of my new favorite cities!