As the colors begin changing around West Michigan each year and things start going bump in the night, there are many fall activities in and around Grand Rapids that you can find to add spooktacular Halloween fun to your calendar.
But, the eeriness of the season may just find you if you are exploring certain areas of downtown. Local legends tell of apparitions wandering the streets of Grand Rapids and residing in buildings that were their homes once upon a time. These mysterious beings and much more are at the center of the tales told during various local tours that focus on the ghostly history of Grand Rapids while exploring haunted hot spots.
If you're unlike me and you "ain't afraid of no ghost" (sorry, obligatory Ghostbusters reference), there's no better way to spend a fall day than learning about the haunted happenings of Grand Rapids. Below, you'll find details about ghost tours presented by Paranormal Michigan, Grand Rapids Running Tours, and Tours Around Michigan,.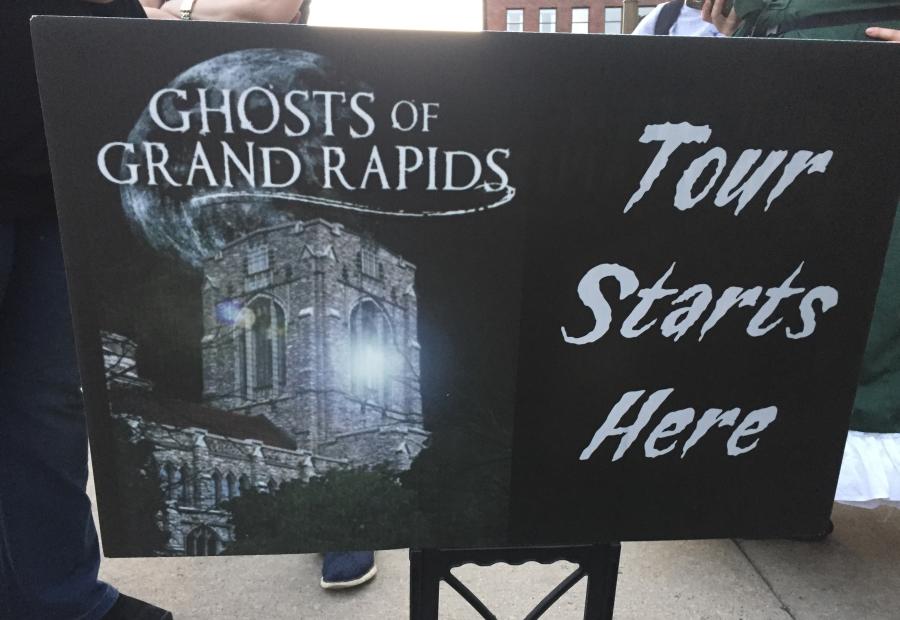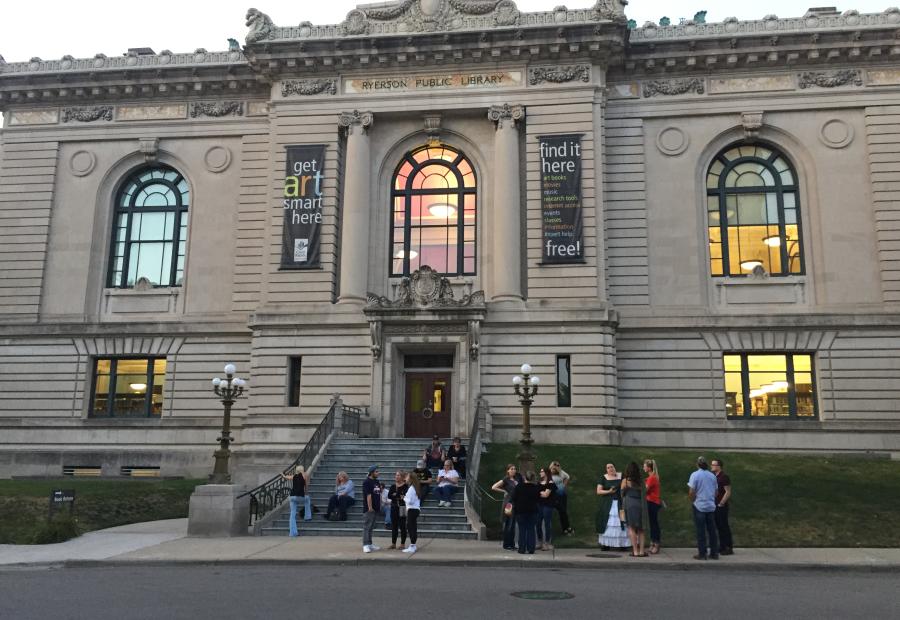 You can take a ghost tour of Grand Rapids with the authors of the book Ghosts of Grand Rapids.
Photo by Experience Grand Rapids
Paranormal Michigan
Ghosts of Grand Rapids Tours by Paranormal Michigan offer the unique twist of being hosted by paranormal researchers who literally wrote the book on hauntings in the city.
Led by Ghosts of Grand Rapids authors Nicole (Bray) and Robert Du Shane, along with Julie Rathsack, Paranormal Michigan offers private Haunted History tours, along with two public tours in Grand Rapids: one explores a western route through downtown (Monroe Center Street NW area) while the other follows an eastern route through the Heritage Hill neighborhood. In the past, I've joined the western route to learn what – or who – still haunts the streets of that part of town, and the experience didn't disappoint.
Our group journeyed to several locations to hear stories about various paranormal activity reports occurring on the streets, sidewalks, and in historic buildings that have been in Grand Rapids for generations. Some of my favorite tales told by Rathsack, our energetic guide dressed as a character from Grand Rapids' past, included:
A ghost cat roaming the hallways of an apartment building on Ionia Avenue NW.
Comic books flying from their shelves in a comic book shop near Rosa Parks Circle.
A volatile romance in 1907 that supposedly ended in death by a wooden leg in a building near the corner of Ionia Avenue NW and Fountain Street NE.
Apparitions peeking through the curtains on the stage of a popular theater and unnerving growling noises heard by actors on the third floor.
The ghost of an old maid who enjoys indulging in a few cigarettes in the historic lobby of a well-known Grand Rapids hotel.
Fallen soldiers returning to war memorials to honor their departed comrades.
The ghost of a 14-year-old boy named Mortimer who holds a degree in causing shenanigans throughout a string of connected buildings near the intersection of Fulton Street East and Division Avenue South.
One bonus of this tour was hearing the occasional historical fact about the city that were unrelated to spirits. For example, and I love this one – did you know that Harry Houdini performed in Grand Rapids several times? In one memorable show, he escaped from a straitjacket while dangling upside down from the fifth floor of a building in less than two minutes in front of a crowd of roughly 2,000 people in 1916.
On the other side of town, the Heritage Hill experience includes "more gruesome tales of macabre history and even spookier ghosts," according to Rathsack, who leads the eastern tour route. Rathsack is intimately familiar with the haunted happenings of various Heritage Hill locations, including the Sweet House, where she has conducted actual overnight paranormal investigations and knows firsthand what happens in the shadows. On this tour, you'll hear a variety of stories, from a body boiling to death in a bathtub and "Dead Man's Row," where there were once nine funeral homes within a two-block radius, to the "Living Skeleton" - a 6'2", 90-pound man who gained fame by traveling around the world with the circus and died in his downtown Grand Rapids home. Unlike other tours, actual photographs are occasionally shown to reinforce the tales.
Both tours begin and end at the Grand Rapids Public Library, cover just over one mile, and take approximately two hours – so wear your walking shoes and keep the weather in mind since the tours are completely outside. Overall, Ghosts of Grand Rapids Tours provide fun, albeit goosebump-inducing, opportunities to learn about the mysterious happenings of the city.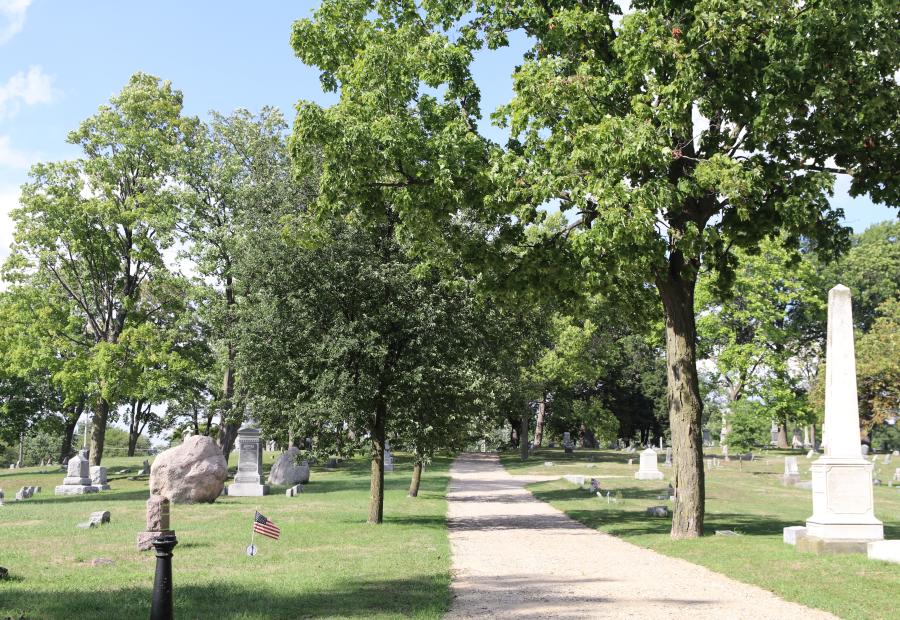 You can tour Grand Rapids' oldest public cemetery, Fulton Street Cemetery, with Grand Rapids Running Tours.
Photo by Experience Grand Rapids
Grand Rapids Running Tours
Normally you run away from ghosts, but with Grand Rapids Running Tours, you run towards them.
Offering more than 80 unique moving tours, founder and Chief Tour Ambassador Caroline Cook has been encouraging people to "burn while you learn" throughout the nearly 1,500 tours she has personally facilitated since establishing Grand Rapids Running Tours in 2013. Some of her most popular fall tours include:
Fulton Street Graveyard: shares stories about the fascinating lives of the first generation of Grand Rapids settlers while visiting the first and oldest public graveyard in Grand Rapids, which was established in 1838.
Grand Rapids Most Haunted: visits iconic locations where there have been multiple paranormal sightings and unusual activity while answering the questions: "Did someone suffer a tragic death here?" and "Is this story legend or real?"
Heritage Hill Hauntings: explores the historic neighborhood and the many stories of ghostly activity therein. 
Saints & Spirits: explores the history of a piece of property that used to be a dairy farm, a proper estate, a business college, and is now Aquinas College, while investigating various landmarks on campus tied to superstitious traditions.
In these tours, attendees try to answer questions like, "Is the ghost of Frank D. McKay haunting the tower that bears his name?", "Where is Haunted Hotel Row?", "Why are old homes so susceptible to hauntings?", and "Which downtown church is haunted by Edythe?"
All tours, which generally last 60-90 minutes and take place rain or shine, can be scheduled as a run, walk, or step-on bus tour, and meet in the lobby of the JW Marriott Grand Rapids (unless otherwise noted).
If you're unable to make a tour, but still want to experience the fun of Grand Rapids' history, Grand Rapids Running Tours uniquely offers half of its tours, like Grand Rapids Most Haunted and Fulton Street Graveyard, as virtual tours in presentation format via video call or in-person.
Tours Around Michigan
The Tours Around Michigan team ultimately strives to inspire people to learn more about Grand Rapids through adventures and explorations, and their Ghost Tour Grand Rapids is the perfect way to start since it effectively blends history with spooky stories.
Offering the only year-round ghost tours in Grand Rapids (two different times every day of the year), Tours Around Michigan constantly updates the tour's content and locations by engaging with the local community to find active hauntings and research new stories. For example, there's one business manager who routinely visits with tour groups to share his latest ghostly encounters around his establishment. Other common locations include hotels, restaurants, the Grand Rapids Public Library, and St. Cecilia Music Center. 
While you enjoy iconic sights and learn about Grand Rapids' history on this tour side-by-side with Tours Around Michigan's mascot, #CreepyDollAmanda, you'll hear stories handed down through generations set in buildings passed during the experience, including:
●    A murdered woman who terrifies the people working in her building.
●    The tale of an ill-mannered janitor still cleaning up in the afterlife.
●    A Grand Rapids pioneer determined to make sure he is talked about for years to come.
While it doesn't happen every time, there are occasions when spirits even join the fun. An early Grand Rapids settler named Amos, for example, will sometimes make himself and his bushy mustache and happy energy known to people who are sensitive to ghosts. 
Tours occur daily and last about two hours while covering approximately two miles. Each tour begins at Lyon Square (296 Lyon Street NW, Grand Rapids) where Lyon Street meets the Grand River behind the Amway Grand Plaza Hotel. While you can join public tours, private and customizable tours are also available, like combining ghost stories or other topics with beer, wine, or distillery/cocktail tastings in haunted restaurants.
Tours Around Michigan also prioritizes accessibility by offering tours that are wheelchair and stroller friendly, pet friendly (must be on a leash or in a carrier, able to stay quiet during the tour, and feel comfortable around downtown activity) and that welcome sign language and spoken language interpreters, who can join tours for free.
Have you heard any ghoulishly fascinating stories about Grand Rapids? Share them in the comments! 
Halloween isn't just day in Grand Rapids – it's an entire month full of weird, wild, wacky, wonderful activities and events for…