Editor's note: This story was published September 27. The tour featured below occurs year-round. Check the tour's website for dates and availability.
It's that time of year when things start going bump in the night and people are on the search for spooktacular fall activities in Grand Rapids.
Well, the spookiness of the season may find you if you are exploring certain areas downtown. Local legends tell of apparitions wandering the streets of Grand Rapids and residing in buildings that were their homes once upon a time.
These mysterious beings and much more are the focus of the tales told during the Ghosts of Grand Rapids Tour, presented by Paranormal Michigan.
During the tours, participants are told stories of haunted hotspots in Grand Rapids. The tours are also led by the authors of the book, Ghosts of Grand Rapids, while exploring either a western route through downtown or an eastern route through the Heritage Hill neighborhood.
We enlisted Matt, one of our writers, to chronicle his experience of walking the haunted west-end streets of Grand Rapids.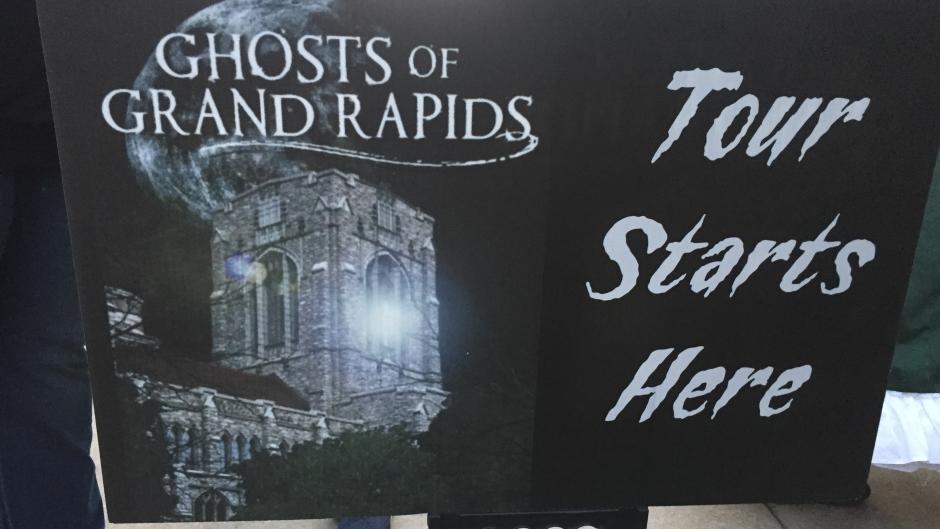 Ghosts of GR tour
Photo Credit: Experience Grand Rapids
---
I ain't afraid of no ghost, so I couldn't think of a better way to spend an evening than being under the stars, learning about the haunted happenings of Grand Rapids.
The Basics
First, the nuts and bolts. The Ghosts of Grand Rapids Tour is affordable, ringing in at $10 per ticket, regardless of which route you sign up for. The tours begin and end at the Grand Rapids Public Library, cover just over one mile, and take approximately two hours – so wear your walking shoes. For those wondering if this is a kid-friendly activity, I would give many of the stories shared a rating of PG-13.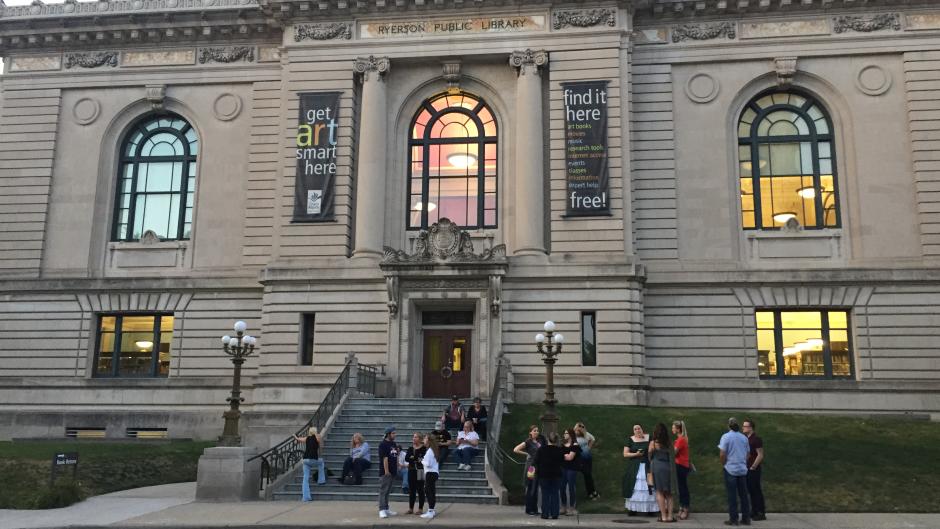 Large Brick Building With Trick Or Treaters
Photo Credit: Experience Grand Rapids
---
When I arrived at the library, I was greeted by a friendly woman named Julie Rathsack who was garbed in a green and white dress that appeared to be from the early 1900s. Rathsack is one of the three authors of the book that is the namesake of the tour.  
I assumed it was a safe bet that she was our guide since it's promoted on the tour's website that "each tour guide will portray a member of Grand Rapids' past to heighten your historical experience." Typically, the tours are led by all three authors of Ghosts of Grand Rapids, but Rathsack was flying solo that evening.
NOTE: Part of the fun of this experience was the anonymity of the stops prior to starting the tour. To keep the mystery alive, no spoilers will be shared about the exact locations we visited, although you may be able to guess some of them.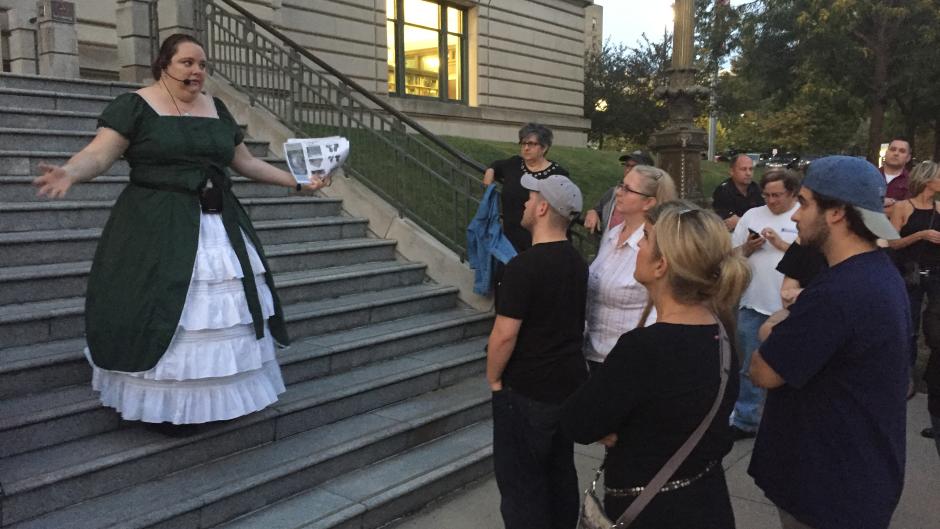 Due to its popularity, it is recommended that you pre-register for Ghosts of Grand Rapids Tours.
Photo Credit: Experience Grand Rapids
---
Stops and Stories
Our tour group journeyed to 15 locations along the route. Along the way (and sparing the spooky and occasionally gory details), more than 20 eerie stories were shared of various reports of paranormal activities occurring on the streets, sidewalks, and in historic buildings that have been in Grand Rapids for generations. Pro tip: Downtown Grand Rapids' vibrant nightlife can be a bit noisy, so be sure to crowd in around the guide to better hear the stories.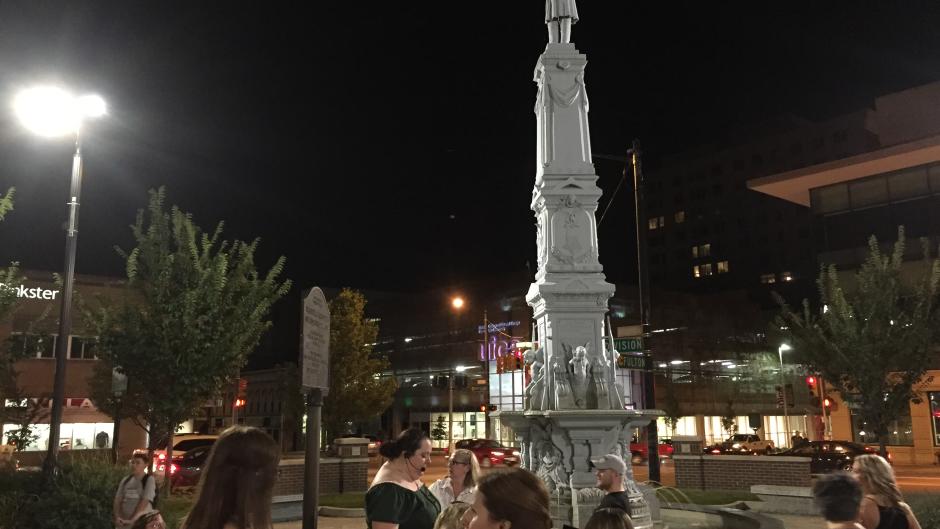 Ghosts of GR tour
Photo Credit: Experience Grand Rapids
---
Some of the tales told by our energetic guide included:
A ghost cat roaming the hallways of an apartment building on Ionia Avenue NW;
Comic books flying from their shelves in a comic book shop near Rosa Parks Circle;
A volatile romance in 1907 that supposedly ended in death by a wooden leg in a building near the corner of Ionia Avenue NW and Fountain Street NE;
Apparitions peeking through the curtains on the stage of a popular theater and unnerving growling noises being heard by actors on the third floor;
The ghost of an old maid who enjoys indulging in a few cigarettes in the historic lobby of a well-known Grand Rapids hotel;
Fallen soldiers returning to war memorials to honor their fallen comrades;
A punk rocker wearing ripped blue jeans and a black t-shirt with crazy hair a la Def Leppard walking out of the kitchen of what used to be a local bar to have a smoke before vanishing;
The ghost of a 14-year-old boy named Mortimer who holds a degree in causing shenanigans throughout a string of connected buildings near the intersection of Fulton Street East and Division Avenue South.
One delightful bonus of this tour was hearing the occasional historical fun facts about the city that were not ghost related. For example, Harry Houdini performed in Grand Rapids several times. In one memorable show, he escaped from a straitjacket while dangling upside down from the fifth floor of a building in less than two minutes in front of a crowd of roughly 2,000 people in 1916.
Overall, the Ghosts of Grand Rapids tour provides a fun yet goosebump-inducing opportunity to learn about the lesser known, mysterious happenings of the city, while enjoying the sights and sounds of the Grand Rapids' nightlife.
But, Ghost of Grand Rapids isn't the only adventure available to those with an itch to explore the city. Visit our Tours and Experiences page to discover additional ways learn more about the city and the surrounding areas.
Never miss a post!
Subscribe to the Insider Experience blog.