For the last year, co-owners Jeff Coffey and Eric Fouch have run Thornapple Brewing Co., a craft brewery on the southeast side of Grand Rapids in Cascade on 28th Street.
If you're going for Brewsader® or Ultimate Brewsader status, rejoice —a visit to Thornapple, which opened in June 2017, earns you another custom page in your Brewsader Passport or another check-in on your Brewsader app.
Coffey, the face of the brewery's front-of-house pub, and Fouch, self-proclaimed Chief Executive Beer Janitor, bonded over a shared affinity for homebrewing in the mid-90s, accumulating nearly a combined 50 years of experience between them.
Coffey cut his teeth with ciders, perries (ciders made with pears instead of apples), cordials, and whiskeys—brewing and distilling whatever piqued his interest for the simple love of it "because it's just fun," he says. Picking thousands of pounds of apples himself for his cider was not uncommon either. The beauty behind his passion for the trade stems from an appreciation for giving new life to the raw materials, "I'd rather see things live than die."
Fouch, who had been president the last seven years of PrimeTime Brewers (a homebrewers club), humbly relinquished his seat to pursue his and Coffey's transition into the professional league. Fouch recruited Sebastian Henao Van Bommel as head brewer, who comes to Thornapple with 10 years of homebrewing experience and having completed Kalamazoo Valley Community College's Sustainable Brewing program. Fouch credits Henao Van Bommel for making "marketed improvements to what we originally conceptualized for the beer."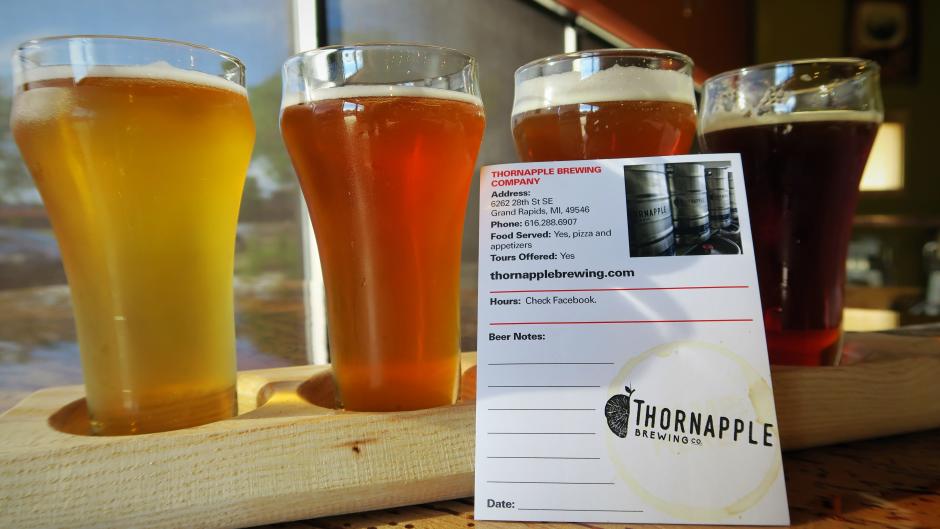 Thornapple Brewing is in the Brewsader app or can be added as a custom page to the paper passort.
Photo Credit: Jason Ley
---
On Draft and Behind the Bar
Thornapple is unique in that they carry three types of liquor licenses that allow them to operate as a brewery, winery, and distillery, plus the complementary layer as a full-service restaurant—a differentiator that provides a wealth of craft beverage and food options for nearly anyone.
Fouch and Henao Van Bommel don't discriminate when it comes to the styles of beer they offer. Approximately 12 taps dedicated to beer flow between American, British, and Belgian styles, with ever-expanding barrel-aged options available. Within just a few months of opening, the neighborhood demand for their beer resulted in Thornapple more than doubling their increasing their brewing capacity.
Fans of cider should generally find three on draft—a dry, a hopped, and a barrel-aged. Fans of fermented grape juice can enjoy a modest selection of fruit wines as seasons cooperate. If beer, cider, or wine aren't enough, Thornapple's distillery portfolio includes whiskey, rum, vodka, gin, and rotating fruited brandies in the vein of their wine selection that can either be sipped neat or enjoyed as a mixed signature cocktail. Since they launched their spirits program in December 2017, their flagship gin and a barrel-aged version of it won silver medals at the Great American International Spirits Competition in New York. They also took home a silver medal for their Habanero Beet cider and bronze for their Pear Brandy at this year's Great Lakes International Cider and Perry Competition.
Thornapple Brewing co-founders have nearly fifty years of brewing experience.
Photo Credit: Experience Grand Rapids
---
Mug Club
Thornapple is currently not putting a cap on the number of loyal guests who want to enjoy the perks of their mug club. A $60 annual fee rewards members with $1-off fills always in a numbered handled tankard that holds more ounces than the general public's pints, additional discounts and specials on Tuesdays, and a free pint glass to take home. Guests may join in person at the brewery.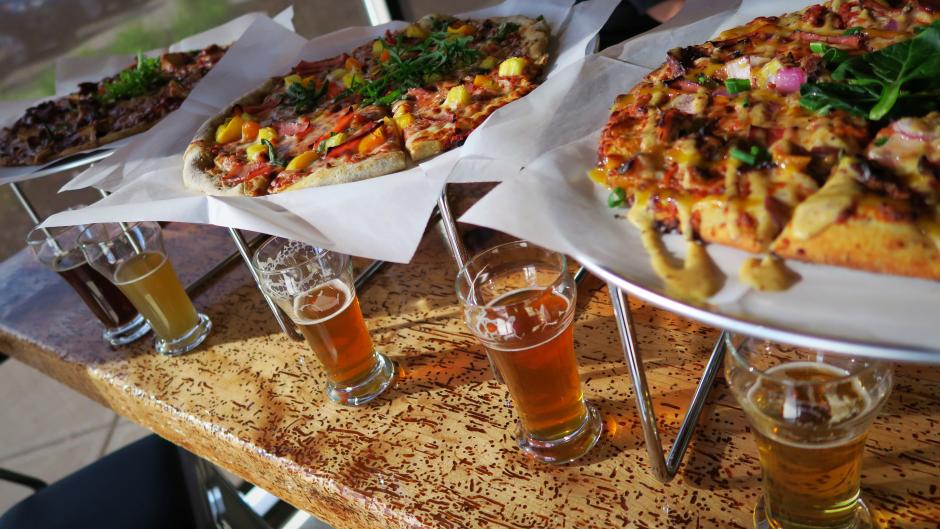 Thornapple Brewing's menu consists of artisan pizzas, hummus, appetizers, and desserts!
Photo Credit: Jason Ley
---
Food
Chef Sandra Keiser has a knack for upcycling spent raw materials from the brewing process into underlying components on her menu, which includes healthier-than-average appetizers, salads, and entrées, and homemade desserts. She embraces sourcing local ingredients with a scratch-made approach. Her use of Thornapple's whiskey in their housemade BBQ sauce is a subtle, yet flavorful win.
Keiser's focus is most notably showcased in her pizzas. Their spent grain pizza crust, made in-house, has evolved from using a dough starter she acquired—that's been handed down for over 100 years. Thornapple currently features eight signature pies, with the Cubano (with beer cheese drizzle) being a standout front-runner, and the option to design your own. Vegetarian and vegan-friendly pizza options are also represented.
Entertainment
Mondays: Euchre tournament, no entry fee, brewery gift certificate to the winner

Tuesdays: Trivia night, free to play, prizes awarded, 7:30PM

Thursdays: Live acoustic music, 6 PM - 9 PM

Fridays: Karaoke, drink specials, 9 PM - Midnight 

Saturdays: Live music,  7 PM- 10 PM

Sundays: Brunch, 10:30 AM - 4:30 PM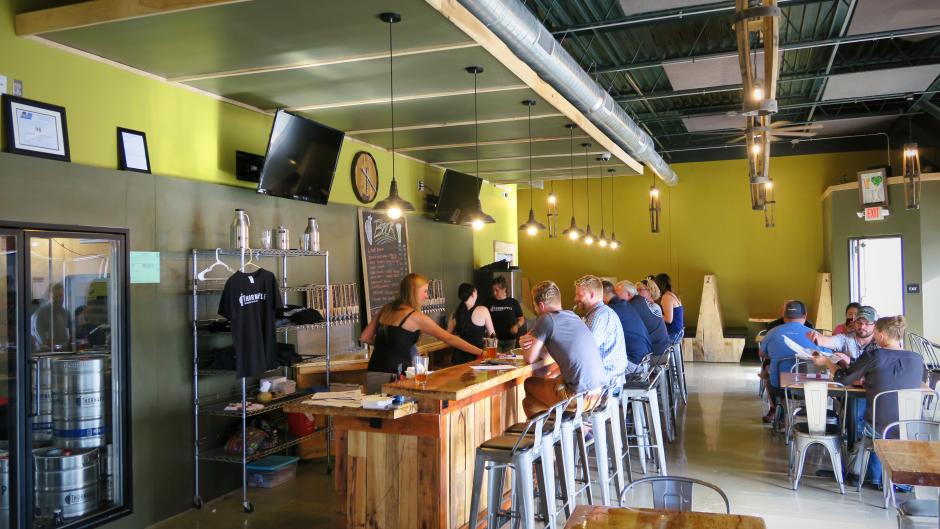 Thornapple Brewing's menu selections and variety of craft beverages make it a great place to gather.
Photo Credit: Jason Ley
---
Atmosphere and Amenities
Casual, relaxed and approachable with an ample mix of bar seating, booths, low-tops and communal high-tops

Free Wi-Fi

Brewery tours: Available on request, time permitting, outside of peak hours. Glass doors on the cooler facing the pub give a sneak peek behind-the-scenes at any time into production

Variety of brewery-branded glassware and growlers available for sale

Reservations/call-ahead seating/carryout: Not at this time

Patio seating: Likely, to come in the future

Kid-friendly: Yes, high chairs and booster seats available. Cheese pizza and gourmet mac and cheese are available as better-than-typical kids' menu food options

Parking: Lot with an abundance of spaces
Hours
Monday to Thursday: 11 AM - 10 PM
Friday to Saturday: 11 AM - Midnight
Sunday: 10:30 AM - 4 PM
Contact
Don't miss a post!
Sign-up for the Insider Experience blog