The Gerald R. Ford International Airport (GFIA, or GRR as it is known locally) became home to an impressive art collection as part of its commitment to highlight and support the thriving art culture in the Grand Rapids area.
Two expansive murals and a large stone sculpture completed by local artists have been installed, funded through a partnership with the Frey Foundation aimed at prioritizing the inclusion of art at the airport.
"West Michigan has a vibrant arts community, and it's represented in multiple different ways, including ArtPrize as that marquee event," said Stephen Clark, director of commercial development for the airport.
"We wanted the airport to be the start of that experience," he continued. "You can see art here as you're arriving, or, if you're a member of the West Michigan community, you can see how we support members of the local art community by incorporating their works into our collection."
The Frey Foundation partnership means the art committee is part of all renovation and expansion discussions.
"It's a new approach for us," Stephen said. "As we began planning our recent expansion, we intentionally put that art committee into those conversations to ask, 'How do we create this space but also make room for art?'"
Jason Quigno's sculpture Aankobiisinging Eshki-kakamigak" / "Connection to Creationan Anishinaabe artist is on display in the airport's mail lobby.
Photo by Experience Grand Rapids, featuring "Aankobiisinging Eshki-kakamigak" / "Connection to Creation" by Jason Quigno/Asinaabe Studios, 2021.
Celebrating Michigan's native peoples
A stone sculpture by Anishinaabe artist Jason Quigno titled: "Aankobiisinging Eshki-kakamigak," or "Connection to Creation," needed serious planning to make space for it.
The 9-foot-tall sculpture weighs 5,000 pounds and was installed in April on a pedestal in the main lobby. Carved from black granite and Indiana limestone, it celebrates the rich culture and history of native peoples in West Michigan.
The base features a turtle with Anishinaabe floral design representing the four cardinal directions. On top of the turtle's shell sits a second feature of fire and flames flowing upward in a spiral pattern suggesting smoke. The pinnacle features four eagles with their mouths slightly open.
"The turtle, or mizkeekay, and its shell represent the land we inhabit," Jason explained. "She is the base the fire and flames sit upon. Fire, or ishkoday, is important to the Anishinaabek – through the fire and smoke, our prayers flow up to the creator. Finally, the four eagles, or migiizis, represent and acknowledge the four cardinal directions. The eagles are said to carry those prayers to the creator."
Jason said one of his main goals as an artist is to honor his ancestors.
"My intention is to share a portion of the Anishinaabek's beautiful history, our stories and rich traditions in stone," he said. "I made this for the airport and its visitors, but also for my Anishanabe people, for them to feel proud."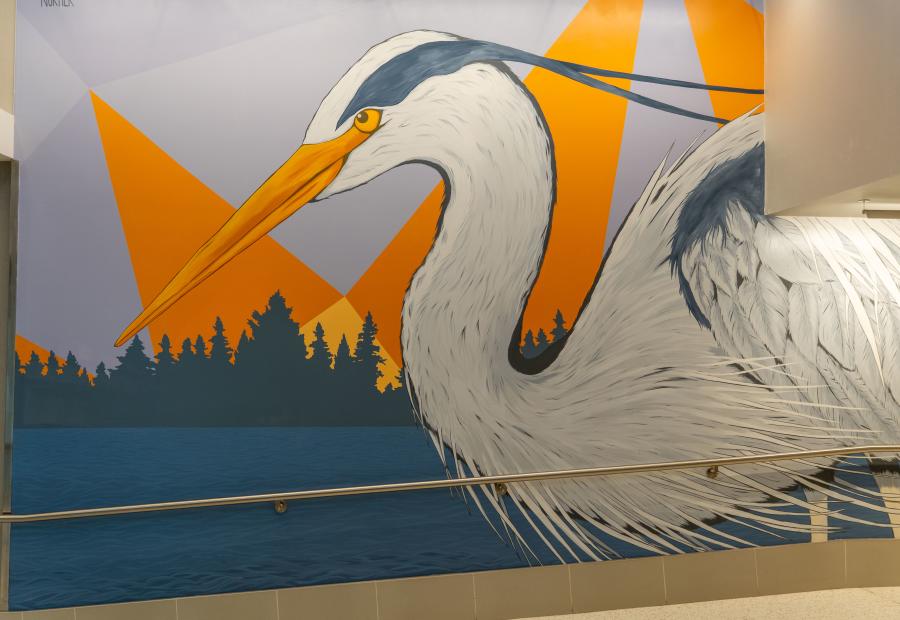 Nick Nortier's mural, "The Great Blue," pays homage to West Michigan's blue heron and the Great Lakes.
Photo by Experience Grand Rapids, featuring "The Great Blue" by Nick Nortier/Old Growth Creative, 2021
Natural beauty, vibrant city
The two murals were installed last year. The first, "The Great Blue," is an ode to the blue heron and the Great Lakes painted by Grand Rapids native Nick Nortier. It's featured on a large wall leading to concourse B.
"This mural is one of the largest interior walls I have ever painted and in an area with an immense amount of foot traffic — thousands of people come through every day," Nortier said when it was completed in March 2020. "I am excited to have this opportunity to leave my mark at the Gerald R. Ford International Airport."
The second was created by Grand Rapids artist Reb Roberts, whose brightly colored folk art is found across the city. Reb painted "Chickens Don't Fly Too Much" on the walkway to concourse A in the summer of 2020, fulfilling a longtime dream he had to have his art on display at the airport.
The multi-colored, 80-foot-long piece features his signature stylized animals, stars and flowers. Reb said he hopes people see the vibrant, active mural and connect it to the city.
"I would like people to see that Grand Rapids, whether they're coming or going, is a pretty vibrant place that has a lot going on. It's colorful even though it doesn't always get painted that way."
Reb praised the fact that the airport and Frey Foundation are focusing on local artists. "That's the beauty of the airport project," he said.
"I'm very grateful that this community does realize that if there is a need for things to be created or music to be played or things to be written or songs to be sung – I'm grateful they're looking here," he said. "They're asking people who are here. If there's something that needs to be done, if we just ask around we'll find someone who's able to do that."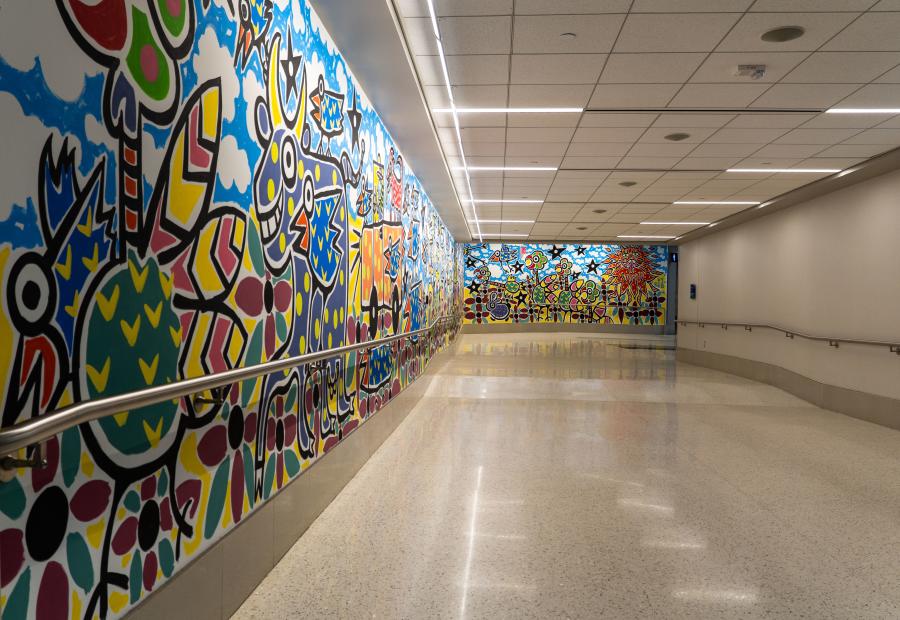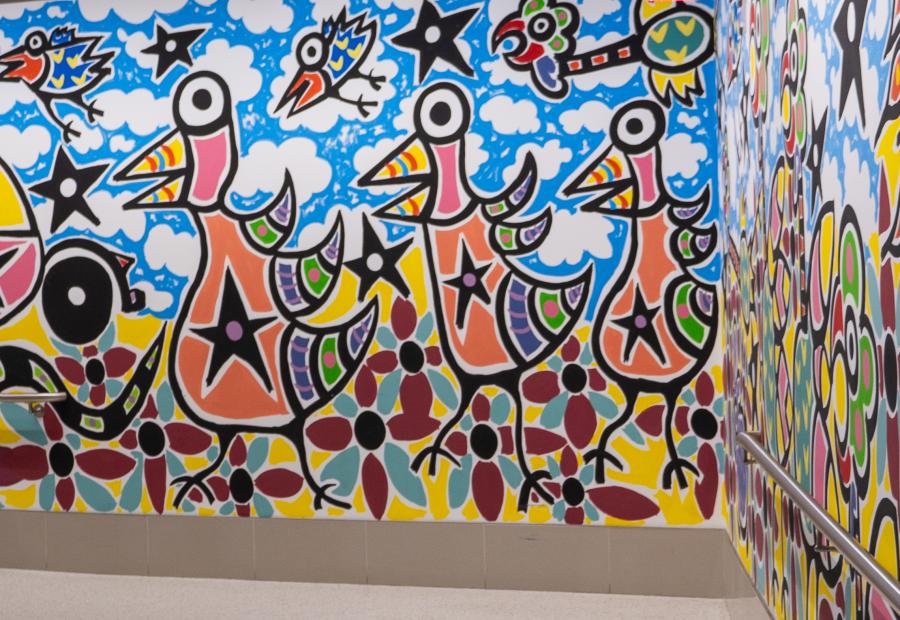 Reb Roberts created "Chickens Don't Fly Too Much" to symbolize the vibrant and colorful place Grand Rapids is.
Photo by Experience Grand Rapids, featuring "Chickens Don't Fly Too Much" by Reb Roberts, 2020
Honoring the airport's namesake
Part of the airport's focus on art included finding new homes for some of its existing pieces and adding a few others separate from the work with the Frey Foundation.
A large mural created in 1975 honoring former President Gerald R. Ford was restored in 2020 and relocated to the east end of the terminal, perfectly situated to welcome international travelers. Celebrated Grand Rapids artist Paul Collins was commissioned to create the mural, which depicts highlights of Ford's life and presidency.
The airport added a new piece of art in Ford's honor, too. As part of the renovations, it dedicated the Presidential Gateway Plaza outside the entrance to the airport featuring a large circular bench complete with a bronze statue of the former president welcoming travelers.
The statue is part of the Community Legends Sculpture Project, an ongoing initiative to erect 25 bronze statues honoring people who helped shape Grand Rapids. (You can see several others on a walking tour of the city!)
Another piece of art connected to the former president will also find a home in the airport. Alexander Calder, the creator of La Grande Vitesse installed outside City Hall in downtown Grand Rapids, gave the president a model plane he painted as part of his work commemorating the country's bicentennial.
That plane has been on display at City Hall, but will be moved to the airport. It will join a small-scale model of La Grande Vitesse already owned by the airport.
To learn more about the airport's art project, visit their website. 
Header artwork: "Chickens Don't Fly Too Much" by Reb Roberts, 2020; photo by: Experience Grand Rapids