While Grand Rapids is hailed as a city that successfully reinvented itself for the 21st century, it has always treasured the legacy of its past. Our antique shops, up-cycled outlets and vintage stores help preserve and celebrate that legacy by curating items from different eras. Browse these outlets to find those elusive items that have always been on your wish list, discover things you didn't know you needed and get one-of-a-kind gifts for everyone on your list.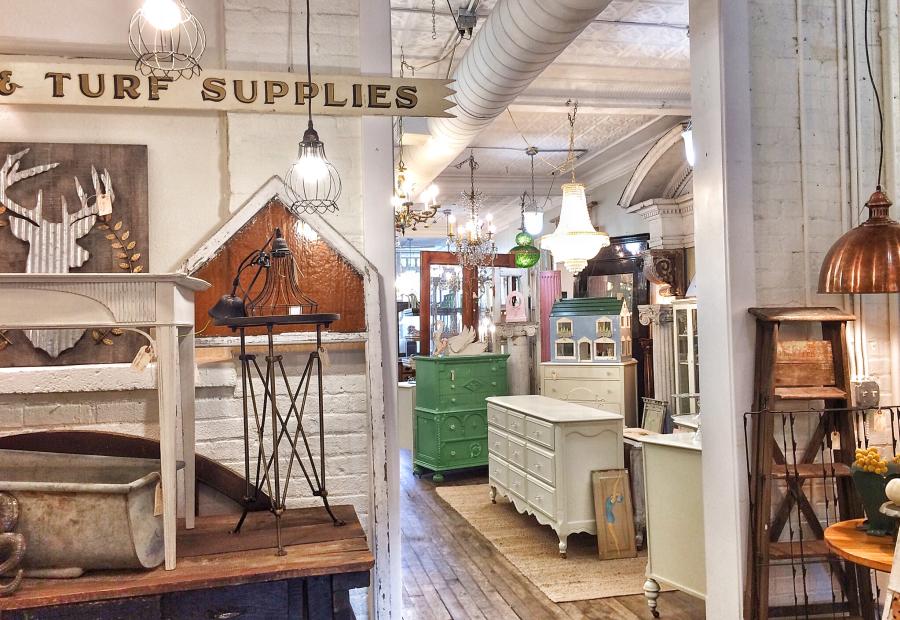 Find a highly-curated selection of re-purposed and antique furniture and fixtures at Bluedoor Collective.
Photo by Melody VanderWeide
Bluedoor – A Home Collective
Explore this Uptown shop for unique residential and commercial furnishings and décor, from practical to whimsical. Bluedoor is filled with vintage and reclaimed furniture, a brilliant lighting collection, amateur and folk art, and fanciful inspirations ranging from terrariums and ceiling tile frames to old tool boxes and hardware.
Century Antiques
Located in the historic Sligh Furniture building on the edge of downtown, close to Founders Brewing Company and the Grand Rapids Downtown Market, Century Antiques boasts that it offers "West Michigan's largest collection of antiques under one roof." Toys, jewelry, glassware, figurines, clothing, paintings and books are among the treasures you'll discover here.
City Antiques Resale Boutique
City Antiques is located inside Bluedoor (above) and is stocked with home goods, furniture, jewelry, photographs and more. Themed sections make it easy to find just what you're looking for.
Lost & Found - Treasures of Old and New
With two floors and multiple rooms stocked with carefully curated and smartly themed merchandise, Lost & Found is a favorite destination for seekers of mid-century modern furniture, décor, kitchenware and more. It's located in the same former factory building as Century Antiques and Warehouse One – make sure you budget enough time to visit all three!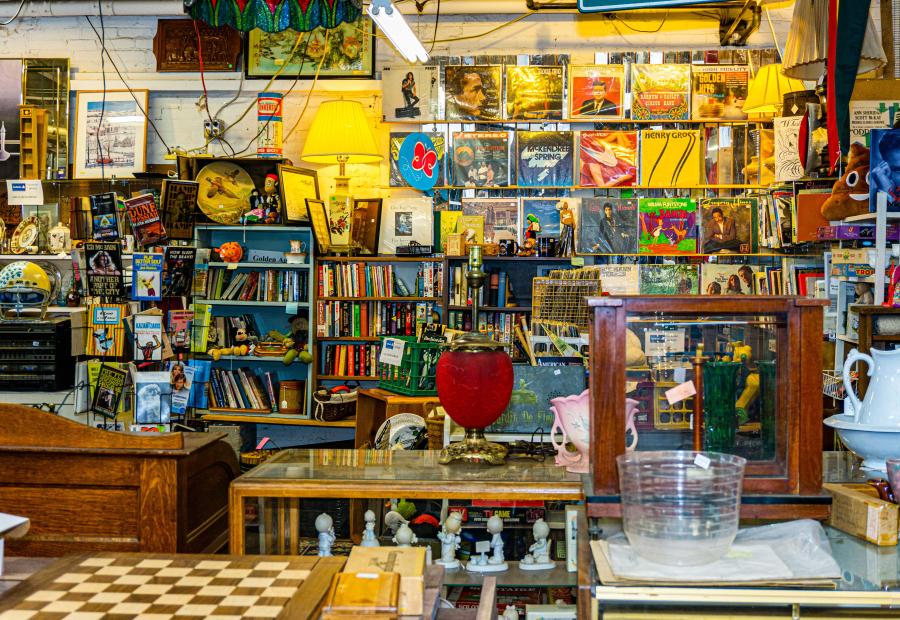 With 25,000 square feet of retail space, Warehouse One has something for everyone.
Photo by Brian Craig for Experience Grand Rapids
Nueve
Situated a bit northwest of downtown, not far from Greyline Brewing Co. and the Alpine Avenue shopping district, Nueve specializes in mid-century modern and decorator furniture. Many pieces were made right here in Grand Rapids by local manufacturers such as Herman Miller, Johnson, Kindel and Stow & Davis. (Did you know that Grand Rapids was once known as Furniture City?)  Shop online anytime and/or schedule a warehouse visit. 
Quality Vintage Collectibles
This North Quarter favorite presents a wide selection of mid-century furniture and décor as well as thousands of vintage and new vinyl records over the space of a 3,000 sq. ft. warehouse. Quality Vintage also offers custom upholstery services are also available.
Reinspired Treasures
The quaint Alger Heights neighborhood is home to Reinspired Treasures, which features an eclectic mix of vintage and new décor, farmhouse finds, handmade and repurposed vintage furniture, curated antiques, boutique clothing, handcrafted jewelry, creations by local artisans and more.
Vintage + More
"Amazing, unique and affordable" are the watchwords at Vintage + More, located just off the busy 28th Street commercial corridor in Kentwood. Browse a fantastic variety of furniture pieces, farmhouse home décor, jewelry and other vintage merchandise as well as beautifully refurbished and restored pieces.
Wally's Treasures Antique Mall
Just a six-minute drive from Vintage + More, this 20,000 sq. ft. "mall" hosts 150+ vendors offering a dazzling array of vintage and antique collectibles, crafts, furniture and other treasures. You'll find repurposed items and artisan goods at Wally's, too.
Warehouse One Antiques & Collectibles
The third of three antique shops under one roof in the massive Sligh Furniture building, Warehouse One fills its 25,000 sq. ft. space with a tremendous variety of merchandise from 100 or so antique dealers – so there really is something for everyone.  
Always check individual store websites for current hours before you visit. And wear comfortable shoes – it's easy to spend hours marveling at the unique finds in these stores!