While Grand Rapids is hailed as a city that successfully reinvented itself for the 21st century, it has always treasured the legacy of its past. Our antique shops, up-cycled outlets and vintage stores help preserve and celebrate that legacy by curating items from different eras. Browse these outlets to find those elusive items that have always been on your wish list, discover things you didn't know you needed and get one-of-a-kind gifts for everyone on your list.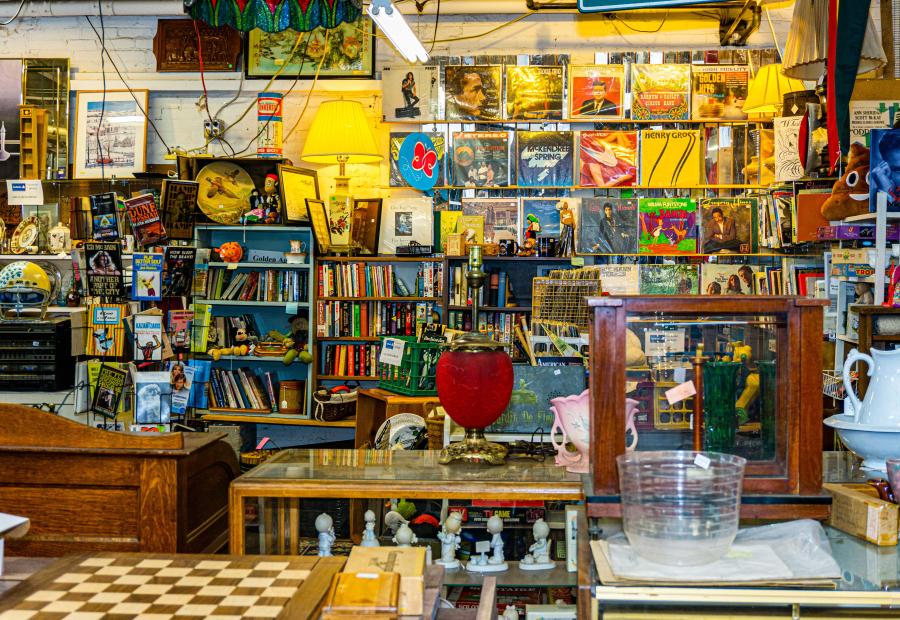 With 25,000 square feet of retail space, Warehouse One has something for everyone.
Photo by Brian Craig for Experience Grand Rapids
Downtown
Sligh Furniture Building
Just on the edge of downtown GR, close to Founders Brewing Company and the Grand Rapids Downtown Market , stands a monument to the city's reign as the "fine furniture capital of the world." The Sligh Furniture building was erected in the 1880s and it's where local woodworkers crafted bedroom and dining rooms suites for such luminaries as U.S. presidents Rutherford B. Hayes and Benjamin Harrison before the Great Depression put the company out of business.
Today the Sligh building is home to a trio of antique malls covering 100,000 sq. ft. of display space. You can easily spend hours browsing the galleries here – and parking is free!
• Century Antiques  boasts that it offers "West Michigan's largest collection of antiques under one roof." Toys, jewelry, glassware, figurines, clothing, paintings and books are among the treasures you'll discover here.
• Lost & Found – Treasures of Old & New offers two floors and multiple rooms stocked with carefully curated and smartly themed merchandise, including mid-century modern furniture, décor, kitchenware and more. Named GR's Best Antique Shop in a 2022 Revue Magazine Reader's Poll. (Century was #2.)
• Warehouse One Antiques & Collectibles  fills its massive space with a tremendous variety of merchandise from 100 or so antique dealers – so there really is something for everyone.  
Northeast
Bostwick Lake Antiques
Located in Belding, about 25 minutes from downtown GR, Bostwick Lake Antiques showcases everything from antique china to rustic furniture to fun décor and more, with an inventory that's constantly changing. It's also a great resource for paints, finishes and supplies to spruce up your vintage goods.
Quality Vintage Collectibles
This local fave presents a wide selection of mid-century furniture and décor as well as thousands of vintage and new vinyl records over the span of a 3,000 sq. ft. warehouse. Quality Vintage also offers custom upholstery services and is always looking to pay fair prices for great furniture pieces, records and audio components.
Northwest
Captain Bizzaro's Treasure World
"Enormous amounts of ridiculously cool stuff!" is the promise at Captain Bizzaro's, which leans heavily on the pop culture side of vintage, with all manner of retro clothing, toys, records, books, knick-knacks and oddities. Just a two-minute walk from The Mitten Brewing Company.
Nueve
Situated not far from Greyline Brewing Co . and the Alpine Avenue shopping district, Nueve specializes in mid-century modern and decorator furniture. Many pieces were made right here in Grand Rapids by local manufacturers such as Herman Miller, Johnson, Kindel and Stow & Davis. (Did you know that Grand Rapids was once known as Furniture City?)  Shop online anytime and/or schedule a warehouse visit. 
Pinky's Place Antique & Artisan Market
This "antique & more" store hosts more than 145 local artists, crafters and vendors selling antiques, furniture, home décor, handmade crafts, "Purely Michigan" gourmet foods and all sorts of other goodies. Pinky's Place is a hub for Pinky's Palace, a non-profit organization that raises funds to help local families affected by dementia.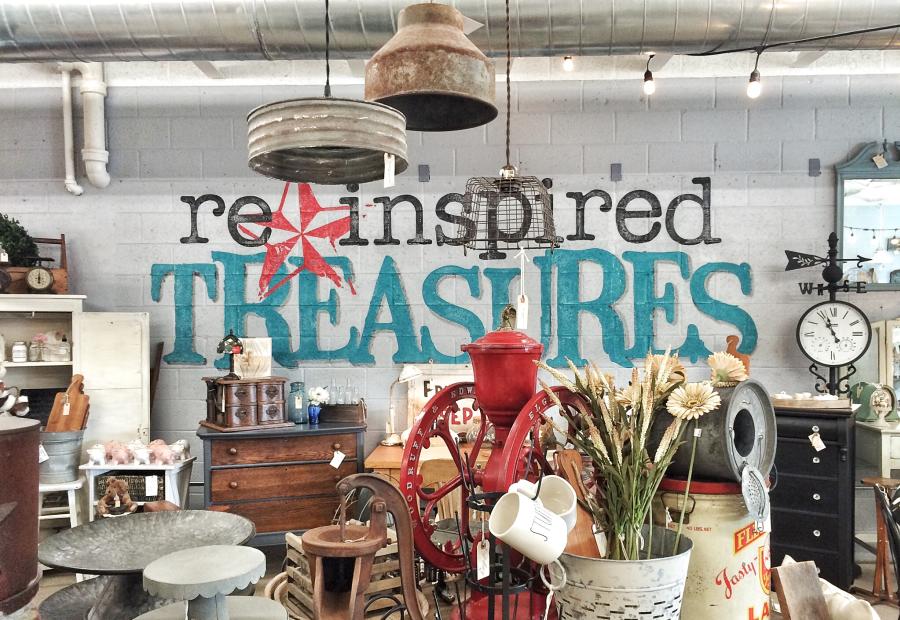 Reinspired Treasures has an eclectic mix of vintage and new pieces that will suite any style.
Photo by Melody VanderWeide
Southeast
Always Betti
Always Betti presents a tremendous selection of carefully curated estate and costume jewelry, plus fine furs and sterling silver pieces in Uptown, just a few minutes' drive from downtown GR.
Reinspired Treasures
The quaint Alger Heights neighborhood is home to Reinspired Treasures , which features an eclectic mix of vintage and new décor, farmhouse finds, handmade and repurposed vintage furniture, curated antiques, boutique clothing, handcrafted jewelry, creations by local artisans and more.
Sky Antiques
Collectibles, stamps, coins, jewelry, paintings, lamps, accessories, clothing … Sky Antiques offers so much to look at and so many unique items to make your search worthwhile. It's about one mile east off the US-131 expressway from the 44th Street exit.
Vintage + More
"Amazing, unique and affordable" are the watchwords at Vintage + More , located just off the busy 28th Street commercial corridor in Kentwood. Browse a fantastic variety of furniture pieces, farmhouse home décor, jewelry and other vintage merchandise as well as beautifully refurbished and restored pieces.
Wally's Malls
Wally's Treasures Antique Mall  and Wally's Castle together host 270+ vendors over 36,000 sq. ft. of display space. The two malls are just 4.5 miles away from each other, so if you don't find the antique, collectible or vintage piece(s) you're looking for at one, give the other one a try.
Southwest
Changing Thymes
Think of Changing Thymes as the indoor version of an outdoor flea market or craft show – it features booth after booth of vendors offering antique, vintage, upcycled and handmade. Two Grandville locations 10 minutes apart – 4187 Chicago Dr SW and 2900 Wilson Ave SW – provide hours of browsing pleasure.
Cottage Blue
An ever-changing collection of charming antiques, vintage homewares, farmhouse-style items and other unique finds await you at Cottage Blue in Byron Center, about 20 minutes from downtown GR.
Elevated Grand Rapids
Elevated GR is a collaborative marketplace hosting a variety of vendors, artisans and artists under one roof. Shop for a wide range of antiques, vintage pieces and unique repurposed items close to Roosevelt Park and the vibrant Grandville Avenue neighborhood. 
Hudsonville Antiques
About 20 minutes from downtown GR, Hudsonville Antiques, Vintage & New Designs features more than 30 vendors in 8,000 sq. ft. of space on one level. Check out the "Man Cave" full of vintage bar items, license plates, primitive tools and much more.
Reinvent Modern
Specializing in mid-century modern furniture, lighting and accessories, Reinvent Modern invites you to create cool spaces with style and quality from yesteryear. Located in downtown Grandville.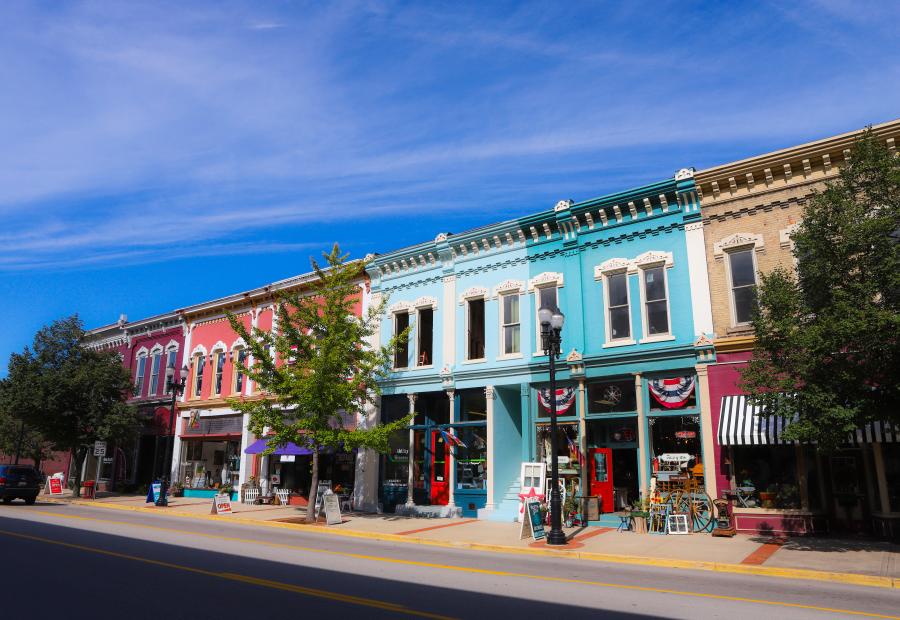 A short drive from Grand Rapids, Downtown Lowell has many antique stores to shop.
Photo by Experience Grand Rapids
Lowell
The small town of Lowell, 25 minutes east of downtown GR, is a wonderful place to shop for antiques. Allow yourself plenty of time to explore:
• Flat River Antique Emporium, offering a combination of antiques and vintage collectibles.
• Journeys Time Antiques & Treasures, featuring a little bit of everything.
• North Star Antiques, hosting a rotating selection of antique and collective dealers and vendors.
• Red Barn Consignments & Antiques, selling vintage jewelry, postcards, furniture and more.
Always check individual store websites for current hours before you visit. And wear comfortable shoes – it's easy to spend hours marveling at the unique finds in these stores!