If you love the sand, sun, and shore, West Michigan is the place for you. With 300 miles of gorgeous shoreline, lucky visitors and residents have quick access to a number of beaches that dot the Michigan coastline. It's one reason that Lonely Planet recommended this area as its Number 1 U.S. Travel Destination in 2014.
To find out which beaches locals like best, we asked Experience Grand Rapids' followers on Facebook and Instagram to weigh in on their favorites. Here's what they had to say!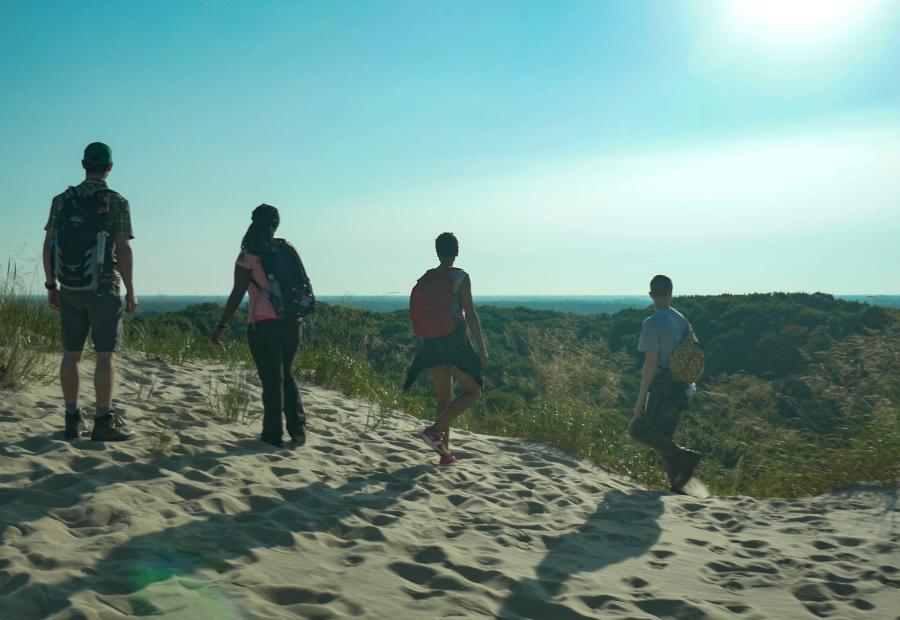 Hiking along Sand Dune at PJ Hoffmaster Park provides scenic views and a workout!
Photo by Experience Grand Rapids
Beaches Families Love—Great for Everyone
PJ Hoffmaster State Park (Muskegon)
[40 miles northwest of Grand Rapids]
The ever-popular PJ Hoffmaster State Park boasts over three miles of shoreline and is a beautiful place to enjoy the sun, sand, and take a hike on the trails. You can also learn about the park's ecosystems at the Gillette Sand Dune Visitor Center. "The walk in the woods to the beach is awesome!" says Instagram follower @bethverhagecdb9.
When you go, plan on bringing lunch or dinner. Picnic tables are available and restrooms are located at the nearby Nature Center.
After you eat, talk yourself into tackling the Dune Climb Stairway. Your well-deserved reward will be a stunning panoramic view of Lake Michigan and the dunes from the observation deck.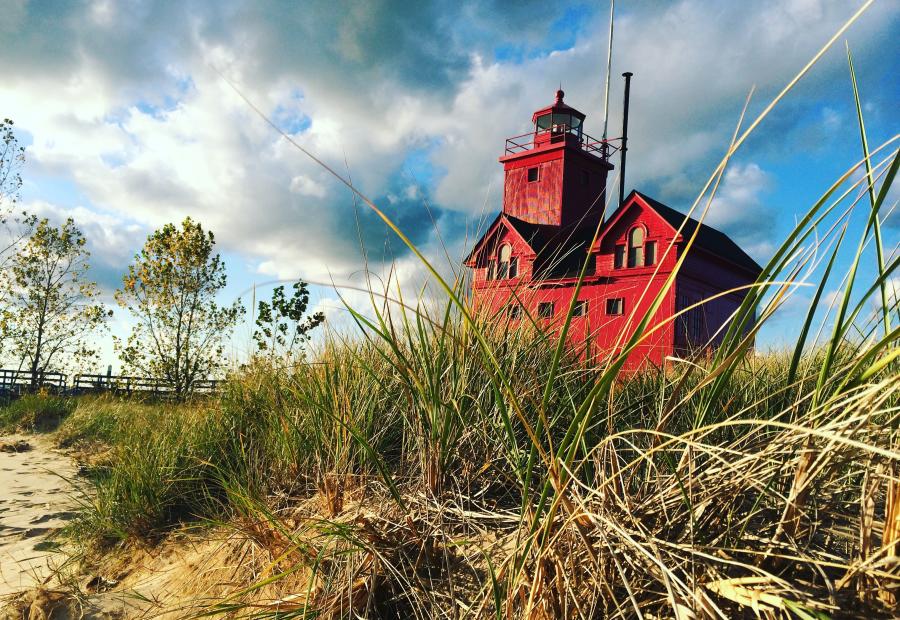 Pedestrian access to Big Red is available on Tuesdays and Thursdays to local residents from Memorial Day to Labor Day.
Photo by Experience Grand Rapids
Holland State Park (Holland)
[35 miles southwest of Grand Rapids]
If you're in the mood to relax in a beach chair and watch the waves, Holland State Park has a long, beautiful shoreline and a historic red lighthouse, fondly called Big Red.
When responding to her favorite thing about the park on Instagram, @judymesman said, "The channel." People love to take leisurely strolls along the channel that connects Lake Macatawa to Lake Michigan.
Beachgoers can take advantage of the volleyball and basketball courts. Activity junkies can visit the park's Macatawa side to rent kayaks, canoes, and stand up paddleboards.
Holland State Park also features a great playground for kids, a concession stand with food and beach supplies, as well as picnic tables, fire pits, grills, and restrooms.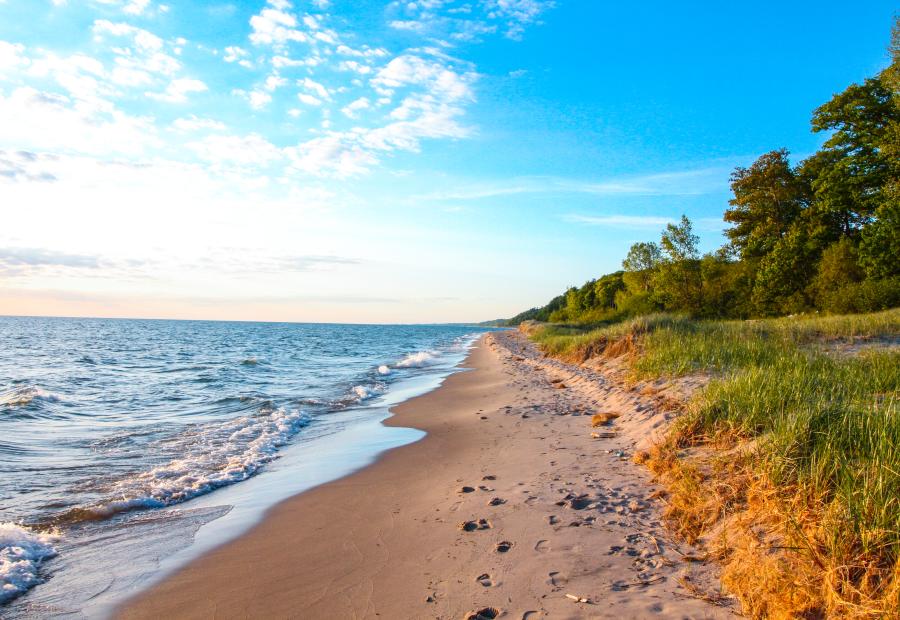 Grand Haven State Park encompasses 48 acres.
Photo by Paul Jendrasiak - Experience Grand Rapids
Grand Haven State Park (Grand Haven)
[35 miles northwest of Grand Rapids]
While the scenic sandy beach in Grand Haven State Park attracts sunbathers and swimmers, the State Park has plenty to offer, including volleyball and fishing.
Add the pier and striking lighthouse, food trucks, the Musical Fountain (the world's largest!), and the proximity to the city's quaint downtown, Grand Haven State Park makes a great destination for families, friends, and couples.
Instagram followers @missy_dewitt and @erinbahbah both gave Grand Haven State Park the "thumbs up," as did Facebook follower Alice Galanski Young.
Van Buren State Park and North Point Conservation Area (South Haven)
[62 miles southwest of Grand Rapids]
The beach at Van Buren State Park is a rock-hunters dream: it's wide, long, and covered with beautiful rocks. Picnic tables and grills are available for use, as are restrooms. Plus, four-legged friends are allowed in the park as long as they're on a six-foot (or shorter) leash.
North Point Conservation Area is just a hop, skip, and drive north of Van Buren State Park. The area, which spans 17 acres, boasts over 300 feet of shoreline, forested dunes, and wetlands.
The picturesque town of South Haven is nearby, with a beautiful harbor, shops, restaurants and bars, making this a great place to end your day at the beach. Instagram follower @jocoho90 voted, "North Point and Van Buren State Park 'because it's home!'"
Duck Lake State Park (Whitehall)
[50 miles northwest of Grand Rapids]
Duck Lake State Park encompasses shoreline from Duck Lake all the way out to Lake Michigan and is a favorite for fishing, hiking, and swimming.
Parents of young kids especially love the area where the lakes merge – it's shallow and easy to watch kids play without worrying about the depth of the lakes. The park is also accessible by boat. "On calm days, it is an easy day trip by boat from the Muskegon area. Water from Duck Lake streams into Lake Michigan providing a calm wading area between the north and south beach areas," says Facebook follower Tina Pyne.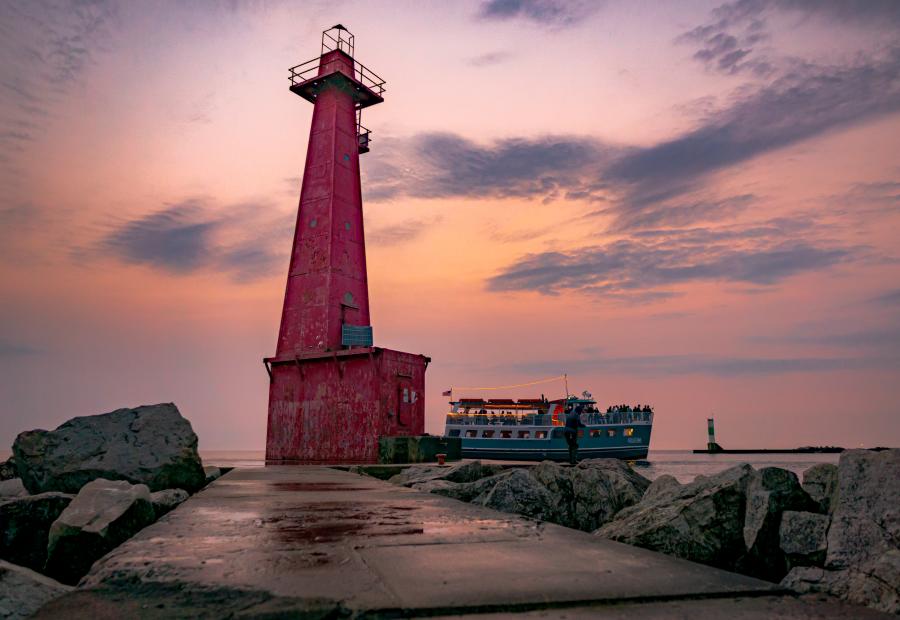 From the Pere Marquette Park you can see the Muskegon Break Water Light on Lake Michigan.
Photo by Nick Irwin Images
Pere Marquette Park (Muskegon)
[45 miles northwest of Grand Rapids]
Pere Marquette Park's lengthy two-in-a-half-mile shoreline, playground, convenient snack bar, and numerous volleyball courts are a few of the reasons beachgoers love to visit the park in Muskegon. In fact, the beach was voted the top beach in the state according to USA Today's 10 Best Reader's Choice Poll. 
Bring your own gear for a game of volleyball, or rent supplies from the nearby concessionaire. You can also rent paddle boards from J Boards SUP rentals. The beach has an accessible walkway for people who use wheelchairs, and The Deck, a full-service restaurant, is located nearby. Instagram follower @lerz18 says, "Dunes plus beach make a beautiful combo."
In addition to the beach's fantastic features, Pere Marquette Park is home to the USS Silversides, a World War II submarine, which draws history buffs as well as beachgoers. You can even book an overnight stay on the submarine!
Take Your Pet to the Beach
Kruse Park (Muskegon)
[42 miles northwest of Grand Rapids]
Instagram follower @annabal-lector's comment sums up what many dog-lovers feel: "[I like] Kruse Park because DOGS." This park has an ample area where dogs are allowed to play on the beach and in the water.
Kruse Park has about a mile of shoreline and four reservable picnic shelters, as well as a playground, restrooms, and an area for basketball.
As with most dunes along Lake Michigan's shoreline, the view from these dunes are breathtaking and well worth the climb.
A few other beaches that welcome pets:
Van Buren State Park in South Haven (see "Beaches for Families Love-Great for Everyone)

Kirk Park in West Olive (see Hidden Gems—dogs are allowed off leash here)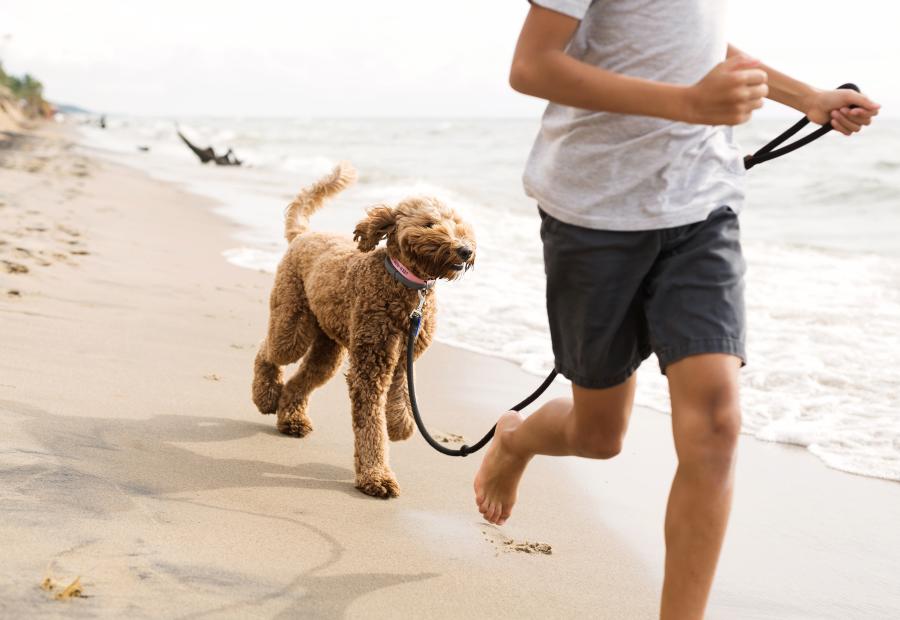 The beach at Kirk Park in a beloved hidden gem.
Photo by Experience Grand Rapids
Hidden Gems
Kirk Park (West Olive)
[32 miles southwest of Grand Rapids]
Instagram follower @allisontenharmsel cast her vote for Kirk Park, a local favorite for swimming, picnicking, and sunbathing. In addition to a playground and horseshoe pit, this park features wooden stairways throughout the dunes that lead you to magnificent views of Lake Michigan.
The southern area of the park allows dogs to play off-leash, as long as they're under your control.
Lake Harbor Park (Norton Shores)
[40 miles northwest of Grand Rapids]
Lake Harbor Park got a "favorite beach" shout out from Instagram follower @boondoxmotorsports. This scenic park includes 2,000 feet on the Mona Lake Channel, as well as 4,000 feet on Lake Michigan, which makes it a local favorite for fishing and picnicking.
The picnic area that overlooks the channel offers grills and picnic tables. The park's picnic shelter is free, on a first-come, first-served basis.
When you take the walkway along the channel out to the beach, be sure to take a slight detour to climb the wooden boardwalk to the top of the dunes and enjoy the view of Lake Michigan.
Meinert Park (Montague)
[62 miles northwest of Grand Rapids]
The glowing review of Meinert Park posted by Instagram follower @kamaa_bama, will surely make you want to visit.
Naming her favorite local beach, she said, "A small, pristine beach in Montague at the end of Meinert Road. My family would camp there every summer… that beach has perfect views, and the sand is so clean and warm."
Located on the coast, between the towns of Rothbury and Montague, Meinert Park features rolling, grassy dunes and scenic overlooks. There are a few picnic benches near the parking lot, as well as a picnic shelter available for rent.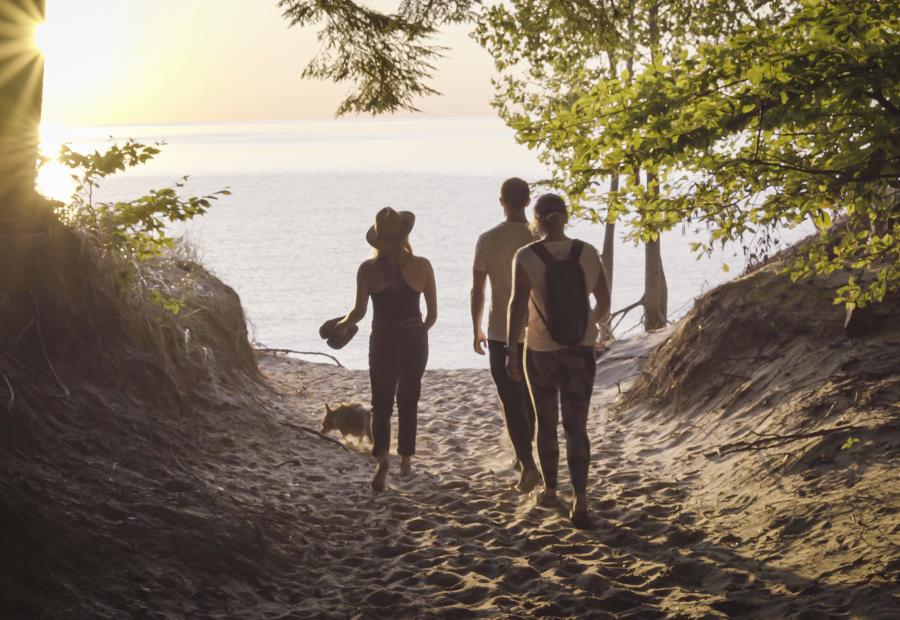 The Saugatuck Dunes State Park is a sight to see!
Photo by Experience Grand Rapids
Best Beach for Nature Lovers
Saugatuck Dunes State Park (Saugatuck)
[40 miles southwest of Grand Rapids]
This beach is a nature-lover's dream. When you arrive at Saugatuck Dunes State Park, you won't immediately see its two-and-a-half miles of beautiful shoreline. To get there, you have to walk through the coastal dunes, some of which are over 200 feet tall. The walk isn't terribly strenuous, but it's also not a casual stroll.
"The namesake dunes are stunning and the hikes are incredible," says Instagram follower @chanchanjanski.
The park has picnic tables and a couple of rustic vault toilets near the parking lot, two-and-a-half miles of undeveloped beach frontage, and a 300-acre nature park favored by birdwatchers and hikers.
Within the State Park, you'll find Shore Acres Township Park, home to the imposing, historic Felt Mansion. Open to the public for self-guided and private tours, and available to rent for events, the 1920's home boasts 25 rooms, including a ballroom, which comprise more than 12,000 square feet.
"Whether you want the natural beauty of Saugatuck Dunes or to look at historic architecture, it's a great place to go," says Kurt Maxwell, Saugatuck Dunes State Park Supervisor.