Summer days and boating go hand-in-hand. When temperatures climb and days get longer the urge to hit the water often grows strong. But where can you launch that runabout, sailboat, kayak or rowboat? Fortunately, Grand Rapids area boaters have many public launches to choose from. Most provide lake access where summer revelers can relax. Others provide access to scenic portions of the Grand River.  Finding  them takes just a few computer keystrokes.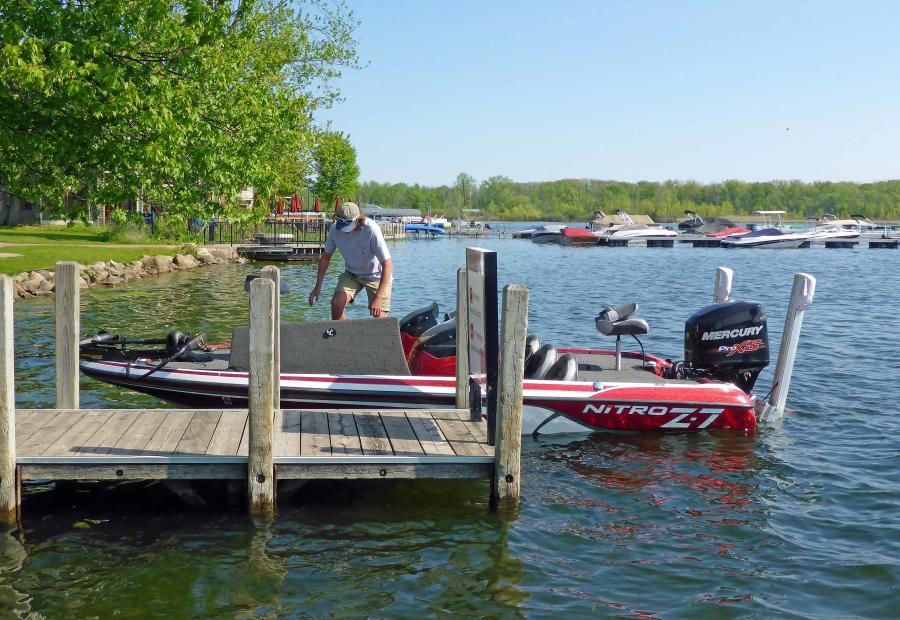 An angler readies his boat and gear after launching at John Collins Park at Reeds Lake.
Photo by Howard Meyerson
"One of the best ways to figure out where you can launch is by using Michigan's Recreational Boating System (MIRBS)," explains K.C. Fahrni, who administers several Kent County boating access sites for the Michigan Department of Natural Resources.  "I like to get out a county map, find a lake and then look it up online."
The alternative, he says, is to type "Kent County" into the system and see all 13 of the state-managed, Kent County launches. The MIRBS system is a database of 1,300 boating access sites around Michigan. It contains details about each - and 80 Great Lakes Harbors and marinas. All of its listings are managed by the Michigan DNR.  In Kent County those include popular waters like Murray Lake, Campau Lake, Big Pine Island Lake, and smaller waters like Lime Lake and  Pratt Lake, to name a few.
"Big Pine Island has a wonderful launch," Fahrni said. "It's paved, has a dock and a nice bathroom. It's a great lake for fishing, boating and there are a lot of kayakers out there.
"Murray Lake is interesting in that it is shaped like a horseshoe. There is a launch site on both sides of the peninsula. You can row or paddle from one launch to the other. They are right across the road from each other."
Boaters can temporarily tie up at the dock at Wabasis Lake.
Photo by Howard Meyerson
Kent County Parks Department also manages public launches on two area waters. One is found at Wabasis Lake, 11220 Springhill Dr., Greenville, a popular, 400-acre lake that feels very "up north" though it's only 30 minutes from Grand Rapids. The public boat launch has four lanes, a shoreline dock with tie-offs and ample parking. Camping is permitted in the adjacent campground.
Another very popular public launch is John Collins Park, 650 Lakeside Dr. SE, on Reed's Lake in East Grand Rapids. The 265-acre lake is delightful for boating, fishing, water skiing, and sailing. The free launch site is administered by the city of East Grand Rapids. It has picnic tables and overlooks where visitors can relax and enjoy the day.
A peaceful launch on the Grand River at Riverside Park.
Photo by Howard Meyerson
Launch fees are required at some DNR launch sites, but Michigan boaters who have purchased a $13 annual state recreation passport can use them without paying anything more. Non-state residents can purchase a daily pass for $11 or an annual pass for $39, and they can be purchased online or at any state park or recreation area.
Some boat access sites may require additional fees. They are identified in the listings on MIRBS. Campau Lake is the only Kent County fee-site among the DNR listings.
Looking for other interesting area boating access sites? Consider exploring the list for some place new to boat. A couple of others to consider are:
Campbell Lake: A small lake where the fishing is good. Only half of its shoreline is developed. It is one of Kent County's "quieter lakes" according to Fahrni and is best for small to medium-size watercraft.
Lincoln Lake: A larger and newer paved site which offers access to Lincoln Lake and three other connected waters. It offers a lot of water to explore and good fishing. But it is one that fills up quickly on the weekends. 
Grand River: In 2022, Grand Rapids launched its first accessible kayak and canoe launch in Riverside Park, just north of downtown. This EZ Launch space allows barrier-free access to the park's lagoon for paddlers of all abilities.
This article was originally published in 2016 and has been updated by Experience Grand Rapids.