Home to more than 130 global companies and one of the fastest growing economies in the U.S., West Michigan has long been known as a great place to do business.  Whether in small, family-owned companies or global, multi-billion-dollar manufacturers, entrepreneurship and innovation thrive here.
But historically, not all members of the community have been represented in West Michigan business ownership. Per the Grand Rapids Chamber of Commerce in 2022, only 2% of revenue generated in the Grand Rapids- Wyoming Metropolitan Statistical Area (which encompasses Kent, Ottawa, Montcalm, and Barry Counties) are minority-owned businesses.
As is true in many cities across the country, traditionally marginalized communities have often not experienced equitable levels of access to business mentorship and networking opportunities, as well as the investment capital needed to start, buy or grow their businesses.
That's starting to change here in Grand Rapids as nonprofits, business associations, and business and community leaders commit to increasing ethnic, racial and gender diversity in business ownership and entrepreneurship.  This community knows that diversity, inclusion, and belonging in the workplace – including in business ownership – is not just a moral issue.  Without diversity in business, Grand Rapids knows a community's ability to thrive in an increasingly competitive global marketplace is limited.
In an effort to move toward a more equitable and inclusive West Michigan, area leaders have worked in collaboration with underrepresented communities that establish initiatives to close the gaps and eliminate barriers that prevent minorities from owning businesses and contributing to the local economy.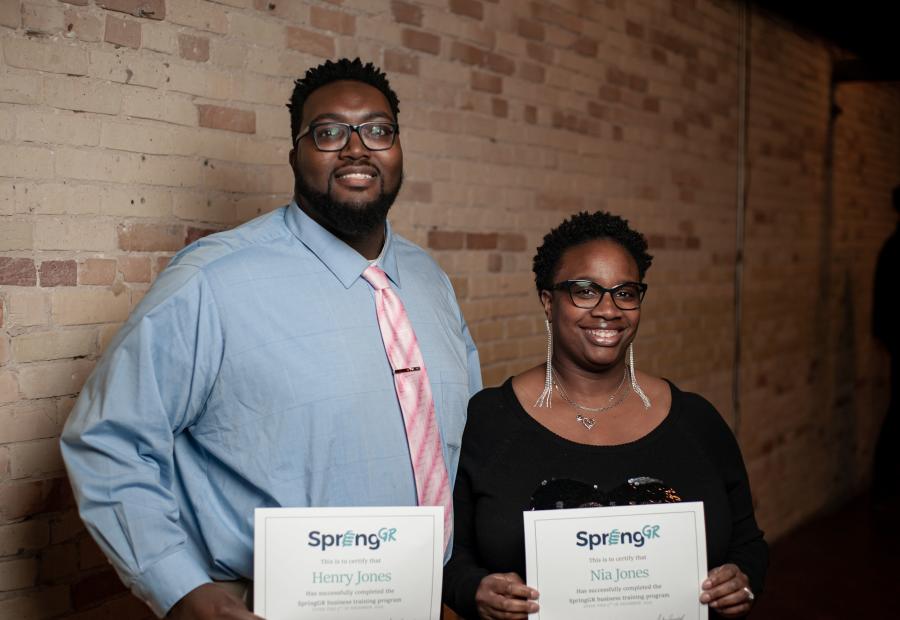 Started in 2014, SpringGR works to empower underserved entrepreneurs to build strong businesses through training and coaching.
Photo by Sam Cooper Photography
Springing Into Action
Started in 2014, SpringGR works to empower underserved minoritized entrepreneurs to build strong businesses through training and coaching. The nonprofit organization offers a number of programs to help minority entrepreneurs scale and grow, including a 14-week Small Business Accelerator designed to help those with a business idea or small business, and the six-month 250 Project, which is aimed helping BIPOC business owners with $100,000+ in annual revenues. The Kitchen Incubator Program was unveiled to the community and is hosted at the Kzoo Station, a community-oriented commercial kitchen offering space, programs and resources to support the success of local food entrepreneurs in their ventures.
"At SpringGR, we believe that our city is full of individuals with great ideas for products and services; however, due to a lack of business acumen many of these ideas lay dormant," said Attah Obande, co-founder of SpringGR and VP of Business and Talent Development at the Grand Rapids Area Chamber of Commerce. "These ideas deserve a chance to thrive in the marketplace, and SpringGR helps create this opportunity."
The Small Business Accelerator experience teaches participants the basics of starting a business, such as identifying target customers, crafting a marketing message, setting up a legal structure, pricing, projections and more. Over time, participants learn how to turn a cool product or service into a full-fledged operation.
More than 900 people have gone through SpringGR -- 87% of them people of color and 68% women -- and gained the tools and confidence to create new businesses and expand existing ones.
SpringGR considers its services an onramp to entrepreneurship. There are several other organizations helping small businesses in Grand Rapids, but none that walk alongside an individual at the grassroots level (idea stage). The co-founders see their space in the ecosystem as the top of the funnel, bringing in more minority entrepreneurs that can then grow and access the many other resources Grand Rapids has to offer.
The program proudly uses the analogy of a spring to represent the entrepreneurs they serve. To them, a spring is a resilient device that can be pressed or pulled before leaping forward when released. The entrepreneurs who pass through the program are the spring, and SpringGR acts as the force providing resources they need to leap ahead and reach their goals.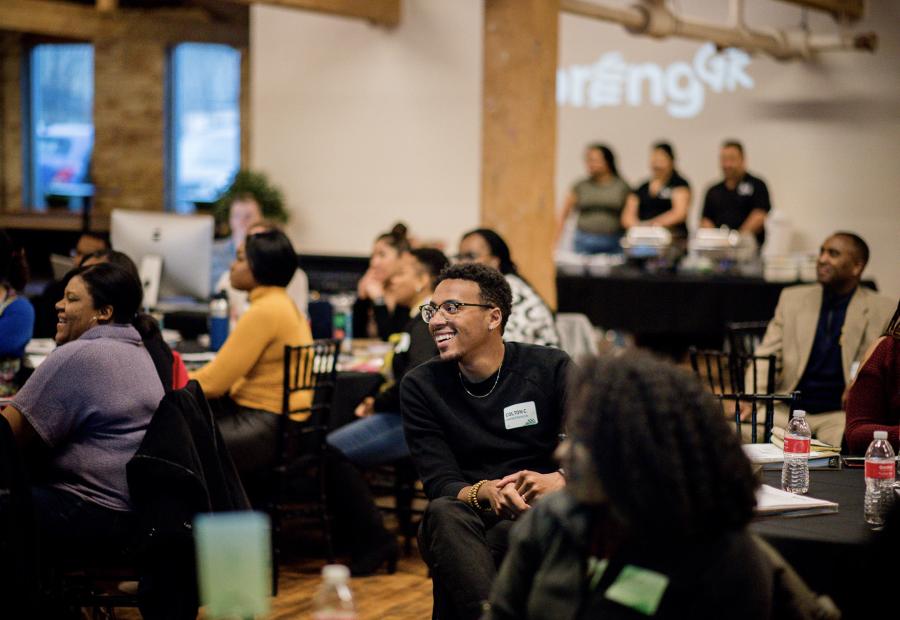 SpringGR is a grassroots business training experience targeting minorities who have never owned a business but have a skill, are inspired and would like to develop their entrepreneurial abilities.
Photo by Alfield Reeves Photography
Elevating to the Next Level
The Grand Rapids Chamber is also committed to seeking a diverse, equitable and inclusive workforce, membership, business environment and community. The organization recognizes that it's not only minority-owned startups that need help getting their business ideas off the ground. Existing minority-owned businesses often struggle to overcome obstacles and take their ventures to the next level.
That's where ELEVATE Minority Business comes in. This GR Chamber program aims to build capacity among second stage, growth-focused minority businesses by removing barriers for equitable inclusion and creating a solid foundation of social capital.
Those who participate in the program benefit from a robust support system individualized to their business goals and needs. Participants receive business analysis and advice through direct consulting, peer roundtables and outside expertise all while gaining access to an expansive network of past and present participants.
Among ELEVATE's objectives are to transform the perception of minority businesses in the community, create a solid foundation for high-performing minority firms and increase their ability to contribute to the economic well-being of the region.
Data shows that 90 percent of job creation happens at the second-stage business level. It's also clear that minority businesses hire more minorities. These two data points inform ELEVATE'S work to cultivate wealth in local communities of color.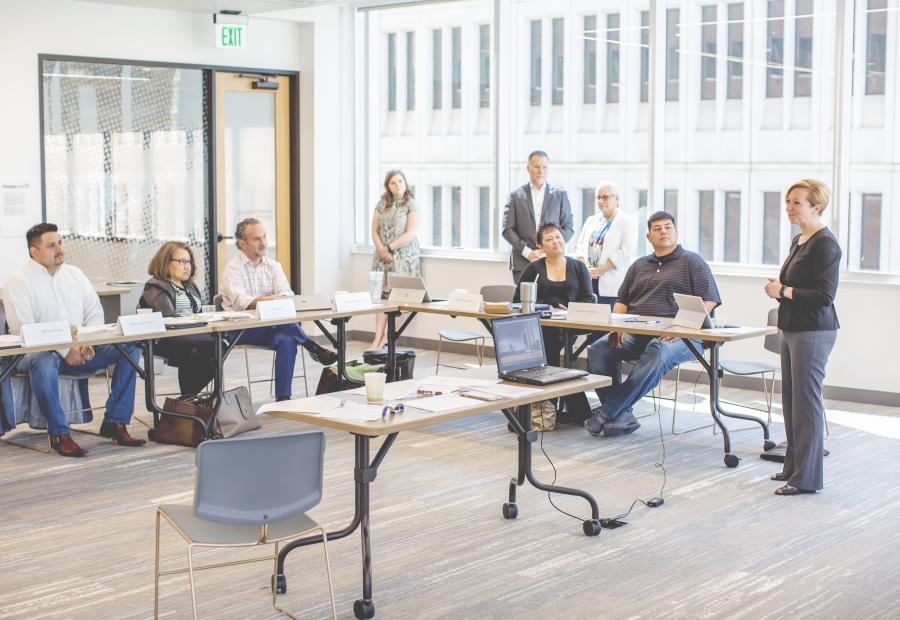 The Grand Rapids Chamber's ELEVATE Minority Business program aims to build capacity among second stage, growth-focused minority businesses by removing barriers for equitable inclusion and creating a solid foundation of social capital.
Photo by Grand Rapids Area Chamber of Commerce
In an interview with the chamber, president and CEO of Jireh Metal Products, Michael Davenport – a 2017 ELEVATE participant – said that he was looking for an opportunity to learn from accomplished business people in the area. After more than a decade in the banking industry, Davenport had taken the reins of Jireh – a tier-one supplier to the automotive, furniture and hardware industries – two years prior.
"ELEVATE was structured to focus on the core things we would look at as a business owner – everything from HR, negotiation, acquisition, and even your day to day interactions with clients," Davenport explained.  "I think one of the biggest impacts of the program was the bond created between me and my fellow participants. Hearing them articulate their challenges as business owners really resonated with me. It was great to leave the program knowing I had a solid group of local business owners I could call up any time I needed an outside opinion on an issue."
New Community Transformation Fund
Another community initiative takes a different approach to the challenge. The New Community Transformation Fund (NCTF) is a $25 million venture capital fund that invests in companies owned/operated by business leaders of color located in West Michigan. The co-founders of this initiative are Birgit Klohs, the retired former President and CEO of The Right Place, Inc, and Skot Welch, Founder and President of Global Bridge Builders.
Founded by investments from some of the area's best known corporate and philanthropic entities, and administered in partnership with The Right Place, Inc., NCTF works with scalable, early to mid-stage businesses and transitioning succession companies in industries including advanced manufacturing, food processing and agribusiness, life sciences and medical devices, and information technology. 
NCTF and its partner investors are driven by a belief in a more diverse economy and they seek to provide greater access to capital and essential support services to entrepreneurs who haven't been given this opportunity historically. By investing in companies that will create long-term economic prosperity in communities of color, the fund will increase upward mobility and ultimately build a more diverse and globally competitive economy.
NCTF made its first investment in late 2021, a $500,000 stake in BAMF Health, a Grand Rapids-based second stage life science company founded by a former Van Andel Institute scientist. In 2022, this groundbreaking medical startup opened a headquarters in downtown's Doug Meijer Medical Innovation Building, where it is using artificial intelligence and other advanced technologies to diagnose and treat cancer. The company expects to provide life-saving care to patients from across the country.
More than 200 additional qualified companies have been identified by NCTF for potential investment.
Building a More Welcoming Community
As the area's destination marketing organization, Experience Grand Rapids embraces these initiatives and sees them as aligned with their efforts to create a more welcoming and inclusive community for visitors as well as residents.
We have made this a priority by also making sure that our equity statement aligns with these efforts. Experience Grand Rapids is committed to ensuring that our mission helps Grand Rapids/Kent County become a more sustainable, diverse, equitable, accessible, and inclusive destination. Every effort will be made to ensure all races, ethnicities, genders, sexual orientations, visible and invisible disabilities, class, cultural and religious beliefs are welcomed throughout our community. For us, Inclusion is not the endpoint, but rather a continuing effort to make both residents and visitors feel more at home, more empowered and more delighted with their time here.
The idea is, if we increase diversity in businesses that serve meeting planners and business and leisure travelers, West Michigan will feel more welcoming to the BIPOC community.
Many meeting planners we work with are looking for access to minority-owned and woman-owned providers and vendors -- services like caterers, photographers, entertainers, speakers, transportation services and event spaces. We are actively building a supplier diversity program to connect planners with the resources they are seeking while supporting our local community. We have seen that initiatives like SpringGR, ELEVATE and the NEW Community Transformation Fund are making an impact.