Sometimes the weight of life calls for a healthy dose of the best medicine out there: laughter.
If you're on the prowl for a proper belly laugh, there are multiple venues and performance groups in Grand Rapids that can prescribe a comedy cure.
The Grand Rapids comedy scene is one that shows unwavering support for local talent and puts the city on the map with big names like Seth Meyers, Chelsea Handler, and Trevor Noah.
Below is your guide to exploring the people and places of the Grand Rapids comedy scene so you can keep laughing all year-round.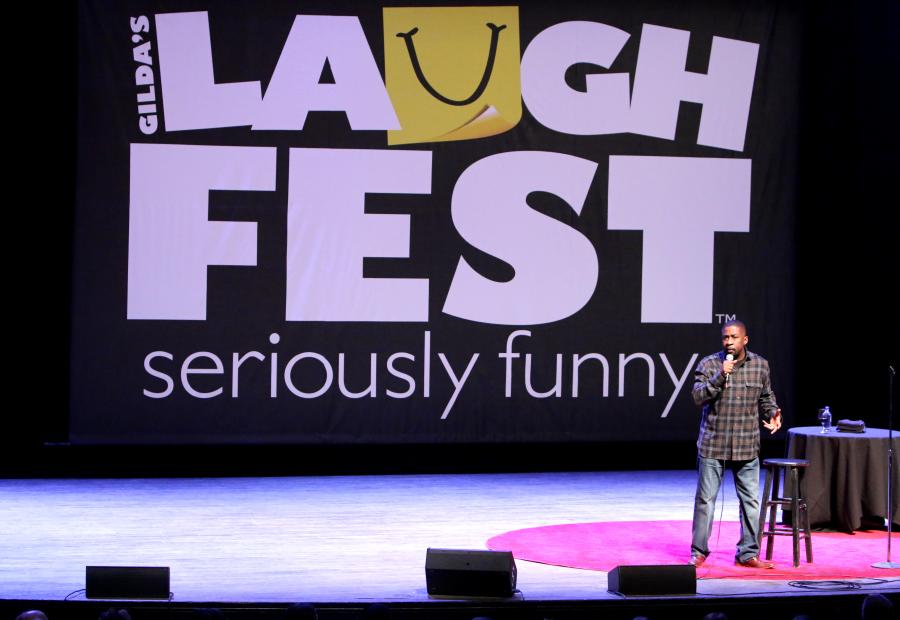 Enjoy a night (or two) out on the town during LaughFest as proceeds from the comedy shows benefit Gilda's Club Grand Rapids.
Photo by LaughFest
Gilda's LaughFest
Do the names Seth Meyers, Sinbad, Trevor Noah, Tiffany Hadish, and Kathy Griffin ring a bell?
These are just some of the big names in comedy that have made audiences in Grand Rapids laugh out loud during Gilda's LaughFest, an annual festival held every March that encourages people to celebrate "laughter for the health of it."
You'll find both ticketed and free events during LaughFest, featuring stand-up comedy, improv, live shows, film screenings, author talks, community showcases, and more. Many shows also spotlight local comedians and comedy acts, including River City Improv and Pop Scholars.
Every "seriously funny" LaughFest event benefits Gilda's Club Grand Rapids. The local nonprofit provides free emotional healthcare programs and resources to people battling cancer, caring for loved ones with cancer, or grieving the loss of someone due to any cause.
Find more details about specific shows and times by visiting LaughFest's website.
Dr. Grins Comedy Club
Hosting nationally acclaimed stand-up comedians and special comedic theatre since 1997, Dr. Grins is located inside The B.O.B. (Big Old Building), a multilevel entertainment complex in downtown GR.
Some of the biggest names in stand-up comedy have performed at Dr. Grins over the past two decades, from Pauly Shore and Bobcat Goldthwait to Chelsea Handler and Nikki Glaser. Showtimes are Thursday (8pm), Friday (8pm & 10:30pm) and Saturday (8pm & 10:30pm). Early shows are typically reserved for an 18+ audience, late shows for 21+, with a two-drink minimum for each performance – always check ticket info for your show.
The B.O.B. is also home to two restaurants and a nightclub, so you can enjoy dinner and a dance before or after your comedy show.
River City Improv
Local comedy troupe, River City Improv, has been making people laugh since 1993.
During shows, cast members base their performances largely on live audience suggestions, similar to the format of shows like, Whose Line Is It Anyway? 
River City Improv comedians have performed in 100 cities in 23 US states and Canadian provinces since the group formed. For a calendar of upcoming local appearances, visit River City Improv's website.
Co-founder Rick Treur says the group's mission of providing clean, clever comedy is crucial now more than ever.
"There is so much negativity and divisiveness in the world right now, so coming to a show for two hours and just laughing is good for the soul and mind," says Treur. "We're able to offer people a break from some of the craziness of the world and a different kind of craziness for a bit."
Treur adds that many alumni have found success performing with Second City in Chicago and in the film and TV industries, like Marc Evan Jackson (The Good Place, Brooklyn Nine-Nine, Jumanji: Welcome to the Jungle) and Kiff VandenHeuvel (BioShock Infinite, La La Land, Batman v Superman: Dawn of Justice).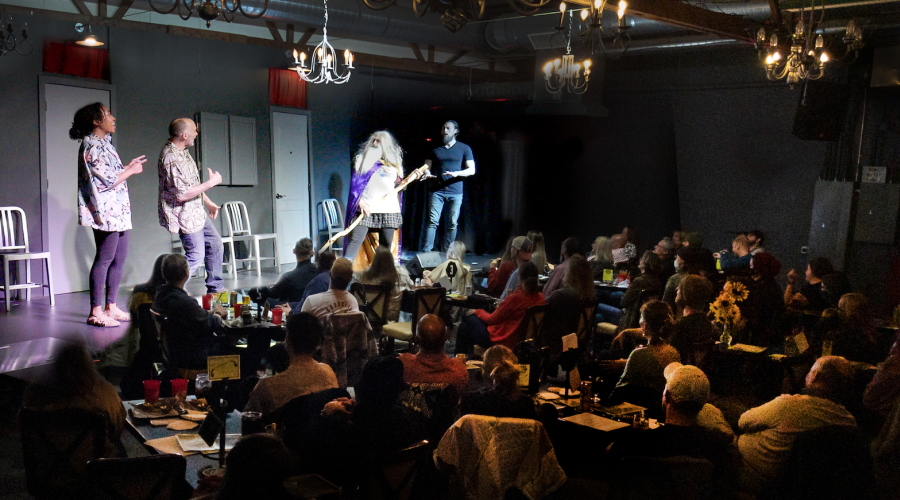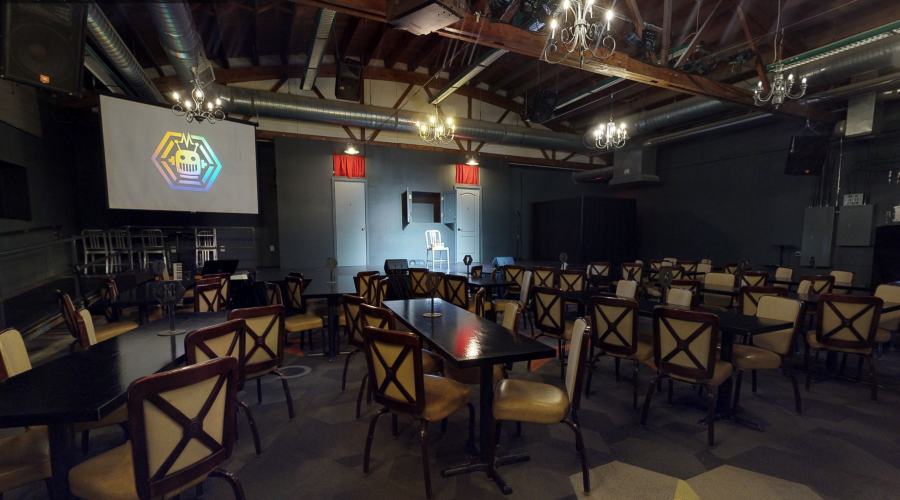 Come and experience the The Comedy Project.
Photo by The Comedy Project
The Comedy Project
Grand Rapids' West Side neighborhood is home to a comedy-and-cocktails theater named  The Comedy Project.
The Comedy Project offers rotating improv, sketch, and comedy variety shows, a comedy training center, and space for private events. In addition to the post-apocalyptic decor adorning its walls, The Comedy Project will also offer a diverse food menu and full bar filled with local drafts, special mixed drinks, and a moonshine bar.
The Comedy Project was created to build a community for comedians and performers, while offering them a place to grow in their craft, mentions co-founder Ben Wilke.
"We really believe everyone can benefit from our classes — kids looking to be more social, students who want to try comedy, professionals who want to work better with their teams, and anyone looking to become an improviser," says Wilke.
Comedy Outlet Mondays
Part of the Comedy Project's regular programming includes Comedy Outlet Mondays (COM), a weekly comedy variety show that features local and out-of-town comedians. Each week, audiences see a new variety of stand up, sketch, improv, video shorts, magic, puppetry, satire news, and other types of experimental comedy, as well as live musical guests. COM ends each show with an improv "jam session" that invites audience members to participate in short-form improv games and more.
"The Grand Rapids improv and sketch comedy scene is alive and thriving, and has made every COM show something new, hilarious, and unique to our city," says Eirann Betka-Pope, a former COM producer who now teaches at the Grand Rapids Civic Theatre School of Arts (see below). "A supportive community, ample opportunities, and a strong passion for cultivating comedy has made COM a perfect stop for a date night, a group of friends looking for a good time, or a solo trip to try something new."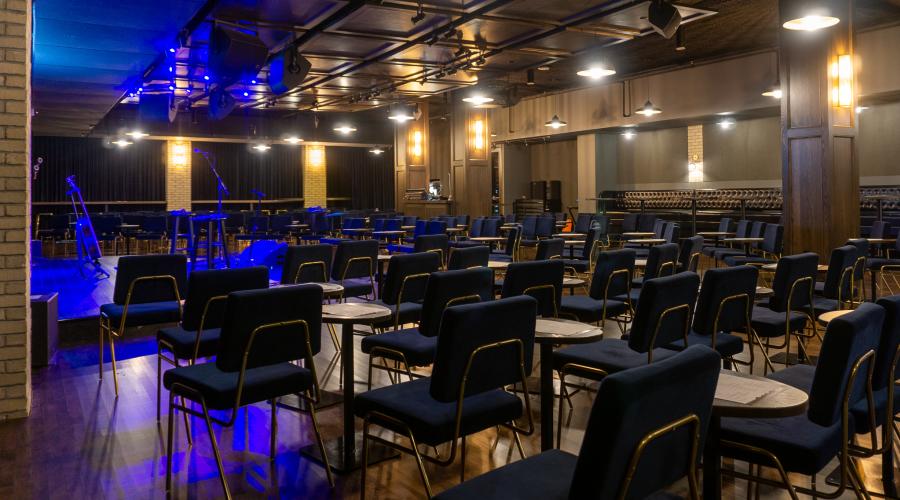 Midtown was designed to have a cozy and intimate candle lit vibe.
Photo by Brian Craig for Experience Grand Rapids
Midtown
Midtown was built as an intimate live music venue, with a world-class sound system and semi-circle seating that heighten the engagement between audience and performer. But this setup has also proven ideal for stand-up comedy, and Midtown sprinkles in comedy shows between musical acts – from touring acts like Hal Sparks and Mike Feeney to local comedy troupes Pop Scholars and River City Improv.
With 200 seats and in-seat service of craft cocktails and beer, Midtown presents an "elevated" comedy experience. It's located in the Studio Park entertainment complex in downtown GR, along with restaurants, shops and a nine-screen movie theater.
Don't Tell Comedy
Grand Rapids is one of a network of cities served by Don't Tell Comedy, a traveling comedy experience offering pop-up shows with mystery comedians. The live show's precise location remains a secret until 8am the day of the show, when ticket holders are emailed the info. It might be a historic mansion or a candy shop, a rooftop or a rock climbing gym, an art gallery or a craft brewery.
The identity of the comedians remains unknown until the moment they take the stage, though every lineup is curated to include the best local and national touring talent. This is a fun, new way of experiencing a comedy show, tailor-made for the adventurous and experimental. Visit the DTC Grand Rapids webpage for (a few) details about upcoming shows. 
Sunday Night Funnies
Sunday Night Funnies returned to the local comedy scene in February 2022 after a COVD-fueled hiatus.
This live stand-up comedy show features comics from around the Midwest in performance at Woody's Press Box in the Spectrum Entertainment Complex. The format is rather unique – each performer is given just a five-to-eight minute time slot to present their material. It's a great opportunity for local and regional comics to work on their craft, to the benefit of laugh-loving audiences.
Admission to Sunday Night Funnies is free and guests can take advantage of an extensive drink and food menu.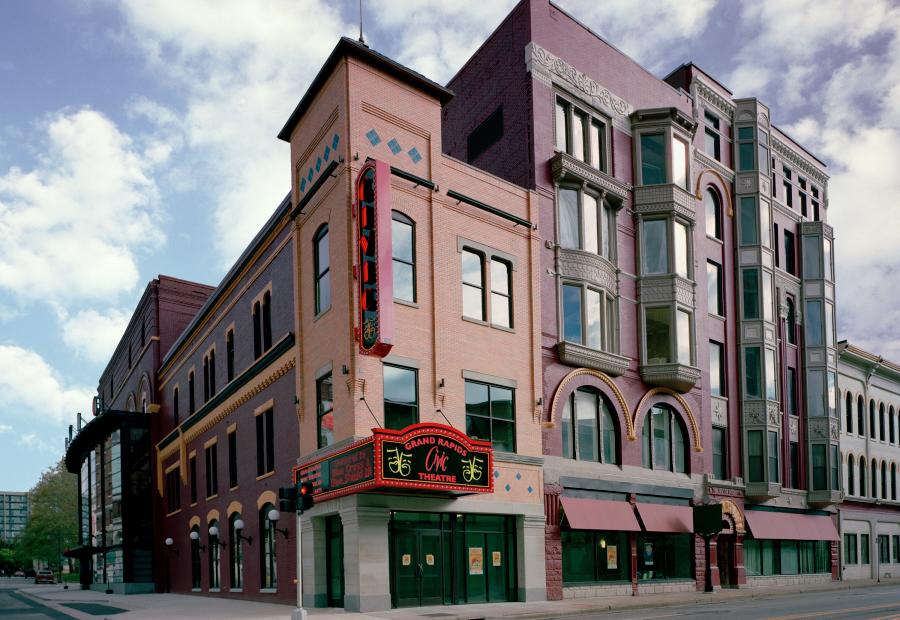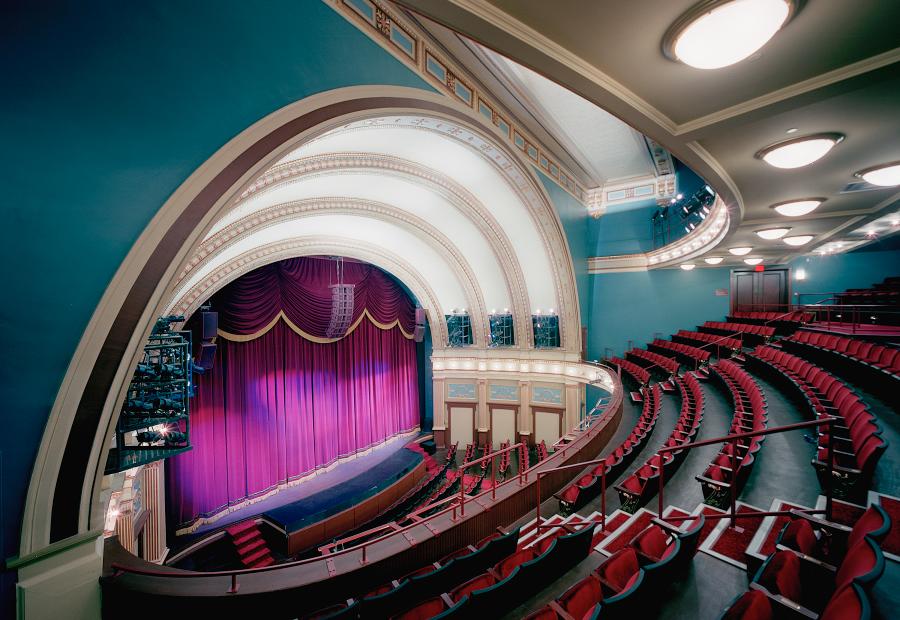 Grand Rapids Civic Theatre
People of all ages can learn to tune in to their inner comedian through the nationally-recognized School of Theatre Arts at Grand Rapids Civic Theatre.
The school offers a comprehensive community theater education program with classes ranging from musical theater to sketch and improv comedy.
In addition to acting classes for all ages, the school offers sketch and improv comedy classes for older kids and adults. All classes are led by experienced theater professionals, and the school also provides special workshops and mini-classes on select topics throughout the year.
Touring Comedy Shows
Grand Rapids is a frequent tour stop for the nation's biggest comedians. The 2022 schedule includes such luminaries as John Crist, Jim Gaffigan, Pete Holmes, Trey Kennedy, Tig Notaro, Tom Papa, Taylor Tomlinson, Kountry Wayne and Kat Williams.
These stars appear at the area's largest venues, including DeVos Performance Hall, GLC Live at 20 Monroe and Van Andel Arena. Check their websites for performance schedules – or search our Events listing using the keyword: comedy.
Local, regional and/or national comedians also appear at some smaller local venues, including Ambrosia Theater, The Intersection, The Pyramid Scheme and Wealthy Theatre.
Open Mic Nights
There are a few bars and restaurants around Grand Rapids that offer open mic nights specifically for local comedians to practice their craft.
For example: Mulligan's Pub  in Uptown welcomes stand-up comics for Sunday Night Heat Comedy, downtown's The Garage Bar & Grill   offers The Stolen Stool Comedy Night on Tuesdays, Tip Top Deluxe Bar & Grill presents Tip Top Tuesday Comedy (almost) every week, River City Saloon hosts an Open Mic Comedy Night on Wednesdays and Harmony Brewing Company presents stand-up comedy on Fridays. Always check with the venue to confirm the schedule before you go.
Grand Rapids is a hotspot for comedy, so whether you're looking to laugh or become a better comedian yourself, there are plenty of opportunities at your fingertips.