It's a common scenario: You're on your way out the door for a fun day exploring Grand Rapids, and then your canine companion flashes you with sad puppy dog eyes… You find yourself wishing you could bring your dog with you.
Luckily, there are an assortment of places in and around Grand Rapids and Kent County that allow you to bring your furry friend along for the ride.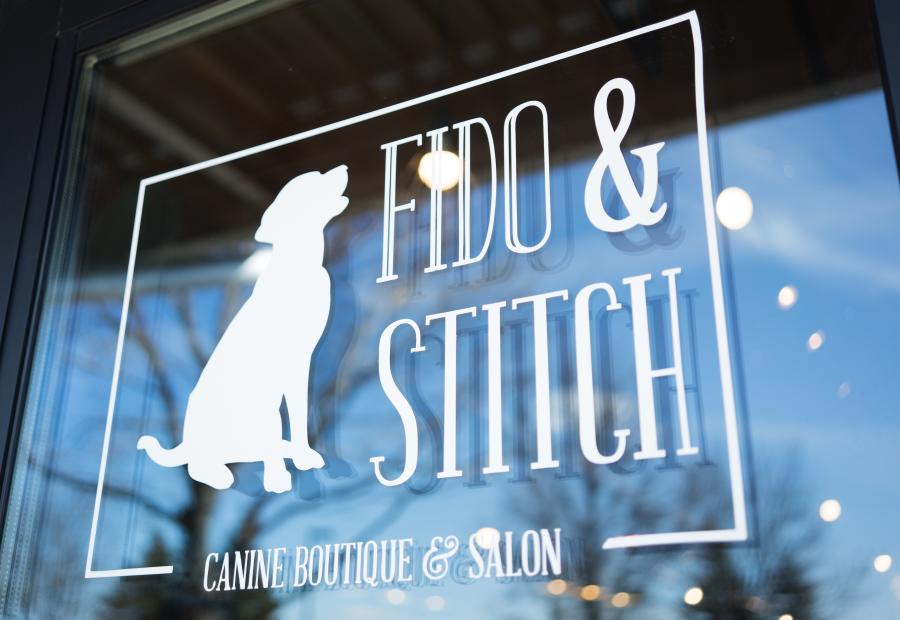 Meet all of your four-legged friend's needs at Fido & Stitch. The boutique and salon sells dog toys, treats, food, clothing and accessories.
Photo by Experience Grand Rapids
Boutiques & Stores
While it's fun to bring your dog to places that you want to visit, why not let them lead the way?
Grand Rapids offers a variety of locally-owned pet boutiques and stores that encourage customers to bring their four-legged friends.
Fido and Stitch, for example, is a store whose owners and employees believe dogs should be treated as valued family members. This pet boutique offers natural and healthy food products, dog apparel, dog accessories, toys and more, as well as grooming services and self-service dog washing.
West Michigan's largest family-owned pet specialty store chain, Chow Hound Pet Supplies, also carries a variety of specialty items and offers services like grooming for your pup. Check out their Store Locator on their website to find a location near you.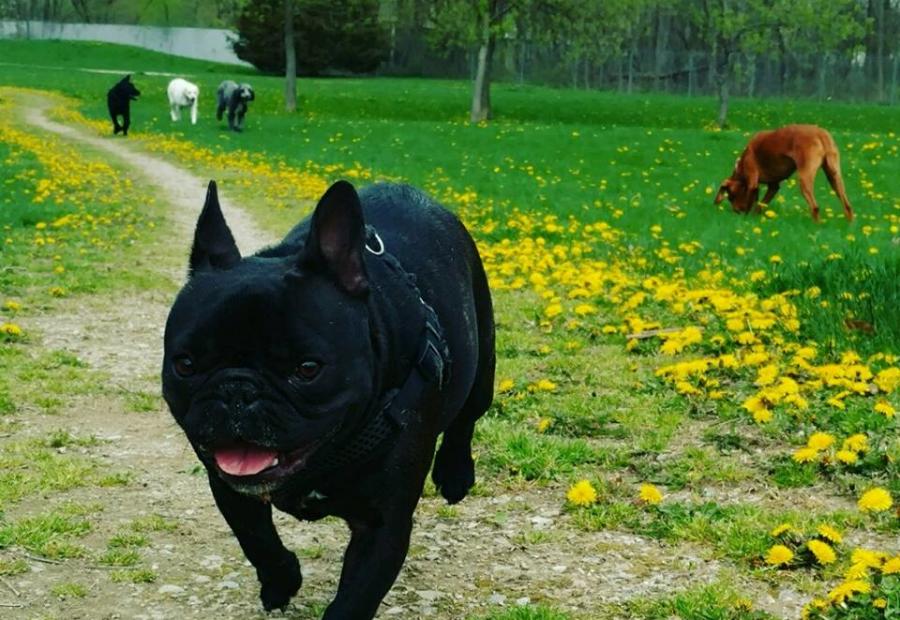 Fact: Memberships are required to take your dog to Shaggy Pines Dog Park.
Photo by Shaggy Pines Dog Park
Dog Parks
If your dog is craving some time with his or her own kin, there are multiple options for off-leash, local dog parks to visit and enjoy.
Treat your pet to a big-city experience at the Downtown Dog Park Grand Rapids, located around the corner from Founders Brewing Company.
Hillcrest Dog Park is nestled on the northeast side of Grand Rapids and offers a large shaded area with separate play areas for large and small dogs.
Located on the city's northwest side, Covell Dog Park offers a one-acre area for your pup to run and play, but keep in mind that small and large dogs intermingle at this park.
Shaggy Pines Dog Park in Ada has been ranked one of the top 10 dog parks in North America with its 20-acre park that includes a 15-acre fenced-in area, "Doggy Mountain" (a large sand pile for climbing and digging), a sunset deck, a doggy store, a coffee bar and lounge, and many more amenities for visitors and members. Memberships are required to attend Shaggy Pines Dog Park.
Heading a bit north of Grand Rapids, the Rockford Dog Park offers separate play areas for large and small dogs, toys, water bowls and shaded areas. The Park is also only a short five-minute walk from Rockford's quaint downtown area if you're looking to explore.
You can find an extensive list of Kent County parks on the Experience Grand Rapids website.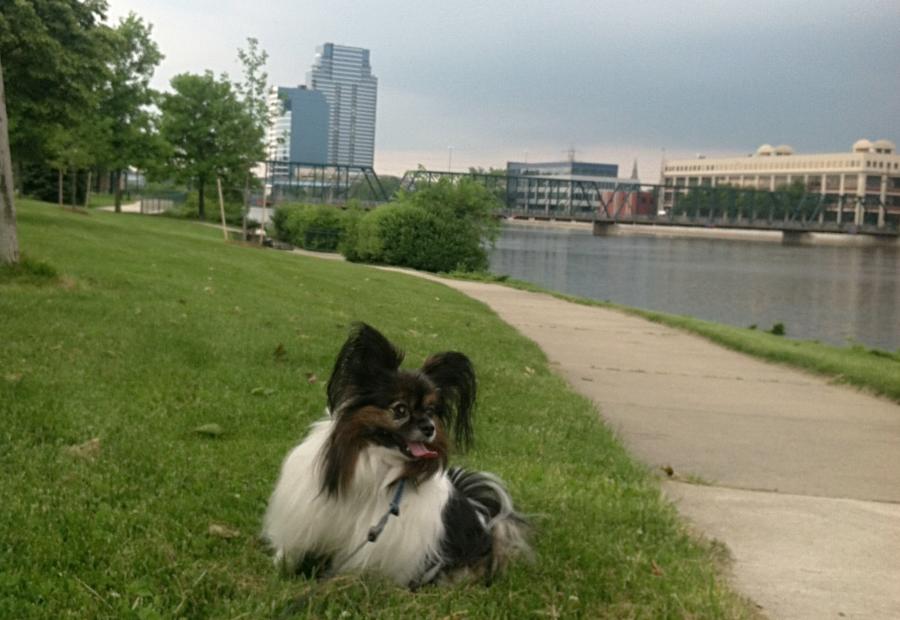 The Grand Rapids' Riverwalk is also great place for a photo-op of your pup.
Photo by Kate Lieto
Trails and Beaches
Beginning in Comstock Park and spanning 92 miles north to Cadillac, the Fred Meijer White Pine Trail is the perfect path to give your furry friends a solid workout.
The White Pine Trail is just one of many trails and parks that are dog-friendly among the 42 parks, green spaces, and regional trails that comprise Kent County Parks. With various options like Millennium Park, Provin Trails Park, Riverwalk Trails and Donald Lamoreaux Park, you and your dog can plan multiple outings to explore the great outdoors.
If you and your pup are looking to cool off at a beach, there are several in West Michigan that are less than an hour away: PJ Hoffmaster State Park in Muskegon, Grand Haven City Beach (before 11 a.m. and after 5 p.m. only from Memorial Day through Labor Day), and Kirk Park in West Olive (before 10 a.m. and after 6 p.m. from May 1 to September 30), allow dogs.
Note: Most parks and trails require your dog to be on a leash and for owners to clean up after their pet(s).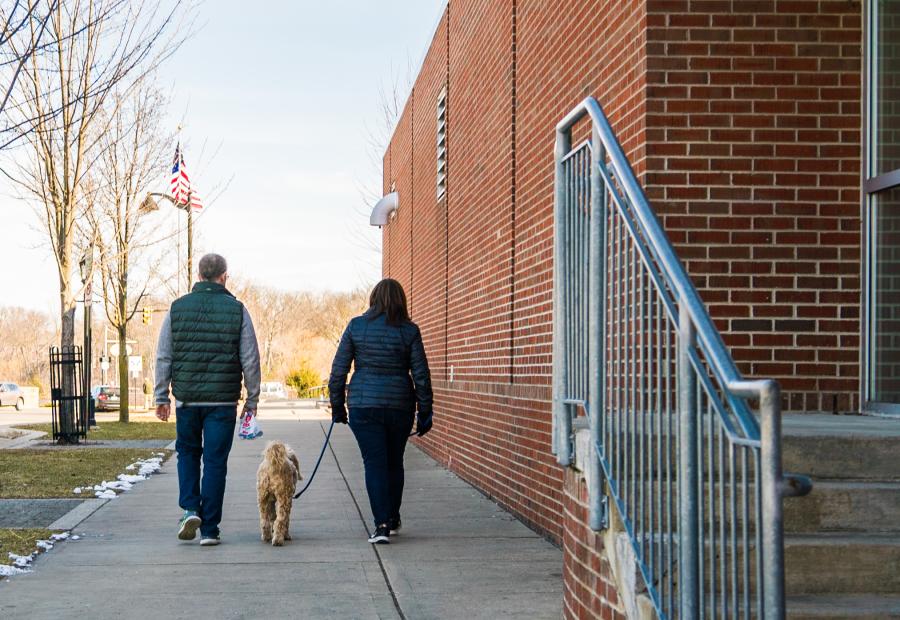 Don't let your furry-friend miss out on the fun!
Photo by Experience Grand Rapids
Treats
The five-letter word that every dog loves to hear: treat.
During the warm months in West Michigan, there's no better treat for humans and dogs alike than a few scoops of ice cream. If you're visiting Furniture City Creamery in Grand Rapids' Uptown neighborhood, grab a "Pup Cup," which contains all-natural peanut butter-banana flavored yogurt.
You and your dog can explore the multitude of ice cream shops in and around Grand Rapids, many of which go the extra mile for furry friends.
Hotels
If your time in Grand Rapids requires an overnight stay at a local hotel, you won't have to leave your four-legged friend at home! Check out our Hotels page and narrow your search to one of the 26 hotels that welcome pets. For an average of $20 extra per night, your canine companion can enjoy an overnight stay while soaking in the sights, sounds, and, of course, smells of Grand Rapids.
This article was originally written by Matthew Makowski and has been updated by Experience Grand Rapids.