Grand Rapids is a great place for people who prioritize the happiness and well-being of their canine companions. In 2022, Rover.com named GR one of the country's fastest growing dog-friendly cities, a measure of our attractiveness to dog owners looking to relocate. But you don't have to live here to take advantage of our dog amenities and services – bring your furry friend with you on your next visit and enjoy the city together. 
Here's a look at some of the local experiences and attractions that will make you and your pet happy.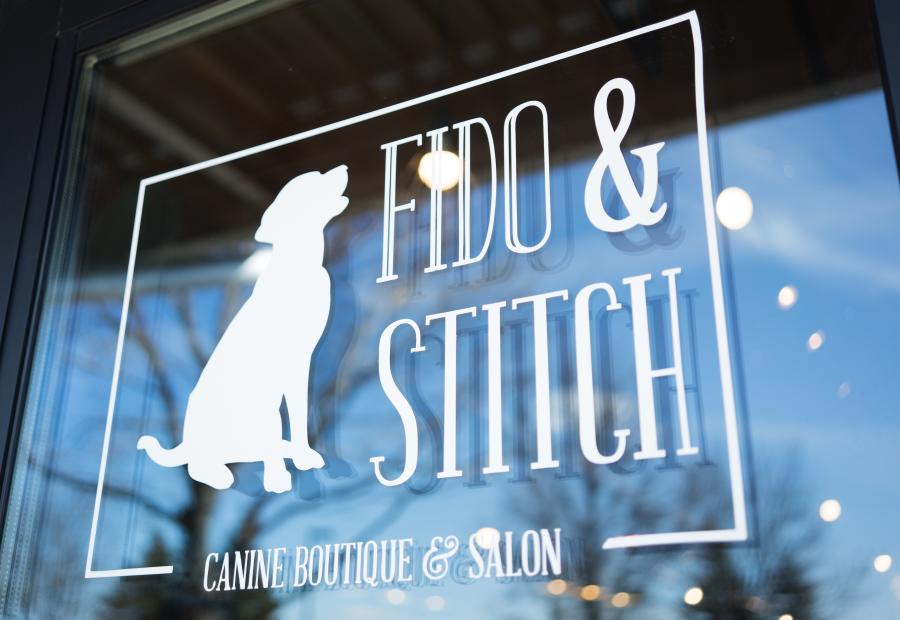 Meet all of your four-legged friend's needs at Fido & Stitch. The boutique and salon sells dog toys, treats, food, clothing and accessories.
Photo by Experience Grand Rapids
Boutiques & Stores
While it's fun to bring your dog to places that you want to visit, why not let them lead the way? Grand Rapids offers a variety of locally owned pet boutiques and stores that encourage customers to bring their four-legged friends.
Fido and Stitch, for example, is a store whose owners and employees believe dogs should be treated as valued family members. This pet boutique offers natural and healthy food products, dog apparel, dog accessories, toys and more, as well as grooming services and self-service dog washing.
West Michigan's largest family-owned pet specialty store chain, Chow Hound Pet Supplies, also carries a variety of specialty items and offers services like grooming for your pup. Check out the Store Locator on their website to find a location near you.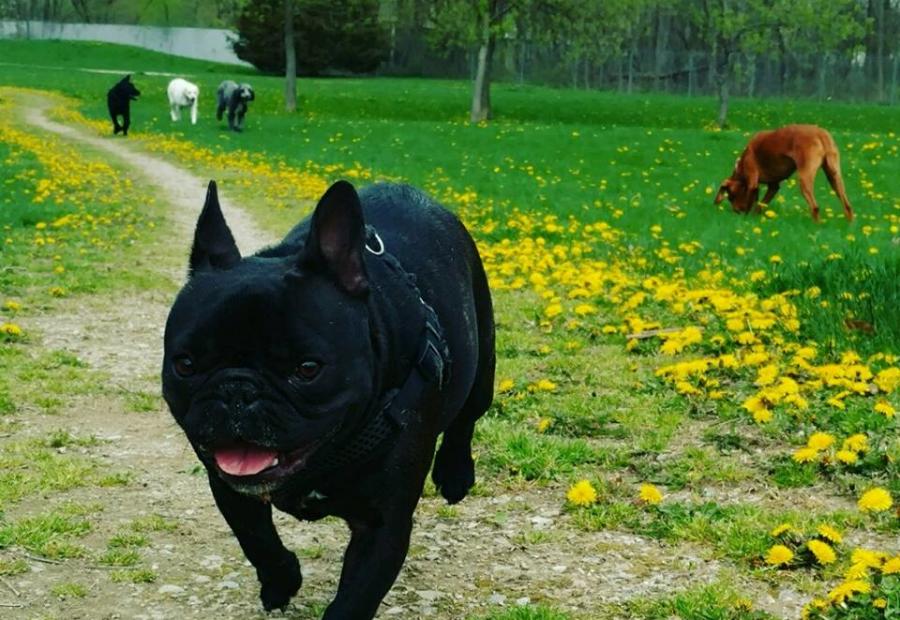 Fact: Memberships are required to take your dog to Shaggy Pines Dog Park.
Photo by Shaggy Pines Dog Park
Dog Parks
If your dog is craving some time with his or her own kind – or just needs to get out and stretch their legs – there are options for off-leash, local dog parks throughout the city.
Treat your pet to a big-city experience at the Downtown Dog Park Grand Rapids, located around the corner from Founders Brewing Company.
The Downtown Westside Dog Park, nestled between the Downtown YMCA and the Bridge Street Entertainment District, has a fenced-in grassy area, seating, shade and a colorful mural of dogs painted by local artist Maddie Jackson. 
Hillcrest Dog Park is situated on the northeast side of Grand Rapids and offers a large shaded area with separate play areas for large and small dogs.
Located on the city's northwest side, Covell Dog Park offers a one-acre area for your pup to run and play, but keep in mind that small and large dogs intermingle at this park.
Three southeast side parks – Cascade Dog Park, Kellogg Woods Dog Park and Wyoming Dog Park, all have separate enclosures for large and small dogs. Each is located on the grounds of a city park offering a host of human amenities.
Shaggy Pines Dog Park in Ada has been ranked one of the top 10 dog parks in North America with its 20-acre park that includes a 15-acre fenced-in area, "Doggy Mountain" (a large sand pile for climbing and digging), a sunset deck, a doggy store, a coffee bar and lounge, and many more amenities for visitors and members. Memberships are required to attend Shaggy Pines Dog Park. 
The Pack Indoor Dog Park in Comstock Park is Michigan's first indoor off-leash dog park. (It's also a restaurant and bar.) You must register in advance to visit, but it's a great option when there's inclement weather. Or any day, because there's also an outdoor space.
Heading a bit north of Grand Rapids, the Rockford Dog Park offers separate play areas for large and small dogs, toys, water bowls and shaded areas. The Park is also only a short five-minute walk from Rockford's quaint downtown area if you're looking to explore.
To the east, Lowell Dog Park is a 31,000 sq. ft. park with separate fenced areas for large and small pets. Features include a climbing ramp and weather shelter. It's just a mile from the shops and restaurants of downtown Lowell.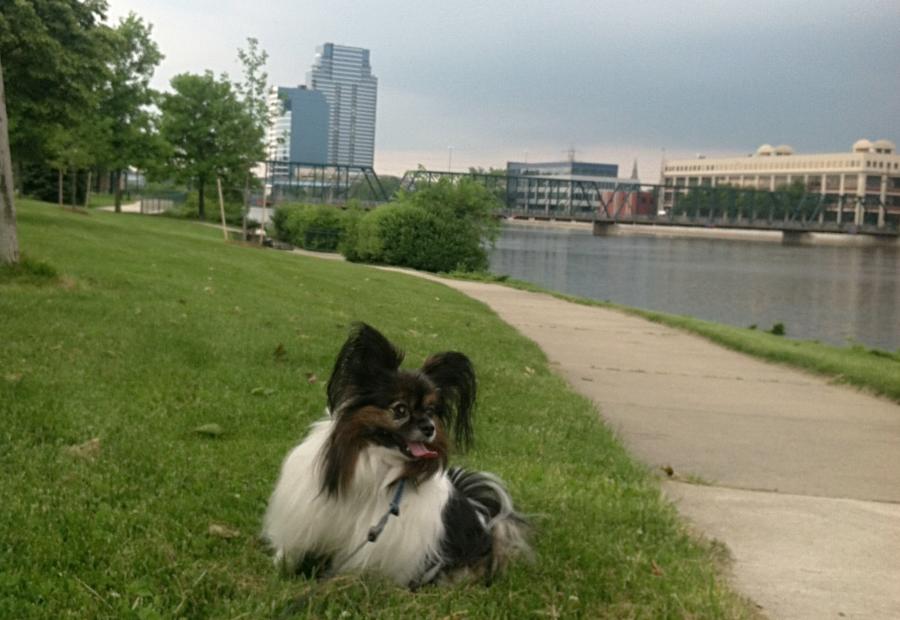 The Grand Rapids' Riverwalk is also great place for a photo-op of your pup.
Photo by Kate Lieto
Trails and Beaches
Beginning in Comstock Park and spanning 92 miles north to Cadillac, the Fred Meijer White Pine Trail is the perfect path to give your furry friends a solid workout.
The White Pine Trail is just one of many trails and parks that are dog-friendly among the 43 parks, green spaces, and regional trails that comprise Kent County Parks. With various options like Millennium Park, Provin Trails Park, Riverwalk Trails and Donald Lamoreaux Park, you and your dog can plan multiple outings to explore the great outdoors.
Almost all of them require dogs to be leashed, and owners are expected to clean up after them.
Most Grand Rapids City parks and trails – there are more than 75 – also welcome dogs on a leash. Click through to find close-by trails and parks. 
If you and your pup are looking to cool off at a beach, there are several in West Michigan that are less than an hour away. Two of them allow dogs to roam off-leash: Kirk Park in West Olive permits it before 10am and after 6pm from May 1-Sep. 30, and anytime the rest of the year; and Muskegon's Kruse Park has an off-leash dog beach at the northern end of the park – unfortunately, the dog beach was closed due to erosion in 2023. Stay tuned for 2024 developments.   
Both parks allow leashed dogs at any time, as do Muskegon State Park and PJ Hoffmaster State Park in Muskegon, and Saugatuck Dunes State Park in Saugatuck. Grand Haven City Beach welcomes dogs on-leash between Memorial Day and Labor Day before 11am and after 5pm, and anytime the rest of the year.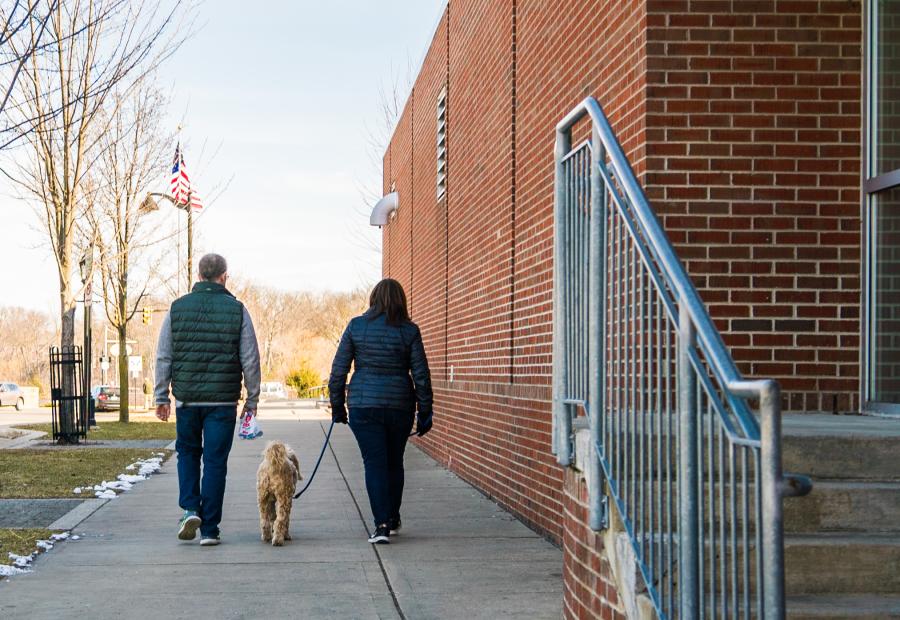 Don't let your furry-friend miss out on the fun!
Photo by Experience Grand Rapids
Treats
The five-letter word that every dog loves to hear: treat.
You can pick up all sorts of dog treats, many locally made, at The Beastro. This dog restaurant also serves up made-from scratch canine cuisine in a bowl, assembled fresh right in front of you. Stop in for a to-go meal your dog will love. 
The Winchester is a human restaurant in Uptown GR with a seasonal "barking lot" that offers pup cups (whipped cream and a doggy biscuit) for dogs, and grilled cheese sandwiches and snacks for their owners.
In the same neighborhood, Furniture City Creamery is a local, housemade ice cream shop offering all-natural peanut butter-banana yogurt in pup cups. You and your dog can have fun exploring all the ice cream shops in and around Grand Rapids, many of which go the extra mile for our furry friends.
Beer City Dog Biscuits – named for Grand Rapid's status as Beer City USA – are another kind of taste treat. They're made with leftover beer grains from our largest brewery, Founders Brewing Co., and you can get them at Founders as well as stores including Martha's Vineyard, Horrocks Market, Oh, Hello Co. Paper & Gifts, and the Frederik Meijer Gardens & Sculpture Park gift shop.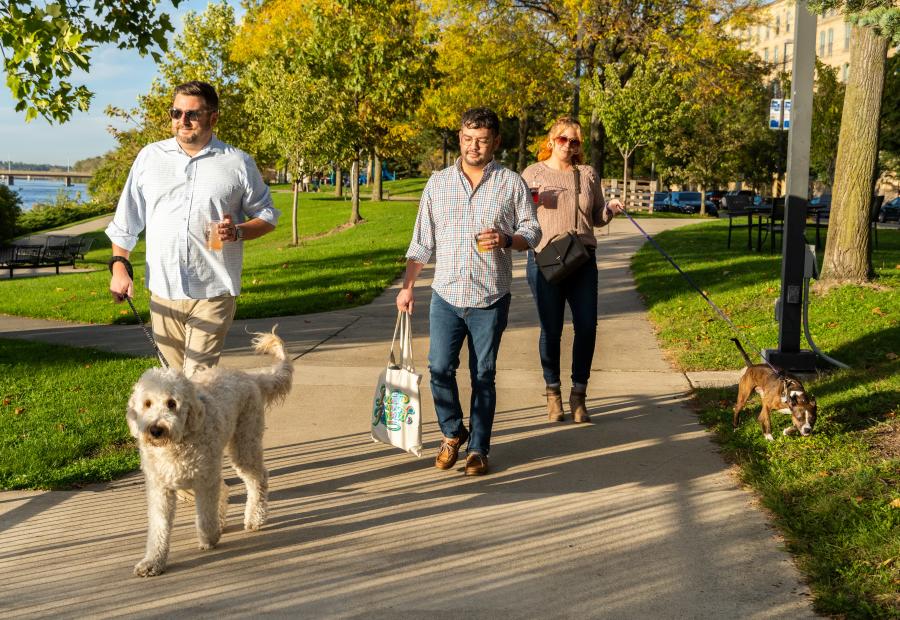 In the Downtown Refreshment Area, you can enjoy an adult beverage while your pup takes in the sights and sounds.
Photo by Experience Grand Rapids
Dog-friendly Restaurants
Many Grand Rapids restaurants have outdoor dining spaces – and a lot of them welcome well-behaved dogs onto their patios and decks. You'll find nearly 50 of them on the Experience Grand Rapids Restaurant page (just click "Pets on Patio" in the Search function.) 
A number of these restaurants are located in Grand Rapids' Downtown Refreshment Area, where you can stroll around while enjoying a craft beverage. Dine at an eatery with a dog-friendly patio, get a drink to go and explore the city, all with your leashed dog at your side – like this couple did. 
Hotels
If your time in Grand Rapids requires an overnight stay at a local hotel, you won't have to leave your four-legged friend at home! Check out our Hotels page and narrow your search to one of the 40+ hotels that welcome pets. Your canine companion can enjoy an overnight stay while soaking in the sights, sounds, and, of course, smells of Grand Rapids, typically for a small extra fee.
Animal Hospitals
Emergencies happen. Should your pet experience a crisis, there are many expert vet clinics throughout the city and three vet hospitals offering 24/7 emergency care:
Animal Emergency Hospital on Plainfield (northeast)
Animal Emergency Hospital in Byron Center (southwest)
BluePearl Pet Hospital on Michigan Street, five minutes from downtown GR
We look forward to seeing you and your dog soon!